September, 9, 2010
9/09/10
7:37
PM ET
Saturday's game between Florida State and Oklahoma will feature two programs stacked with history and tradition -- a combined nine national titles, 82 bowl appearances, and 54 conference titles. When it comes to the current college football landscape, though, there is a significant gap between them. The Sooners are just two seasons removed from their runner-up finish for the national title while Florida State enters this game under first-year coach Jimbo Fisher looking to regain national relevance. Can the Seminoles pull the upset? ACC blogger Heather Dinich and Big 12 blogger David Ubben break it down:
[+] Enlarge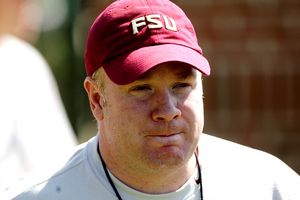 AP Photo/Phil CoaleFSU defensive coordinator Mark Stoops will be matching wits with his brother Bob in Oklahoma.
Heather Dinich:
Well, Ubben, it's time for the unofficial Stoops Bowl, which to me is the key matchup in this game -- Oklahoma coach Bob Stoops against his little bro and first-year FSU defensive coordinator Mark Stoops. If Florida State is going to have any chance at the upset, the Seminoles' defense has to stop DeMarco Murray first, but a young secondary that includes three starters will have to grow up quickly and adjust to Stoops' new zone scheme, which requires discipline and communication. How do you see Oklahoma's offense faring against a defense that was downright bad a year ago, but starting to make some progress?
David Ubben:
Oklahoma definitely has the skill-position talent to give the Noles trouble, and based on Saturday's game, you're right, the offense will run through Murray, who got a career-high 35 carries against Utah State. But if Oklahoma sees a big weakness in that secondary it can exploit, look for some of those touches to go Ryan Broyles' way. There might not be a tougher guy to get a hand on in the open field in all of college football. They might use a lot of slants and bubble screens just to get the ball in his hands and dare Florida State to tackle him.
On the other side, there's been a lot of talk about how Christian Ponder's offensive line makes life easy for their Heisman candidate. How will they fare against a pair of the best defensive ends just about anywhere, Jeremy Beal and Frank Alexander, and defensive coordinator Brent Venables' blitz packages intent on putting Ponder on his back as much possible?
HD:
That's where I see the Noles having their biggest advantage, my friend. Florida State's offensive line will get the edge, particularly in the running game against those inexperienced defensive tackles. That can also affect the pass rush, but Ponder is poised enough to sense pressure coming off the edge while keeping his eyes downfield. Senior guard Rodney Hudson and senior center Ryan McMahon are in their fourth seasons as starters, and collectively, all five starters return a combined 147 career starts. I see all of that adding up to a balanced offense for the Noles, with the Sooners biting on the play-action pass. Besides, Oklahoma's pass defense is rather friendly. Just ask Utah State, which racked up 341 passing yards.
DU:
Maybe so, and they'll be tested for sure, but Bob Stoops has faith in the plays he's seen Demontre Hurst and Jamell Fleming make when they played last season and what he saw in them through spring and fall practice. I get the sense that this will be somewhat of a high-scoring affair. Oklahoma looked invincible at home last season and has only lost twice at Owen Field under Bob Stoops.
What makes you think Jimbo's boys have the chops to be the third?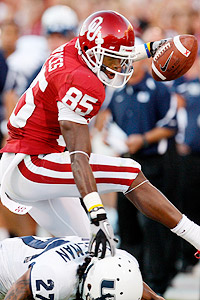 AP Photo/Sue OgrockiThe Sooners are counting on big plays from Ryan Broyles against a young FSU secondary.
HD:
The intangibles. There's a difference at Florida State this year under Fisher. Not only in optimism, but in preparation. The Seminoles will go in there focused and ready to take care of business undaunted by the nation's longest home winning streak at 31 games. The leadership of Ponder will also be a factor, as he's got the poise and the brains to keep the offense calm. And don't forget about the third phase of the game -- special teams. The Sooners need to be ready for a home run threat in punt returner Greg Reid. Word of advice? Don't kick it his way. I say all of those things will add up to an upset, but I'll give you the final word.
DU:
Greg Reid? You mean the poor man's Ryan Broyles? Oklahoma can match the Seminoles playmaker for playmaker, but this thing's going to come down to whichever team can stop the other. I'll take the Sooners' proven defense that slipped up for one week over Florida State's, which was in a free fall for all of last season. New corners? Sure, but two guys and some inexperienced defensive tackles aren't enough to make up for 15.5 points, the difference between what Oklahoma's defense allowed last season and what Florida State allowed.
October, 3, 2009
10/03/09
11:30
PM ET
By
ESPN.com staff
| ESPN.com

Posted by ESPN.com's Heather Dinich
MIAMI -- A quick
overview of the game
:


Turning point:
With about four minutes left, Oklahoma got as close as Miami's 22-yard line and threatened with the go-ahead score, but Miami's defense stopped
Chris Brown
twice for a loss of a yard.
DeMarco Murray
, who had put Oklahoma in position to score on that drive, was held to a 1-yard catch on third-and-12 and Miami held the Sooners to a field goal and clung to the 21-20 lead.
Stat of the game:
Miami had 12 penalties for 115 yards.
Player of the game:
Miami quarterback
Jacory Harris
. He regrouped after his two early interceptions on the Canes' first two possessions and put Miami in position to win. He controlled the clock on the final possession in the fourth quarter and redeemed himself for his performance against Virginia Tech.
Unsung hero of the game:
Oklahoma defensive end Jeremy Beal. He came into the game with just three sacks, and had two sacks, a pass breakup behind the line of scrimmage and got pressure on Harris all night. He sacked Harris in the first quarter and later in the third for a loss of 4 yards, which eventually forced the Canes to punt.
What it means:
Miami is a top-10 team. The Canes have knocked off three ranked opponents in four tries, including the No. 8 team in the nation in Oklahoma. Aside from getting a win over Virginia Tech last weekend, there's not much more the Canes could do to get some national respect. It also means that Oklahoma is more than likely out of the running for the BCS national title, as two losses is usually an eliminator. (The 2007 season was the only exception to that in the BCS era.)
October, 3, 2009
10/03/09
7:31
PM ET
By
ESPN.com staff
| ESPN.com

Posted by ESPN.com's Heather Dinich
MIAMI -- I'm watching Miami warm-up right now, and the receivers catch the deep ball with such ease. That's one advantage
Jacory Harris
will have over
Landry Jones
in this game. However, it's going to get a lot tougher here in the next half hour when the Sooners are in Harris' facemask. Regardless of who the opponent was, Oklahoma's defense deserves credit for back-to-to-back shutout wins.
Oklahoma coach Bob Stoops and Miami offensive coordinator Mark Whipple had a rather extended conversation on the field earlier when the teams started to warm up. Would've loved to hear that conversation.
Miami has still not given me its official lineup changes, so I'll post those as soon as I get them.
If Miami wins this game, it will be the Canes' third win over a ranked opponent this season. That is worthy of a top 10 ranking. It would also be a big win for the conference considering how so many of the other teams struggled today. This is a chance for Miami to reassert itself as a frontrunner in the ACC.
The challenge for Miami's defense will be to contain running back
DeMarco Murray
. Jones isn't going to be asked to win this game by himself. Murray is the Sooners' top option on offense, and the Canes will have to do a better job on him than they did on Virginia Tech's
Ryan Williams
. The Canes' depleted secondary will key in on
Ryan Broyles
, who has been Jones' go-to receiver so far. He's already got 309 receiving yards and a team-high seven touchdowns.
Updates on the lineups to follow.