April, 15, 2010
4/15/10
11:00
AM ET
By
ESPN.com staff
| ESPN.com
Before the calendar even hit March, Virginia Tech defensive coordinator Bud Foster and his staff had already met with each of the players individually as part of their weekly academic meetings. Before spring practices began, Foster spoke to the defense as an entire group, so everyone got the same message: in Blacksburg: "Defense is king."
After losing six starters from last year's 10-3 team, there are plenty of young players on the roster this year who will be expected to uphold that tradition this fall.
"We make sure right up front, we want them to know we've got a tradition here, an expectation here, and those expectations aren't going to change," Foster said. "They've got to come up to our level, and the thing about us here, defense is king. As good as we've been, we also went through a stretch there where we won 10 or 11 games with 100th-ranked offense. I want them to know we've won games around here just by playing great defense, and that's not going to change. It's their responsibility to carry the torch, so to speak."
[+] Enlarge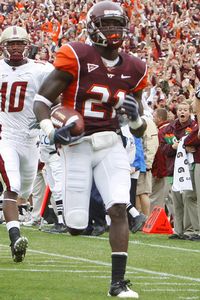 Bob Donnan/US PresswireVeterans like Rashad Carmichael will be counted on in 2010.
It's not an easy task, as no other defense in the FBS has played more consistently than the Hokies. Virginia Tech finished nationally in the top 12 in total defense in each of the past six years, five times in the top 7. Over the past six seasons -- a span of 80 games -- Virginia Tech has allowed its opponents an average of just 268.33 yards per game. The next-best team in the country during that span? Alabama.
"We know what it takes," Foster said. "We've been doing it a long time and we've had a lot of success. We've got the formula for success here, at least I think we've got it cornered a little bit. It's just getting the kids to understand that's what our expectations are, and you've got a certain responsibility to live up to those expectations, and understand this is what it's going to take for you to be successful, for you to be on the field, your work ethic and how we want you to do certain things a certain way."
The older players on the team, like boundary corner Rashad Carmichael, take seriously their role in ushering the younger players along.
"It goes back to recruiting and us guys on that defense trying to build a brotherhood more than anything," Carmichael said. "That's the kind of player I am. If you put it on the line for your brother, then the game will go a little bit easier. It just feels great when you can look to the left and the right and see guys who are ready. A lot of teams on this level don't have that chemistry. It's more of a family here. I'm confident."
The defensive line, particularly the defensive tackles, is the biggest question mark. Virginia Tech has to replace three of four starters and talented backup tackle Demetrius Taylor. Veteran tackle John Graves returns as the lone starter, and he is expected to be the leader of the entire defense, not just the line. Antoine Hopkins should be the starter opposite Graves, but the staff needs to find quality depth on the interior.
Despite the loss of Cody Grimm, Foster said he is confident in his linebackers, a group that progressed as the year went along, but there will be some competition in the secondary, particularly at safety where Kam Chancellor was the anchor. Free safety is the position that does most of the communication and checks, so he'll need a leader there. Foster will look at junior Eddie Whitley, and sophomore Antone Exum, a highly recruited player, among others.
Foster doesn't have much time to prepare the younger players for their Labor Day matchup against Boise State, which will again have one of the most productive offenses in the country. Then again, it's not like Foster hasn't had to reload before.
"We're inexperienced, we're going to be very inexperienced on the defensive side of the ball," Foster said. "But at the same time, that's not a bad thing. I think we're going to have a good mix of guys who have played. We've got a good mix of guys who are leaders, and at the same time we have some young, hungry guys. Sometimes that can really be even better for you than maybe having a bunch of guys come back who think they're going to be pretty good. I kind of like that challenge a little bit more sometimes. We've had some of our best years when people thought we weren't going to be as good."
Usually in their best years, though, defense was king.
October, 2, 2009
10/02/09
8:00
AM ET
By
ESPN.com staff
| ESPN.com

Posted by ESPN.com's Heather Dinich
Here are this week's injury reports from the schools that sent them out by midnight on Thursday:
BOSTON COLLEGE
WR Ifeanyi Momah (knee) – OUT
LB Will Thompson (shoulder) – DOUBTFUL
FB James McCluskey (Achilles) – DOUBTFUL
CB Roderick Rollins (Leg) – DOUBTFUL
TE Jordon McMichael (Leg) –PROBABLE
CLEMSON
Questionable
Chris Hairston, OT, knee
Probable
Miguel Chavis, DT, ankle
DUKE
RB Re'quan Boyette (leg) -- Probable
RB Jay Hollingsworth (ankle) -- Probable
OG Mitchell Lederman (leg) -- Probable
DT Vince Oghobaase (leg) -- Probable
OT Jarrod Holt (concussion) -- Questionable
RB Desmond Scott (leg) -- Questionable
RB Kyle Griswould (leg) -- OUT
CB Randez James (hand) -- OUT
WR Tyree Watkins (leg) -- OUT
FLORIDA STATE
OUT
FB Daniel Gard (knee)
OT Antwane Greenlee (knee)
LB Aaron Gresham (knee)
OT John Prior (knee)
LB Vince Williams (back)
QUESTIONABLE
DT Justin Mincey (knee)
PROBABLE
DT Moses McCray (elbow)
DT Jacobbi McDaniel (knee)
GEORGIA TECH
Out
Robert Hall, r-Jr., DE (knee)
Kyle Jackson, r-So., LB (foot)
Doubtful
Cooper Taylor, So., S (undisclosed)
Questionable
Dominique Reese, Jr., S (undisclosed)
Probable
Jaybo Shaw, So., QB (broken collarbone)
MARYLAND
Out for season:
Tyler Bowen (foot)
Nolan Carroll (leg)
Out:
Travis Baltz (ankle)
Louis Berman (leg)
Caleb Porzel (leg)
Joe Vellano (foot)
MIAMI
Probable
RB Lee Chambers – Lower Extremity
DT Marcus Forston – Lower Extremity
WR Aldarius Johnson - Lower Extremity
Doubtful
TE Richard Gordon – Upper Extremity
Out
FB Pat Hill – Lower Extremity
DL Dyron Dye - Lower Extremity
DB JoJo Nicolas – Upper Extremity
DB Randy Phillips – Upper Extremity
DE Adewale Ojomo – Jaw
Surgery and Out for Season
DE Gavin Hardin – Upper Extremity
LB Shayon Green – Lower Extremity
NC STATE
OUT FOR SEASON
Mario Carter, TE - knee
Denzelle Good, OL - shoulder
Nate Irving, LB - leg
Colby Jackson, FB - knee
Everett Proctor, QB - shoulder
OUT
Jeff Rieskamp, DE - hip
Rashard Smith, CB - ankle
Javon Walker, S - knee
NORTH CAROLINA
Out (Season)
Carl Gaskins OL Knee
Matt Merletti DB Knee
Trevor Stuart DS Knee
Out (Game)
Lowell Dyer C Shoulder
Zack Pianalto TE Foot
Ryan Taylor TE Knee
Doubtful
Linwan Euwall LB Ankle
Questionable
Joshua Adams WR Shoulder
Jonathan Cooper OG Ankle
Anthony Elzy FB Shoulder
VIRGINIA TECH
Out for Season
Darren Evans (ACL)
Probable
Blake DeChristopher (ankle)
Davon Morgan (shoulder)
Dyrell Roberts (hamstring)
Demetrius Taylor (calf)
September, 29, 2009
9/29/09
12:28
PM ET
By
ESPN.com staff
| ESPN.com

Posted by ESPN.com's Heather Dinich
There's still lots of football left to be played ...
September, 26, 2009
9/26/09
3:05
PM ET
By
ESPN.com staff
| ESPN.com

Posted by ESPN.com's Heather Dinich
BLACKSBURG, Va. -- There seem to be more towels on the field right now as the players warm up as there are footballs. It's pouring here. There aren't many people in the stands at all right now, and those who are are blobs of ponchos. Everyone is soaked.
Demetrius Taylor is getting his first career start today for the Hokies at defensive tackle, and Stephan Virgil is back, but we won't know until they line up if he'll be at boundary or field corner.
For Miami,
Aldarius Johnson
,
Andrew Smith
and Marcus Forston didn't make the trip, and they were all on the injury report. Here's how the Canes' starting defensive line will look: LE Steven Wesley, LT Allen Bailey, RT Joe Joseph, RE Olivier Vernon.
Obviously it doesn't help to have two injured starters missing on the defensive line, but I still think the Canes will hold their own. The only other lineup change is DeMarcus Van Dyke will start at corner over Sam Shields.
April, 20, 2009
4/20/09
12:45
PM ET
By
ESPN.com staff
| ESPN.com
Posted by ESPN.com's Heather Dinich
Plenty of spring games = plenty of links. Here we go around the ACC:
Some wonder if teams will be able to defend Georgia Tech better after having seen it once. Well, don't forget that Georgia Tech is likely to be better at executing it, too.
If anyone knows how to defend that offense, though, it's Jim Grobe, and he was a bit surprised by how well his young defense has played this spring.
Demetrius Taylor's hard work finally seems to have paid off at Virginia Tech -- as one of the smallest starting defensive tackles the Hokies have had "in the modern era," according to Kyle Tucker of the Virginian Pilot.
NC State is in great shape at quarterback, but protecting them appears to be another matter.
Duke's quarterbacks were also looking good, and the offense was better than it was a year ago.
Here's a name to remember: Virginia receiver Matt Snyder.
"This isn't the last time his uniform will be dirty," coach Al Groh told reporters after the Cavaliers' spring game on Saturday.
March, 30, 2009
3/30/09
10:00
AM ET
By
ESPN.com staff
| ESPN.com
Posted by ESPN.com's Heather Dinich
This can obviously change -- that's what the offseason is for -- but the Hokies released their pre-spring depth chart on Sunday. I'll have more on this after coach Frank Beamer's teleconference Monday, but thought Hokies' fans might want to take a look:
OFFENSE
SE Jarrett Boykin -- Austin Fuller
LT Ed Wang -- Nick Becton
LG Greg Nosal -- Will Alvarez
C Beau Warren -- Michael Via OR Richard Graham
RG Jaymes Brooks -- Vinston Painter
RT Blake DeChristopher -- Andrew Lanier
TE Greg Boone -- Chris Drager OR Sam Wheeler
QB Tyrod Taylor -- Ju-Ju Clayton
RB Darren Evans -- Josh Oglesby OR Ryan Williams
FB Kenny Jefferson -- Kenny Younger
FL Danny Coale -- Dyrell Roberts
DEFENSE
DE Nekos Brown -- Steven Friday
DE John Graves -- Isaiah Hamlette
DT Demetrius Taylor -- Kwamaine Battle OR Courtney Prince
DT Cordarrow Thompson -- Antoine Hopkins OR Dwight Tucker
OLB Cody Grimm -- Jeron Gouveia-Winslow OR Alonzo Tweedy
ILB Barquell Rivers -- Bruce Taylor
ILB Jake Johnson -- Quillie Odom
FC Rashad Charmichael -- Cris Hill
FS Kam Chancellor -- Lorenzo Williams
ROV Dorian Porch -- Davon Morgan OR Matt Reidy
BC Stephan Virgil -- Eddie Whitley
SPECIAL TEAMS
FG Matt Waldron -- Justin Myer
KO Justin Myer -- Tim Pisano
P Brent Bowden -- Brian Saunders
LS Colin Carroll -- Matt Tuttle
July, 17, 2008
7/17/08
6:03
PM ET
By
ESPN.com staff
| ESPN.com
Posted by ESPN.com's Heather Dinich
1. Georgia Tech: This veteran defense should help take some heat off the offense while it figures itself out. Senior tackles Vance Walker and Darryl Richard, along with defensive end Michael Johnson are legitimate NFL draft picks and should have their best seasons yet under first-year coordinator Dave Wommack.
2. Clemson: Three of the four starters return, including seniors Dorell Scott and Rashaad Jackson, and junior Ricky Sapp, who had 10 tackles for loss, five sacks and 22 quarterback pressures as a sophomore when he started all 13 games. And don't forget freshman Da'Quan Bowers, who will work his way into the rotation at defensive end with Kevin Alexander as they try to fill the void left by Phillip Merling.
3. Boston College: The Eagles had the No. 1 rushing defense in 2007 (75.5 yards per game), and that was without academically ineligible B.J. Raji and injured end Alex Albright, who had 8.5 sacks despite missing the last few games with a broken left forearm. Now they're back, along with senior tackle Ron Brace.
4. Florida State: Defensive end Everette Brown is the leader of this group and could be one of the best in the ACC. He led the team in sacks last year, when he was in a part-time role, and led all linemen in tackles and tackles for loss. Benjamin Lampkin converted from linebacker to end in the Music City Bowl. Budd Thacker started eight games last season and missed four because of an injury. Paul Griffin didn't start a game last year, but had 6.5 tackles behind the line of scrimmage.
5. Wake Forest: The Demon Deacons have to replace their top end in Jeremy Thompson, and fifth-year senior Anthony Davis, his backup, will inherit the job. Matt Robinson missed 2006 with a broken kneecap and then suffered a high ankle sprain last season and missed the three games. He was granted a sixth year of eligibility and will play as a grad student. Their strength will be inside with returning starter Boo Robinson at nose guard. John Russell is simmering with potential. Ted Randolph moved from tight end to defensive tackle midseason last year.
6. Virginia Tech: Only three ends with playing experience and one tackle return. Redshirt senior Orion Martin is the only returning lineman who started every game last season. Redshirt sophomore Jason Worilds should be No. 1 at the other end spot heading into fall and Nekos Brown and Steven Friday are competing for the backup spots. Demetrius Taylor has moved inside to tackle and will compete with John Graves, Cordarrow Thompson and a few others.
7. Duke: Junior tackle Vince Oghobaase is the real deal. He had 12 tackles for loss and 4.5 sacks last season. He's one of four returning starters, along with defensive ends Greg Akinbiyi and Wesley Oglesby, and defensive tackle Ayanga Okpokowuruk.
8. Miami: Hurricane fans have good reason to be excited about freshman Marcus Forston, but there's little that's certain about this line. Allen Bailey's move here from linebacker should help, but this offseason he's been slowed by a pectoral injury. Eric Moncur has struggled to stay healthy, along with Courtney Harris. Senior left tackle Antonio Dixon, Joe Joseph and Dwayne Hendricks are competing with Forston for the tackle spots.
9. North Carolina: The Tar Heels have to replace two of the league's best linemen in tackle Kentwan Balmer and end Hilee Taylor. There are plenty of options at tackle, where Aleric Mullins is a returning starter, but Taylor's absence will be felt. Darrius Massenburg broke his wrist and didn't participate this spring, Darius Powell is more of a third-down guy, and Vince Jacobs is a converted tight end.
10. Maryland: Jeremy Navarre is the veteran of this group, having started a team-high 35 games, and should move from end to tackle. Mack Frost is expected to take Navarre's end position, but he missed this spring because of knee surgery. Trey Covington has plenty of experience at the Terps' LEO position, which is a hybrid defensive end/linebacker. More is expected of nose tackle Travis Ivey, who played sparingly last year mostly in goal-line situations. Walk-on Bemi Otulaja passed him on the depth chart this spring.
11. NC State: Defensive end Willie Young and tackle Alan-Michael Cash are two certainties in an otherwise questionable line. While the move of Ted Larsen and John Bedics helped out the offensive line, it hurt the depth on defense. Markus Kuhn is a viable option at defensive end, and Antoine Holmes could help at tackle.
12. Virginia: With Chris Long and the lone answer to his departure, Jeffrey Fitzgerald, no longer on the team, the Cavaliers have a serious hole to fill, and there's not much experience at end to choose from. Alex Field played sparingly in every game and Sean Gottschalk played in nine.