August, 7, 2014
8/07/14
4:00
PM ET
Who's the most explosive player in the ACC right now?
Odds are a few names quickly come to mind, but before the debate can really begin, we probably need to decide on some parameters. After all, what exactly does it mean to be "explosive?" We could be talking about simply the fastest players in the conference, but even that gets tricky. Do we go by burst off the line, top-end speed, elusiveness on the run? Besides, what's speed without a little football skill to go with it?
And, of course, explosiveness comes in all forms. Lamarcus Joyner and
Vic Beasley
and Aaron Donald certainly provided their share of big-play explosiveness on defense last year, but the impact of a big hit or a drive-stalling sack is a little tougher to measure. So, for the purposes of this discussion, we're limiting the applicants to offensive and special-teams players.
To be clear though, one thing "explosive" doesn't mean, for the sake of this discussion, is "best." We're strictly talking explosiveness, electricity and athleticism here — not just the guys who put up the best totals and not the QBs tasked with throwing from the pocket. They're quite likely to land on any "best of" list (which
we already did last week
), but that's not what we're looking for here.
One way of determining explosiveness would obviously be the number of big plays made, so let's start there. Five returning ACC players were responsible for at least four plays of 50 yards or more last season. Here's the list:
Jamison Crowder
(Duke), 7
Ryan Switzer
(UNC), 6
Stacy Coley
(Miami), 5
Tyler Boyd
(Pitt), 4
Kermit Whitfield
(FSU), 4
That list might already serve as a good top five for the ACC, but let's dig a little more because big plays of 50 yards or more certainly are more apt to occur in the return game, and the above list reflects that.
So let's look at the receivers, too. A big play in the receiving game probably needs to be defined a bit more liberally, so let's lower the bar to 20 yards. Obviously some of the responsibility for a 20-yard catch goes to the QB, but it's also a sign of a receiver's ability to separate from DBs and get upfield. Of course, some teams also passed a good bit more than others, and a few offenses (Clemson, FSU, Pitt) were blessed with multiple talented receivers, so we'll divide the number of 20-yard plays by the total touches from scrimmage for our receivers to come up with a more accurate representation of who creates big plays the highest percentage of the time.
Among returning ACC receivers, six recorded 20-yard plays on at least 20 percent of their touches. Here's that list:
Coley, 37.1%
Quinshad Davis
(UNC), 26.0%
Joshua Stanford
(VT), 25.0%
Braxton Deaver
(Duke), 23.9%
DeVante Parker
(Lville), 23.6%
Demitri Knowles
(VT), 20.4%
We can do the same exercise for runners, but again, we should probably lower our "big-play" standard a bit more. Running backs and quarterbacks gaining 10 yards on a rush probably suffices, and that metric provides us with five players who managed big plays at least 17 percent of the time (a good break point given that the list gets a lot longer if we lower it to a more round number like 15 percent or 10 percent).
Karlos Williams
(FSU), 27.5%
Duke Johnson
(Miami), 19.3%
Terrel Hunt
(Syr), 18.7%
Myles Willis
(BC), 18.3%
James Conner
(Pitt), 17.1%
But beyond just the big plays, there's some value to consistency, too, right? The occasional highlight-reel big-play threat isn't really as valuable as the player who is routinely biting off sizable chunks of yards. If we also look at returning players who averaged at least 10 yards per all-purpose play last season (min. 50 touches), we get one last list of eight players.
Coley, 21.8 yards per play
Knowles, 16.1
Boyd, 15.1
Rashad Greene
(FSU), 14.8
Darius Jennings
(UVA), 13.3
Switzer, 13.2
Crowder, 13.0
Willis, 11.7
Add it all up and we get a list of 17 ACC players who made the cut by at least one of these metrics, and odds are, we're still probably leaving a couple "explosive" players out. And while we don't expect to firmly settle this debate, 17 is probably too unwieldy a number to stick with, so let's trim it down a bit.
A few names show up multiple times, so let's keep them around for now: Coley, Knowles, Boyd, Switzer, Crowder and Willis.
A few other numbers really stand out: Williams and Johnson were head-and-shoulders above the other tailbacks, and both have been electric return men in their careers, too. Hunt, by virtue of being the only QB listed probably deserves a nod. And lastly, Whitfield didn't have many touches last year (just 25), but 11 of them went for 30 yards or more — an astonishing 44 percent. (Of returning ACC players with at least 25 touches, the next closest was Coley, at 23 percent).
That leaves us with a top-10 list that probably works pretty well. How you might order that list is obviously a far tougher call, but for the sake of debate, here's how mine would look.
1. Coley
2. Whitfield
3. Switzer
4. Johnson
5. Boyd
6. Crowder
7. Williams
8. Knowles
9. Willis
10. Hunt
Yes, Greene or Parker or Davis could easily make the list, too. And if you wanted to put Crowder or Williams atop the list, I could see the logic. And by year's end, we wouldn't be surprised if, with a bit more experience,
Taquan Mizzell
or
Travis Rudolph
or
Wayne Gallman
crack the list, too. For now, this is the list we're sticking with. But we're all for some debate in the comments section, too.
August, 4, 2014
8/04/14
2:30
PM ET
Wake Forest coach Dave Clawson has one of the toughest coaching jobs in the ACC, tasked with turning around a Deacs program that has depth concerns and major uncertainty on offense.
So the last thing he needed was one of his
veteran defensive players
to go down. Senior nose guard
Johnny Garcia
tore his ACL and is done for the season, a big blow for a group that has to find somebody to step in and replace All-ACC performer Nikita Whitlock. Garcia has had a rough go of it at Wake. He tore his ACL as a true freshman in 2010, then switched over from tight end to defensive line, and has waited two years on his chance to start.
The Wake Forest defensive line already was lacking in depth. Back in the spring, defensive coordinator Mike Elko said the
situation wasn't ideal
, especially since Wake Forest has switched alignment from three down linemen to four. Losing Garcia means there won't be much doubt that the Deacs will have to rely on freshmen to play.
[+] Enlarge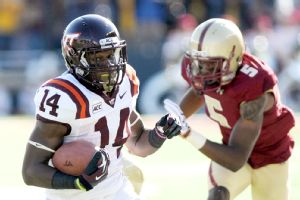 Darren McCollester/Getty ImagesHokies running back Trey Edmunds has been cleared to practice.
Meanwhile, Virginia Tech released its preseason injury report Monday with a few notable players taking the headlines:
Running back
Trey Edmunds
, who broke his leg at the end of last season and missed spring practice, has been fully cleared to participate when practice opens on Monday. This news is not a surprise, but still comes as a relief considering how big a role he will have in this offense. But just as there was good news from Edmunds, there was not-so-good news for the rest of the running back group.
Freshman
Marshawn Williams
, who
had a solid spring
, underwent hernia surgery last month and is questionable for the opener against William & Mary on Aug. 30. In addition, backup
Chris Mangus
decided to transfer.
Also on offense, senior offensive lineman
Brent Benedict
will not play this season because of a medical condition; Starting receiver
Demitri Knowles
has a sprained right ankle and will not be available when camp opens, but he should be able to play in the opener.
Defensively, the Hokies also are considering redshirting backup defensive tackle
Woody Baron
, who is still recovering from offseason ankle surgery. Starting cornerback
Brandon Facyson
has a right hip flexor injury and will be limited when practice opens. This is a different injury than the stress reaction in his leg that caused him to miss spring practice.
July, 14, 2014
7/14/14
12:00
PM ET
The Roanoke Times is counting down to ACC Kickoff by digging deeper into some of Virginia Tech's impact players, and
today's installment
features a look at receiver
Josh Stanford
.
Here's the basics:
"It didn't seem like Stanford was anything too special for the first half of last year. He was inconsistent, had bouts of drops (like all the receivers), making an occasional solid grab but never really taking command of a game. Then the Boston College game went to the second half. From there to the rest of the season, Stanford shined."
I don't know that "shined" is really the right word. Stanford had an incredible second half against BC, though Virginia Tech still lost that game. He had a big day the next week -- 7 catches, 107 yards and a TD — against a reeling Miami team in a win that salvaged some of Tech's season. After that though?
Against Maryland: 2 catches, 29 yards
Against UVA: 1 catch, 15 yards
Against UCLA: 3 catches, 34 yards
Indeed, his final three games accounted for the lowest amount of production during a three-game stretch Stanford had all year.
The BC and Miami games confirmed Stanford's potential, but they didn't exactly mark a turning of the tide. This is the problem for the Hokies' offense (and really, it has been for two years): There is talent in the receiving corps, but consistency has been non-existent.
Here's a look at the top returning receivers in the conference this year, based on 2013 yards:
1.
Jamison Crowder
(Duke), 1,360
2.
Tyler Boyd
(Pitt), 1,174
3.
Rashad Greene
(FSU), 1,128
4.
DeVante Parker
(Lou), 885
5.
Quinshad Davis
(UNC), 730
6.
Willie Byrn
(VT), 660
7.
Demitri Knowles
(VT), 641
8. Stanford (VT), 640
Of the top eight returning receivers, three play at Virginia Tech. That should be a real sign of encouragement for a passing game dealing with transition at the QB spot, but it's also worth pointing out that Byrn, Knowles and Stanford caught just 56 percent of their total targets last year. Overall, Virginia Tech finished ninth in the ACC in passing last year and 10th in completion percentage, despite what seems like a deep receiving corps.
Some of that can probably be blamed on the erratic aim of Logan Thomas, but the history of drops and bad routes among the Hokies' receivers is already well documented.
Byrn had his moments, including 100-yard games against UNC and Miami. He was also shut out against Alabama, had just 15 yards against Marshall and 26 in a loss to Duke.
Knowles had 99 yards against ECU and 101 against UVA. He was also limited to just two catches in six different games.
And yes, Stanford showed his potential against BC and Miami. He's only a redshirt sophomore, so the inconsistency the rest of the season was to be expected. But Virginia Tech is already well aware of potential. What the Hokies need from receivers now are consistently strong results.
More links:
July, 10, 2014
7/10/14
9:00
AM ET
From Florida State's veteran line to Clemson's fearsome defensive front, the ACC projects to have some of the country's best position groups this fall, while a few other contenders will enter 2014 with some major question marks in key areas. With that in mind, we're looking at the ACC's best units, a few more that might surprise in 2014 and the top teams with holes that could keep them from an ACC title.
Previous installments of this series can be found
here
.
Next up:
Special teams
Best of the best:
Florida State
There is no shortage of ACC teams with playmakers on special teams, but in the end, the Seminoles' talent overwhelms. They bring back sophomore
Kermit Whitfield
after a historic rookie campaign that was the best in school history. He had a nation-best 36.4 yard kick return average (an ACC record) and a 100-yard touchdown return late in the fourth quarter of the national title game. On top of that, there's reigning Lou Groza Award winner and All-American
Roberto Aguayo
, whose redshirt freshman season saw him nail 21 of his 22 field goal attempts and all 94 of his extra point tries. His 157 points set a new national record for a kicker as well. FSU also brings back punter
Cason Beatty
, in addition to the more-than-capable
Rashad Greene
at punt returner, where the Seminoles have a number of precocious speedsters behind him.

Next up:
Duke
North Carolina certainly has a strong argument in returning
Ryan Switzer
, but the nod here ultimately goes to rival Duke, which brings back all of the key pieces from a special teams unit that played no small role in helping the Blue Devils win the Coastal Division title. There's
Jamison Crowder
, one of the most versatile players in the country, who amassed 401 yards and two touchdowns last season on 25 punt returns. There's
DeVon Edwards
, who thrived all over the field as a redshirt freshman, returning 19 kickoffs for 574 yards and two sores. And there's kicker
Ross Martin
and punter
Will Monday
, both of whom put forth stellar efforts last season, with Martin connecting on 2 of 3 tries from 50 yards or longer and Monday pinning 21 punts inside the 20.

Possible sleeper:
Georgia Tech
Jamal Golden
is back after a one-year absence because of a shoulder injury. But don't count out the junior, as he was the only player in 2012 to rank in the top 10 nationally in both punt returns (14.6) and kick returns (28.4). His time away has given way to more film study, and if fully healthy, Golden's numbers figure to be right up there with the rest of the talented specialists returning in the ACC this season.
Harrison Butker
impressed as a true freshman last season, hitting 10 of 14 field goal attempts and missing just one extra point. Punter
Ryan Rodwell
, meanwhile, figures to be the main guy after redshirting in 2013.

Problem for a contender:
Virginia Tech
Beamer Ball has undoubtedly taken a hit, most notably with the team's kicking woes (VT missed 11 field goals last season) and the dismissal of Cody Journell. Freshman Michael Santamaria may be the answer at starter, for better or worse.
Kyshoen Jarrett
is back after averaging 5.3 yards per punt return last season. So, too, is
Demitri Knowles
, who averaged 21.8 yards per kick return in 2013. Something needs to be done about coverage, as the Hokies surrendered three touchdown returns last season.
March, 13, 2014
3/13/14
4:00
PM ET
(*Target totals courtesy ESPN Stats & Info.)
Much has been made about the enormous turnover at quarterback in the ACC, where nine of the league's 14 teams will feature a different starter in Week 1 of 2014 than at the conclusion of 2013.
The new arms throwing the football will be a major storyline for the spring, but the players on the other end of those passes will be much different this year, too. Eight of the top 12 receivers in the ACC last season are moving on, including likely first-round NFL draft picks
Sammy Watkins
,
Eric Ebron
and
Kelvin Benjamin
.
[+] Enlarge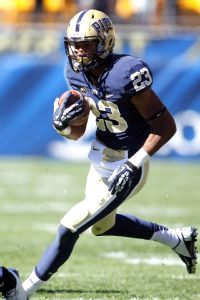 Charles LeClaire/USA TODAY SportsPittsburgh's Tyler Boyd could be one of the ACC's top wideouts in 2014.
Combine the high turnover at quarterback with the loss of so many top receivers, and it's fair to say the passing games in the ACC will look much different in 2014. Of course, that doesn't mean there isn't some impressive returning talent. Nine receivers who were targeted at least 70 times last season return.
The obvious standout is
Jamison Crowder
, who was targeted a whopping 174 times in 2013. Nationally, only Fresno State's
Davante Adams
(180 targets) was thrown to more often, according to ESPN Stats & Info. It's also worth noting that Fresno State had 203 more passing attempts than Duke did. Crowder was on the receiving end of 37 percent of Duke's passing attempts last season, compared with just 27 percent for Adams. Among ACC receivers, only Boston College's
Alex Amidon
accounted for a higher percentage of his team's throws (41 percent). Given his contributions on special teams, too, there's a case to be made that, aside from
Jameis Winston
, no player in the ACC means more to his team than Crowder.
It's worth noting, too, that Duke is one of the five ACC teams with the quarterback position already settled, with
Anthony Boone
and
Brandon Connette
both returning for 2014, giving the Blue Devils easily the most tested quarterback-receiver combo in the conference.
Beyond Duke's established QB/WR combo, Florida State is in good hands with senior
Rashad Greene
returning for his senior season. In 2013, he was on the receiving end of 27 percent of Winston's throws, and with Benjamin and
Kenny Shaw
both gone, Greene's role figures to only get bigger in 2014.

Believe it or not, the third-most tested combo in the conference is at Virginia, where QB
David Watford
returns along with receiver
Darius Jennings
, who was targeted 78 times last year. Of course, the Virginia passing game was far from effective for much of the season -- and Jennings only hauled in 49 percent of his targets with a paltry 4.3 yards/target average -- but the rapport Watford and Jennings were able to build throughout 2013 offers some hope for the Cavaliers' offense.
In terms of pure explosiveness, North Carolina could have an interesting combination with
Marquise Williams
back at quarterback and emerging talent
Quinshad Davis
at receiver. Davis hauled in an impressive 67 percent of his targets and gained an average of 10.1 yards per target last season, including 10 touchdowns. Of course, he'll need to prove he's as effective without Ebron hogging so much of the attention from opposing defenses this year.
Similarly, the ACC will get its introduction to Louisville standout
DeVante Parker
in 2014. While Parker won't have the luxury of
Teddy Bridgewater
throwing to him, his numbers last season were immensely impressive. He averaged nearly 11 yards each time he was thrown to, and he hauled in two-thirds of his targets.
While Crowder and Greene represent the cream of the crop for receivers with returning quarterbacks, the player with perhaps the most upside of the group is
Tyler Boyd
. Pitt might be in search of a new starting quarterback to replace
Tom Savage
, but few first-year starters will have a weapon as reliable and explosive in the passing game as Pitt has in Boyd. As a true freshman in 2013, Boyd finished third in the conference in targets (behind only Crowder and Watkins), hauled in nearly 70 percent of his targets (tops among returning receivers with at least 70 targets) and his 10 catches of 25 yards or more is second only to Crowder among returning receivers in the conference.
But perhaps the most intriguing names on this list are the trio from Virginia Tech. The Hokies account for one-third of all the ACC's returning receivers with at least 70 targets, meaning that while Frank Beamer works to find his new quarterback, he'll have a veteran group of receivers to target. Of course, experience only matters if there's talent to back it up and that's the big question in Blacksburg.
Virginia Tech ranked 63rd nationally in passing offense last season, 68th in yards per attempt and 89th in QB rating. While
Demitri Knowles
,
Willie Byrn
and
Joshua Stanford
were all among the ACC's most targeted receivers, they also hauled in just 56 percent of the balls thrown their way and averaged just 7.9 yards per target. They'll need to be far more reliable in 2014 with a new QB throwing to them.
June, 18, 2013
6/18/13
9:00
AM ET
We move on in our series looking at the weakest and strongest position on each team in the ACC with Virginia Tech.
Strongest position: Defensive line

Virginia Tech should feature one of the best -- if not the best -- defense in the ACC this season, and its defensive line is a big reason why. There is big-time talent here, so much so that Phil Steele has ranked this group No. 7 in the nation (and tops in the ACC). The headliner, of course, is defensive end
James Gayle
, who had a huge spring and won Defensive MVP honors. He is in line to have a terrific season. The Hokies return three starters up front, including both tackles
Derrick Hopkins
and
Luther Maddy
. Even though the Hokies had their share of inconsistency on D, the rushing D still ranked in the Top 30 in the country and played much better as the year went on. There are some concerns over depth at tackle, where the Hokies are going to have to rely on some freshmen to help out. Defensive coordinator Bud Foster is concerned about the youth there, but he also said he saw improvement this spring.
Weakest position: Receiver
We could have gone in a number of directions here on offense, because there are weaknesses at every single position. Offensive line and running back are not exactly strong suits and are two areas of concern headed into the season as well. But the biggest concern could be at receiver, where there is really one one proven player in
D.J. Coles
, and he is coming off a knee injury that forced him to miss every game but the opener last season. Receiver was an area of major inconsistency last year, and that contributed to the problems
Logan Thomas
had. This spring they had their good moments and bad, but way too many drops. If those problems continue into the season, there will not be a whole lot Thomas can do. If he doesn't have anybody consistently catching the ball, then the Hokies' offense will remain stuck in neutral. Among the others Virginia Tech will be relying on:
Demitri Knowles
,
Kevin Asante
and Josh Stanford. All are sophomores or freshmen, and Knowles is the only one who was a major contributor last season. Needless to say there is a lot of work yet to be done at this position during fall camp.
More in this series here.