July, 30, 2012
7/30/12
9:00
AM ET
Week 11
: Nov. 17 vs. Wake Forest (at Notre Dame Stadium in South Bend, Ind.)
Time/TV
: 3:30 p.m. ET, NBC
Series
: Notre Dame leads all-time, 1-0
2011 record
: 6-7 (5-3 ACC; tied second place, Atlantic Division)

Head coach
: Jim Grobe (68-67, 11 years)
Returning starters
: Offense: 3; defense: 7; kicker/punter: 2
Top returners
QB
Tanner Price
, WR
Michael Campanaro
, C
Garrick Williams
, DE
Zach Thompson
, NG
Nikita Whitlock
, OLB
Joey Ehrmann
, ILB
Scott Betros
, ILB
Riley Haynes
, CB
Merrill Noel
, FS
Kenny Okoro
Key losses
RB Brandon Pendergrass, WR
Chris Givens
, TE
Cameron Ford
, T Dennis Godfrey, T Doug Weaver, G
Joe Looney
, G Michael Hoag, DE Tristan Dorty, DE
Kyle Wilber
, SS Cyhl Quarles, FS
Josh Bush
2011 statistical leaders (*returners)
Rushing
: Brandon Pendergrass (823 yards)
Passing
: Tanner Price* (3,017 yards)
Receiving
: Chris Givens (1,330 yards)
Tackles
: Cyhl Quarles (101)
Sacks
: Kyle Wilber/Nikita Whitlock* (3.5)
Interceptions
: Josh Bush (6)
Three questions for ...
ACC blogger Heather Dinich:
Wake returns plenty of talent at the skill positions, but it is tasked with replacing four starters on the offensive line. What's a realistic timeline for the newcomers to jell and form a cohesive unit?
Heather Dinich:
Well, it's more like three starters at this point, because
Steven Chase
, who missed the spring for undisclosed reasons, has since returned. The group also got a huge boost from the move of
Frank Souza
from the defensive line. Chase's return has allowed the staff a little more flexibility with the depth chart. He or Souza -- whoever develops into the better pass protector — will likely slide into the right guard position. Souza was backup to talented noseguard Nikita Whitlock and saw the writing on the wall: Whitlock wasn't coming off the field anytime soon. So he jumped at the opportunity to see more snaps on offense. Coach Jim Grobe told me they "hit a home run with Souza." Right now he's got five guys he's comfortable with. Depth? That's another question.
Head coach Jim Grobe rarely has much staff turnover, but three new assistants are aboard for 2012. What's new, and how will that translate on the field this season?
HD:
Yes, the Deacs have long been one of the most stable staffs in the ACC, but there are a few new faces in new positions, and I think overall, it will make Wake Forest a better team. Tim Duffie will be in his first season coaching the secondary, and he has lots of talent to work with back there, particularly at the corner position. Jonathan Himebauch is in his first year coaching the offensive line, and
Derrick Jackson
is in his first season coaching the outside linebackers. The move of OC Steed Lobotzke to tight ends and fullbacks should help him manage his time better as a coordinator because he won't have to deal with so many offensive linemen.
The Deacs surprised everyone but themselves last season, falling a field goal short of playing for the ACC title. There are obvious shortcomings (O-line, secondary) on this year's roster, but will they be able to overcome those and make another push at a division crown?
HD:
If they did it last year, I don't see any reason why they shouldn't be able to make another run at it. They've got to be able to win those close games, though. The close losses to Syracuse, Clemson -- and of course Notre Dame -- are still stinging, and just about anyone in that program will tell you they could've played better against UNC. Jim Grobe has a very good football team to work with this year, and he has a defense that could be reminiscent of the old days with Aaron Curry and Alphonso Smith. There are some diamonds in that group, they're just not very experienced. It wouldn't be wise, though, for Wake Forest opponents to take this year's team lightly.
May, 8, 2012
5/08/12
6:00
AM ET
2011 overall record:
6-7
2011 conference record:
5-3 (T-2nd, Atlantic)
Returning starters
Offense: 3; defense: 7; kicker/punter: 2

Top returners
QB
Tanner Price
, WR
Michael Campanaro
, C
Garrick Williams
, DE
Zach Thompson
, NG
Nikita Whitlock
, OLB
Joey Ehrmann
, ILB
Scott Betros
, ILB
Riley Haynes
, CB
Merrill Noel
, FS
Kenny Okoro
Key losses
WR
Chris Givens
, T Dennis Godfrey, T Doug Weaver, G
Joe Looney
, G Michael Hoag, TE
Cameron Ford
, RB Brandon Pendergrass, DE Tristan Dorty, DE
Kyle Wilber
, SS Cyhl Quarles, FS
Josh Bush
2011 statistical leaders (* returners)
Rushing
: Brandon Pendergrass (823 yards)
Passing
: Tanner Price* (3,017 yards)
Receiving
: Chris Givens (1,330 yards)
Tackles
: Cyhl Quarles (101)
Sacks
: Kyle Wilber/Nikita Whitlock* (3.5)
Interceptions
: Josh Bush (6)
Spring answers
1. Tanner Price:
As a sophomore last season, Price threw for more than 3,000 yards to go with 20 touchdowns and six interceptions. Coach Jim Grobe has challenged Price to improve on his accuracy, especially on underneath passes, and if the quarterback can build off last season's 60-percent completion rate, the Demon Deacons should be just fine under center.
2. Skill players:
Michael Campanaro is sliding into the go-to target shoes left behind by Chris Givens, shifting the focus to who will be the Deacs' No. 2 receiver.
Josh Harris
has been healthy all spring and should add a boost to a backfield that returns
Orville Reynolds
and
DeAndre Martin
. Deep? Not exactly. But Wake knows what it has in its skill-position players, and has enough weapons around Price for the quarterback to make a jump in his junior year. This spring has helped ease some concerns.
3. Front seven:
The Deacs return a majority of their front-seven, including second-team All-ACC nose guard Nikita Whitlock. Grobe has praised the overall speed and depth of the defense as a whole, and he expects the team to be better on that side of the ball. Look for more pressure this season in new outside linebacker coach Derrick Jackson's first year on staff.
Fall questions
1. Offensive line:
There's no sugar-coating this one: If Wake wants to repeat its surprising 2011 season -- one that saw it come within a field goal of playing for the ACC title -- it needs to find some answers up front. The line is replacing four starters. Grobe said coming out of spring that he feels comfortable about three spots at the moment, but the Deacs will need more than that if they want to get the most out of their skill players.
2. New staff:
Grobe has had little turnover in his 11 years at Wake Forest, but he hired three new assistants this offseason -- Jackson, Jonathan Himebauch (offensive line) and Tim Duffie (secondary). The fresh blood, Grobe said, led to much more energy this spring, but the biggest tests will obviously come in-season.
3. Secondary.
Speaking of Duffie, he'll have his work cut out for him in Year 1. Both safeties are gone, including Josh Bush, now with the Jets. Experience at cornerback will help ease the transition for the secondary, but building depth at safety could be an issue.
October, 26, 2011
10/26/11
12:01
PM ET
By
ESPN.com staff
| ESPN.com
September, 16, 2011
9/16/11
9:00
AM ET
By
ESPN.com staff
| ESPN.com
Thanks to the sports information directors throughout the league for this week's nifty notes:
ACC:
The top two tacklers in the nation and three of the top four are currently from the ACC. Boston College linebacker Luke Kuechly leads the nation in tackles with 17.5 per game, but Maryland linebacker Darin Drakeford is right behind him, after making 14 hits in the Terps' 32-24 win over Miami on Labor Day. Terps' linebacker Demetrius Hartsfield is in a four-way tie for fourth, having made 13 tackles against the Hurricanes. – ACC game notes
BOSTON COLLEGE:
Boston College's defense has so far faced opponents who have run the ball 67 percent of the time. Northwestern and Central Florida combined to record 99 rushing attempts times out of 148 total plays called. They combined for 462 yards on the ground, six touchdowns and averaged 4.7 yards per carry and 231 yards per game. The Eagles led the nation in rushing defense last season. – BC game notes
CLEMSON:
When Clemson hosts Auburn on Saturday, it will be just the third time the defending national champion has come to Clemson and the ACC Tigers have won each of the previous two occasions. Clemson defeated Georgia in 1981 (13-3) after the Bulldogs won the 1980 title and downed Georgia Tech (9-7) in 1991 after Bobby Ross's team won the 1990 UPI National Championship. Each of those two previous meetings with the defending champ at Clemson took place in the third game of the season. When the Tigers downed Georgia Tech in 1991, Georgia Tech was 19th in the nation entering the game, the same ranking for Auburn this weekend.- Tim Bourret
DUKE:
Led by redshirt senior nose guard Charlie Hatcher, Duke is using an 11-man rotation along its defensive line. Hatcher is the lone lineman playing his final season of eligibility as the group includes six redshirt freshmen, two redshirt sophomores and two redshirt juniors. – Art Chase
FLORIDA STATE:
FSU is 3-3 at home when ESPN's College GameDay crew is on campus, including the only previous time the Seminoles have hosted a top-ranked team at home. That was in 1996, when No. 2 Florida State knocked off No. 1 Florida, 24-21, securing a Sugar Bowl berth and a shot at the national championship. That victory remains the Seminoles' lone win against an AP top-ranked opponent. FSU is 1-5 all-time against teams ranked No. 1. – Bob Thomas
GEORGIA TECH:
Quarterback
Tevin Washington
's pass efficiency rating is currently 329.7. He has completed 13 of 21 passes for 473 yards and five touchdowns. Washington leads the ACC this week in pass efficiency rating, but falls nine pass attempts short of the NCAA minimum to qualify. – ACC game notes
MARYLAND:
After going 41 games without scoring via a fumble return or interception return (Erin Henderson in 2006 vs. Virginia), Maryland has scored eight defensive touchdowns in the past 17games, including a pair against Miami in the Terps' 31-24 Labor Day win. Joe Vellano returned a fumble 30 yards for a score and Cameron Chism had a 54-yard interception return for a touchdown. – Shawn Nestor
MIAMI:
Miami's 172 rushing yards at Maryland was the Hurricanes' most in a road opener since also rushing for 172 in a win on Sept. 23, 2004 at Houston.- Miami game notes
NORTH CAROLINA:
North Carolina leads the ACC and ranks third in the country in rushing defense, allowing just 30 yards per game. Virginia Tech is second at 51 yards per game. Last week, Carolina's defense held Rutgers to just 1 yard rushing. The Scarlet Knights had five different players rush a combined 21 times for 18 net yards, but quarterback
Chas Dodd
was sacked four times for 17 yards. The 1 yard rushing is the fewest by an opponent since Wake Forest rushed for minus two yards in 2000. – Kevin Best
NC STATE:
The Wolfpack's shorthanded D gave up 337 passing yards and 438 yards of total offense to Wake Forest. In the opener, Liberty gained 406 yards of total offense. The good news? NC State is tied for second in the nation this week with five interceptions. - NCSU game notes
VIRGINIA:
On Sept. 7, Virginia offensive lineman Oday Aboushi was one of 12 Muslim-American athletes invited to Washington, D.C. by Secretary of State Hillary Rodham Clinton and the Department of State to commemorate Eid ul-Fitr, the three-day celebration at the end of Ramadan, Islam's holy month of fasting. Other athletes at the reception included Denver Nuggets forward Kenneth Faried, former NFL offensive lineman Ephraim Salaam and professional boxer Amir Khan. A 6-6, 310-pound junior from Staten Island, N.Y., Aboushi's parents are Palestinians who immigrated to the United States. "I was very humbled to be there," said Aboushi, who had the chance to meet and talk with Clinton at the event. "Hearing everybody else's stories of being Muslim athletes around the nation was really inspiring and will help me to get better." – Jim Daves
VIRGINIA TECH:
Opponents have been charged with a just one penalty during the first two games. – Hokies' game notes
WAKE FOREST:
Wake Forest's offensive line starters, weighing in at a collective 1,570 pounds, is the biggest line in school history. Guards Joe Looney (320) and Mike Hoag (305), tackles Dennis Godfrey (315) and Doug Weaver (320) and center Garrick Williams (310) are all over 300 pounds. The five starters average 314 pounds per man. The next largest line in school history was the 1998 line consisting of guards Brian Wolverton (310) and Sam Settar (328), tackles Jeff Flowe and Michael Collins, and center Marlon Curtis (287), who combined for 1,568 pounds of 313.6 per man. – Steve Shutt
April, 20, 2011
4/20/11
4:46
PM ET
By
ESPN.com staff
| ESPN.com

Wake Forest starting offensive tackle Dennis Godfrey, a native of Sanford, N.C., was playing in the Deacons' spring game on Saturday when
a storm later categorized as an F-3
tore through his hometown. His cousin, Jeff Petty, lost his house and Petty's mother broke both of her legs, according to a school release. Many friends of the Godfrey family lost their homes and all of their possessions. Godfrey's sister was at the scrimmage while her place of business was destroyed by the storm.
Godfrey has since helped mobilize the Wake Forest campus to collect food and clothing items to donate to the tornado victims. Items can be donated at 5 p.m. Thursday, April 21 on the Wake Forest campus. The collection point will be on Hearn Plaza, in front of Wait Chapel. Godfrey and friends will drive the items to Sanford on Friday.
The drive will be collecting canned goods, clothing, bottled water and toiletry items.
"It really hit home because you just don't think something like that could happen in Sanford," Godfrey said, according to the release. "But I'm not doing it just for Sanford, but also for the other 26 counties that got hit hard."
For more on this story,
click here
.
August, 4, 2010
8/04/10
4:00
PM ET
By
ESPN.com staff
| ESPN.com
Former Wake Forest quarterback Riley Skinner was one of the best the Deacons' offense had ever seen. He was a record-setter in numerous categories. He was the winningest quarterback in school history.
And he was also the slowest quarterback this staff had ever coached.
That could change this fall, and so could Wake Forest's offense.
It's the first time since 1957 that Wake Forest has had zero passing attempts among its returning quarterbacks. When the Deacs begin practice on Thursday, the most experienced passer on the roster will be wide receiver
Marshall Williams
, who went 3-for-3 for 52 yards last year, throwing off reverses.
Ted Stachitas
is the only other quarterback who has taken a snap in a game. He was in for the final six plays of Wake's 35-7 win over Elon last year.
Offensive coordinator Steed Lobotzke said the staff will take about 12 practices and a few scrimmages to figure out who the starting quarterback will be. Only then will it begin to build an offense around him.
"It could be different," Lobotzke said. "Whoever ends up being that guy is going to drive two things: How much do we do in the run game because of that kid's mobility and feet? How good of a runner is he? The faster the runner, the bigger the run game. The slower the runner, the smaller the run game, Riley being the bare minimum."
A fast player who can make all of the throws would obviously be the ideal. A slow player who can't make the throws?
"Then I'm probably home for Christmas," Lobotzke said.
Skylar Jones
enters Thursday's practice as the leader by default -- he was the healthiest of the bunch coming out of the spring. If his durability holds up and he continues to progress, it's his job to lose.
Equally as important is the offensive line, where the Deacs have to replace four-year starter Chris DeGeare at left tackle. Redshirt freshman Steven Chase was moved over from the defense this past spring, where he had about eight practices, but he's not DeGeare. Dennis Godfrey was expected to be, but he missed some spring ball with a concussion and his weight has been too high.
"I don't know what the answer is there," Lobotzke said. "Two-a-days are going to tell me a lot about both of those guys. That's my big question mark. If I can find that position and keep my other four healthy, I feel pretty good."
Staying healthy is critical up front for the Deacs, because the offensive line just isn't dependable enough with the two-deep rotation yet.
Russell Nenon at center has progressed well this offseason after having elective shoulder surgery and missing the spring. Joe Looney is in his third season starting at left guard and the staff is confident in his ability. The right tackle was a carousel position last year with Jeff Griffin and Joe Birdsong. Doug Weaver has emerged as a solid player there and Lobotzke said he now thinks it's Weaver's time. At right guard, Lobotzke is waiting to see if Mike Hoag is healthy from a hamstring injury that hampered him this spring.
Unfortunately for Wake Forest, the two biggest offensive concerns are at the two most important positions, but if the Deacs can solidify that this summer, they could surprise some teams this fall.
June, 24, 2010
6/24/10
9:00
AM ET
By
ESPN.com staff
| ESPN.com
Wake Forest senior center Russell Nenon had a decision to make this offseason -- either get an internship and go to work or continue his football training.
"It was kind of a no-brainer," said Nenon, who has been in Franklin, Tenn., training at D1 Sports Training for five weeks. "I just wanted a challenge. We had some misfortunes last fall, so I have to make sure I do my best to not sit at home for Christmas.
[+] Enlarge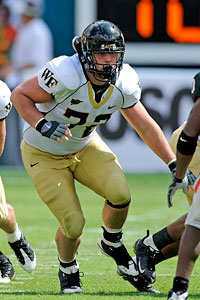 Richard C. Lewis/Icon SMIWith the turnover on the offensive line, Wake Forest will be leaning on Russell Nenon's leadership.
"I think I was asked about 500 times how my season went when I was home for Christmas," he said. "I don't really like explaining why I'm not at a bowl game."
Nenon is tired of sitting out. He missed this spring while recovering from January surgery on his torn left labrum. Part of the reason he chose extra training this summer was to help gain the strength back in his shoulder. Nenon has been working with a few free agents from the Titans, and a few players from Tennessee. Nenon's health, his leadership and his contributions up front will be invaluable to an offense in transition.
Not only did the Demon Deacons graduate six offensive linemen, but they are also ushering in a new quarterback. Wake Forest must replace three starters who combined for 104 starts up front, leaving Nenon and guard Joe Looney as the veterans of the group.
"We're really close, we work really hard," Nenon said. "We're going to try our hardest to be a strong point of our offense. Joe Looney is a great guy, a great player. Doug Weaver has improved a lot since he was younger. Steven Chase (former defensive tackle) came over this spring, he had a great spring. Dennis Godfrey had a great spring. They know they have a lot to learn, and Joe and I are going to try to make it as calm as an atmosphere as possible. We're going to work hard and hopefully be ready for Presbyterian come the first game."
Nenon said he's confident in all three of Wake's quarterback candidates.
"Being a spectator this spring, I kind of got a different view," he said. "My confidence level with Skylar [Jones], Ted [Stachitas] and Brendan [Cross] is very high. I'm not worried about them. I've seen them play on the practice field all the time. I have no worries with them. As soon as they get that first snap, they'll remember it's just football. As far as the offense, it's definitely different from having Riley [Skinner] back there, but I'm excited. It's something different we're bringing to the table. I know coach [Steed] Lobotzke is giving us the best chance to win, so hopefully we can turn things around this fall."
Nenon is doing his part this summer.