July, 9, 2014
Jul 9
2:00
PM ET
Duke lost All-ACC cornerback Ross Cockrell from its secondary, but the Blue Devils are poised to be even better this season thanks to a philosophical shift on the recruiting trail.
After the 2012 season ended, the Duke coaching staff sat down to discuss ways to make the program better. Defensive backs coach Derek Jones wanted to start recruiting a more complete and versatile player, capable of playing both cornerback and safety. That way it would be harder for opponents to find weaknesses in the secondary.
The change paid off immediately. Duke signed
Breon Borders
,
Bryon Fields
and
Deondre Singleton
in the class of 2013. All three came in after lettering in multiple sports in high school. Singleton was rated as both a cornerback and safety; Fields was listed as an athlete.
[+] Enlarge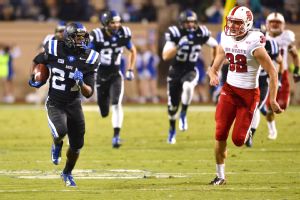 Lance King/Getty ImagesDeVon Edwards started eight games as a redshirt freshman in 2013 and had two interception returns for a touchdown against NC State.
All three played as true freshmen. Add into the mix
DeVon Edwards
, who switched from cornerback to safety as a redshirt freshman, and Duke had an unprecedented youth movement in the secondary.
"I had never played that many true freshmen, and when I did it, I was very nervous," Jones says with a chuckle. "I went into the season without a lot of depth. We only had Ross Cockrell who had starting experience.
"First game of the season, I told Ross I'm going put [Borders and Fields] in at corner on the third series of the game. We're not going to tell them. I'm just going to throw them out there. I put them out there, and they both performed with the same confidence they practiced with. Once they got out there and got their teeth cut, that meant something to them."
Borders and Fields both played in all 14 games last season, taking the second- and third-most snaps among all Duke cornerbacks. Borders broke the school freshman record for interceptions with four. They are the new starting cornerbacks for 2014.
Edwards started eight games last season and against NC State became the second player in NCAA history to score on interception returns on back-to-back plays. He returns to the starting lineup along with Singleton and junior safety
Jeremy Cash
, expected to be a preseason All-ACC selection after racking up 121 tackles and four interceptions last season while playing the most snaps of any Blue Devil.
Duke has no seniors among its most experienced defensive backs, so this is a group that can build on the steps it began taking last year.
"We had some success last year but the biggest thing is not to be satisfied," Fields said in a recent interview. "One of the things that makes us successful as a group is the way we compete with each other. When we go into workouts and practices, we're competing, jawing back and forth during every drill. Even off the field, we compete and that all makes us closer. That trust level we built is what makes our ceiling so high. We have the skill level, but that's not what separates us."
The closeness was built once they arrived on campus. Nobody knew each other in high school, but they all quickly became friends, including players who ended up redshirting last season such as
Quay Mann
and
Evrett Edwards
. Mann also has moved positions, switching from cornerback to safety.
Evrett Edwards, meanwhile, was the highest-rated defensive back recruit in the 2013 class and impressed in the spring game in March, tying for the team lead with eight tackles while adding a sack.
"We're together everywhere we go off the field," DeVon Edwards said recently. "If you're not with the whole group, you're with one person in the group. So our bond is real strong even away from football and that puts trust in our relationships on the field, allows us to get on each other."
Bonding as young players helped, too, because they shared similar experiences together.
"I'd say it was just a stroke of luck that we all got together," Fields said. "We all have similar personalities, we're all competitive and that can be attributed to recruiting. Even Coach Jones has that dog-eat-dog mentality and that's been translated down to us. We have a desire to be the best we can be."
June, 18, 2014
Jun 18
2:00
PM ET
Tommy Tuberville has never been one to hold back. Whether you want to hear it or not, brutal honesty is all you are going to get.
So when Derek Jones asked his former coach for a bit of advice about whether to join the Dallas Cowboys for a minicamp tryout, Tuberville laid it down: Forget about playing in the NFL, he told him. You need to be a coach.
[+] Enlarge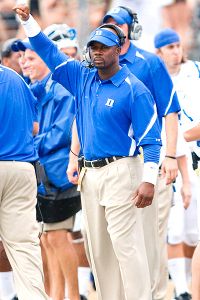 Courtesy of Duke University PhotographyDerek Jones is beginning his seventh season as a Duke assistant, and is on a path to being a head coach someday.
Jones had never given coaching a thought. He figured after his playing career was over, he would become a lawyer. But Tuberville made a convincing argument: Jones was a team leader, a hard worker and knew how to sell the Ole Miss program to incoming recruits while he was still playing.
Tuberville presented him with an opportunity, offering him a graduate assistant job on his Ole Miss staff in 1998. Try it, Tuberville told him. If you hate it, at least you will be on your way toward law school.
Jones considered the possibilities. He realized what Tuberville said was right. He was a 5-foot-8 cornerback with some CFL experience, but would he really have a future in the NFL? Jones gave up on his NFL dream and accepted the job. Now, 16 years later, he is going into his seventh season as a Duke assistant.
But more than that, Jones is headed down a path that could lead him toward a head coaching job. Jones recently participated in the NCAA Champion Forum in Orlando, Florida, where minority assistants identified as potential head coaches participate in sessions designed to prepare them to take the next step in their careers.
"I get it now, and I really appreciate Coach Tuberville seeing something in me that I didn't see in myself," Jones said. "If he hadn't given me that hard love and that advice, I may not have had a chance with Coach [David] Cutcliffe when he came to get in the door. Who knows where I would be now."
Indeed, one decision often becomes life-changing. Jones had a chance to work with Tuberville for one year before Cutcliffe took over at Ole Miss in 1999. Cutcliffe retained Jones, and they each left impressions on the other. Jones went on to become a full-time assistant at Murray State and spent time at Middle Tennessee, Tulsa and Memphis.
Jones' phone rang shortly after Cutcliffe became head coach at Duke in December 2007. Cutcliffe wanted Jones to join him with the Blue Devils.
"When he offered me the job, I had three other job offers on the table at some pretty big football-playing schools," Jones said. "He said something that stuck with me. He said, 'I know you've got some other things going on, and you can go to those places and you'll probably be successful, but I think we have a chance to do something significant at Duke.'
"Going to place a like that, where the odds were against you, I knew I'd have a chance to make a difference not only in the lives of young men and on the football field, but also proving to myself that I'm actually good at this. It was more of a personal thing and believing in him. I saw what he was able to do at my alma mater. I knew if he could go into Ole Miss and do the things he'd done there, I knew there was a chance we could get it done at Duke."
Cutcliffe sold his vision to incoming players, too, and has turned Duke into a division champion because everybody inside the program bought in. Jones has had opportunities to leave Duke, but he has stayed, largely because of Cutcliffe.
[+] Enlarge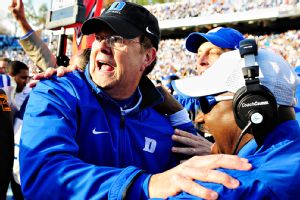 Grant Halverson/Getty ImagesDerek Jones believed in David Cutcliffe's vision for Duke football.
"The ability to work under Coach Cutcliffe is good for my growth," Jones said. "He's as good as any coach I've been around at so many things. The more knowledge I can obtain from him, the better I'm going to be long term. I can't think of many other situations outside of the situation we've been in that compares to anything."
Jones has aspirations to become a head coach, which is why attending the Champion Forum was so important to him. Assistants go through mock interviews with current athletic directors, have opportunities to network and learn everything that goes into becoming a head coach -- because it goes way beyond coaching. Jones has never interviewed for a head coach job, but when that opportunity comes, he will be much better prepared.
"Now I have a background on what it takes for me," he said. "I can start to work on the things I don't have in my arsenal right now."
Jones does have the coaching. As defensive backs coach, he helped cornerback
Ross Cockrell
earn first-team All-ACC honors in 2012 and 2013. Cockrell was picked by Buffalo in the fourth round of the NFL draft in May. Duke returns a young but very talented secondary in 2014, led by All-ACC second-team safety
Jeremy Cash
,
DeVon Edwards
,
Bryon Fields
and
Breon Borders
.
They remain his focus, thanks in large part to the brutal honesty of a coach who believed.
January, 20, 2011
1/20/11
3:00
PM ET
By
ESPN.com staff
| ESPN.com
Former Miami defensive line coach Rick Petri has been hired to coach the same position group at Duke, and defensive coordinator Jim Knowles will assume the lead role with Duke's practice scheduling, weekly preparation and gameday play-calling,
the school announced
on Thursday.
Petri, a 34-year veteran in the college ranks, coached six seasons with Cutcliffe at Ole Miss.
"We are very fortunate to strengthen our defensive staff with the addition of Rick Petri," Cutcliffe said in a prepared statement. "Rick is widely known in the coaching profession as one of the top teachers of defensive line play, and his track record of preparing young men for the National Football League speaks for itself. Also, his ideas and methods of helping players mature into young adults fit very well with our philosophies.
"Jim Knowles will coordinate our defense," Cutcliffe said. "Rick will coach the defensive line, Jim Collins the linebackers and Derek Jones the secondary. I believe with this group of coaches we have assembled the finest defensive staff in America."
Assembling standout staffs hasn't been a problem for Cutcliffe, but keeping them has -- not because they don't want to work for him, but because they were good enough to move on. If Duke is going to take the next step, though, there needs to be some continuity, particularly on defense, where there has been three different coordinators in as many seasons. Former defensive coordinator Mike MacIntyre left Duke after the 2009 season to become the head coach at San Jose State, and Marion Hobby left Duke recently to coach the defensive line at Clemson.
Duke's defense really struggled to pressure quarterbacks last year and get into opponents' backfields, but those were two areas Miami flourished in, thanks to Petri's help. The Canes finished the 2010 season leading the nation in tackles for loss and tied for ninth in the country in sacks. He should help the Blue Devils become more aggressive up front.
August, 15, 2008
8/15/08
11:12
AM ET
By
ESPN.com staff
| ESPN.com
Posted by ESPN.com's Heather Dinich
DURHAM, N.C. -- This is a very odd feeling, sitting in an eerily quiet, dimly-lit Cameron Indoor media room, writing about Duke football.

There is reason to be here, though, and his name is David Cutcliffe.
I just got back from watching the first few periods of Duke football practice and had a few observations.
* The intensity of this coaching staff literally echoes throughout the trees around the practice fields. These guys don't tolerate anything a notch below what they're asking. Defensive coordinator Marion Hobby was barking at his players as they went through pass rush drills, and defensive backs coach Derek Jones could be heard yelling from the adjacent field to one of his corners: "PAY! ATTENTION! TO DETAILS!," Jones yelled. "I asked you to do THREE things!"
Not that they're not encouraging the players, too. Cutcliffe strolled through and checked out all of the drills going on, hollering things like, "I like that!" to safety Eddie Morgan, and "Be an athlete, Adrian [Aye-Darko]."
Cutcliffe's motto this season is "practice makes permanent."
* Not only is leading rusher Re'quan Boyette injured and not practicing anymore, but both of his backups -- Clifford Harris and Tony Jackson -- are being held out of full-contact drills Friday for nagging injuries.
* I can see why Cutcliffe's first priority in terms of tangible upgrades to the program is in his practice facilities. One of the fields is only 75-yards long, and the other looks like it could be a recreational park in a small neighborhood.
I'll get a chance to speak with some players and coaches later this afternoon, so more is coming.