November, 24, 2014
Nov 24
8:00
AM ET
There's not much time for Virginia Tech
to reflect on its 6-3 double overtime loss
to Wake Forest, writes the Richmond Times-Dispatch, and that's probably a good thing.
The Hokies probably have no interest in reliving the gory details, of course. And there are much bigger questions ahead.
[+] Enlarge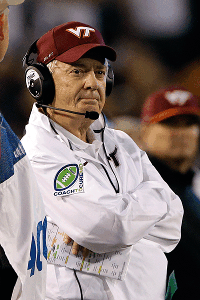 AP Photo/John BazemoreFrank Beamer has a short week and plenty of issues after the Hokies' loss to Wake Forest.
First among them is getting prepared for Virginia. The Hoos'
defense was stellar
against Miami on Saturday, and Mike London's future in Charlottesville
might depend
on UVA ending its 10-game losing streak to its rival.
The future of many coaches on Virginia Tech's staff could ride on Friday's outcome, too.
As The Roanoke Times writes,
plenty of questions are swirling
around the program, chiefly surrounding offensive coordinator Scott Loeffler.
Our Travis Haney suggests
changes on the Hokies' offensive staff
seem likely — meaning Frank Beamer would be on his third offensive coordinator in four years.
But the more immediate change could come at quarterback, where
Michael Brewer
has struggled to ignite the offense.
For the season, Brewer has
the second lowest Total QBR
in the ACC (ahead of only Wake Forest freshman
John Wolford
, who bested Brewer on Saturday), and
Brenden Motley
certainly seemed to
provide the only minor spark
for the Hokies against the Deacons.
It's
a situation to monitor
, and the decision on how Tech handles its QBs could have huge ripple effects for both the Hokies and UVA.
A few more links:
November, 6, 2014
Nov 6
4:00
PM ET
It's no secret that Florida State hasn't dominated opponents this season as it did a year ago. What might be missing a bit from the conversation is exactly what has been missing from the Seminoles' winning formula in 2014.
It's true that quarterback
Jameis Winston
hasn't been quite as sharp this season, but it's worth noting that he has been asked to throw a good bit more than he did a season ago. During the regular season in 2013, Winston's high in pass attempts was 34 (vs. Clemson). This season, he has had one game against an FBS foe in which he's thrown less than 34 times (31 vs. Notre Dame). Last season, 51 percent of FSU's plays against FBS teams were pass plays. This season, that rate has jumped to 58 percent.
So why the increased reliance on Winston's arm? It has a lot to do with the lack of production from the backfield, and that actually starts up front.
If you have watched Florida State's recent games, it's no secret that center
Ryan Hoefeld
is a bit overmatched, but the Seminoles' inability to run between the tackles has been a season-long problem, and it's the biggest difference between last season's offense and this season's.
Last season, FSU ran between the tackles on 66 percent of its runs, and its 6.2 yards-per-carry average and 26 TDs led the ACC. This season, the Seminoles' performance outside the tackles has actually improved, but its production up the middle has been cut in half.
Now flip the script to the defensive side of the ball. Again, FSU hasn't been nearly as impressive as it was in 2013, and the once mighty secondary has proven vulnerable at times.
Last season, FSU allowed 52 percent completions, picked off one of every 16 attempts and allowed a national-best 5.1 yards per attempt to opposing quarterbacks. This season, those numbers are down across the board: 58 percent completions, one interception for every 34 attempts, and a 7.1 yards-per-attempt average.
Again, it's hard to pin all that blame on the secondary when the play up front has been spotty.
With Timmy Jernigan and Telvin Smith gone from the middle of the defense, opponents have thrived between the tackles, and the pass rush has dropped off precipitously (FSU averaged a sack every 12.2 attempts last season, every 22.8 this year).
Last season, opponents averaged just 3.2 yards-per-carry between the tackles and scored just twice -- both tops in the ACC. This season, FSU has again improved on outside runs -- its 4.2 yards-per-carry allowed leads the conference -- but opponents are rushing for 1.1 more yards-per-run up the middle than they did a season ago and have already doubled their touchdown total.
Injuries have been critical in both areas for Florida State. Center
Austin Barron
and defensive tackle
Nile Lawrence-Stample
are done for the season. Tackle
Derrick Mitchell
and linebackers
Terrance Smith
,
Matthew Thomas
and
Ukeme Eligwe
have all battled injuries, too. FSU is plugging in second- and third-stringers to fill key roles, and the results have been obvious. [Edit:
Barron's original diagnosis suggested a season-ending injury. Jimbo Fisher said this week the center could return this year. Meanwhile, reports surfaced Thursday suggesting Eligwe's career at Florida State was over though Fisher has yet to confirm that
.]
Indeed a lot has changed for the Seminoles from 2013. Freshmen are playing bigger roles, the competition is better, and as national champs, they are getting every opponent's best shot. But the biggest differences from 2013 to 2014 have been health and strength up the middle - two issues invariably tied together.
And with Barron and Lawrence-Stample sidelined, those problems aren't going to be fixed in any dramatic fashion. What is encouraging for FSU is that it has found ways to win anyway. What' is perhaps troubling, however, is that there will be many bigger challenges ahead -- from Virginia's defensive line this week to
Duke Johnson
and
Tyler Murphy
down the road -- that figure to test those weak links again and again.
September, 16, 2014
Sep 16
8:00
AM ET
Pitt's off to a 3-0 start, and while some early struggles against FIU last week were enough
to put a scare into the Panthers
, there's no question they're now squarely in the mix for the Coastal Division. A win this week would give Pitt its first 4-0 start since 2000.
Of course, for the hype to keep building, Pitt will need to pounce on reeling Iowa this weekend, and the Pittsburgh Tribune Review expects Paul Chryst
to open up the playbook a bit
.
In three games, Pitt has thrown for only 304 yards, which is just short of 23 percent of the offense and only about 100 yards per game. [James] Conner is overshadowing the passing game, running for 544 of Pitt's 1,033 yards on the ground. Quarterback Chad Voytik's 29 completions in 50 attempts have gained only 284 yards, an average of less than 10 per completion.
Through three weeks, Pitt has thrown 53 passes out of 213 plays -- or about 25 percent of the time. The only FBS schools passing less often so far this year are the three service academies, Georgia Tech, Georgia Southern and New Mexico.
That's a sharp change from last season, when Pitt threw the ball 47 percent of the time, but it's also a game plan that's been easy to follow with the success of tailback
James Conner
. His 80 rushes are 14 more than any other Power 5-conference back, and only two other Power 5 rushers are within 100 yards of his rushing total this season.
Still, there will come a point in which the Panthers need to show they can move the ball through the air, too, and that remains something of a questions with new QB Chad Voytik at the helm.
Chryst already took the time to bench his QB for a series against FIU last week, a move he explained as an opportunity
for Voytik to "catch his breath."
Voytik hasn't been bad, but he also hasn't been asked to do too much. His attempts-per-game is the lowest among ACC starters outside of Georgia Tech, his yards-per-attempt is ahead of only
Tyler Murphy
in the conference, and his 58 percent completions ranks 10th, trailing true freshman
Brad Kaaya
.
The fact remains that Conner and the ground game will be Pitt's bread and butter this year, but getting Voytik some reps in advance of a tougher ACC slate that will have him face off against the stout defenses at Virginia and Virginia Tech to kick off the month of October is probably a wise decision.
Conner has been astounding thus far, but the workload has been heavy, and Pitt also has another budding superstar named
Tyler Boyd
who needs to be fed a few more touches, too.
Some more links for your Tuesday reading:
November, 16, 2012
11/16/12
11:00
AM ET
Here are the ACC injury reports for Week 12 from the schools that emailed them:

CLEMSON

Probable
Out for the season
DUKE

Probable
Doubtful
Out
Out for the season
FLORIDA STATE

Out
Out for the season
MARYLAND

Out for the season
Questionable
Probable
MIAMI

Out
Surgery/Out for the season:
NC STATE

Out for season
Out for game

October, 26, 2012
10/26/12
11:00
AM ET
Here are the ACC injury reports for Week 9 from the schools that emailed them:
DUKE
Probable
Questionable
Doubtful
Out
Out for season
FLORIDA STATE
Out
Out for season
MARYLAND
Probable
Questionable
Out
Out for season

NORTH CAROLINA
Out
NORTH CAROLINA STATE
Out for season
October, 19, 2012
10/19/12
11:00
AM ET
Here are the ACC injury reports for Week 8 from the schools that emailed them:
CLEMSON
Out for the season
DUKE
Probable
Questionable
Out
Out for season
FLORIDA STATE
Out
Out for season
MARYLAND
Probable
Questionable
Doubtful
Out
Out for season

MIAMI
Doubtful
Surgery/Out for season
NORTH CAROLINA
Out
NORTH CAROLINA STATE
Probable
VIRGINIA
Probable
Questionable
Out
Out for season
VIRGINIA TECH
Probable
Out
Out for season
October, 12, 2012
10/12/12
11:00
AM ET
Here are the ACC injury reports for Week 7 from the schools that emailed them:

DUKE

Probable
Questionable
Doubtful
Out
FLORIDA STATE

Out
Out for season
MARYLAND

Out for season
Out
Probable
MIAMI

Probable
Out
Surgery/Out for season
NORTH CAROLINA

Out
VIRGINIA

Out
Questionable
Probable
Out for season
VIRGINIA TECH

Out for season
Out
Doubtful

October, 5, 2012
10/05/12
11:00
AM ET
September, 28, 2012
9/28/12
11:00
AM ET
September, 21, 2012
9/21/12
11:00
AM ET
Here are the ACC injury reports for Week 4 from the schools that emailed them:
CLEMSON
Out
Probable
Practice note:
Coach Dabo Swinney said redshirt freshman
Eric Mac Lain
has begun to work at offensive guard in addition to tight end. He will be an offensive guard full time at some point this season, but in the short term will continue to play the tight end position in games.
DUKE
PROBABLE
QUESTIONABLE
OUT
OUT FOR SEASON
FLORIDA STATE
OUT
OUT FOR THE SEASON
MARYLAND
OUT FOR SEASON
OUT
QUESTIONABLE
PROBABLE
MIAMI
Out
Surgery/Out for the season:
VIRGINIA TECH
Out for Season
Out
Probable
September, 14, 2012
9/14/12
11:00
AM ET
Here are the injury reports from the schools who emailed them this week:
DUKE
PROBABLE
OUT
OUT FOR SEASON
FLORIDA STATE
OUT
OUT FOR THE SEASON
GEORGIA TECH
OUT
QUESTIONABLE
MARYLAND
OUT FOR THE SEASON
OUT
QUESTIONABLE
PROBABLE
VIRGINIA
Out
Doubtful
Questionable
Billy Schautz (lower extremity)
Probable
VIRGINIA TECH
Out for Season
Out
Probable
September, 7, 2012
9/07/12
11:00
AM ET
Here are the injury reports from the schools that emailed them (ACC schools don't have to give injury reports for nonconference games, and not all schools release them to the media anyway):

DUKE

PROBABLE
OUT
OUT FOR SEASON
FLORIDA STATE

OUT
OUT FOR THE SEASON
MARYLAND

OUT FOR THE SEASON
OUT
QUESTIONABLE
PROBABLE
MIAMI

OUT
NORTH CAROLINA

OUT
VIRGINIA TECH

OUT FOR SEASON
OUT
QUESTIONABLE

August, 31, 2012
8/31/12
4:00
PM ET