July, 23, 2012
7/23/12
10:30
AM ET
GREENSBORO, N.C. -- North Carolina linebacker
Kevin Reddick
has done his homework all summer, watching countless hours of the Southern Miss defense and the way it took to the unconventional 4-2-5 scheme the Tar Heels are now being asked to run.
Not only did he learn what coordinator Dan Disch likes his players to do. He also got a big helping of confidence, believing the style is the perfect fit for him and his teammates headed into his senior season.
[+] Enlarge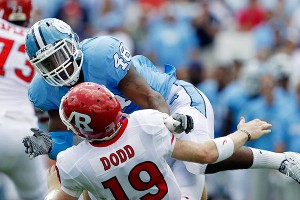 Bob Donnan/US PresswireLinebacker Kevin Reddick has spent his offseason preparing for UNC's new defensive scheme.
"I haven't seen anything like that in a while, everybody flying around, making plays," Reddick said at ACC media days. "I'm glad they bought their defense to us because I'm thinking the same thing. We need to be where they were. I think they have good athletes, but I feel we have a lot better athletes, so I feel like we should be able to do that."
Southern Miss was one of the best surprises of last season, especially after pulling a huge upset of Houston in the Conference USA championship game. A big reason for the success was the play of the defense, under Disch. Southern Miss set an FBS record with 11 interceptions returned for touchdowns and finished No. 29 in the nation in total defense -- 18 spots better than 2010.
It just so happened to be the first and only year Disch coached the Southern Miss defense. Now he and North Carolina coach Larry Fedora are in Chapel Hill, hoping for the same instant results they got from the Golden Eagles defense. Generally speaking, it takes at least a season for players to adapt to a radical scheme shift.
So hearing that Southern Miss did so well in Year 1 under Disch made Reddick even happier.
"That makes me smile more," Reddick said. "I can't wait to play in it. I look back at that and I watch film now from practice and I see things opening up, blitzes or packages or whatever we do. I know it's going to do wonders for us."
Last season, Reddick finished second on the team with 71 tackles playing in a more traditional 4-3 set. But after Fedora was hired and sanctions were handed down to the program, Reddick says he was contacted by coaches at other schools to see if he would be interested in transferring.
He declined, because he saw the opportunities Disch will give him in this new defensive scheme. Reddick will play inside, but he will also be used to blitz from the outside, something he has not been asked to do previously.
"There's going to be a lot of plays for me, I just have to make them," he said. "That's why I stayed. I had an opportunity to go to other colleges but I stayed. I wanted to experience this. I like this defense, and I feel it was based a little around me."
Reddick also believes the new scheme will help mitigate the loss of leading tackler Zach Brown, first-round pick Quinton Couples and four other starters. Because other players will be put into positions to do different things, versatility will be emphasized more. As an example, Reddick mentioned defensive end
Dion Guy
can line up with his hand on the ground but also drop back into coverage as a third linebacker at times.
In order to really prepare for his new and expanded role, Reddick took to watching lots of game tape, while also studying plays on his computer. So why does he think North Carolina has an opportunity to make an impact with a scheme that is is not among the most popular?
"For us, being that other teams are used to seeing the pro-style defense from us and we're going to bring this different defense to them, it's going to be a shock to them," he said. "As far as guys seeing things coming from different places it's going to be a shock to other teams in the league."
June, 29, 2011
6/29/11
5:00
PM ET
You are going to argue about this. How do I know? Because I'm still arguing with myself over it ...
[+] Enlarge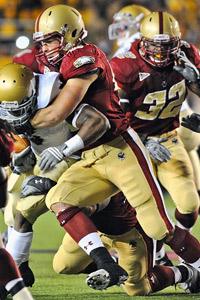 Michael Tureski/Icon SMILuke Kuechly leads a deep group of Boston College linebackers.
1. Boston College:
Luke Kuechly is one of the best in the country, but he's not alone. The Eagles also have Kevin Pierre-Louis, who ranked second nationally among all freshmen in tackles per game last season with 7.15 -- ninth in the ACC. It won't be easy to replace Mark Herzlich, on or off the field, but Steele Divitto played in 11 games last season, and Nick Clancy and Will Thompson both saw time on the second team.
2. Florida State:
The Noles had to replace two starters, including Kendall Smith, the team's second-leading tackler, last season, and Mister Alexander, but the upcoming talent could be even better. Nigel Bradham led the team with 98 tackles and five pass breakups last season, and Christian Jones, Jeff Luc, Telvin Smith and Vince Williams will also be competing for playing time.
3. Miami:
Sean Spence, who has 30 career starts, should be one of the best in the country, and Ramon Buchanon, another senior, also returns. The Canes have five other linebackers with experience in Kelvin Cain, who started seven games, Jordan Futch, who had a great spring and will see the field, Tyrone Cornelius, Shayon Green and C.J. Holton.
4. North Carolina:
Kevin Reddick, who led the Tar Heels with 74 tackles last season, returns for his third season as starter. Zach Brown is also a returning starter with game-changing capabilities, and there is plenty of depth with Dion Guy, Darius Lipford, Ebele Okakpu and Herman Davidson. Junior college transfer Fabby Desir could also have an impact.
5. NC State:
Audie Cole and Terrell Manning have combined for 39 career starts, and Cole fared well this spring moving to the middle to replace Nate Irving. With the return of Sterling Lucas, Dwayne Maddox and Colby Jackson, there is plenty of experience, but not quite as much depth as some other programs.
6. Georgia Tech:
The Jackets return both starters in Steven Sylvester and Julian Burnett. There is no shortage of depth with Jeremy Attaochu, Quayshawn Nealey, Brandon Watts, Albert Rocker, Malcolm Munroe and Daniel Drummond.
7. Clemson:
This group has a lot of potential, especially if true freshmen Tony Steward and Stephone Anthony make an immediate impact. There's no question they'll be given a chance, but the Tigers already have a good group with Corico Hawkins, Quandon Christian and Jonathan Willard.
8. Virginia Tech:
It seems like this rotation has been in flux for a while now. The Hokies' leading tackler returns in Bruce Taylor, Barquell Rivers had 96 tackles as a starter in 2009 but was injured last season, and there are several young players adding to the competition. Chase Williams, Tariq Edwards, Telvion Clark and Jack Tyler are only a few. Whip linebacker Jeron Gouveia-Winslow will have to earn his spot back over Alonzo Tweedy, Dominique Patterson and Nick Dew.
9. Maryland:
The Terps were hit hard here with the losses of Alex Wujciak (381 career tackles) and Adrian Moten (14.5 career sacks). Demetrius Hartsfield returns with 20 career starts, and there are four lettermen returning including Darin Drakeford, Isaiah Ross, David Mackall and Bradley Johnson.
10. Wake Forest:
Kyle Wilber's move to outside linebacker will give this position a boost, as he led the Deacs with 14.5 tackles for loss and six sacks last season. His backup is Gelo Orange (22 tackles). The Deacs also have Tristan Dorty, Joey Ehrmann, Mike Olsen, Scott Betros, Riley Haynes and Justin Jackson.
11. Virginia:
Starters LaRoy Reynolds and Ausar Walcott both return, but neither has started more than 11 career games. Junior Steve Greer has prior starting experience but played mainly as a reserve last season. Adam Taliaferro, Conner McCartin, Tucker Windle and LoVante Battle are also in the mix for playing time.
12. Duke
: Kelby Brown is the lone returning starter, but he's a promising young player who led the nation last season as a freshman in fumbles recovered. He missed spring ball while recovering from a knee injury, but is expected to start with Tyree Glover or Kevin Rojas.
April, 7, 2010
4/07/10
10:30
AM ET
Butch Davis wanted two things for his team entering spring practice. The North Carolina coach believes he's found both.

Four players on his offensive line didn't participate in spring drills because of injury, but despite that, Davis is happy with the development of his offensive line.

"We started to develop some consistency and continuity in the offensive line," he said. "Still have a lot of ways to go."

Davis was also proud of his linebacking corps, which desperately needed depth. Dion Guy and Herman Davidson answered the call.

"Last year we basically had to play the entire season with three guys [at linebacker]. We needed some guys to come in and provide some playing time," Davis said. "They really closed the gap and put themselves in a position where everyone on the coaching staff and the players say, 'Hey, when those guys go in the game, we trust them, we believe in them and they can play well."

Out on the edge, Davis was happy with the development of his receivers as well, three of whom were forced to play as freshmen a season ago.

"It was really a baptism by fire," Davis said. "There were growing pains, but they've improved."

He's still searching for consistency on special teams, from both his placekickers and punters.

Those receivers will take on his secondary, one of the groups he's most excited to see in Saturday's spring game, broadcast on ESPN on Saturday at 3 p.m.

We're looking for the guys that can just make plays with their athletic ability," Davis said. "We've kind of put a handicap in it that we're not going to do a lot of sophisticated things. We're not going to be totally unsophisticated. We're going to see some younger guys in the secondary and can they make plays one-on-one without us doing a bunch of stuff up front to help them do it."
March, 28, 2009
3/28/09
4:13
PM ET
By
ESPN.com staff
| ESPN.com
Posted by ESPN.com's Heather Dinich
Here's a quick wrap-up from scrimmages around the ACC today. The information is from each school's sports information director:
CLEMSON
Running backs Jamie Harper, Andre Ellington, Rendrick Taylor and Ronald Watson Jr. combined for 200 yards rushing on 36 carries and quarterbacks Willy Korn and Kyle Parker combined to throw five touchdown passes during a two-and-a-half hour scrimmage at Clemson Memorial Stadium on Saturday morning.
It was the first stadium scrimmage for Clemson. The spring game will be held on April 11 at 1 p.m.
"The offense scored two touchdowns on the first two possessions on 70-yard drives, but the defense came back later in the scrimmage," coach Dabo Swinney said. "The defense had the upper hand in most of our practices up until today, so it was good to see the offense have strong performance today. Overall I was pleased with the effort, but we still have a lot to work on."
Swinney singled out some performances after the scrimmage.
"I thought both quarterbacks played well today. Willy Korn and Kyle Parker both managed the offense in difficult weather conditions and made some plays. I don't know who our starting quarterback will be in the opener, but I am confident we will have a talented player under center.

"The running backs played well. Rendrick Taylor had a good day running the ball. He is going to help us. He really ran hard and broke some tackles. I have been looking for a wide receiver to step up and make a play and Marquan Jones did that with a touchdown catch on the first possession. Marcus Gilchrist made an outstanding play on an interception late in the scrimmage."
Korn completed 4 of 9 passes for 42 yards, but two went for touchdowns, a 28-yard score to Jones and a 3-yard pass to Michael Palmer in a goal-line situation.
Parker completed 5 of 12 passes for 87 yards and three touchdowns. Two of his scores went to fullback Chad Diehl, one of 43 yards on a swing pass on the sidelines, and one on a 4-yard score. He also threw a 14-yard scoring pass to freshman tight end Dwayne Allen. Michael Wade was 4 of 11 for 35 yards through the air in the difficult weather conditions.
Jamie Harper led the running backs with 11 rushes for 57 yards. He scored on a 25-yard run during the regular part of the scrimmage and scored three times from the 1 on fourth-and-goal situations at the conclusion of the scrimmage.
The top receiver was Diehl with two catches for 47 yards. Jones had 2 for 27 and freshman Jaron Brown had 2 for 13 yards and added an 11-yard run on a reverse.
Redshirt freshman linebacker Tig Willard was the top tackler with seven, while Jamie Cumbie and DeAndre McDaniel had six apiece. Andre Branch had four tackles including two for loss, one a sack. Coty Sensabaugh had two pass deflections, Tarik Rollins had a fumble recovery and Marcus Gilchrist had an interception.

DUKE
Quarterbacks Thaddeus Lewis and Sean Renfree combined to complete 17 of 29 passes for 148 yards and one touchdown to highlight Duke's 50-play football scrimmage on Saturday morning at Brooks Field.
"We had a lot of intensity today," coach David Cutcliffe said. "Thad Lewis and Sean Renfree were both very, very efficient. I was disappointed that we dropped the football in the passing game. Thad made some unbelievable throws. It's disappointing because we would have thought, as a staff, that we're further along. I thought the defense tackled well. I was really proud of our defensive front. The play along the line of scrimmage was crisp. It looked like real football.

"What a difference a year makes. A year ago I would go back into my office, take about an hour shower to recover emotionally, and today I think I can be a little normal. It did look like football out here."

Lewis was 10-of-20 through the air for 109 yards including a 42-yard touchdown to Donovan Varner. Renfree completed 7 of 9 throws for 39 yards. Running back Cameron Jones led all receivers with five catches for 31 yards.

Patrick Kurunwune led with 23 yards on seven attempts including a 1-yard touchdown plunge.
"We'll look at the tape," said Cutcliffe. "It's never as good as you think and never as bad as you think. We'll learn from it."
MIAMI
There were four, 10-minute running quarters. The offense scored 51 points, the defense scored three.
TEAM STATISTICS
First downs: 17 (6 rushing, 11 passing, 2 penalties)
Rushing: (33 attempts, 158 gained, 27 lost, 131 total)
Passing: (38 attempts, 26 completions, 275 yards, 1 INT)
Offensive plays: (71)
Net yards: (406, 5.7 avg)
Return yards: (25)
Fumbles-lost: (1-0)
Interceptions: (1-25)
INDIVIDUAL STATISTICS
RUSHING: Damien Berry 14-114, 1 TD, 54 long; Mike James 6-14, 1 TD,
PASSING: Jacory Harris 9-16, 141 yards, 1 INT, Long 33; Taylor Cook 11-14, 103, 34 long; Cannon Smith 6-8-, 31, 1 TD, 8 long.
RECEIVING: Thearon Collier 5-65, long 26; Aldarius Johnson 4-23, long 8; John Calhoun 3-13, 1 TD, long 5;
DEFENSIVE STATISTICS (Solo Tackles-Assisted-Total): Chavez Grant 3-2-5, 1 PBU; JoJo Nicholas 0-4-4; Kylan Robinson 1-3-4; Jordan Futch 1-2-3, 1 TFL, 1 PBU; Sean Spence 2-1-3, 1 TFL; Olivier Vernon 2-2-4, 1 sack (-5); Brandon Harris 3-1-4, 1 TFL, 1 PBU
FIELD GOALS: Jake Wieclaw 1-2 (made 41, miss 22)
INTERCEPTIONS: Randy Phillips 1-25
FUMBLES/LOST: Graig Cooper 1-0
NORTH CAROLINA
Rushing
Jamal Womble -- 7 carries, 50 yards
Shaun Draughn -- 6 carries, 8 yards, 1 TD
Ryan Houston -- 5 carries, 16 yards
Passing
Mike Paulus -- 12 for 15, 51 yards
T.J. Yates -- 5 for 8, 96 yards
Braden Hanson -- 6 for 7, 55 yards, 1 TD
Receiving
Dwight Jones -- 3 for 61 yards
Joshua Adams -- 3 for 20 yards
Womble - 3 for 12 yards
Defense
Herman Davidson (LB) -- 6 tackles
Dion Guy (LB) -- 4 tackles
Kennedy Tinsley (LB) -- 4 tackles