August, 13, 2014
Aug 13
10:30
AM ET
»
More team previews:
ACC
|
Big 12
|
Big Ten
|
Pac-12
|
SEC
Previewing the season for the
North Carolina Tar Heels
.
Key returners:
QB
Marquise Williams
(1,765 passing yards, 536 rushing yards, 16 TDs), RB
T.J. Logan
(533 rushing yards, 4 TDs), WR
Quinshad Davis
(48 catches, 730 yards, 10 TDs), WR/PR
Ryan Switzer
(872 all-purpose yards, 8 TDs), LB
Jeff Schoettmer
(85 tackles), LB
Norkeithus Otis
(13 TFL, 7.5 sacks), LB
Travis Hughes
(76 tackles), S
Dominique Green
(3 INTs)
Key losses:
TE
Eric Ebron
(62 catches, 973 yards), RB A.J. Blue (298 yards), LT
James Hurst
, C
Russell Bodine
, DB
Tre Boston
(94 tackles, 5 INTs), DE
Kareem Martin
(21.5 TFLs, 11.5 sacks), DB
Jabari Price
(80 tackles, 9 pass breakups)
Most important games:
Sept. 27 at Clemson, Oct. 4 vs. Virginia Tech, Oct. 11 at Notre Dame, Nov. 1 at Miami, Nov. 20 at Duke
Projected win percentage:
.703
Vegas over/under:
8.5 wins
[+] Enlarge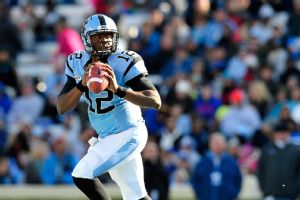 Grant Halverson/Getty ImagesMarquise Williams completed 58.1 percent of his passes last season.
Instant impact newcomers:
Running back
Elijah Hood
is 220 pounds of brute force who figures to be a major asset in UNC's ground game from the outset. True freshman
Bentley Spain
is in the mix for the starting job at left tackle, though spring injuries limited him in the early going. Redshirt freshman Dajaun Drennon could see significant playing time on a badly depleted defensive line. And of course, there's the issue of quarterback, where redshirt freshman
Mitch Trubisky
is still hoping to unseat Williams as the starter.
Biggest question mark:
The line of scrimmage. Larry Fedora says the offensive line may well dictate just how good UNC is as a team, and with the losses of two key players from last year's group and a host of spring injuries, there are still plenty of questions left to be answered in that area. But if the O-line is a major question mark, the D-line isn't much more settled. The losses of Kareem Martin (11.5 sacks) and
Tim Jackson
leave a major void, and some of the talent expected to help fill the gaps --
Shawn Underwood
,
Greg Webb
-- was ruled ineligible before the start of fall camp.
Best-case scenario for 2014:
Fedora finds his quarterback, the O-line jells quickly, the rushing defense improves dramatically from a year ago and UNC finally finds some consistency overall. The schedule won't be an easy one, but if the Heels can get off to a quicker start this year than last, they remain a strong contender for the Coastal Division.
Worst-case scenario for 2014:
The luxury of having two good QBs devolves into a full-fledged quarterback controversy that never is resolved. The O-line looks shaky and the youth on defense becomes a major problem. Four of UNC's toughest games are on the road, which is potentially problematic for a young team, which could mean last year's strong finish fades to a distant memory by mid-October in 2014.
Number to know:
9. That's the number of touchdowns scored last season by North Carolina's defense and special teams -- tied with national champion Florida State for the most by any team from a Power Five conference. Overall, defense and special teams accounted for 16.4 percent of UNC's touchdowns last year, the most by a Power Five conference team. Switzer led the way for the Tar Heels with five punt-return scores.
August, 5, 2014
Aug 5
9:00
AM ET
North Carolina Tar Heels
coach Larry Fedora knows he has an unusually small senior class headed into 2014, a fact he has pointed out to throughout the preseason.
But does that make the Tar Heels inexperienced?
It all depends on your perspective.
With the recent dismissal of
Shawn Underwood
, North Carolina has 11 seniors on its 105-man roster. Five are starters -- four on defense and just one on offense. Only one of those five players -- cornerback
Tim Scott
-- has started more than 15 career games.
Forty players are either true or redshirt freshmen. But as Phil Steele points out, the Tar Heels
return 75 percent of their lettermen
from a year ago to rank No. 22 in the country. Indeed, North Carolina relied on a bevy of young stars to turn around a tough start to 2013 and make a bowl game. Those young stars are another year more experienced. Sophomores like
Ryan Switzer
,
Khris Francis
,
T.J. Logan
,
Bug Howard
,
Dominique Green
and
Brian Walker
will be relied on even more. Three sophomores are expected to start on the offensive line as well.
That may not replace the intangible that senior leadership brings, but at least the Tar Heels have got a solid core of young talent with game experience headed into the season.
Now for a comparison, let us take a look at rival NC State. Coach Dave Doeren has spent months discussing the youth on his team, throwing out one stat after another to prove his point.
The Wolfpack have 52 true or redshirt freshmen on the 105-man roster and 17 total seniors. Of that senior group, eight are projected starters. Three have started 20-plus games in their careers.
Even though the senior class is larger and 14 starters are back, NC State still ranks No. 114 in the nation in experience. So in this case, a bigger senior class does not translate into more experience because nearly 50 percent of the NC State roster has never played a collegiate down.
Plus, NC State does not have as many sophomores with as much game experience as those at North Carolina.
Bottom line: The North Carolina senior class may be small, but the Tar Heels make up for the numbers with many more experienced players across the board. The only issue to work through is leadership. We saw what strong senior leadership meant to Duke a year ago. With so few seniors, Fedora knew he had to try and
develop more leaders
. So earlier in the summer, Fedora decided to go away from a senior-only leadership course to include players by position. Switzer,
Quinshad Davis
and
T.J. Thorpe
were in that group.
Will it help? We have to wait and see.
March, 5, 2014
Mar 5
10:30
AM ET
North Carolina was an enigma in 2013, opening the season 1-5 before finishing as one of the nation's hottest teams. The Tar Heels look to keep that momentum going as they open spring practice Wednesday. We talked with head coach Larry Fedora about what's in store for North Carolina as the players return to the practice field for 2014.
You won six of your last seven games, including the bowl. How can that strong finish to 2013 help you as you kick off spring practice this year?
Larry Fedora:
It enables you to go into the offseason with a lot of excitement and a lot of enthusiasm and a lot of young kids are understanding now what it takes to win. It took us a while just to learn. We were so young last year with nine seniors on the team, it took us a while for those young kids that were playing to understand what it truly took to win at this level.
So many young players made a big impact in your turnaround last season. Can you see a difference in them this offseason?
[+] Enlarge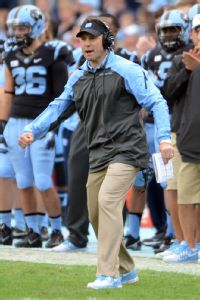 Rob Kinnan/USA TODAY SportsLarry Fedora's North Carolina team ended up the season as one of the nation's hottest teams.
Fedora:
They realize the success they had because of how hard they worked, so you can push even harder at this point in the offseason. Nobody wants to start out 1-5 again. A lot of guys learned some great lessons throughout the season and grew up and it makes us very excited about this upcoming season.
You've said it will be an open competition at quarterback. What more do you want to see from Marquise Williams, and what do you think Kanler Coker and Mitch Trubisky can add to the mix?
Fedora:
Marquise started six games for us, took us to a bowl game and won. He has the advantage because he's been there, been in the fire. But we still want to have to earn everything we get at every position -- not just his. We have returning starters, and he would be one of them. But you want to have competition at each position. We're not there yet, but we're building there. We're building depth, so guys compete. And if they're competing, they'll be that much sharper, play that much better.
You bring in Kanler Coker and Mitch Trubisky and allow them to compete with Marquise. Both are similar to Marquise. All three of them run very well. They all can throw the football. All fit this style of offense well, including Marquise. So we're excited about the competition we're having at that position.
Ryan Switzer made such a big impact on special teams last year. How can you try to get him more involved offensively in 2014?
Fedora:
There were a lot of ways to get the ball in his hands last year; it's just that he was one of those young guys that the light didn't really come on until five or six games into the season. When he settled down and started realizing "I've been doing this for a long time, and it just happens to be my first year in college doing it," then he really exploded.
We don't have to design other ways to get him the ball. Within our offense, we have plenty of ways to get the ball in playmakers' hands. He's proven he's a playmaker and he will get more balls.
The running game struggled at times last year, but you've got a good stable of runners returning. How do you see that dynamic shaking out?
Fedora:
We were really disappointed in our production in the running game last year, so we've really challenged all of those guys at that position. We've got to get much more out of them. Start off with
T.J. Logan
, who was another of those young guys who, as the season went on, he got much better. He had an injury and didn't really play until the sixth game, and so by the end of the year, he was probably where he would've been about midseason. So we're excited what he's bringing back.
Khris Francis
was another true freshman that played at that position that has a lot of talent that we're excited about.
Romar Morris
is back. He probably has the most experience of everybody. Then you bring
Elijah Hood
into the mix.
Eric Ebron was a unique talent. How can you replace that production offensively? Can one player pick up all the slack?
Fedora:
That was a comfort level for our quarterbacks, knowing that you could put the ball up to Ebron and he was probably going to bring it down.
Jack Tabb
will most likely step into that role. We've got
Brandon Fritts
, an incoming freshman, that is here. We have
Eric Albright
there;
Tyler Alberts
is moved into that position. We're going to have some good competition there this spring. We're going to have a tight end on the field. Jack has the opportunity to be just as productive as Ebron was, and this enables other receivers on the field to get more balls also.
The defense really struggled against the run last season, but like the rest of the team, it seemed to improve as the season went along. How much better can the run defense be this year?
Fedora:
We were a young football team, and we've got guys that are going to now have some experience. We're going into our third year of the defense, and we've had stability on that side. Our guys know what's going on; they know what's expected of them. We've got to be much better against the run. When you look at it and break it down, you'll see early on we had some missed tackles that really hurt us, and we gave up some big plays. If we can eliminate those things and get much better in those areas, we're going to be a much better defense.
[+] Enlarge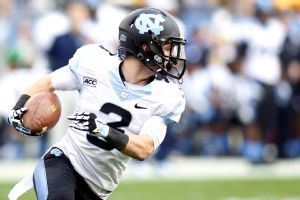 Charles LeClaire/USA TODAY SportsRyan Switzer made five punt returns for touchdowns as a freshman, and North Carolina will look for more ways to get him the ball.
As you've monitored the offseason thus far, are there a few players you're particularly excited to get a closer look at this spring?
Fedora:
You've got
M.J. Stewart
, who is a young kid that's come in.
Allen Artis
is another one on defense. Those guys in the secondary are here.
Desmond Lawrence
and
Brian Walker
got quite a bit of playing time last year.
T.J. Jiles
in the secondary will have to step up.
Sam Smiley
, who missed the whole season with an injury.
Dominique Green
was a true freshman who started at safety for us the entire season. We're going to be so much better in that back end with
Tim Scott
back,
Malik Simmons
. These are all young guys who have played quite a bit.
Linebacker with
Travis Hughes
back with a lot of experience.
Norkeithus Otis
had a great year last year and I expect him to be even better his senior year.
Darius Lipford
. Inside, we're going to count on guys like
Ethan Farmer
and
Shawn Underwood
and
Justin Thomason
that have some big shoes to fill.
We mentioned Switzer's impact as a punt returner, but it's tough to repeat a performance like that now that teams are aware of what a weapon he is. How's he preparing for 2014 on special teams?
Fedora:
There's no doubt. He works hard and he wants to be the best. But he knows now, and I've tried to prevent him -- there's going to be some frustration involved this year until we find out exactly what teams are going to do. The majority of them probably won't kick to him, and that's going to cause some frustration. But we're going to have to find ways to combat that.
December, 26, 2013
12/26/13
2:00
PM ET
They'd been on campus for just a few months, but North Carolina's freshmen felt the sting of a 1-5 start as deeply as anyone. It was a tight-knit group from the outset, and they'd hoped to be contributing more. Instead, the Tar Heels stumbled early, and the freshmen had made little impact.


Things finally began to change by mid-October, though. The freshmen held an impromptu meeting, vowing to make the most of their chances -- no matter how rare those opportunities might be.
That week, tailback
T.J. Logan
got a season-high 16 carries in a loss to Miami, and suddenly the door swung open for a wave of freshmen to make their mark.
It was a turning point in the season, freshman receiver
Ryan Switzer
said.
"The coaches finally gave us an opportunity," Switzer said. "It was a big turning point for us, confidence-wise. The young guys just talked amongst ourselves and knew we could help this team win and took it upon our shoulders to do our part. Once we started playing, I think our production helped flip the season around."
Logan was solid all season, finishing the regular season with his two best games of the year.
Brian Walker
had a pick and defended seven passes.
Dominique Green
finished the regular season with 56 tackles and three interceptions.
[+] Enlarge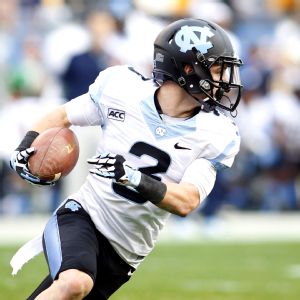 Charles LeClaire/USA TODAY SportsFreshman receiver Ryan Switzer led something of a youth movement for the Tar Heels this season.
But it was Switzer who served as the Tar Heels' biggest breakout star. After a slow start to the season, Switzer blossomed down the stretch, compiling 544 total yards and six touchdowns in his final four games.
In September, Switzer wondered when he'd get his chance to shine. By December, he was North Carolina's first freshman All-American in 36 years.
"I took a little bit longer than I thought adjusting to the speed and different aspects to the game," said Switzer, whose 419 yards and four TDs earned him first team All-America status as a punt returner. "When I started just playing and relaxing, things started coming to me."
Taking a deep breath, relaxing and enjoying the ride wasn't only what Switzer needed to salvage his season. It worked for the entire team.
After the late loss to Miami, the Tar Heels rebounded to win five straight games and capture a bowl bid that once seemed utterly out of reach. Switzer and the influx of energy from the true freshmen were a big reason for the rejuvenation.
"We knew that we were going to break through at some point," Switzer said. "I think when we started just relaxing and having fun playing the game again, that's when we were at our best. That's one of the big keys to success that we had -- especially our young underclassmen."
Switzer and the rest of the Tar Heels have one final chance to put their stamp on the season Saturday when they play Cincinnati in the Belk Bowl in nearby Charlotte (3:20 p.m. ET, ESPN).
To end the year with a winning record and send the seniors out on a high note has become the primary goal for Switzer and the young Tar Heels.
"If we can get a win against a nine-win Cincinnati team in our backyard in front of our home crowd, that'd be real nice," said Switzer, whose UNC team has just one bowl victory since 2001. "It would help us in recruiting, help us in a lot of things. We're working hard right now to prepare. We'll see what we can do on the 28th."
But while ending this season strong is the immediate goal, getting a jump start on 2014 is big, too. After treading water for six weeks this year, Switzer and the rest of North Carolina's young guns want to hit the ground running next season. And after racking up All-America honors as a freshman, Switzer knows the expectations will only get bigger.
"The expectations are high now -- for me and this team -- for next year," Switzer said. "It's our job, it's my job, to prepare accordingly. I'm not going to take teams by surprise anymore. And if I want to get to the next level I've got to continue to produce and get better."
ACC SCOREBOARD
Saturday, 12/20
Monday, 12/22
Tuesday, 12/23
Wednesday, 12/24
Friday, 12/26
Saturday, 12/27
Monday, 12/29
Tuesday, 12/30
Wednesday, 12/31
Thursday, 1/1
Friday, 1/2
Saturday, 1/3
Sunday, 1/4
Monday, 1/12
Tweets from https://twitter.com/ESPNCFB/lists/acc