February, 11, 2014
Feb 11
2:00
PM ET
Virginia pulled in a
Top 25 recruiting class

after landing two of the top 10 high school players in the nation, surprising many because of its recent lackluster on-the-field results.

Five ESPN 300 players signed with the Hoos, including two five-star prospects and four four-star players. The ultimate goal, then, is to rely on these elite players to begin to turn around the Hoos' fortunes without putting exorbitant amounts of pressure on them to produce immediately.
There is a fine balance there, as there is every season when highly touted freshmen are expected to contribute in a meaningful way right away. When they cannot, disappointment generally sets in. UVa knows that feeling all too well.
This is the second time now that coach Mike London has pulled in a Top 25 recruiting class.
Back in 2011

, London put together the No. 20 class in the country, complete with five top 150 prospects and six total four-star athletes.
Despite all the elite prep athletes signed, UVa has struggled mightily the last two seasons with six total wins. Several of the most highly-touted players in the class have not quite lived up to the lofty expectations. Here is a quick look at how the five ESPN 150 prospects have performed:
[+] Enlarge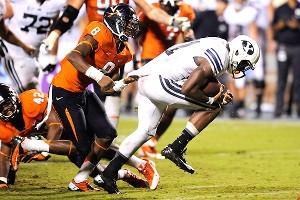 Rafael Suanes/USA TODAY SportsSafety Anthony Harris has been the best player from Virginia coach Mike London's 2011 recruiting class.
Of the 26 players signed in the class, nine are no longer on the roster. Seven were starters in 2014. The most successful player to date has been safety
Anthony Harris
, whom ESPN listed as a two-star athlete out of high school. Harris led the nation in 2013 with eight interceptions. He is the only player from the class of 2011 to receive a first-team All-ACC honor.
As every recruiting cycle shows, high school ratings are an inexact science. Recruiting always produces hits and misses. While there is always some caution when dealing with elite prospects and the expectations that come along with them, there is little doubt UVa is banking on this new crop of elite rated players to come in and help change the program's direction.
"Although you appreciate all the accolades all these young men have, you don't want to put too much on them with the expectation that now you've got to produce on the field, you've got to get 15 sacks or make all the catches," London said during his signing day news conference. "They still will have to practice and learn the systems and learn the schemes. Ultimately, in all the recruiting classes and all the rankings, there has to be production on the field and they have to play and they have to contribute.
"And you don't figure that out sometimes until a year or two after they've been in your program. But to have players of some ability ... it is important to make sure that we give them every opportunity to play."
June, 19, 2013
6/19/13
2:00
PM ET
We move on in our series looking at the weakest and strongest positions on each team in the ACC with Virginia:
Strongest position: Receivers/tight ends

If there's one thing quarterbacks
David Watford
and
Greyson Lambert
don't have to worry about, it's having a veteran receiver to throw it to.
Darius Jennings
,
Tim Smith
,
Dominique Terrell
and
E.J. Scott
all return, along with standout tight end
Jake McGee
. The group combined for 163 catches for 2,212 yards and 17 touchdowns last year. Each of them had at least 20 catches last fall. McGee accounted for five of those touchdown receptions, which ranked No. 5 all-time at the school by a tight end. He also had 28 catches last year, overall one of the most productive seasons for a tight end at UVa. Jennings led the team last year with 568 receiving yards, and he also had five touchdowns.
Weakest position: Quarterback
It's hard to call out the quarterbacks as the weak link, but how do you not, when it's been such an inconsistent, transient position for the Cavaliers? It's probably more accurate to call it a question than a weakness, considering the lack of playing time, but it's certainly not a strength right now. Coach Mike London began his career at UVa with a quarterback controversy that never ended. Now, he doesn't seem to have much of a choice, as starter Michael Rocco has since transferred to Richmond, and the university announced in May that Phillip Sims was ineligible and will no longer be enrolled at the university. That leaves Watford and Lambert – two players who both redshirted last year – as the frontrunners. Watford at least has some game experience, as he played in 10 games in 2011. He has thrown the ball 74 times and had four interceptions and three touchdowns. Lambert, meanwhile, has yet to take a collegiate snap in a game. Virginia fans have at least seen the potential in Watford, but it's been a year since he has played, and there are still far more questions than answers with this position.
More in this series here.
August, 27, 2012
8/27/12
3:45
PM ET
Virginia quarterback
Michael Rocco
has been able to hold on to his starting job despite competition from Alabama transfer
Phillip Sims
, coach Mike London announced Monday.
Rocco started all 13 games last season, throwing for 2,671 yards with 13 touchdowns and 12 interceptions. But London opened up the competition once Sims arrived and was granted his immediate eligibility. Rocco, Sims and
David Watford
were involved in an open quarterback competition during preseason practice, but London always maintained that Rocco had the edge over the other two quarterbacks in the race to win the job.
He confirmed that Monday.
"It just became apparent that Michael has the best grasp of the offense right now," London said during his weekly news conference. "He's the guy that we feel most comfortable with right now because of what he knows, knowing the system and the schemes and knowing the players he'll be throwing the ball to or handing the ball off to. He's done nothing to lose his position. We talked about his leadership, his knowledge of the offense, and so he's put himself in a position to be the guy right now and I'm quite sure he'll work hard at it, he takes pride in it. That's how it worked out."
"I believe that I was the starter throughout the spring and the summer," Rocco said. "It was my job to lose. I root for Phil and David as hard as I can. I would never want anything bad to happen in their career and their life. But I believe I'm here to play quarterback at a high level. I was excited when I heard Coach London was going with me, but in my mind I was preparing to be the starting quarterback. I was excited, but I had a confidence in my mind, too."
London added that he knew it would be a tall order for Sims to overtake Rocco while learning a new offensive system.
"With respect to Phillip, he has a big arm, strong arm, been in college games as well. He's a guy that's learning our offense," London said. "To expect him to know our whole offense by the time the season started, I don't think that would be fair on him. He knows enough of the offense that we understand his situation will be on-the-job training as the season goes on, how much he picks up, the communication, all those things."
London also said he would try to redshirt Watford, who served as the backup to Rocco last season.
"With David, it was a tough call," London said. "David has done everything that we've asked and then some. He's matured tremendously, his physical talents and skills improved greatly. They are three selfless players. They want what's best for the team. My plan is to try to redshirt him."
A few other UVa notes:
August, 13, 2012
8/13/12
4:00
PM ET
Virginia coach Mike London held a teleconference with reporters Monday. Here is a little of what he had to say.
London gave a quick update on what is happening at quarterback, with Michael Rocco, David Watford and Alabama transfer Phillip Sims. "We're at a point where Phil is now this week is going to be exposed to more things," London said. "We're going to have a couple scrimmages. The only way you can really know is when coaches are off the field and they're calling plays and have to execute. They're progressing nicely. Michael, his knowledge of the offense continues to improve, same with David. With Phillip having been in a pro-style offense before, he understands the concepts." What will they be judged on? "Accuracy, every throw they make, every situation they're in -- whether it's one-on-one, team, throwing with running backs, tight ends on air, they they they're being evaluated. This is an important week for us to see if there is going to be some separation made."
Finding players to step up in the defensive backfield is of paramount importance this season, with only one starter returning. Though it is early in camp, one true freshman has stood out so far -- Maurice Canady, a versatile in-state athlete who played a variety of positions in high school. Canady came into Virginia and wanted to try and play defensive back first. What has helped him so far is his background as a receiver and quarterback, because he understands route running, from how deep a route goes to where a quarterback is going to throw the ball. "So far he's shown the physical and athletic skills that show promise for him," London said. "Now as we start to add more coverages, more things, we're going to see if he can handle it. But right now, he's doing a nice job."
London also has been pleased with the way receivers Dominique Terrell and Darius Jennings have started to mentor the younger players. Terrell and Jennings are not exactly veterans themselves, with Tim Smith being the elder statesman of the group, but they are actively helping out in any way they can. "What you see is more of a mature approach," London said. "They're guys that played in college games before. ... They want everybody to get it. They know our passing game is a timing game. If these young guys understand how to run their routes, it's going to help the entire team."
There is plenty of talent and depth at the running back position, and London said the team will explore creative ways to get all of his playmakers involved. That means seeing more guys on special teams, specifically a player like Khalek Shepherd on punt returns. "People talk about two halfbacks in the game, which is very possible, very doable for us because of the matchups they present," London said. "We'll come up with creative ways, not only through offense but also through special teams. We are going to try to utilize all their skills, that's for sure. As we get the plays and the opportunities, I can guarantee each one will be cheering each other on."
At guard, another player who has stood out is Cody Wallace. "Cody's a tough guy, tenacious guy," London said. "Might not be the most athletic guy, but he'll try to hit you, bite you on your ankles, whatever it takes. You like that kind of attitude from a guy. He's quietly inserted himself or put him in position to battle for that guard position. Right now, Cody has that spot because of what he's done to this point."
April, 16, 2012
4/16/12
3:30
PM ET
Six ACC schools held their spring games this past Saturday, with colleagues Mark Schlabach and Ivan Maisel doubling as coaches in Florida State's scrimmage. Here's a look at three of the other spring games. (Don't worry, UNC and Clemson fans, we'll have you covered later this afternoon.)

WAKE FOREST
Josh Harris
went a long way to showing he is completely healthy this spring, rushing for 40 yards and two scores on six carries to help lead the White team to a 21-10 win over the Black squad. Harris played in just five full games last season because of a hamstring injury, limiting his production to 432 yards for his sophomore season.
"He looked like Josh Harris and that's what I like," coach Jim Grobe said. "He had two or three inside runs, he wasn't trying to bounce everything to the perimeter. I loved his touchdown run down in the red zone, I thought he got north and just powered his way up into the end zone and if we can get him to do that all the time — we know he has a chance to be special, but today it looked like he had a little bit of determination and a little bit of pop and was getting up inside, which I like, I like guys that don't mind running inside."
A.J. Marshall
, transitioning to safety from cornerback, also had a strong spring game, intercepting two passes, taking the second one back 58 yards with less than a minute remaining to seal the deal for the White squad.
"The key to the game today was turnovers," Grobe said. "The offense needs to take better care of [the ball], but if the defense keeps taking it away like that we'll be a pretty good defensive football team."

MIAMI
The final score — the Orange team beat the Green team, 7-6 — says it all about the Hurricanes' spring game Saturday.
Ryan Williams
was 15 of 27 for 169 yards but threw a pair of picks for the Orange team. For the Green side, Gray Crow also threw two picks.
Thomas Finnie
,
Brandon McGee
,
Ray-Ray Armstrong
and
Vaughn Telemaque
were responsible for the interceptions.
Mike James
' five-yard touchdown run with 4:19 left marked was the game's only touchdown. He finished with 57 yards on 15 carries.
Finnie walked away with the team's special teams most improved player award for the spring, with
Rashawn Scott
(most improved - offense),
Shayon Green
(most improved - defense) and
Garrett Kidd
(walk-on) taking home the other spring honors.

VIRGINIA
Mike London was not shy this spring when talking about his team's need for explosive plays. So the Cavaliers coach must have been all smiles when Orange team quarterback
Michael Rocco
connected with
Jake McGee
for a 47-yard score on the fourth play from scrimmage Saturday. The Orange (made up of mostly offensive starters) beat the White (defensive starters), 20-17.
"We are going to continue to make downfield throws and try to get the ball in the hands of as many guys as possible," London said. "There is an emphasis on explosive plays, plays that move the ball beyond 15 yards. We have guys that can run, that were athletes and track runners in high school, and we are going to find ways to get them the ball."
Of the
reported 500 yards totaled in the game
, 410 came through the air.
Virginia also announced its spring award winners and 2012 captains, with
Will Hill
and
Dominique Terrell
taking home hardware for most improved honors.
Demetrious Nicholson
was honored for his classroom, field and community success during his first year. Billy Schautz and
Jake Snyder
shared academic honors, and
Tim Smith
was recognized for his work in the weight room.
Hill will serve as a captain this fall, along with
Perry Jones
,
Oday Aboushi
and
LaRoy Reynolds
. Jones was a captain last season as well.
October, 20, 2011
10/20/11
4:00
PM ET
Virginia senior receiver
Matt Snyder
, a team captain and former walk-on, broke a bone in his left foot and will be out "several weeks," coach Mike London said on his weekly teleconference.
London said Snyder was running a route in Tuesday's practice, and he broke a bone when he turned. It was a non-contact injury, but he's having outpatient surgery on Friday to put a screw in it. It's a significant loss to Virginia's offense, as Snyder is a smart player, one of the team's best blockers, and the third-leading receiver on the team.
"I can't even begin to tell you how upset we are for the young man that something like this has occurred to him. He's devastated as you could imagine. But the type of guy Matt is, he's trying to find a silver lining; 'Hey, Coach, now I can get with the young receivers and get them coached up,' and things like that. I don't know how long he's going to be out -- six, eight weeks. I don't know. I'm not a doctor."
Snyder has 19 catches this year, and 15 of them have resulted in a first down. He was competing as a grad student, and had five starts in six games. He also had three plays of at least 20 yards.
London said the team will embrace the "next man up" mentality, and younger players such as
Ray Keys
,
Miles Gooch
,
Darius Jennings
, and
Dominique Terrell
will have to increase their roles.
Tim Smith
was listed as a potential starter with Snyder on this week's depth chart, with Jennings the backup.
October, 14, 2011
10/14/11
12:00
PM ET
Whaddaya think, any upsets this week?