November, 11, 2014
11/11/14
12:00
PM ET
Tyler Murphy
is seeking a master's degree in administrative studies at Boston College. He wants to be a coach or an athletic director one day. The quarterback's role this past year with the Eagles has been, in some ways, on-the-job training.
Since enrolling in classes at BC this past January, Murphy has proven to be a quick study, as adept at winning over a group as he is at running past defenders. The Florida transfer has the upstart Eagles bowl-bound for a second straight season under coach Steve Addazio.
[+] Enlarge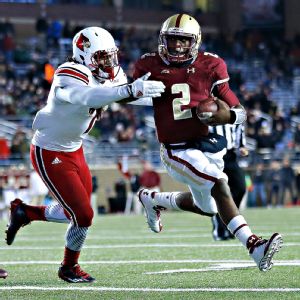 Jim Rogash/Getty ImagesTyler Murphy has made the most of his opportunity as the Eagles' QB, including rushing and throwing for more than 1,000 yards each in just 10 games.
Two weeks ago, Murphy broke Doug Flutie's program record for career rushing yards by a quarterback (939), needing all of nine games. Against
Louisville on Saturday
, he became the ACC's first 1,000-yard rusher at quarterback in five years, since Georgia Tech's Josh Nesbitt rushed for 1,037 yards for the 2009 league champs. A career-worst four-pick night in the loss took some of the luster off the milestone, but as BC enters its final bye week with two regular-season games remaining, it has become increasingly clear that no program landed a bigger coup on the transfer wire this offseason.
"It's been everything I expected and more," Murphy said of BC. "It's a decision I'm very happy with. I'm having a blast, and it's just fun to just go out with these guys that just care, that really just want to not let the team down.
"It's fun, but it also stinks because it goes so fast."
Murphy has always thought of himself as a people's person. He has little desire to sit behind a desk for a living. Recruited to Florida by Addazio, then the Gators' offensive coordinator, Murphy found he had an affinity for the coaching profession during his four years in Gainesville. He loved football, he loved breaking down schemes with others and he loved to game plan.
His short time in Chestnut Hill, Massachusetts, has stoked that passion even further, and he regularly chats about the nuances of the job with Addazio and offensive coordinator Ryan Day, who have told him they will write him recommendations whenever he starts job hunting.
"Certainly if he wants to become a coach, he would have a great opportunity with us because I just like people that have that kind of mindset, that kind of attitude, love of the game," Addazio said, later adding, "Probably having been around so many coordinators, in a different kind of a way, has probably helped him how to learn offenses and adjust. Might not be easy to play in that situation, but certainly can help you in terms of your exposure. I think his age, his maturity, his intelligence really helps him in his preparation."
Murphy has played his part in commanding a locker room, looking and acting nothing like the one-year rental so many graduate transfers often are.
Upon his arrival 11 months ago, the redshirt senior baked cookies for his offensive linemen. He helped organize throwing sessions with receivers. He opened up more than he ever had, studied film more than he ever had, all in the hope of gaining the trust of a group he would have to lead, one that had already spent years together without him.
"As soon as he came here, he hit the ground running," center and captain
Andy Gallik
said.
"He really did it pretty quickly," athletic director Brad Bates said. "It's really symbolic of the depth of his character, to be able to come in here and be able to do that, (at) the key position on the offense, doing it in a very quick period of time. I think it's also a testament to his respect of Steve Addazio."
Bates was floored by Murphy's attitude toward the opportunity, saying that most players in his situation do the bare minimum academically as they ready for one last playing shot at the college level. Murphy, who earned a telecommunications degree from Florida, said he is currently taking three classes and will complete his degree requirements by year's end, before coming back for commencement in May. (BC has only one graduation ceremony each year.)
In the meantime, Murphy is hoping to make the most of his limited time left at BC. A date at defending national champion Florida State awaits next week, followed by senior day against rival Syracuse, before the Eagles' bowl. He has tallied four 100-yard rushing games so far, which are four more than any BC signal-caller before him. His 1,006 rushing yards are far and away the most nationally by a quarterback so far this season, and he is 56 yards away from breaking the ACC record for rushing yards by a quarterback in a season, set by Clemson's Woodrow Dantzler in 2001.
It has all flown by so quickly, yes, but Murphy has made a habit of doing more with less, and he is not planning on slowing down just yet.
"I want to be around football, but just being at BC has really allowed me to understand what it's like to build a good community and just how to build a culture as a program and do things the right way," Murphy said. "That's something I'm really observing and just learning from Coach Addazio and Brad Bates. They're both outstanding people. They've done a great job with the athletic programs here. Hopefully I can be in their shoes one day and be able to help a program move forward like they are."
August, 27, 2014
8/27/14
4:50
PM ET
By
Brett Edgerton
| ESPN.com
When one thinks of in-state rivalries in college football, Boston College and Massachusetts isn't exactly top of mind. But we can always get behind a little rivalry hijinks during game week.
In advance of Saturday's matchup between the Eagles and Minutemen at Foxborough's Gillette Stadium, someone -- we're just going to guess a UMass supporter -- decided to go to BC's Alumni Stadium and dress up the statue of the school's most famous football alum: 1984 Heisman Trophy winner Doug Flutie.
Whether they had anything to do with it or not, the UMass program and its mascot were more than happy to point it out to Flutie on Twitter.
#UMASSNATION: Do you think @DougFlutie knows his statue got a @UMASSFootball upgrade? Tweet him so he knows #GoUMass pic.twitter.com/cbvilRsENX"

— Sam The Minuteman (@Sam_Minuteman) August 27, 2014
Do you think he noticed? Oh, he certainly noticed. And he wasn't too impressed.
August 27, 2014
December, 12, 2013
12/12/13
9:00
AM ET
Andre Williams
is a philosopher, an eccentric. His off-the-field exploits this season, which include writing a memoir,
have been well documented
. He takes in questions and, unlike most in his position, spends his time digesting them before delivering appropriate answers rather than spewing out tired cliches.
But the 6-foot, 227-pound Boston College running back is anything but sophisticated when discussing his on-the-field exploits for the resurgent Eagles this season.
"You can draw it up any way you want, you can run any type of offense," Williams said. "But it's really just about the 11 guys on the field and how strong you guys are as a unit and as a team. Any kind of offense can work, not one is better than the other. It's really about the 11 guys that you have on the field and the chemistry and the things that you can't draw on paper that really count in the game of football."
Reducing his day job to the simplest of elements has powered Williams to a remarkable senior season. Boston College's first Heisman Trophy finalist since Doug Flutie took home the prize 29 years ago, Williams has posted the ninth-best single-season rushing mark (2,102 yards) in college football history. He is a throwback of the highest order, more than happy to carry the mantle for a position group that has seemingly seen its significance decrease in the national eye in recent years.
[+] Enlarge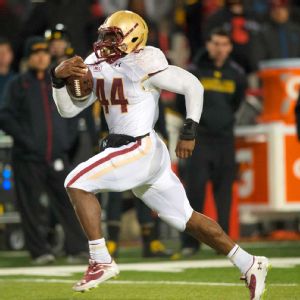 Tommy Gilligan/USA TODAY SportsAndre Williams' 2,102 rushing yards this season gave him the ninth-best single-season total in college football history.
Consider that no running backs were taken in the NFL draft's first round this past spring, the first time that had happened in 50 years. Or that the recruiting pitch of the college game's most iconic active coach, Nick Saban,
revolves around his backfield getting the most mileage out of the lightest workload possible
.
Williams and Auburn's
Tre Mason
are two of the six finalists for an award Saturday that will likely go to a quarterback for the fourth straight season. And Williams understands why, though he is thankful to have a leader like Steve Addazio in his corner. The first-year Boston College coach has emphasized a smashmouth style that has seen the Eagles carry the rock on better than 66 percent of their plays -- with Williams rushing it on nearly 69 percent of those runs.
"I love being a running back, I love representing running backs," Williams said. "I don't necessarily think it's unfair that it's been quarterbacks really high up in the Heisman contention lately, because that position is hard to play. It's hard to be good at it. And with the trend toward teams playing spread offenses and throwing ball more, I think really that's one of the factors behind it -- you have to have a good quarterback to be able to do that with your offense.
"But football is a funny game, because you can draw up all the X's and O's you want, but it's really an emotional and physical and mental game, and you can line up with any type of scheme and it can work if you have the right group of guys."
Williams could possibly meet his match in the AdvoCare V100 Bowl when he faces Arizona's
Ka'Deem Carey
, who actually touts a higher per-game workload (29.27) than Williams (27.41) after being suspended for the season opener.
The workhorses are scheduled to cross paths in Orlando, Fla., this week as finalists for the Doak Walker Award, with each expressing his admiration of the other's role in being flag-bearers for running backs this season. Both have relished the relative downtime before the bowl, especially Williams, whose shoulder injury forced him to exit the regular-season finale.
At 5-10, 207 pounds, the smaller Carey, a Tucson, Ariz., native, said he prepared for his workload this season by doing what he always does: hiking the various mountains surrounding the region, joking that there's not much else to do in his hometown.
His mindset is similar to Williams' in that each refuses to see the open field as a 1-on-11 game of tag.
"Every time I touch the ball I run hungry," Carey said. "I know the whole 11 is after me, and I feel like I should be after them, so I go after them instead of them just chasing me."
Nine running backs have accounted for 11 trips to New York in the previous 10 years. (Darren McFadden and Reggie Bush each went twice). By the time of the Heisman ceremony, none had tallied more rushes than Williams (329) or Carey (322) has this fall. And none had touched the 2,000-yard barrier that Williams crossed in the regular-season's penultimate game, at Maryland.
If there is a caveat with Williams, it comes in the passing game, where he has been a non-factor. He has zero catches this season and just 10 for his career, and he knows it is an area he will need to prove himself in for pro scouts come pre-draft evaluations. In comparison, Carey has 26 catches for 173 yards.
What Williams' hands lack in catching, they make up for in other areas, namely his signature stiff-arm, a move that Carey lauded him for, and one that several ACC defenders
have fallen victim to while standing in the thoroughbred's way
.
Jim Morgans, Williams' coach at Parkland (Pa.) High, recalls his protege elevating the entire team with a well-delivered blow that would enliven the sideline.
"It's the timing of it," Morgans said. "He knows when to deliver it. He puts a little dip in his legs and he really delivers a heckuva [hit].
"There's other things that he did, too: He would turn on defenders if he had the sideline and he's breaking down the sideline, and you know that he could probably take the angle away from defensive backs because he always had another gear. But sometimes he would relish just turning right into the defensive backs and running into them and running them over."
October, 16, 2013
10/16/13
12:00
PM ET
ACC hoops media days already? Time flies.
October, 11, 2013
10/11/13
12:00
PM ET
August, 5, 2013
8/05/13
12:00
PM ET
March, 27, 2012
3/27/12
5:00
PM ET
Doug Flutie and Charlie Ward are two of eight possible players who will join Heisman Trophy winner
Robert Griffin III
on the cover of EA Sports' "NCAA Football 13."
The decision
will be based on fan voting
.
Marcus Allen (USC), Eddie George (Ohio State), Desmond Howard (Michigan), Barry Sanders (Oklahoma State), Herschel Walker (Georgia) and Andrew Ware (Houston) are the other six players.
All eight are Heisman Trophy winners. Ward won it with Florida State in 1993, and Flutie won it with Boston College in 1984. (Yeah, technically he wasn't an ACC player, but we won't hold it against him.)
February, 19, 2009
2/19/09
10:00
AM ET
By
ESPN.com staff
| ESPN.com
Posted by ESPN.com's Heather Dinich
First of all, thank you all so much for your suggestions. The mailbag is packed, and I've heard from fans at just about every school. There were so many comments that I think I'll post at least one with each entry. There's still time if you want to contribute (that means you, Duke and Wake Forest fans), and even if your program has only been in the ACC for a few years, we're looking at the entire history of the program. I'll do six today and six tomorrow, alphabetically. Don't forget, this is just for football, so no, Mike Krzyzewski won't make the cut.
Let's start with BC:

Robert in Stamford, CT., suggested: Doug Flutie (Heisman Trophy), Art Donovan (Pro Football Hall of Fame), Charlie O'Roarke (led BC to unprecedented success in WWII era) and Matt Ryan (the highest draft pick in school history) Honorable Mention: Mike Ruth (Outland Trophy) (2-3 years is not enough for Frank Leahy, Jags, Coughlin).
Doug Flutie and Matt Ryan were no brainers. The other two weren't so easy.
Here's the final verdict:
Doug Flutie -- Between 1981 and 1984, Flutie set a career record of 11,054 yards of total offense (10,579 of which were passing yards, another national career record). He had a 30-11-1 record as a starter, and in 1984 became the first player from BC to win the Heisman Trophy. Of course, that was the year his storied, last-play, Hail Mary touchdown pass to Gerard Phelan beat Miami.
Matt Ryan -- Ryan was chosen by Atlanta in the first round as the third overall pick in the 2008 NFL draft, the highest draft pick in school history. The ACC's 2007 Player of the Year set the school record for single-season passing yards (4,507), and finished his career third on BC's all-time passing yardage list (9,313), behind Flutie and Glenn Foley. He threw 56 career touchdowns, and is BC's career leader in completions (807). He was 25-7 in 32 career starts.
Mike Holovak -- He is remembered as one of the top running backs in school history, as the Eagles went 26-5 during his career. Holovak scored all three BC touchdowns in the 1943 Orange Bowl and averaged 15.8 yards per carry against Alabama. He was a first-team All-American in 1942, and was inducted into the College Football Hall of Fame in 1985.
Mike Ruth -- Ruth, a nose tackle, was the only Boston College player to win the Outland Trophy, which is awarded to the nation's best interior lineman. Ruth won it in 1985, despite a losing season. At 6-foot-1, 265 pounds, Ruth was the Eagles' strongest player and quickest lineman. As a sophomore in 1983 he had 80 tackles and 7.5 sacks. The following year he had 102 tackles (76 solo), 6.5 sacks, 20 quarterback pressures and seven other minus-yard plays. The best story about Ruth, though, was how he carried his mother, who had severe arthritis, to her pew in church, and carried her to the alter and back again when it was time for Holy Communion. Now that's a team captain.
November, 29, 2008
11/29/08
9:10
PM ET
By
ESPN.com staff
| ESPN.com
Posted by ESPN.com's Heather Dinich

| | |
| --- | --- |
| | |
| | Elsa/Getty Images |
| | Billy Flutie, the Boston College backup quarterback and nephew of Heisman Trophy winner Doug Flutie, threw for a 9-yard touchdown on a fake field goal to help Boston College to a a 28-21 victory over Maryland. |
CHESTNUT HILL, Mass. -- Not only isn't this Matt Ryan's team, it's not even Chris Crane's team anymore.
What Boston College doesn't have, though, has never mattered this season, and it didn't matter in Saturday's 28-21 win over Maryland.
Boston College won the Atlantic Division without Ryan, without a veteran running back, and with its backup quarterback. The Eagles did it with one of the nation's stingiest defenses and a group effort on the day it mattered most. For the second straight season, the Eagles will face Virginia Tech in the ACC championship game.
It's the same result, but this year is much different.
There are no Ryan-esque superstars on this Boston College roster, which is why those within the program agreed this year's trip to the ACC title game is even more gratifying than last year's.
It's also why nobody outside the Yawkey Athletics Center expected Boston College to be here.
"That's the best part of it," said coach Jeff Jagodzinski, who is in his second season. "The guys believed they could. That's the whole thing about coaching, getting your guys to believe they can do it. It doesn't matter who's on the field. They're all wearing gold helmets. We had four starters out and it didn't matter. They didn't flinch, they just kept playing.
"When they believe, and the coaches believe, you've got a chance," Jagodzinski said. "Our kids fought. We didn't have to count on anybody this year to help us get into the game. They kept earning themselves into the championship game by winning."
The Eagles closed their regular season with four straight wins. It's the second straight season for Jagodzinski with at least nine wins, as last year's team finished 11-3, the first team to win 11 games since 1940. They can reach that mark again with an ACC title and Orange Bowl win.
As the final seconds ticked off the clock in Alumni Stadium, there was one fan behind the BC bench holding out an orange, a symbol that once seemed highly unlikely for this undermanned offense.
Starting quarterback Chris Crane, a fifth-year senior in his first season leading the offense, broke his collarbone last week in the win at Wake Forest. He was the fourth starter the Eagles lost to injury this season, along with linebacker Brian Toal, defensive end Alex Albright and receiver Clarence Megwa. It was up to backup quarterback Dominique Davis to lead the offense to the Atlantic Division title in his first career start. He managed the offense well without turning the ball over and finished with a career-high 134 yards passing and two touchdowns.
And as usual, he got some help.
BC scored on offense. They scored on defense, and they scored on special teams. There was even a player named Flutie involved. Billy Flutie, the nephew of BC legend Doug Flutie, completed the first pass of his career -- a nine-yard touchdown on a fake field goal. It was something they had practiced all week.
November, 4, 2008
11/04/08
9:30
AM ET
By
ESPN.com staff
| ESPN.com
Posted by ESPN.com's Heather Dinich
Boston College will unveil a life-sized, bronze statue of Doug Flutie outside gate D of Alumni Stadium at 2 p.m. on Friday.
| | |
| --- | --- |
| | |
| | Boston College/Getty Images |
| | Doug Flutie celebrates his "Hail Mary" touchdown pass against Miami in 1984. |
"This statue is a fitting tribute to the man who made Boston College football a household name," BC athletics director Gene DeFilippo said in a statement released by the school. "Doug played a huge role in the history of Boston College athletics. We're thrilled that he will be honored permanently outside Alumni Stadium."
All members of the Boston College community are invited Friday. Flutie will be on hand at 2 p.m. when the curtain is dropped on the statue for the first time. The statue depicts Flutie about to release his famous "Hail Mary" pass at Miami in 1984.
The Boston College athletics department commissioned renowned sculptor Harry Weber for the design and construction of the statue. Weber has prominent sculptures at 10 different professional and amateur stadiums as well as the Baseball Hall of Fame in Cooperstown, NY.
In 1984, Flutie became the first player in Boston College history to win the Heisman Trophy. It capped an unbelievable 9-2 season that included the astounding victory over Miami, a win over Houston in the Cotton Bowl and a No. 5 national ranking. He finished his career as BC's all-time leading passer with 10,579 yards.
August, 20, 2008
8/20/08
5:08
PM ET
By
ESPN.com staff
| ESPN.com
| | |
| --- | --- |
| | |
| | Mike Zarrilli/Getty Images Tony Tomsic/NFL |
| | BC's Billy Flutie, left, wants to make a name for himself this year, separate from the attention he gets because of his uncle Doug, the legendary Eagles quarterback, right. |
Posted by ESPN.com's Heather Dinich
CHESTNUT HILL, Mass. -- When you first walk into the Yawkey Center, Doug Flutie's Heisman Trophy is hard to miss. So is the surrounding shrine dedicated to him.

Which is why it's astounding that more people aren't talking about the fact there is a player with the name "Flutie" on the back of his jersey running around Alumni Stadium.
"One of the freshmen said, 'I didn't even put two and two together until I got here,'" said quarterback Chris Crane.
There should be a Doug Flutie 101 class here, two credits.
Granted, the mild-mannered receiver named Billy Flutie hasn't exactly caught any Hail Mary passes yet. He redshirted in 2006, and last season held the inglorious position of backup punter while playing sparingly as a receiver. (That's right, he's been here longer than the head coach).
"I really haven't done much," Flutie said. "I've played in a couple of games so far at Boston College, but I'm working my way up. Last season I had three catches, which is not that much, but this season I'm looking forward to start proving myself, make more catches and make my name more noticeable."
Me: Because it's not already?
"Yeah, a lot of people know the last name," he said, practically blushing. "They see it on the back of the jersey and they know it's me, Doug's nephew. I try not to think about that too much. I have to concentrate on my own game and do what I can to help my team win."
He tried to help last season in the Eagles' come-from-behind win over Virginia Tech. He was in on the trick play that resulted in his first career pass attempt. It was incomplete. And his name is listed as "Glutie" in the final passing stats in the media guide's 2007 review.
Maybe he really does have to make a name for himself.
The younger Flutie calls the Heisman Flutie every now and then. His uncle lives in his hometown of Natick, about 15 minutes from here.
Boston College coach Jeff Jagodzinski said Billy is not "a flashy guy," but he "finds a way to get it done" and will play this year as a holder, punter and receiver.
"Oh yeah, he'll see a lot of playing time," Jagodzinski said. "He's just going to be his own guy. He's got the name, but he's got to make his own reputation."
He's already got the name.
"It means a lot," he said. "I take a lot of honor in having it as my last name. Doug and Darren, both of my uncles played here, did great things here, and I'm trying to follow up with that. I'm working hard every day just like they did when they were here and I'm just trying to make plays. If you don't, you just have to put it behind you. It's part of the game."
Regardless of how his career unfolds here, it's worth watching. Fluties usually are.
August, 1, 2008
8/01/08
12:45
PM ET
By
ESPN.com staff
| ESPN.com
Posted by ESPN.com's Heather Dinich
Notice these guys are in alphabetical order.
Brock Berlin, Miami -- In 2003, he helped Miami score 28 unanswered points for a 38-33 comeback win against his former team, Florida.
James Davis, Clemson -- Davis scored the game-winner in 2005 against rival South Carolina, a 2-yard run with 5:58 left that gave Clemson the 13-9 win. He also scored the game winner in 2006 against Florida State, a 1-yard run with eight seconds left for the 27-20 win.
| | |
| --- | --- |
| | |
| | Boston College/Getty Images |
| | Doug Flutie celebrates his last-second touchdown pass to defeat Miami in 1984. |
Doug Flutie, Boston College -- Is there a play that defines "clutch" better than Flutie's Hail Mary pass against Miami? Flutie left school as the NCAA's all-time passing yardage leader with 10,579 yards.
Chris Gould, Virginia -- Virginia wouldn't have been the ACC's most current clutch team had it not been for Gould. He kicked 16 field goals last season and his kicks in five games were the difference (game winners vs. Middle Tennessee and UConn, 5 FGs in 22-20 win over UNC, early FG vs. Maryland in 18-17 win and early FG vs. WFU in 17-16 win).
Sebastian Janikowski, Florida State -- He set Florida State and ACC records with 27 field goals in 1998. A year later, Janikowski made 84.4 percent (27-of-32) and led the nation with an average of 2.23 per game.
Calvin Johnson, Georgia Tech -- The No. 1 draft pick finished with 178 career receptions for 2,927 yards and 28 touchdowns. He ranks first in school history in career receiving yards, second in receptions, first in touchdown receptions, and first in most career 100-yard receiving games with 13.
Frank Reich, Maryland -- Can't forget the King of the Comeback. In 1984, trailing defending national champ Miami 31-0 at halftime, Reich completed 12 of 16 passes for 260 yards and three touchdowns for a 42-40 win and a trip to the Orange Bowl. Eight years later, he orchestrated one of the NFL's greatest comebacks. His Buffalo Bills trailed Houston, 35-3, but Reich came in for an injured Jim Kelly and won, 41-38, in overtime.
Philip Rivers, NC State -- The number of clutch plays this guys made is worth a separate entry, as he made six comeback wins his freshman year alone.
Matt Ryan, Boston College -- His two-touchdown come-from-behind win over Virginia Tech in Blacksburg last season with 2:11 left on the clock will always be remembered.
David Treadwell, Clemson -- Treadwell kicked game-winning field goals inside the last five seconds against Georgia in consecutive years. He kicked a 46-yard field goal on the last play in 1986 at Georgia, then kicked a 21-yarder with two seconds left to beat the Bulldogs in 1987. He also kicked a field goal on the last play of the game in 1985 to beat Virginia Tech.
July, 22, 2008
7/22/08
7:38
AM ET
By
ESPN.com staff
| ESPN.com
Posted by ESPN.com's Heather Dinich
Finally, a fresh take on expansion -- Gregg Doyel says it's not the reason the league is, um, down.
Just how bad is the ACC? Check out Tony Barnhart's numbers. Even Georgia Tech defensive tackle Vance Walker admitted the SEC has been beating up on the league. Frank Beamer will be the first to tell you the Hokies didn't do their part last year.
Can they redeem themselves this year? Maybe. Although Doug Flutie says Beamer needs to pick a quarterback. Still, the Hokies certainly have a better chance at a BCS game than Virginia, and, yes, Al Groh, we are laughing at the one reporter who gave your Cavaliers a first-place vote. There was certainly a lot of love for North Carolina the past two days, and considering the turnouts at the free bar in the media hospitality house down here (yes, we got a whole "Presidential house," as opposed to the usual suite), Butch Davis asked a valid question.
Despite all of the hype surrounding his Tar Heels, Clemson is the better team, but good luck finding a ticket to the Alabama game.
Despite his recent struggles, Florida State coach Bobby Bowden drew quite a crowd to his interview table Monday -- much of that, though, was to answer questions about his son. So where is the pressure in the Bowden family this season? The patriarch of college football says it's on his son, Tommy. Caulton Tudor said that's because there's no fear of FSU anymore. Well, that, and as Bobby pointed out -- "(Tommy) hasn't won anything yet."
If I were Tommy Bowden, though, there's nobody else I'd rather be getting advice from than good 'ole dad, even though the younger Bowden has had the upper hand three years in a row. One thing's for sure: Bobby Bowden ain't ready to retire, dadgummit.
Bob Thomas says look out, though, for the ACC's dark horses. Wake Forest definitely will have a shot at it, especially if Jim Grobe keeps plucking talent out of Florida. I still consider Maryland a dark horse in the Atlantic Division, but I also seem to have more faith in the Terps this season than most of the media here. Clearly Ralph Friedgen has been working to ensure another 6-7 season doesn't happen again.
The AJC also had more on Miami's turnaround. Randy Shannon seems to have a more realistic approach this time around. In order to move forward, though, the Hurricanes have to first forget about the past.
Duke coach David Cutcliffe will have his team moving up in no time, but first he had them slimming down. Don't look now, but the Blue Devils are actually looking like a football team. And they can add, too. Joe Paterno is the one who started the "Grand Experiment." It worked for him once. College football today is a different story. We'll see if Cutcliffe's version of the experiment can work.
From the looks of it, Boston College probably won't be the team changing the perception of the league this year. This just in -- the Eagles will look different.
Playoff? Did somebody say playoff? By the way, the entire time I was sitting at Randy Shannon's table yesterday, he was answering questions with questions, like he did in that article. I'll show you later. First, I must attend ACC commissioner John Swofford's breakfast at 9 a.m. Check back later for what he said, and more on the coaches.