May, 9, 2013
May 9
12:00
PM ET
Don't forget your mamas ...
April, 30, 2013
Apr 30
10:30
AM ET
Syracuse offensive coordinator George McDonald spent the past two seasons as the receivers coach at Miami with Al Golden. In working with the Canes, McDonald had the opportunity to watch the ACC's 2012 Rookie of the Year, running back
Duke Johnson
, at practice every day, along with former running back Mike James.
Look out, ACC: McDonald says Syracuse has a deep group of running backs with talent comparable to the Canes.

Of all of the position groups he saw this spring, McDonald said the running backs were the biggest surprise to him.
"That's part of the strength of our team," McDonald said. "...There's the young kids,
George Morris
and
Devante [McFarlane]
, they're really, really good. I think they could play at a lot of different places in the ACC. That's one position where Coach [Doug] Marrone and the previous staff -- they did a great job on the offensive line and a lot of different places -- but that depth at running back, I was surprised. I knew
Jerome [Smith]
and
[Prince-Tyson] Gulley
were good, but then you get into the spring and see the two freshmen who were redshirted, and you're like, 'OK, these guys are good.' At Miami we had Mike James and Duke, but we didn't have the depth, four guys who can all step in. That's a good problem to have."
Smith highlights the group, as he started 12 games last year and finished the season with 1,341 yards and four touchdowns on 264 carries. Gulley started three games last year and was named the MVP of the Pinstripe Bowl after he racked up a career-high 213 rushing yards, and had two touchdowns on 24 carries, and also added five receptions for 56 yards and a touchdown against West Virginia.
The running backs should help ease the burden of a first-year starting quarterback, not to mention a first-year offensive coordinator at the BCS level. McDonald has coached receivers for the past eight years, and spent one year as a coordinator while at Western Michigan (2005-2006) -- also the last time he was on the sideline with first-year Syracuse coach Scott Shafer.
The Dome is a far cry from sunny South Florida, but for McDonald, taking over the offense for his friend was worth the move.
"Coach Golden was awesome to me," McDonald said. "I'm so happy to be here with coach Shafer. He's been one of my mentors. He's been awesome to give me this opportunity to lead this program into the ACC on offense. Every day we wake up chasing our dreams, and I'm one of those fortunate people who actually gets to wake up and live the dream. I'm really excited to be here."
April, 25, 2013
Apr 25
12:00
PM ET
So many questions, so little time ...
April, 25, 2013
Apr 25
9:00
AM ET
NFL draft coverage will begin at 8 p.m. ET tonight on ESPN and WatchESPN.com, but here is a one-stop shopping post for all of your last-minute mocks and talk:
April, 24, 2013
Apr 24
12:00
PM ET
No more spring ball. Sigh ...
February, 20, 2013
Feb 20
10:00
AM ET
BOSTON COLLEGE

Spring start:
Feb. 28
Spring game:
April 13
What to watch:
The transition: Introductions will be necessary as first-year coach Steve Addazio takes over. The good news is that offensive coordinator Ryan Day is a familiar face as he was the receivers coach under Frank Spaziani. He should work well with quarterback Chase Rettig.
The front seven. There used to be a time when BC's defense was one of the best in the country. It wasn't last year. The Eagles were No. 111 in the country in rushing defense and No. 120 in sacks and tackles for loss. First-year coordinator Don Brown has some work to do.
The running backs. They were an inconsistent group last year as BC ranked No. 115 in the country in rushing offense at 90.92 yards per game. All of the key contributors return, including leading rusher Andre Williams, but the group has to do a better job of taking pressure off of Rettig.
CLEMSON

Spring start:
March 6
Spring game
: April 13
What to watch:
Defensive progress: This is the second spring under coordinator Brent Venables, and the defense is the missing piece to the program becoming a contender on the national level. The defensive backs will have the most to prove as three starters have to be replaced.
The new playmakers: Clemson lost two big names on offense in receiver DeAndre Hopkins, who left early for the NFL, and running back Andre Ellington. There is plenty of talent remaining in the wings, but it has to step out of the shadows this spring.
Front and center: The Tigers return four starters to the offensive line, but have to replace their anchor in veteran center Dalton Freeman. While quarterback Tajh Boyd returns, the communication with the new center will be critical for calls and snaps.
FLORIDA STATE

Spring start:
Mar. 20
Spring game:
April 13
What to watch:
The QB battle: It's a three-way race to replace EJ Manuel, and while Clint Trickett will enter spring practice as the nominal No. 1, there's no clear favorite to win the job. Sophomore Jacob Coker has perhaps the best mix of arm strength, athleticism and experience, but redshirt freshman Jameis Winston was the country's top QB recruit two years ago and could blossom into a superstar.
The new coaches. There will be a much different feel on the practice fields at FSU this spring with six new assistant coaches running the show. Four of the assistants have previous coordinator experience, making it a veteran group, and new defensive coordinator Jeremy Pruitt brings an Alabama pedigree to a unit that was already among the best in the nation.
The new faces. A year ago, there weren't a ton of jobs open in the spring thanks to a hefty dose of veterans. Things are different this time around, meaning youngsters like WR Kelvin Benjamin, DE Mario Edwards Jr. and CB Ronald Darby will get their opportunities to solidify key roles on this year's team.
MARYLAND

Spring start:
March 2
Spring game
: April 12
What to watch:
Quarterbacks. The Terps' unprecedented run of injuries at the position was one of the ACC's biggest storylines last year. C.J. Brown, the projected starter, will be limited and won't play in the spring game, but he can throw and participate in some drills. Ricardo Young, who sat out all year after transferring, will be the top healthy quarterback on the roster this spring and take the majority of the snaps. He played for offensive coordinator Mike Locksley at New Mexico and is familiar with the system. Perry Hills and Caleb Rowe aren't nearly as ready or healthy as Brown is. Dustin Dailey, who also sat out last year because of NCAA transfer rules, is healthy and available.
Early enrollees: Three recruits enrolled early, including two junior college transfers who can help immediately. Maryland fans should be eager to see how junior college transfer Deon Long, a receiver, adds to the offense. Silvano Altamirano, another junior college transfer, will compete immediately for playing time at offensive guard.
Defensive competition: Maryland has some big names to replace in defensive linemen Joe Vellano and A.J. Francis, and middle linebacker Demetrius Hartsfield, all of whom were mainstays on the defense. Cole Farrand will be the veteran linebacker now, and Darius Kilgo is the only returning starter on the defensive line.
NC STATE

Spring start:
March 19
Spring game:
April 20
What to watch:
The quarterback competition. The Mike Glennon era is over, and Manny Stocker and Pete Thomas are the top options to replace him. Thomas, a former transfer from Colorado State, was a two-year starter there and threw for 4,269 yards and 18 touchdowns. Stocker, a sophomore, has yet to take a collegiate snap.
The staff transition. First-year coach Dave Doeren is taking over and he has hired an almost entirely new staff. How the players adjust to the change in terminology, schemes and personalities will be critical to the transition.
A revamped secondary: NC State will have to replace three starters, including Earl Wolff, Brandan Bishop and David Amerson, the school's career interception leader. Cornerback Dontae Johnson returns, along with Juston Burris, who played in the nickel package. There are also several redshirts and younger players who will compete.
SYRACUSE

Spring start:
March 19
Spring game:
April 20
What to watch:
Staff changes: First-year coach Scott Shafer, who replaced Doug Marrone, has been with the program for four years, so it's not a drastic change for the players, but it is Shafer's first as a head coach. He has a chance to put his stamp on the program as it enters the first season in the ACC.
Quarterback competition: The Orange have to replace record-setting quarterback Ryan Nassib, and it's a wide-open competition. Backup Charley Loeb, junior John Kinder, and dual-threat Terrel Hunt are the top candidates, but Ashton Broyld, who moved to running back in 2012, could be in the mix as well.
Replacing SS Shamarko Thomas: The Orange have to replace their leading tackler and top defender, as Thomas had 84 tackles last year. He was a game-changer who also had two interceptions and three forced fumbles. He was a first-team All-Big East selection.
WAKE FOREST

Spring start:
March 19
Spring game:
April 20
What to watch:
The health of the O-line: Wake was hit hard by injuries last year, and keeping this group healthy this offseason will be critical. The Deacs only lost one senior -- center Garrick Williams, but last year injuries forced the staff to play a significant number of redshirt freshmen, which it doesn't like to do. Whit Barnes, for example, started 11 games at left guard. He was supposed to be a backup center.
Camp's complement: The Deacs have to find a complement to star receiver Michael Campanaro. He's the go-to guy, but quarterback Tanner Price needs a few more reliable targets to emerge this spring. Sherman Ragland, Matt James, Brandon Terry and Airyn Willis are all options.
Improving inside: The Deacs' inside linebackers need a boost after losing Riley Haynes and Scott Betros. Redshirt junior Mike Olson will be a starter, but Wake needs to find another starter there and develop some dependable backups.
February, 6, 2013
Feb 6
4:00
PM ET
As soon as coach Doug Marrone left Syracuse, many of the Orange's commitments started jumping ship, or wavering.
That continued on national signing day, as the Orange lost several other players to rival schools:
Gus Edwards, a long-time Syracuse commit, ended up choosing Miami.
Linebacker Malik Brown flipped from Syracuse to Tennessee.
Laray Smith, who had Syracuse on his radar, ended up going elsewhere.
This one didn't happen on signing day but it's a loss nonetheless. Zach Allen, also a longtime Syracuse commit, ended up signing with TCU last month.
The news was not all bad, as the Orange ended up getting all-purpose player
Brisly Estime
, along with three-star fullback
Tyler Provo
-- brother of former Orange tight end Nick Provo. Quarterback prospects
Mitch Kimble
and
Austin Wilson
also signed, along with top New York City prospect
Wayne Williams
.
But as it stands now, the Orange do not have a running back in this class, and Williams was the only player signed from the New York City area -- a region Marrone emphasized. New coach Scott Shafer was not exactly put in a great position with only a month to hold together a class.
Though the Orange lost some of their top prospects, they were able to hold on to a few others. Now we'll see how they develop as they move into the ACC.
January, 17, 2013
Jan 17
2:00
PM ET
The ACC's crop of 2013 quarterbacks will be an interesting blend of old and new. Veterans
Logan Thomas
and
Tajh Boyd
both decided to return for their senior seasons instead of leaving early for the NFL draft, but several big names -- like
EJ Manuel
and
Mike Glennon
-- will be missing. Here's a quick rundown of the position heading into the 2013 season:

IN GREAT SHAPE
CLEMSON:
Boyd returns. The record-setter should be a Heisman candidate, considering he led the ACC in passing efficiency, was second in passing average/game, and threw for 36 touchdowns with just 13 interceptions.
MIAMI:
Stephen Morris
returns. Morris should be one of the best quarterbacks in the ACC, and he might have the best offensive line in the conference to work with. Last season, Morris started all 12 games and threw for a career-best 3,345 yards and 21 touchdowns, completing 58.2 percent of passes. He set the school single-season total offense record with 3,415 yards.
NORTH CAROLINA:
Bryn Renner
returns. He was No. 3 in the ACC last season in passing average per game (279.7), and he was No. 3 in passing efficiency. He finished with 3,356 yards, 28 touchdowns and seven interceptions.
VIRGINIA TECH:
Thomas returns. This was a huge boost to the Hokies' offense. Thomas has started the past 27 games for the Hokies, passing for 6,096 yards and 37 touchdowns, and running for 1,015 yards and 20 scores.
WAKE FOREST:
Tanner Price
returns. He threw for 12 touchdowns and seven interceptions last season, and he'll be helped by the fact that standout receiver
Michael Campanaro
returns. Price completed 55.6 percent of his passes for 2,300 yards.
IN GOOD SHAPE
VIRGINIA:
Phillip Sims
returns, but
Michael Rocco
transferred. Sims is the most likely starter, but how much playing time will
David Watford
see? While sharing time with Rocco last season, Sims finished with nine touchdowns and four interceptions. He completed 56.2 percent of his passes for 1,263 yards.
MARYLAND:
C.J. Brown
, who tore his ACL before the start of the 2012 season, is the most likely starter. This position can only get better for Maryland in 2013, as the Terps were down to their fifth-string quarterback last season. He started five games in 2011, but this would be his first full season as starter.
BOSTON COLLEGE:
Senior
Chase Rettig
returns. He started all 12 games last season, completed 54.2 percent of his passes, threw for 3,065 yards, 17 touchdowns and 13 interceptions. The reason BC isn't in the "great shape" category is because Rettig will have his 103rd offensive coordinator. The good news is that Ryan Day is a former BC offensive assistant, so it's not like they just met.
DUKE:
Veteran
Sean Renfree
has to be replaced.
Anthony Boone
isn't a rookie, but this will be his first season as a full-time starter. Boone has had the strongest arm of any of the quarterbacks on the roster, including Renfree. Boone played in 11 games in 2012, completed 51.6 percent of his passes (49 of 95) for 531 yards, five touchdowns and two interceptions. He also ran for 82 yards and two touchdowns.
COMPETITION IS ON
FLORIDA STATE:
Manuel must be replaced.
Clint Trickett
is the leading candidate heading into the spring, and he has the edge in experience, but he will compete with
Jacob Coker
and
Jameis Winston
. Trickett started two games in 2011, filling in for the injured Manuel, but this past season he only threw the ball 34 times. Coker played in four games and threw it five times.
GEORGIA TECH:
Tevin Washington
must be replaced.
Vad Lee
is the front-runner heading into the spring, but
Justin Thomas
will give him plenty of competition. Lee didn't start any games in 2012, but he got plenty of meaningful snaps and ran for 544 yards and nine touchdowns, and threw for 596 yards, four touchdowns and three interceptions.
NC STATE:
Glennon must be replaced. This position is a huge question mark for the Pack, especially considering the program has gone through a staff change, with Dave Doeren taking over.
Manny Stocker
and
Pete Thomas
are the front-runners heading into spring ball. Stocker threw the ball just twice in 2012 as a true freshman, and Thomas has two years of eligibility remaining after sitting out the 2012 season per NCAA rules because he transferred from Colorado State.
PITT:
Panthers fans rejoined when the final seconds ticked off the clock in the BBVA Compass Bowl because they won't have to watch
Tino Sunseri
play another down. Sunseri did start for three seasons, but this program is looking for a major upgrade at the position. Competition in the spring should focus on transfer
Tom Savage
, a former Freshman All-American, and redshirt freshman
Chad Voytik
, a four-star recruit from the class of 2012.
SYRACUSE:
The Orange have to replace record-setting quarterback
Ryan Nassib
, who just had the best single-season passing year in school history. They
thought they had
an incoming stud in Zach Allen, but the Texas recruit de-committed after coach Doug Marrone left for Buffalo, and Allen pledged to TCU. That leaves the job wide open in the spring between backup
Charley Loeb
, junior
John Kinder
, and dual-threat
Terrel Hunt
.
Ashton Broyld
, who moved to running back in 2012, could be in the mix as well.
January, 15, 2013
Jan 15
2:00
PM ET
I now present to you Part II of my interview with new Syracuse coach Scott Shafer, who discusses how he wants to impact the program and what he learned most from outgoing coach Doug Marrone.
In case you missed it, you can check out
Part I here
.
You mentioned other head-coaching opportunities that maybe weren't quite right. Now that you are a head coach, what has it been like waiting for your chance, wondering if that day would come for you?
[+] Enlarge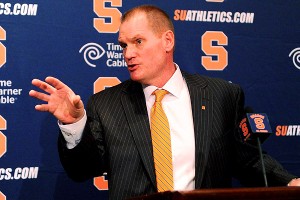 Rich Barnes/USA TODAY SportsScott Shafer succeeds Doug Marrone, who resigned and was named coach of the Buffalo Bills.
SS:
It was for the most part pleasurable because I got to coach and call defenses, and I had a blast doing that. I tried to have short-term goals, and the long-term goals would take care of themselves and not worry about those things. I'd be lying to you if I didn't tell you there were times of disappointment, where you say, 'Well, shoot, why didn't I have an opportunity to get on that job?' No different than anybody in the world. But for the most part, I've always been so lucky to be coaching something I love and have my impact on those players, that you get over it as soon as you see them the next day.
A big theme has been continuity with you taking over for Coach Marrone because you've been in the program for four years, you know what it takes to keep the program moving forward and you have the support of all your players. Given that, how do you put your own stamp on the program?
SS:
To be honest with you, I just trust what I believe in and try not to be anyone but myself and try to help these kids figure out who they are and who they want to be as a group, as a team. Each team is different than any other. And that's what's always so exciting, and that's always the challenge. What is the 2013 [season] going to be, who are we going to be, what's the theme, what's the motto? We can't script it. It's got to be something developed at the 6 a.m. workouts when things are very difficult and they have to learn to rely on one another and those types of things. That's the best part of coaching, seeing somebody find themselves while busting their rump. All we want to do is be able to put a product on the field that's fun to watch, has some energy but more importantly is appreciated by people that appreciate teams that play really hard, physical, hard-nosed football.
What's the biggest thing you've learned from working under Coach Marrone that will help you now that you are a head coach for the first time?
SS:
He's an extremely organized person and that's one thing I've taken from him. Also, the ability to walk away from a situation and let his coaches coach, I think that's probably the biggest thing I take away from it.
January, 8, 2013
Jan 8
11:00
AM ET
Brace yourselves.
This is not the ACC power rankings you are used to. It is bigger. Let's hope it's not badder. The first version of the 2013 ACC power rankings reflects the addition of
Pittsburgh Panthers
and
Syracuse Orange
. There are 14 teams here (and Boston College is still last). Welcome to the league, Pitt and Cuse.
There are still plenty of questions for several teams that have players still undecided about their NFL careers, but this is your first take on a ranking likely to change many times between now and the opening kickoff. Lots can happen (and does) during signing day, spring ball and summer camp, but here is how Andrea Adelson and I think the ACC will shape up this fall based on what we know now:
1. Clemson --
With quarterback
Tajh Boyd
and offensive coordinator Chad Morris working together again, the Tigers would have the best coordinator/quarterback combo returning in the ACC. The defense should take another step forward in the second season under coordinator Brent Venables, and the Chick-fil-A Bowl victory over LSU was a monumental springboard for the program heading into the offseason.
2. Florida State --
The Seminoles will be going through a transition, as coach Jimbo Fisher has to replace at least five assistants on his staff, as well as starting quarterback
EJ Manuel
. With several players, including defensive end
Bjoern Werner
, leaving early for the NFL draft, the Noles will have to reload.
3. Miami --
The Hurricanes hoped their self-imposed bowl ban was a preemptive strike against NCAA sanctions. With quarterback
Stephen Morris
returning, along with ACC Rookie of the Year
Duke Johnson
and what could be one of the best offensive lines in the ACC, expectations should be much higher for the Canes in Year 3 under Al Golden.
4. Georgia Tech --
The Yellow Jackets will have some momentum and confidence to build on after their bowl win over USC, but more importantly, they've got an experienced, talented roster to work with. Georgia Tech will have eight starters back on a defense that made measurable progress in the second half of the season.
5. UNC --
Coach Larry Fedora is going to have to work some magic in trying to replace leading rusher/returner
Giovani Bernard
, who left early for the NFL, and his lead blocker,
Jonathan Cooper
. Quarterback
Bryn Renner
will be a senior, though, and the Tar Heels have other talented running backs waiting in the wings.
6. Pitt --
The moment every Pitt fan has been waiting for --
Tino Sunseri
will no longer be the starting quarterback in 2013. Does that mean the position gets an automatic upgrade? Promising running back
Rushel Shell
returns, and Pitt's defense should be much better, but questions remain on the offensive line.
7. Virginia Tech --
The school has yet to announce any staff changes, quarterback
Logan Thomas
has yet to announce whether or not he is returning for his senior season, and the Hokies open the schedule against national champion Alabama. Doesn't look good.
8. Syracuse
--
Major questions surround the Orange now that coach Doug Marrone has left for the Buffalo Bills. This is a team that already had to replace starting quarterback
Ryan Nassib
, all-Big East tackle
Justin Pugh
, record-setting receiver
Alec Lemon
and leading tackler
Shamarko Thomas
. But Syracuse does have 1,000-yard rusher
Jerome Smith
returning, along with linebackers
Marquis Spruill
and
Dyshawn Davis
. Many questions must be answered before 2013 begins.
9. Maryland --
It can only get better, right? Maryland was down to its fifth-string quarterback last year, linebacker
Shawn Petty
. Starter
C.J. Brown
should be ready to return to the starting lineup this summer and healed from a torn ACL. The defense has some big shoes to fill, but the Terps should have enough experience to be bowl bound in their final season in the ACC.
10. Wake Forest --
The Deacs were thrown off track last season by injuries and suspensions and should be a better team this year. Quarterback
Tanner Price
returns for his senior season, along with receiver
Michael Campanaro
, who should be one of the best in the ACC if he can stay healthy.
11. Duke --
The Blue Devils have to replace quarterback
Sean Renfree
and his top target, ACC record-setting receiver,
Conner Vernon
. Duke went to its first bowl game since 1994, but the program still has something to prove after losing its last five games of the season. The Coastal Division should collectively be stronger this year.
12. Virginia --
Phillip Sims
will take over at quarterback after the transfer of
Michael Rocco
, but how much time will
David Watford
see under center? The hires of Tom O'Brien and Jon Tenuta were smart moves, but the staff will have to find a way to extract more out of many of the same players who struggled last year.
13. NC State --
Quarterback
Mike Glennon
is out, and first-year coach Dave Doeren is in. The Wolfpack will have an entirely different look this fall, and some bumps in the road should be expected as the program begins a new era under Doeren.
14. Boston College --
The Eagles have lots of work to do under first-year coach Steve Addazio. It all starts with recruiting, but the staff is also going to have to find a way to improve the running game and get the defense back to its stingy ways.
December, 19, 2012
12/19/12
9:00
AM ET
It's never too early to look ahead to next season, especially since there are going to be some changes to both the Big East and ACC.
With that in mind, Heather and I have taken up one very timely debate: Which incoming Big East team will do better in the ACC in Year 1 -- Pitt or Syracuse?
Depends on whom you ask.

Heather says: Syracuse.
Ok, so Syracuse needs a quarterback.
But Boston College and NC State need to start from scratch, and Wake Forest and Maryland are, well, beatable. So my argument starts with the competition in the Atlantic Division, where Syracuse already has a leg up on three of its opponents because this season will be the first in which coach Doug Marrone has a roster filled entirely with his recruits.
Can't exactly say the same for BC's Steve Addazio, Dave Doeren at NC State, or even Randy Edsall at Maryland.

Not only does Syracuse enter the ACC in 2013 with an upper hand in stability over three opponents, but it also brings a legitimate running game that will take some pressure off of whomever does start at quarterback (and Texas native Zach Allen, an Elite 11 player, is a pretty good option to start with). The Cuse has a solid stable of running backs, led by 1,000-yard rusher
Jerome Smith
, and it will have a veteran offensive line with all five starters expected to return. (
Justin Pugh
has not decided yet if he'll leave early for the NFL draft, but even with four starters returning up front that will help break in a new quarterback.)
Don't forget tight end
Beckett Wales
also returns, and he was an asset in the passing game as well. Speaking of the passing game, Arkansas transfer
Quinta Funderburk
is eligible to play this year and should help compensate for the graduation of
Marcus Sales
and
Alec Lemon
.
Defensively, Syracuse returns nose tackle
Jay Bromley
to anchor the middle, and while several talented players have to be replaced up front, the Orange rotated plenty of linemen, so depth and experience shouldn't be a problem.
Special teams will probably be the least of Syracuse's concerns, as everyone returns, and the Orange also ended the regular season on a positive note with three straight wins to build on, including back-to-back road wins against Missouri and Temple.
Syracuse is joining a new league, and it will usher in a new quarterback, but there is plenty in place for the Orange to have a successful first season in the Atlantic Division -- more success than Pitt will find in Year 1 of what should be a much-improved Coastal Division.
Andrea says: Pitt.

Heather makes a convincing argument about Syracuse, but her initial premise is flawed. How is Syracuse going to do better than Pitt when it plays in the toughest division in the ACC? Good luck getting past Clemson and Florida State, guys.
Let us turn our eyes to the Coastal Division. Pitt was miles better than Virginia Tech this season. Miami should be better in 2013, but will still be pretty young in many spots. North Carolina loses
Giovani Bernard
,
Jonathan Cooper
,
Sylvester Williams
and
Kevin Reddick
.
Virginia, Georgia Tech and Duke? Pitt will be better.
So I am going to say it right now, before everybody else hops on the bandwagon: The Panthers not only will do better than Syracuse in Year 1 in the ACC -- they will be in contention for the ACC championship game.
Here's why.
Pitt will be better on offense with a first-year starter at quarterback. The moment Panthers fans have been waiting on is almost here --
Tino Sunseri
is about to hit the road, ending his up-and-down career as a three-year starter. Sunseri had his best season to date in 2012, and yet it still was not quite enough to lift the Panthers above mediocrity.
Waiting in the wings is veteran
Tom Savage
, a senior who was a freshman All-American at Rutgers before transferring first to Arizona, then Pitt. He will have a competition on his hands with four-star recruit
Chad Voytik
, who redshirted this season. I am fairly confident that no matter who starts, Pitt will get an upgrade at the position.
Losing
Ray Graham
at running back hurts. But the Panthers return
Rushel Shell
, who should be one of the top running backs in the ACC. We saw glimmers of his talent this year. As the starter next year, he will be better.
Now on to the defense. While it's true the Panthers need to hire a defensive coordinator, the new coach is going to inherit what should be one of the most talented groups in the division. Nine starters return. Among them --
Aaron Donald
at tackle,
Lafayette Pitts
at cornerback and
Todd Thomas
at linebacker. All three should be preseason candidates for All-ACC honors.
Pitt showed marked improvement on defense from Week 1 to Week 12 this year, holding their last two opponents to a combined nine points. I expect that improvement to continue no matter who coaches this group.
Plus, coach Paul Chryst will be in his second year. He will be more comfortable in charge, and his players will be better in his system. For all these reasons, Pitt will be just fine in Year 1 in the ACC. Check that. More than fine. Pitt will be better than Syracuse.
September, 4, 2012
9/04/12
1:00
PM ET
The comments from both Big East and ACC fans began as soon as the final score was announced.
Youngstown State 31, Pitt 17
.
Big East fan sentiment: "Pitt is not a member of the Big East!"
ACC fan sentiment: "Is it too late to take back Pitt's invitation?"

Big East associate commissioner
Nick Carparelli's sentiment, via Twitter
: "The #BigEast will be a better football conference on the field next year than it has ever been!"
That brings us to the precarious spot both Pitt and Syracuse are in this season, their last one as Big East members before shipping off to the ACC in 2013. Do their successes and/or failures reflect on the Big East or the ACC?
Because late Saturday night, Pitt appeared to be homeless. Nobody wanted any part of that debacle. After so many high hopes headed into the season, Pitt notched the first loss in school history to an FCS member AND the worst loss in all of college football in Week 1.
Of course, there are some who may say Pitt fits right into the ACC, which has had one member school lose to an FCS team in each of the last three seasons: Duke to Richmond in 2011; Virginia Tech to James Madison in 2010; Virginia to William & Mary in 2009. The Big East, on the other hand, had a 57-game winning streak over FCS opponents and was the only FBS conference without a loss to an FCS school since 2004. Until Saturday.
As for the point Carparelli made, the Big East only had two losses in Week 1, and both were to schools jumping ship for the ACC. The harder truth, however, is that incoming Big East members went 1-6, including embarrassing losses by Houston and Memphis -- also to an FCS team. Those six losses were by an average of 18 points.
While the vexing question of who should take ownership of Pitt and Syracuse has been tossed around by fans and the media, neither team is looking ahead to the ACC. They cannot afford to. As Syracuse coach Doug Marrone said on the Big East call Monday, "We're excited about playing the schedule we have to play this year and what comes after that we'll look forward to later on."
Both are trying to win a final championship, and both are members of the Big East. But what happened Saturday reinforces a point many observers have made since both schools ambushed the Big East last September.
Pitt and Syracuse have not really held up their end of the bargain for football. So what that leaves the ACC -- a league many perceive to be a notch below the SEC, Big Ten, Big 12 and Pac-12 -- is two programs that very may well water down what already is a watered down league in football.
Syracuse has made one bowl game since 2004. Pitt has struggled to back-to-back BBVA Compass Bowl appearances and has not played in a BCS game since 2004. In the Big East preseason media poll, Pitt was picked to finish fifth; Syracuse to finish seventh. That right there is what the ACC is getting come 2013.
In most cases, it is fruitless to look ahead to the future. But not in this situation. Yes, the Pitt and Syracuse results this year count in the Big East standings. But they reflect much more on what the ACC is getting.
May, 15, 2012
5/15/12
5:00
PM ET
AMELIA ISLAND, Fla. -- Pitt and Syracuse are caught in a bit of no man's land right now. With one foot out of the Big East door and one foot in the ACC door, the two schools had their representatives at the ACC spring meetings this week.
It may seem strange or awkward, but the programs are persona non grata at the Big East, after announcing their defections last September. They will not be at the Big East spring meetings next week, and are trying to move forward with their eyes to the ACC future.
But when that future will begin remains up in the air. Though former Big East commissioner John Marinatto said previously he was hopeful a resolution could be reached to allow Pitt and Syracuse to leave the Big East a year early and join the ACC for the 2013 season, nothing has been determined.
[+] Enlarge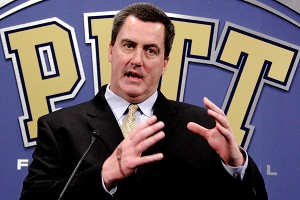 AP Photo/Gene J. Puskar Paul Chryst said his focus is on coaching football, not when Pitt is allowed to start playing in the ACC.
Pitt has grown frustrated with efforts to negotiate, and
filed suit against the Big East last week
in Pennsylvania in order to be allowed to leave a year earlier than the required 27-month waiting period. Pitt athletic director Steve Pederson declined further comment on the suit while at the ACC meetings.
Syracuse, on the other hand, has not taken any legal action. Athletic director Daryl Gross said Tuesday that he remained hopeful a deal could be arranged without resorting to a lawsuit.
"We're obviously going to keep all our options open, but I'm still confident that there's a lot of bright people, sophisticated people that can get together and solve this in a quick fashion," Gross said.
He recently had talks with Marinatto about getting out of the Big East after this season, now that the league has reconstituted itself. But Marinatto has since resigned, and Joe Bailey has been hired as interim commissioner.
"We've been collegial throughout this process," Gross said. "It seems they've gotten to a point where they have their teams solidified and now it's time for us to move out of the way. One, they need to move on with their life and set up whatever TV contracts and rights. Two, we need to move on with our life as an institution as well. We still believe we can sit down and negotiate and talk about a graceful departure."
Does he have a timetable for a resolution before taking another step? "I'm confident we can work things out and then we'll go from there."
Was he surprised Pitt went the legal route: "I'm not surprised because I think there's an urgency. I think folks have shown patience and we're getting to a point where we really need to move forward. There should be some urgency with this because folks have been patient. I understand."
For their parts, Syracuse coach Doug Marrone and Pitt coach Paul Chryst have stayed above the fray. When asked about his feelings about being at the ACC meetings, despite having a Big East schedule to play this year, Marrone said, "For us it's a standpoint of excitement. It's a great introduction and looking forward to what the future holds for us. My focus is to make sure that our football team, we need to win football games. It just changes, you put yourself in that mode but it's very exciting to see where we're going."
Chryst is attending his first spring meetings as a head coach, so this all was a new experience and conference affiliation hardly mattered. He doesn't have an opinion one way or the other about when Pitt should start ACC play.
"Not that you don't care about it, but really, they're not asking me," he said. "I have no problem taking what's in front of you and focusing on those things."
ACC SCOREBOARD
Saturday, 12/21
Monday, 12/23
Tuesday, 12/24
Thursday, 12/26
Friday, 12/27
Saturday, 12/28
Monday, 12/30
Tuesday, 12/31
Wednesday, 1/1
Thursday, 1/2
Friday, 1/3
Saturday, 1/4
Sunday, 1/5
Monday, 1/6
Tweets from @ESPNCFB/acc