August, 4, 2014
Aug 4
4:00
PM ET
Last week, ESPN.com ranked its
top 100 players in college football
, and here on the ACC blog, we counted down
the top 25 in the conference
. Of course, these lists are fun for the preseason, but once the games get going, what we all believed was true in August has a way of looking pretty silly by December. In fact, of our
2013 preseason top 25
, just 12 also made our
end-of-season top 25
.
In other words, there were no doubt a few ACC players whose names were left on the cutting room floor in our countdown, but who may well be among the league's elite this season. Here's an admittedly imprecise look at a few to keep an eye on.
JUST MISSED
If we'd been making a top 30 or 40 list instead of 25, these guys definitely would've made the cut. As it stands, they'll likely see their names on our end-of-year list.
WR Stacy Coley (Miami):
Don't be surprised if the Canes' sophomore receiver ranks in the top five of our end-of-season list. No returning ACC player averaged more yards per touch last year (min. 50 touches) than Coley (21.8). He'll need some help from an unproven quarterback, but Coley has the talent to be an All-American if things break right for him this season.
LB Lorenzo Mauldin (Louisville):
Already a star with 9.5 sacks and 12 TFL last season, Mauldin is poised to explode as he moves from defensive end to outside linebacker in Todd Grantham's new 3-4 system. At Grantham's previous stop at Georgia, he helped Justin Houston and Jarvis Jones parlay similar moves into super stardom.
DE Eli Harold (UVA):
Virginia's defensive line may not get much national publicity, but it's
jam-packed with talent
, headed up by Harold, who racked up 8.5 sacks and 15 TFL last season. Both of those totals rank second among returning ACC players behind Clemson All-American
Vic Beasley
.
GETTING HEALTHY
Injuries set them back, but these players are poised for big comebacks in 2014.
S Isaiah Johnson (GT):
A burgeoning star on Georgia Tech's defense, a knee injury cost Johnson all of 2013. He's "
past 100 percent
" now though and expects to make a huge impact after a long wait to get back onto the field.
S Tyler Hunter (FSU):
Last summer, Hunter was the unquestioned leader of FSU's revamped defense, but a scary neck injury ended his season in Week 3. What might've been a career-ending injury turned out to be just a setback, and now Hunter will be the veteran voice in an immensely talented secondary that has led the nation in passing defense the past two years.
DT Mehdi Abdesmad (BC):
As a junior last season, the 6-foot-7 Abdesmad looked poised for a breakthrough, recording sacks against USC and Florida State before a knee injury ended his season. If he can return to form quickly, he's in position to replace the 8.5 sacks BC lost with the departure of Kasim Edebali from its D-line.
WR Charone Peake (Clemson):
When they arrived on campus as freshmen, Peake and Sammy Watkins were both considered can't-miss prospects. Now Watkins is impressing in Buffalo Bills camp and Peake is still looking for his breakthrough season. Despite an injury-ravaged 2013, he's being counted on as the top option for
Cole Stoudt
in 2014.
BREAKOUT CANDIDATES
These players have already made some noise in the past but could make the jump to the league's elite in 2014.
S Durrell Eskridge (Syracuse):
Eskridge blossomed into a key contributor on Syracuse's defense last year, recording 6.5 tackles per game (14th among returning ACC players) and four interceptions, but as the Orange look to replace key starters inside, Eskridge's impact in 2014 only figures to expand.
QB Jacoby Brissett (NC State):
Dave Doeren believes Brissett, a transfer from Florida who spent last season waiting in the wings, is a perfect fit for his offense, and the veteran has the confidence and trust of his teammates -- something NC State sorely missed at the position last year. Our preseason top 25 lists just one quarterback (
Jameis Winston
), so a few others have to state their case, too. Brissett should be chief among them, but fellow transfers
Tyler Murphy
(BC) and
Michael Brewer
(Virginia Tech) could certainly be in the mix, too.
OT Matt Rotheram (Pitt):
Pitt's O-line was a disaster last year, but adding a more mobile quarterback in the backfield and a year of experience to the unit should help. Rotheram was the one bright spot through much of 2013, and he's now poised to get a hefty share of the credit should the revamped line take the next step in 2014.
UNPROVEN TALENT
They haven't seen the field (much) yet, but they're in line for significant roles this season and could make the most of the opportunity.
LB Matthew Thomas (FSU):
The Seminoles return plenty of talent from their national-championship run, but the linebacking crew is definitely an area with a few question marks. It's a talented, but unproven group, but Thomas tasted action early last season before going down with an injury, and he showed he can make an instant impact -- perhaps in an edge-rusher role similar to what
Christian Jones
did for FSU's D last season.
RB Wayne Gallman (Clemson):
It's hard to project how the carries will be distributed in a crowded Clemson backfield, but two things are clear: The Tigers want to run the ball more in 2014, and Gallman has the potential to be a star. Coaches and teammates raved about his improvement in the spring, and Gallman will get every shot to win a job as a centerpiece of the new-look Clemson offense in fall camp.
OT Bentley Spain (UNC):
Larry Fedora admits he doesn't know quite what to make of Spain yet after the early enrollee missed a hefty chunk of the spring with an injury. Still, Spain is in line for the starting left tackle job at UNC, and with talent at quarterback and tailback behind him, it could be a quick start to his career.
DEEP SLEEPERS
The names aren't familiar outside their own fan bases, but don't be surprised if they're making some noise by year's end.
LB Marquel Lee (Wake):
New Deacons coach Dave Clawson has his work cut out for him trying to find talent to fill out the depth chart, but he may have discovered an early gem in Lee. The sophomore was the star of Wake's spring game, and with so much turnover up front for the Deacons, Lee will get plenty of chances to make plays once the season begins.
CB DreQuan Hoskey (UVA):
Here's an interesting tidbit, courtesy of STATS LLC: No defender in the ACC was picked on more last season than Hoskey, who was targeted by opposing quarterbacks 81 times in 12 games. There were mixed results, of course, but it's worth noting that he wasn't burned for a TD on any of those plays. Next most targets without surrendering a touchdown among ACC defensive backs?
Lamarcus Joyner
with 37. He's part of a very crowded secondary, but Hoskey will get his chances to make an impact in 2014.
RB Shaquille Powell (Duke):
He's overlooked because Duke returns its leading rusher from 2013 (
Josh Snead
) but teammates have raved about Powell's progress, and it's worth noting that while Snead is back, the Blue Devils still must replace 51 percent of last year's rushing attempts after losing
Brandon Connette
,
Juwan Thompson
and Jela Duncan.
November, 6, 2013
11/06/13
12:00
PM ET
So wait,
there's not going to be a "Full House" remake
? Stop teasing me like that, Internet.
No hoaxes in today's ACC links though.
After allowing Florida State to convert 11 of 15 third down tries last week, Miami's defense is
focused on getting off the field
against Virginia Tech, writes the Sun-Sentinel.
Duke Johnson's surgery to repair a broken ankle
was a success
, writes the Miami Herald.
Among a myriad of news and notes out of Blacksburg, cornerback Kyle Fuller says
he's getting close to 100 percent
healthy for this week's Coastal Division showdown against Miami, writes the Roanoke Times.
Florida State receiver Kelvin Benjamin has
made downfield blocking into an art form
, writes the Tallahassee Democrat.
Seminoles safety Terrence Brooks sat out practice again Tuesday after suffering a concussion against Miami. FSU's
deep secondary hasn't missed a beat
, writes the Orlando Sentinel.
With Michael Campanaro out, it's
open auditions for a new playmaker
at Wake Forest, writes the Winston-Salem Journal.
Emotions overwhelmed Bryn Renner as he spoke about his
career at North Carolina coming to an end
because of a shoulder injury, writes the Charlotte Observer.
Maryland quarterback C.J. Brown is still looking to play his first full ACC game of the season, but he's
hopeful last week's bye has helped
, writes the Washington Post.
After an upset win over Virginia Tech, Boston College has its
sights set on bowl eligibility
, writes the Boston Herald.
Remember when Duke's defense allowed 127 points in a three-game stretch to Georgia Tech, Pitt and Troy? The Blue Devils
look like a different team now
, and it's based on a stingy defensive effort, writes the Associated Press.
Syracuse's streak of 1,000-yard rushers
could be coming to an end
, writes the Troy Nunes blog. Prince-Tyson Gulley ranks fifth in the ACC (min. 50 rushes) in yards per carry (5.75) and Jerome Smith is 12th (5.06), but both would need to finish strong to crack 1,000.
DeAndre Smelter
has been an 'X-factor'
for Georgia Tech in his first year playing football, writes the Macon Telegraph.
With Demetrious Nicholson done for the year, Virginia turns to Drequan Hoskey to
step up in a battered secondary
, writes the Richmond Times-Dispatch.
Those national title hopes might have been dashed, but Clemson's Tajh Boyd has
no regrets about returning to school
for his senior season, writes The State.
Pitt receiver Tyler Boyd has
benefited from working with former NFL star
Bobby Engram this season, writes the Post-Gazette.
November, 2, 2012
11/02/12
11:00
AM ET
Here are the ACC injury reports, from the schools that released them:

CLEMSON

Out for season
Probable
DUKE

Probable
Doubtful
Out
Out for season
MARYLAND

Out for season
Out
Questionable
Probable
NC STATE

Out for season
Out
VIRGINIA

Out for season
Out
Doubtful
Questionable
Probable

August, 27, 2012
8/27/12
3:45
PM ET
Virginia quarterback
Michael Rocco
has been able to hold on to his starting job despite competition from Alabama transfer
Phillip Sims
, coach Mike London announced Monday.
Rocco started all 13 games last season, throwing for 2,671 yards with 13 touchdowns and 12 interceptions. But London opened up the competition once Sims arrived and was granted his immediate eligibility. Rocco, Sims and
David Watford
were involved in an open quarterback competition during preseason practice, but London always maintained that Rocco had the edge over the other two quarterbacks in the race to win the job.
He confirmed that Monday.
"It just became apparent that Michael has the best grasp of the offense right now," London said during his weekly news conference. "He's the guy that we feel most comfortable with right now because of what he knows, knowing the system and the schemes and knowing the players he'll be throwing the ball to or handing the ball off to. He's done nothing to lose his position. We talked about his leadership, his knowledge of the offense, and so he's put himself in a position to be the guy right now and I'm quite sure he'll work hard at it, he takes pride in it. That's how it worked out."
"I believe that I was the starter throughout the spring and the summer," Rocco said. "It was my job to lose. I root for Phil and David as hard as I can. I would never want anything bad to happen in their career and their life. But I believe I'm here to play quarterback at a high level. I was excited when I heard Coach London was going with me, but in my mind I was preparing to be the starting quarterback. I was excited, but I had a confidence in my mind, too."
London added that he knew it would be a tall order for Sims to overtake Rocco while learning a new offensive system.
"With respect to Phillip, he has a big arm, strong arm, been in college games as well. He's a guy that's learning our offense," London said. "To expect him to know our whole offense by the time the season started, I don't think that would be fair on him. He knows enough of the offense that we understand his situation will be on-the-job training as the season goes on, how much he picks up, the communication, all those things."
London also said he would try to redshirt Watford, who served as the backup to Rocco last season.
"With David, it was a tough call," London said. "David has done everything that we've asked and then some. He's matured tremendously, his physical talents and skills improved greatly. They are three selfless players. They want what's best for the team. My plan is to try to redshirt him."
A few other UVa notes:
August, 7, 2012
8/07/12
4:00
PM ET
As ACC teams begin to start practicing again, Heather and I will have a quick preview of each team to get you caught up on the basics. We are almost done with our trip through the conference. Next up to open camp ...
School:
Virginia.
Started:
Monday.

Predicted finish at media days:
Fourth, Coastal Division.
Biggest storyline:
Can Virginia keep up the momentum from its 8-5 season? Coach Mike London has probably been asked that question 1,000 different ways since last season ended, but inquiring minds want to know. If Virginia won eight games last season, what does that mean for this season? London has maintained throughout the offseason that there is plenty to build off, and what his players learned most of all was how to win, after years of losing. But as many coaches will tell you, it is much harder to sustain success than it is to go from losing to winning. There are a variety of questions Virginia must answer this season, with only five starters returning to the defense and just one in the secondary. Losing a player like Chase Minnifield is huge. Offensively, Virginia has to replace leading receiver Kris Burd and now has a quarterback situation on its hands with the transfer of
Phillip Sims
. The schedule features games against eight bowl teams, including TCU, Penn State and Louisiana Tech. The challenge awaits.
Biggest position battle:
Quarterback. Who would have thought when last season ended, we would be sitting here in the fall debating whether the Cavaliers have a bona fide quarterback competition on their hands?
Michael Rocco
emerged last season to become the unquestioned leader of the offense, throwing for 2,671 yards with 13 touchdowns and 12 interceptions. But Sims has transferred in from Alabama and is immediately eligible, throwing a wrench into the quarterback situation. London has maintained Rocco is his starting quarterback, but also allows that Sims will provide a push in the way of accelerated competition.
Who needs to step up:
The defensive backs. As mentioned above, Virginia has to replace three starters in the secondary in All-ACC selection Minnifield (50 tackles, eight pass breakups, 5.5 tackles for loss), safety Rodney McLeod (team-leading four interceptions), and safety Corey Mosley (49 tackles, four pass breakups, one interception). Watch for
Drequan Hoskey
at cornerback, while players like
Anthony Harris
and Brandon Phelps will be counted on at safety.
May, 4, 2012
5/04/12
5:00
PM ET
Our series continues today with the Cavaliers, who are looking for answers in their defensive backfield after an 8-5 season in 2011.
For a complete recap of the series, click
here
.

Virginia:
CB
Demetrious Nicholson
2011 stats:
Nicholson notched two picks, two tackles for loss, eight pass breakups, a forced fumble and 60 total tackles as a true freshman.
What he means to the Cavaliers:
This is a secondary re-tooling, and coach Mike London said entering the spring that he would keep a close eye on both the defensive backs and wide receivers, looking to see which side would come out on the winning end of downfield throws. Nicholson, who played nearly every snap in his first year in 2011, ended up being named the most distinguished freshman this spring, but that hardly justifies his importance. With Chase Minnifield gone, Nicholson will probably be responsible for covering the opposition's No. 1 receiver this season, and he will have to be the leader of a group facing some questions given its lack of experience. Sophomores
Brandon Phelps
and
Drequan Hoskey
could start opposite him after seeing action mostly on special teams last season. Another option is converted running back
Brendan Morgan
. Regardless, the onus is on a true sophomore to lead this group in 2012, and after a strong debut season, he looks capable of filling the role.
February, 17, 2012
2/17/12
5:00
PM ET
By
ESPN.com staff
| ESPN.com
Our offseason spotlight series continues today with Virginia. A reminder: This series features individual players, position groups and coaches who really need to have big offseasons -- starting this spring.

Spotlight:
Secondary
2011 summary:
This was a senior-laden group led by CB
Chase Minnifield
, SS
Rodney McLeod
, and FS
Corey Mosley
. They took true freshman
Demetrious Nicholson
under their wings as he made an immediate impact in a starting role. Virginia's pass efficiency defense was No. 32 in the country last year and the pass defense ranked No. 45, allowing 212.23 yards per game. Nicholson and McLeod were two of the team's top five tacklers, and McLeod led the team with four interceptions.
The skinny:
This position group will be filled with players who didn't get a lot of meaningful snaps last year or redshirted. With his 13 starts, Nicholson is now the elder statesman in the secondary. This spring, the staff will most likely turn to
Anthony Harris
,
Brandon Phelps
,
Rijo Walker
,
Kameron Mack
, and
Drequan Hoskey
. Phelps, Mack and Harris all played as true freshmen last year on special teams and occasionally in the secondary, including against Auburn in the Chick-fil-A Bowl. Overall, it's a wide open competition and spring practice will be a good chance for these young players to assert themselves in the pecking order.
June, 30, 2011
6/30/11
2:00
PM ET
As advertised ...
1. Florida State:
The Noles have one of the best cornerback duos in the country in Greg Reid and Xavier Rhodes. They combined for 33 passes defended last season, the most of any pair of cornerbacks in the nation. Mike Harris had 41 tackles and four picks as a reserve.
[+] Enlarge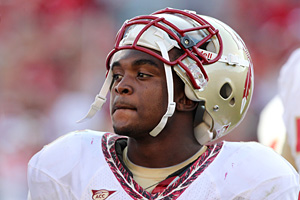 Matthew Emmons/US PresswireFlorida State cornerback Greg Reid is also one of the ACC's top return men.
2. Virginia Tech:
Jayron Hosley is one of the top boundary corners in the country, and the Hokies also have Kyle Fuller, who had six deflections last season, and Cris Hill (two deflections) at field corner.
3. Maryland:
The Terps return both starters in Cameron Chism and Trenton Hughes, who combined for 36 career starts. Chism is a strong cover corner who had 70 tackles and eight deflections last season. Hughes had nine pass deflections.
4. NC State:
Both starters return in C.J. Wilson and David Amerson. Wilson had 46 tackles, two interceptions and six pass breakups, and Amerson had 57 tackles. Justin Byers and Gary Grant also have experience.
5. North Carolina:
The Tar Heels lost some remarkable talent in their secondary, including cornerback Kendric Burney, but there is a lot of depth at the position. Jabari Price started four games last season, Charles Brown has 22 career starts but sat out last season, and Mywan Jackson and Tre Boston both have at least four starts each.
6. Boston College:
The Eagles will miss DeLeon Gause, but Donnie Fletcher has 17 career starts, 56 tackles last season, and led the team with five picks. C.J. Jones played in 12 games as a backup last season with 16 tackles. Dominique Williams also saw some time and had four tackles, and true freshman Al Louis-Jean, who was the No. 9 cornerback in the nation as ranked by ESPN Recruiting, enrolled early.
7. Clemson:
It's a young group, as the Tigers had to replace Marcus Gilchrist and Byron Maxwell. Xavier Brewer had 10 starts with 50 tackles and two interceptions last season, Coty Sensabaugh had 31 tackles in three starts, and senior Mansa Joseph will also be competing for playing time with sophomore Martin Jenkins.
8. Virginia:
The Cavaliers return both starters in Chase Minnifield and Devin Wallace, but Wallace was suspended and missed spring ball and is still suspended. Wallace had 38 tackles and six breakups last season. Chris Broadnax, Rijo Walker, Drequan Hoskey and Pablo Alvarez will all compete for playing time.
9. Miami:
The Hurricanes have to replace both starters in Brandon Harris and Ryan Hill. Jo-Jo Nicholas moved to corner and Brandon McGee, who was the nickel back last season, will compete along with
Lee Chambers
, Keion Payne, Nathan Gholston and true freshman Thomas Finnie, who had a great spring.
10. Georgia Tech:
The Jackets had to replace their entire secondary, including cornerbacks Mario Butler and Dominique Reese. They've still got several cornerbacks with experience in Rashaad Reid, who started 14 games in 2008 and 2009, Rod Sweeting (38 tackles, seven pass breakups, one interception), Louis Young (10 tackles), and Michael Peterson (six tackles, one pass breakup).
11. Wake Forest
: The Deacs have a deep enough secondary that they can live without the experience of cornerback Kevin Johnson, who started five games last season but will sit out this season while academically ineligible. Josh Bush had 33 tackles and four pass breakups last season, Kenny Okoro is a rising star, A.J. Marshall has three starts and Dominique Tate returns after missing last season while on academic suspension.
12. Duke:
Ross Cockrell is a returning starter and finished last season with 60 tackles and 10 passes defended. He was only a freshman but he tied for eighth in the ACC with passes defended with 10 in 12 games. Johnny Williams had four pass breakups last season.
ACC SCOREBOARD
Saturday, 12/20
Monday, 12/22
Tuesday, 12/23
Wednesday, 12/24
Friday, 12/26
Saturday, 12/27
Monday, 12/29
Tuesday, 12/30
Wednesday, 12/31
Thursday, 1/1
Friday, 1/2
Saturday, 1/3
Sunday, 1/4
Monday, 1/12
Tweets from https://twitter.com/ESPNCFB/lists/acc