November, 27, 2010
11/27/10
6:50
PM ET
COLLEGE PARK, Md. -- Maryland's defense has risen to the occasion.
With NC State on the eight yard line, the Terps flushed quarterback
Russell Wilson
out of the pocket and Drew Gloster wrapped him up and sacked him for a loss of 21 yards as he threw a desperation incomplete pass. That drive changed the game, and took NC State out of it when the Wolfpack needed points the most.
August, 10, 2010
8/10/10
9:00
AM ET
By
ESPN.com staff
| ESPN.com
Schedule:
Practice starts at 4:25 p.m. and is closed to the public.
What's new:
The players have participated in yoga to help them get a little bit quicker, leaner and more flexible. In the past, a few players voluntarily participated, but this year it was implemented as part of the voluntary offseason program every Wednesday afternoon. The smaller players (running backs, wide receivers, quarterbacks, defensive backs, etc.) were grouped together for an hour, and the linemen and larger players were in a separate group. The Terps cut back from four lifting days to three and added more speed training and yoga.
Sidelined:
Running back
Caleb Porzel
, offensive lineman Lamar Young, and linebacker Javarie Johnson have all transferred after struggling to meet academic requirements. Fullback
Taylor Watson
, who injured his ACL in non-contact drills the second day of spring practices, won't practice until mid-September.
Key battle:
Cornerback. Dexter McDougle and Trenton Hughes are competing for the starting spot opposite Cameron Chism. Offensively, Bennett Fulper and Justin Lewis are competing to start at right guard.
New on the scene:
Drew Gloster isn't new, but his position is. Again. Gloster has moved from tight end to linebacker and now to defensive end, where he's listed as a starter on the preseason depth chart. It's the last chance for the senior to finally find a home.
Breaking out:
Defensive tackle Joe Vellano. He had a terrific spring and coach Ralph Friedgen has been raving about Vellano ever since.
Don't forget about:
Running back
Da'Rel Scott
. He rushed for over 1,000 yards in 2008, but was hindered by injures last year and has since taken a backseat to other talented backs in the conference.
All eyes on:
Ralph Friedgen. It could be a make-or-break season for Friedgen, as a new administration could be less tolerant of another bowl-less season.
Quotable:
"It doesn't really concern me. If I do well in the next two years, I think I'll be at Maryland, and if I don't, I probably won't, so it really won't matter about the administration. I think we have an opportunity at Maryland right now to really get the right people to reach our potential. That's what I'm hoping we do because I still think we have a lot of potential." --
Friedgen
July, 29, 2010
7/29/10
9:00
AM ET
By
ESPN.com staff
| ESPN.com
Here are a few Terps you'll likely get to know this fall:

DL Joe Vellano, Soph.: He played sparingly in just five games as a redshirt freshman last season after breaking his foot in the preseason. He had an impressive spring and emerged as one of the top interior defensive linemen. "Vellano had an exceptional spring," coach Ralph Friedgen said. "If we had a most valuable player award, he probably would have gotten it."

DL Drew Gloster, Sr.: Gloster has been moved around a lot since coming to College Park, but he played well this spring in his first time at defensive end. He has played mostly on special teams in his career, but the former tight end and linebacker may have finally found a home as defensive coordinator Don Brown would like some speed off the edge.

OL Justin Gilbert, Soph.: He played in 11 games in 2009 as a reserve, but has big shoes to fill as he is expected to start the left tackle spot vacated by Bruce Campbell. "Gilbert showed vast improvement in the spring," Friedgen said.

More fresh faces:
February, 2, 2010
2/02/10
3:30
PM ET
By
ESPN.com staff
| ESPN.com
You would think that with how well the ACC has fared in recruiting the past four years, it would have eventually made a bigger push on the national landscape during the season. Miami has had three top-10 classes, and Florida State has had two. Overall, the trend in the ACC has been that Florida State, Clemson, Miami, Virginia Tech and North Carolina have led the conference on the recruiting front. Three of those teams have appeared in ESPN.com's final Top 25 ranking in each of the past four years (UNC has been there three of the past four.) Only the Hokies, though, have had it translate into postseason success -- so far. There was a common thread, though, amongst the other programs -- a coaching change or, in Florida State's case, coaching questions.
[+] Enlarge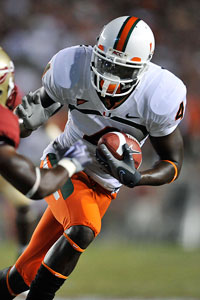 Paul Abell/US PresswireAldarius Johnson was one of 12 ESPNU 150 players in Miami's No. 1-rated 2008 class.
It was impossible to predict, though, that players like former Miami quarterback
Robert Marve
would transfer, or that former FSU linebacker Marcus Ball would have off-field troubles and ask for his release.
Here's a reminder at how highly ranked several teams in the ACC have repeatedly finished since 2006, according to ESPN.com's Scouts Inc. rankings. You can click on the year to go to the full ranking. I mentioned a few of the top players in each class who were facing high expectations at the time, or players who weren't facing many expectations and have since proven otherwise (see: Virginia Tech).
2006
No. 6 FSU (Myron Rolle)
No. 13 Clemson (
C.J. Spiller
, Jamie Cumbie, Ricky Sapp)
No. 17 Miami (Kylan Robinson)
No. 23 Maryland (Pha'Terrell Washington, Drew Gloster)
No. 24 Virginia Tech (Rashad Carmichael, Nekos Brown, Kam Chancellor)
No. 25 UNC (Aleric Mullins, Johnny White)
2007
No. 9 Miami (Robert Marve, Allen Bailey)
No. 11 UNC (Quan Sturdivant, Marvin Austin)
No. 14 Georgia Tech (
Jonathan Dwyer
, Derrick Morgan,
Josh Nesbitt
)
No. 15 Virginia Tech (
Tyrod Taylor
, Blake DeChristopher, Barquell Rivers)
No. 18 Clemson (
Willy Korn
, Scotty Cooper, Marcus Gilchrist)
No. 25 Florida State (Brandon Paul, Markish Jones)
2008
No. 1 Miami (Sean Spence,
Jacory Harris
,
Aldarius Johnson
)
No. 2 Clemson (DaQuan Bowers,
Kyle Parker
,
Jamie Harper
)
No. 12 FSU (Zebrie Sanders,
E.J. Manuel
, Nigel Carr)
No. 15 Virginia Tech (
Ryan Williams
)
No. 20 NC State (
Mike Glennon
,
Brandon Barnes
)
2009
No. 7 Miami (Ray Ray Armstrong,
Mike James
)
No. 8 FSU (Greg Reid, Jacobbi McDaniel)
No. 13 UNC (
Bryn Renner
, Donavan Tate,
Jheranie Boyd
)
No. 18 Virginia Tech (Jayron Hosley,
David Wilson
,
Logan Thomas
)
No. 19 Clemson (
Tajh Boyd
,
Bryce McNeal
)
August, 21, 2009
8/21/09
12:31
PM ET
By
ESPN.com staff
| ESPN.com
Posted by ESPN.com's Heather Dinich
TGIF, ACC fans. Here we go.
August, 14, 2009
8/14/09
11:00
AM ET
By
ESPN.com staff
| ESPN.com
Posted by ESPN.com's Heather Dinich
Here's your daily dose of practice reports from around the ACC, as reported by each school's information office:
FLORIDA STATE
Cloud cover kept the temperature from climbing Thursday morning as the Florida State football team donned full pads for the first time this preseason. It didn't take long, however, for the action to heat up as the Seminoles' offense made the lion's share of big plays.

Of course, a big day for the offense also comes with drawbacks.

"The hitting was pretty good, but too many big plays popped out of there," said FSU coach Bobby Bowden. "As a head coach you don't know who to root for, your defense or your offense. It scares me when big plays come out of there."

Quarterback Christian Ponder connected on long passes with wideouts Jarmon Fortson, Rodney Smith and Taiwan Easterling, as well as tight end Caz Piurowski, during the first five-minute period of 11-on-11 work.

"A lot of that came against the blitz and we've been working on that all week," Ponder said, offering a hint at the developing mindset on offense. "The blitz for us means big plays and that's what we've been working on and things opened up.

"We definitely didn't have enough big plays last year and stretch the field as much as we wanted to. Things are starting to open up and that's a good thing."

It should come as no surprise that Ponder had ample time to step up in the pocket created by the seasoned offensive line and deliver the football. Improving pass protection has been a point of emphasis since the conclusion of last season.

Junior center Ryan McMahon, who helps anchor the unit along with guard Rodney Hudson, was encouraged by the performance of the unit in its first real test of the preseason.

"Overall we felt we had a better practice today than we did the other day, but I'm sure there's plenty of room for us to improve," McMahon said. "Everybody's attitude was good and it was fun."
June, 25, 2009
6/25/09
9:00
AM ET
By
ESPN.com staff
| ESPN.com
Posted by ESPN.com's Heather Dinich

With former players like E.J. Henderson and D'Qwell Jackson, Maryland has quietly developed some of the ACC's elite middle linebackers during coach Ralph Friedgen's tenure, and Alex Wujciak could be the next in line now that he's finally fully recovered from a torn left ACL that sidelined him the entire 2007 season.
Wujciak, a junior, started all 13 games at middle linebacker last year and then missed the spring because he had his knee scoped to clean out some lingering scar tissue. With the loss of four linebackers and a new defensive coordinator, the Terps will look to Wujciak for more than just tackles this fall.
"I'm feeling really good," said Wujciak, who finished second in the ACC with 133 tackles last year. "It's not really a problem right now. It should be 100 percent by summer camp."
The loss of Dave Philistin, Moise Fokou, Chase Bullock and Rick Costa means the Terps have to replace experience that totaled 144 games, including 54 starts. With Wujciak and Ben Pooler out this spring, Adrian Moten was the only returning linebacker who had played in a game at that position. The two-deep featured three freshmen, junior Drew Gloster, who moved from tight end, and Hakeem Sule, who had been limited to special teams. Moten has played in 23 career games, but didn't get his first start until the Humanitarian Bowl. With the abundance of inexperience at linebacker, much will fall on Wujciak's shoulders.
"I think we need to find one or two who can help us," Wujciak said. "It's funny, because I was a young guy for a while, and now me and Moten have to take on a little more responsibility."
Wujciak brings a blue-collar work ethic from his home state of New Jersey, and said his goal this year is to make more momentum-swinging plays for his team. He's been a tackling machine -- he's the fifth-leading returning tackler in the country -- but he wants to get his hand on the ball more and disrupt the passing lanes. He had two pass breakups last year, one fumble recovery and one blocked kick. He's very strong and athletic and has the potential to make those game-changing plays.
"Last year being my first year, the first few games were fast," he said. "Hopefully heading into this year the game will start to slow down for me so can make more plays."
Wujciak said the team has welcomed first-year coordinator Don Brown's attacking defense.
"A lot of guys are eager to see how well we perform during games," he said. "Our offense has seen enough of it."
May, 7, 2009
5/07/09
9:30
AM ET
By
ESPN.com staff
| ESPN.com
Posted by ESPN.com's Heather Dinich
Maryland Terrapins
2008 overall record: 8-5

2008 conference record: 4-4

Returning starters: Offense: 6, defense: 4, punter/kicker: 1

Top returners: QB Chris Turner, RB, Da'Rel Scott, OL Phil Costa, WR Torrey Smith, LB Alex Wujciak, CB Anthony Wiseman, FS Terrell Skinner, P Travis Baltz
Key losses: C Edwin Williams, WR Darrius Heyward-Bey, CB Kevin Barnes, DT Jeremy Navarre, LG Jaimie Thomas, TE Dan Gronkowski, LB Dave Philistin, DE Mack Frost, LB Moise Fokou, PK Obi Egekeze
2007 statistical leaders (*returners)

Rushing: Da'Rel Scott* (1,133 yards)
Passing: Chris Turner* (2,516 yards)
Receiving: Darrius Heyward-Bey (609 yards)
Tackles: Alex Wujciak* (133)
Sacks: Moise Fokou (5)
Interceptions: Jamari McCollough* (4)
2009 Schedule
Sept. 5 at California
Sept. 12 James Madison
Sept. 19 Middle Tennessee
Sept. 26 Rutgers
Oct. 3 Clemson
Oct. 10 at Wake Forest
Oct. 17 Virginia
Oct. 24 at Duke
Nov. 7 at NC State
Nov. 14 Virginia Tech
Nov. 21 at Florida State
Nov. 28 Boston College
Spring answers
1. Leader on the line. Phil Costa has been tasked with taking over at center for Edwin Williams, and although he has never played in a game at center, it was the position of least concern on the offensive line this spring. Costa proved capable of being the leader of an otherwise inexperienced group (see below).
2. New additions at linebacker. One of the concerns coming into the spring was the depth at linebacker, and the staff was pleased with the addition freshmen Darin Drakeford and Avery Murray. With Alex Wujciak and Ben Pooler out with injuries, others proved dependable, including former tight end Drew Gloster and Demetrius Hartsfield.
3. What can Don Brown do for you? Brown's new defensive scheme earned rave reviews from the players and coaching staff this spring. The corners stepped up to the challenge of the press coverage and picked off Chris Turner six times in two scrimmages.
Fall questions

1. The rest of the offensive line. The Terps lost three starters, and will have four players in new positions. Bruce Campbell is the only player returning to his old spot at left tackle. The two starting guard spots are up for grabs, as Lamar Young and Andrew Gonnella flip-flopped all spring on the left side. Justin Lewis played better toward the end at right guard.
2. Separation at receiver. There are nine who can play, and every one of them seemed to have his moment at a different time this spring. Still, nobody grabbed hold of the "go-to" guy, previously held by Darrius Heyward-Bey. The staff is still looking for consistency from this young but talented group.
3. Replacing the placekicker. The Terps still don't know who will fill the placekicking shoes of Obi Egekeze. Walk-ons Mike Barbour and Nick Wallace will continue to compete this summer, and highly touted incoming kicker Nick Ferrara will have a chance to win the job.
April, 21, 2009
4/21/09
2:59
PM ET
By
ESPN.com staff
| ESPN.com
Posted by ESPN.com's Heather Dinich
COLLEGE PARK, Md. -- Greetings from Maryland, where the most noticeable difference in Maryland's football team is in the head coach. Ralph Friedgen has lost a significant amount of weight, almost 80 pounds, and it's a striking difference if you haven't seen him in a few months. As for his team? Here are a few quick hits before the chat starts:
Friedgen said he's been pleased with this spring, and that overall, the Terps only had one bad practice. That's impressive, considering he pointed out 60 of his 85 scholarship players still have three to four years of eligibility remaining. It's a very young team.
His lingering concerns are up front on both sides of the ball. He said they have to get stronger.
Defensive back Nolan Carroll, who was injured in Saturday's scrimmage, will miss the spring game, along with Da'Rel Scott. Friedgen said he's confident in four safeties -- Terrell Skinner, Antwine Perez, Jamari McCollough and Kenny Tate.
He said it was a good experiment moving Drew Gloster from tight end to linebacker, where he is penciled in as the starting middle linebacker.
Offensively, Friedgen said Adrian Cannon is pushing Torrey Smith for the starting X-receiver position.
Kevin Dorsey, the standout redshirt freshman receiver, hurt his AC joint and missed today's practice. The young receivers have been playing well, but there have also been too many drops this spring.
Friedgen moved Louis Berman, the third-string middle linebacker, to fullback. He's looking for another blocker there and thinks Berman has a better chance to get on the field there.
Look out for Tony Logan and Torrey Smith in the return game.
Time to chat. See you there.
April, 20, 2009
4/20/09
9:00
AM ET
By
ESPN.com staff
| ESPN.com
Posted by ESPN.com's Heather Dinich
Boston College is still looking for a starting quarterback, and Maryland, Virginia and Wake Forest are both looking for backups. Here are a few more reports from scrimmages and spring games from sports information directors around the ACC this past weekend:
BOSTON COLLEGE
The Eagles held their second scrimmage of the spring on Friday, and sophomore quarterback Dominique Davis completed 9 of 20 passes for 123 yards and two touchdowns. Redshirt freshman quarterback Justin Tuggle completed 1 of 4 passes for 17 yards. Sophomore quarterback Codi Boek completed 7 of 9 passes for 128 yards and two touchdowns.

The ball was spread around between the wide receivers, with a total of eight players catching passes. Redshirt freshman Clyde Lee led all receivers with four catches for 72 yards and one touchdown. Junior Billy Flutie had a 40-yard touchdown catch from Davis, finishing the day with three catches for 57 yards. Senior Rich Gunnell caught three passes for 23 yards and one touchdown, while senior Justin Jarvis had a 22-yard touchdown reception.

Sophomore running back Montel Harris had 13 carries for 67 yards. Sophomore running back Josh Haden ran for 60 yards on 17 carries.

A few younger Eagles got an opportunity to showcase themselves on defense. Redshirt freshman linebacker Alexander DiSanzo led the team with seven tackles. Redshirt freshman defensive end Max Halloway had a great day all around with three tackles, one fumble recovery, one sack, and a blocked extra point. Sophomore defensive end Dan Williams totaled five tackles for the day. Junior defensive tackle Damik Scafe and senior Brendan Deska each recorded sacks.
March, 30, 2009
3/30/09
5:00
PM ET
By
ESPN.com staff
| ESPN.com
Posted by ESPN.com's Heather Dinich
Maryland practiced in pads for the first time on Saturday, and with several players out this spring because of injuries, others have had the chance to impress coach Ralph Friedgen.
According to the team's latest practice report, one of the better competitions has been at fullback, where three-year starter Cory Jackson is out after offseason knee surgery. Sophomore Taylor Watson and junior Haroon Brown are getting a lot of reps to earn the No. 2 spot.
The linebacker position is another area where Maryland is young this spring, as the two-deep currently features three freshmen, former tight end Drew Gloster, and Hakeem Sule, whose primary role has been with special teams. With Alex Wujciak and Ben Pooler out, Adrien Moten is the only linebacker currently practicing who has played that position in a game. Freshman Avery Murray, who enrolled in January, has showed some promise.
As expected, the defense has been going through some growing pains as they transition to first-year coordinator Don Brown's system, but the offense should be better in the second year under offensive coordinator James Franklin. The Terps begin their second week of practice on Tuesday morning.