August, 8, 2014
Aug 8
4:00
PM ET
We open the mailbag with a reply from
Jon in Fort Lauderdale
, who created quite the firestorm with his comments last week!
Jon writes:
Hahah you're awesome!! Thanks for putting the question online. I reeeally didn't think that would make it. Thanks for being objective, but you know every Nole on here thinks otherwise. I just think whether ND does good, great or awful, it's a plus for the ACC. Last year the ACC was the bottom-feeders and now we have the defending champs, a good Clemson bowl win and a historic program like ND associated with the conference. I will certainly tone down the condescension on my next email and appreciate you using my comment. Keep up the good work even if fans like myself give you some razzing. I look forward to enjoying the column the upcoming season, thanks!!
Andrea Adelson writes:
We can agree on one thing, Jon. I am
pretty
awesome. And if the mailbag is any indication, a lot of you Noles fans agree! Thanks for all the wonderful notes this week, Richard in St. Augustine, Florida, Roy in Lakeview, Arkansas, Scott in Satellite Beach, Florida, Bill in Destin, Florida and Scott in Charleston, South Carolina. I've had my
Sally Field moment
for the day.
---
Adam in Miami Beach, Florida, writes:
Did you really post a comment calling University of Miami fans and alumni dumb and illiterate? I thought as a reporter you would not be so biased against a fan base. Please remind the FSU fans that The University of Miami ranks well above FSU (and Florida for that matter) in academic rankings and athletic APR.
Adelson writes:
OK, I've had my Sally Field moment for ... a moment. The mailbag is a forum for readers to express their own opinions. These do not reflect my own. If they did, well, then we would not have much of a mailbag. So one fan base trash-talked another fan base -- doesn't that all come with the territory? We have had trash talk in this space before, and I am sure we will have more as the season goes on. You will find far, far worse elsewhere.
---
Chris in Pittsburgh writes:
How do you see the development of first-year starter
Chad Voytik
going this season for Pitt? This is his first year under center, but it's his third in Paul Chryst's system, and Coach Chryst has a pretty good track record with QBs.
Adelson writes:
One of the reasons I believe Pitt is a contender in the Coastal is because of Voytik. We got our first glimpse of what he could do in the offense in the bowl game, and I was impressed. Not only does he have a firm grasp of the offense, and not only is Chryst known as a QB whisperer, Voytik had some pretty talented players surrounding him. The running game and offensive line should be better, and
Tyler Boyd
already is a returning 1,000-yard receiver. I believe when the season ends, Voytik will be among the top half of QBs in the ACC.
---
Matthew in Alexandria, Virginia, writes:
Let me preface this question -- I'm an alumnus, fan, and donor of Virginia Tech athletics (and big fan of Hokies football). With all of the new quarterbacks that need to prove themselves in the Coastal Division (Virginia Tech's included, and even Duke and North Carolina QBs have something to prove), I feel like this could be a year when an average offense and a tough-as-nails defense could win the ACC's Coastal Division. Virginia Tech's offense doesn't have to be great (although that would be nice). For example, it just has to be good enough (top 60-ish). Your thoughts?
Adelson:
Could not agree more, Matthew. I think that is a big reason why there are many who believe Virginia Tech will win the Coastal despite a recent dip. Virginia Tech has followed this formula to win the Coastal in the past. We are not going to see offensive flash, but if the Hokies can first and foremost
run the football
, they will absolutely have a shot at this division. The schedule is in their favor, too. If Virginia Tech makes modest improvement offensively and is once again dominant on D, this team can win 10 games.
---
Drew in McLean, Virginia, writes:
Hi, Andrea. On paper, FSU has a tougher schedule than last year. If they happen to roll Oklahoma State, ND, UF (assuming they are relatively good), will those teams all of a sudden become "overrated" like Clemson last year to discount their victories, or will they actually get a little respect for taking out quality opponents now that they've won a title?
Adelson writes:
Clemson still finished ranked in the Top 10 with a win over Ohio State in the Discover Orange Bowl. Not sure how many people called the Tigers overrated then. I should hope wins in those three games prove how strong Florida State is, as opposed to cutting down the worthiness of the opponent.
---
BT in Miami writes:
I think
Denzel Perryman
is slightly overrated in the
ACC top 25
, and
Stacy Coley
is supremely underrated. Coley had seven receiving TDs as a freshman, and he dropped two bunnies (nerves) in the end zone in his first game, which would have given him nine. He was Miami's best WR from his first day on campus. His other accolades are well known. The rankings would appear more genuine if you guys projected a bit, instead of giving some guys credit for above-average longevity (
Nick O'Leary
). Clearly FSU is loaded and deserves credit, but being the best tight end at FSU, historically speaking, doesn't say much. Tyler Boyd,
Jamison Crowder
, Coley >
Rashad Greene
.
Alex in Cusetown writes:
How were
Sean Hickey
or
Durell Eskridge
not on your preseason top 25 players list?
Adelson:
Coley
just missed the cut
. We have high hopes for him this season. People like to bag on Greene, but he is as reliable, consistent and good as they come. Last season, he had more touchdown catches than the three players you mentioned above, and a higher yards-per-catch average than Boyd and Crowder, too. As for the two Syracuse players, it is always tough for an offensive lineman to crack the Top 25. Hickey should be a first-team All-ACC selection, but he's not quite on the same level as
Cameron Erving
or
Tre' Jackson
, the only two offensive linemen to make the list. Eskridge is coming off a terrific season, but he's behind
Jeremy Cash
and
Anthony Harris
at safety and several other defensive backs at this point.
June, 13, 2014
Jun 13
12:00
PM ET
The Spurs are just something else.
March, 12, 2014
Mar 12
4:00
PM ET
Syracuse
got a taste of life without top safety
Durell Eskridge
in December's Texas Bowl, and coach Scott Shafer found some young players ready to step up at the position. With Eskridge still recovering from offseason finger and hip surgeries, Shafer said those reserves will get another extended opportunity to win jobs when the Orange kick off spring practice next week.
Eskridge, a third-team All-ACC safety who led the Orange in tackles in 2013, is likely to sit out most of the spring, Shafer said. But as Syracuse looks to identify depth in the secondary, that might not be a bad thing.
[+] Enlarge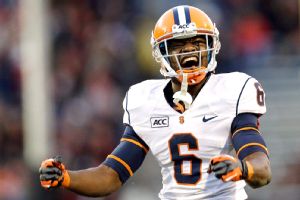 AP Photo/Patrick SemanskySyracuse safety Ritchy Desir had 47 tackles and an interception last season.
"We're going to be real smart with [Eskridge] this spring and see what these other guys can do," Shafer said.
That starts with
Darius Kelly
and
Ritchy Desir
, who split time filling in for Eskridge in Syracuse's
21-17 Texas Bowl win over Minnesota
. Desir finished 2013 with 47 tackles and an interception, while Kelly had 44 tackles last season.
Perhaps the most intriguing option, however, might be
Chauncey Scissum
, a redshirt freshman Shafer said made the most of his season on the sidelines in 2013.
"He's a kid that's kind of like (receiver
Corey) Winfield
on offense, a kid we were really excited about but we felt it was in our best interests to put a redshirt on him," Shafer said. "He's gotten bigger and faster and stronger."
Shafer said he expects some strong competition at the position with Eskridge sidelined, but he also thinks the downtime can benefit his established veteran.
"He'll probably wear a coach's hat more than anything else this spring and spend a lot of time in the film room and help coach those guys that are playing safety," Shafer said. "I think there's a lot to be said when a kid's injured, if you handle it right, they get an opportunity to see it from the other side of the fence and put the coach's hat on a little bit and learn a lot about themselves when they're teaching their teammates. I've seen that a lot over the years, and that's how we're going to approach it with Durell this spring."
January, 10, 2014
Jan 10
12:00
PM ET
One week without college football down. Thirty-three more to go.
November, 14, 2013
11/14/13
1:45
PM ET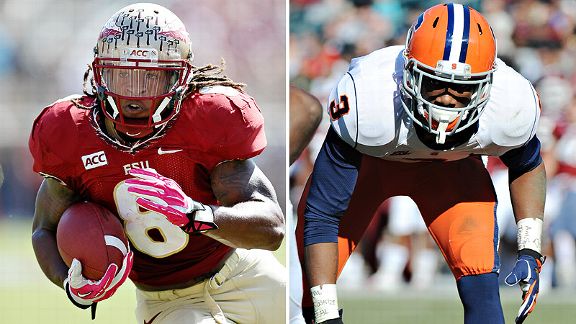 Getty Images,AP PhotoWhen Florida State RB Devonta Freeman breaks through the line on Saturday, there's a good chance his best friend, Syracuse S Durell Eskridge, will be there to meet him.
In their neighborhood, sneakers were status, so
Devonta Freeman
and
Durell Eskridge
took their shoes seriously.
A new pair of Air Jordans might gobble up most of a week's pay from their mommas' pocketbooks, if this was one of the weeks they were working, so eventually Freeman and Eskridge found ways to pay for shoes on their own. They hung around the gas station, pumping gas in hopes of a tip. They carried bags for customers at the nearby Winn-Dixie, pocketing loose change for their efforts. They would visit Coach Luke -- former member of the rap group 2 Live Crew and neighborhood mentor Luther Campbell -- and clean his pool or mow his lawn for a few bucks.
Eskridge is nearly six inches taller than Freeman, but when they would scrape together enough for a shopping trip, they were careful to buy clothes and shoes that fit them both. They had different classes, so no one noticed when they would swap sneakers or T-shirts, doubling their wardrobe to keep a clean look on a tight budget.
After school, they would join pickup football games in an open field at the Miami housing project where they lived. They played in socks, bare feet or an old set of cleats to keep their shoes from getting scuffed. In a place where violence was around every corner, few things in Freeman and Eskridge's lives were so devoutly protected as those sneakers.
"Don't step on our shoes," Freeman said. "We didn't play about that."
Freeman and Eskridge shared shoes, meals and, for several years, a bedroom. They also shared a dream and the struggle to make it a reality. They pushed each other to work when drugs and gangs offered simpler options. They protected each other when their neighborhood felt more like a war zone than a home. They made promises to each other to escape their surroundings and rescue their families from poverty.
Growing up, they had almost nothing, but they had each other. In their neighborhood, that made them rich.
"How we carry ourselves, we always kept each other up," Freeman said. "We were going to make sure our shoes were clean, our clothes ironed. A lot of people think we weren't going through stuff. But they don't know half of it."
To continue reading,
click here
.
November, 13, 2013
11/13/13
12:00
PM ET
Not a bad Tuesday night of hoops, huh?
November, 12, 2013
11/12/13
12:00
PM ET
August, 9, 2013
8/09/13
12:00
PM ET
May, 7, 2013
5/07/13
6:30
AM ET
SYRACUSE ORANGE
2012 record:
8-5
2012 conference record:
5-2 Big East (tied for first)
Returning starters:
Offense: 5; Defense: 6; kicker/punter: 2

Top returners:
C
Macky MacPherson
, TE
Beckett Wales
, RB
Jerome Smith
, NT
Jay Bromley
, LB
Marquis Spruill
, LB
Dyshawn Davis
, CB
Keon Lyn
, CB
Ri'Shard Anderson
, FS
Jeremi Wilkes
, PK
Ross Krautman
, P
Jonathan Fisher
Key losses:
WR
Marcus Sales
, WR
Alec Lemon
, QB Ryan Nassib, LG Zack Chibane, LT Justin Pugh, DE
Markus Pierce-Brewster
, DE
Brandon Sharpe
, DT Deon Goggins, LB Siriki Diabete, SS Shamarko Thomas
2012 statistical leaders (*returners)
Rushing:
Smith* (1,171 yards)
Passing:
Nassib (3,749)
Receiving:
Lemon (1,070)
Tackles:
Thomas (84)
Sacks:
Sharpe (7)
Interceptions:
Lyn* (3)
Spring answers:
1. Deep stable of running backs.
Offensive coordinator George McDonald compared this group to the talent he saw while an assistant at Miami. It's a good mix of experience, with a 1,000-yard rusher in Smith and
Prince-Tyson Gulley
(617 yds), and youth, sophomores
George Morris III
,
Ashton Broyld
and
Devante McFarlane
.
2. Replacing Thomas by committee.
It will take more than one player to compensate for the loss of the first-team All-Big East safety and team's leading tackler. The good news is three starters return to the secondary, and there are plenty of options to see playing time, including juniors
Ritchy Desir
and
Durell Eskridge
at safety.
3. Familiarity on staff eased transition.
Scott Shafer was Syracuse's defensive coordinator for four years before he was promoted to head coach, and he surrounded himself with a staff that had worked together before at previous stops. Their familiarity with each other and their philosophies and personalities transferred to the players as everyone adjusted.
Fall questions:
1. Quarterbacks.
The transfer of former Oklahoma quarterback
Drew Allen
added even more competition to an already-wide open race for the top job. While some think Allen is the Answer, the position is still a question, as
Charley Loeb
,
Terrel Hunt
and
John Kinder
have more experience in the system and went through the spring in it.
2. Replacing receivers.
Cuse lost the Big East's best receiver in Alec Lemon, and veteran Macus Sales also has to be replaced. Senior
Jarrod West
(43 catches) had a good spring and leads a group of candidates including seniors Chris Clark and
Adrian Flemming
, juniors
Keenan Hale
,
Jeremiah Kobena
and Arkansas transfer
Quinta Funderburk
. "Yeah, Jarrod West had a good spring game and had a good spring," Shafer said. "He did a nice job. Then we have a handful of kids that are in a fight. It's a good fight."
3. Depth on the defensive line.
Syracuse has to replace three of its starting front four, but it is also looking for an eight-man rotation up front. Competition for those will continue this summer to see who gets the most reps.
May, 3, 2013
5/03/13
12:00
PM ET