August, 21, 2013
8/21/13
10:30
AM ET
Today we're looking at the Blue Devils as they try to get back to the postseason for the second straight year under coach David Cutcliffe:
Duke Blue Devils
Coach:
David Cutcliffe (65-69 overall; 21-40 at Duke)
2012 record:
6-7
[+] Enlarge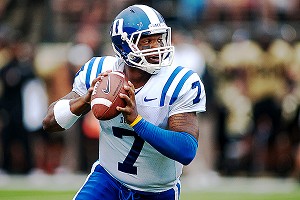 Jeremy Brevard/USA TODAY SportsAnthony Boone, who threw for 531 yards and 5 touchdowns last season, will lead the Blue Devils' offense in 2013 as the starting quarterback.
Key losses:
QB Sean Renfree, WR Conner Vernon, S Jordan Byas, S Walt Canty
Key returnees:
WR
Jamison Crowder
, RB
Juwan Thompson
, DE
Kenny Anunike
, CB
Ross Cockrell
Newcomer to watch:
S
Jeremy Cash
. The redshirt sophomore is expected to start this fall after transferring from Ohio State, where he spent two semesters. Cash left, along with former Buckeyes coach Jim Tressel, and he wound up choosing to transfer to Duke over Miami and South Florida.
Biggest games in 2013:
Oct. 26 at Virginia Tech, Nov. 23 at Wake Forest, Nov. 30 at North Carolina
Biggest questions mark heading into 2013:
The secondary. The group underwent a complete makeover this offseason, as Ross Cockrell was the only returning starter in the group. And even he missed the second half of spring with an injury. Cash,
Dwayne Norman
and
Corbin McCarthy
are the new faces that could earn spots in the starting lineup, but don't be surprised if true freshmen
Evrett Edwards
and
Quay Mann
play as well. McCarthy, Cash and Norman were penciled in as the starters in the preseason depth chart.
Forecast:
Regardless of how many starters Duke returns, or how many playmakers the team has this year, Duke is better simply because the players understand what it takes to get to a bowl game. Last year was a major milestone for the program, as Duke became bowl eligible for the first time since 1994, and the team continues to reap the intangible rewards of that six-win season. Of course, confidence will only go so far against the likes of Virginia Tech and Miami.
Much of Duke's success this year hinges on three things: the progress of first-year starting quarterback
Anthony Boone
, how effectively Duke can run the ball, and how much the defense can improve. Boone has received rave reviews from those within the program, as he has a stronger arm than his predecessor, Sean Renfree, and is more mobile. He's able to keep plays alive with his feet, and will give defenses a different challenge. With more option principles in the offense, it should be more unpredictable. They've got to get more out of their ground game, which ranked No. 98 in the country last year. Duke has its top four rushers back from last season, so the expectation is improvement. Defensively, Duke had one of the statistically worst groups in the country, ranking No. 105 in total defense, No. 107 in scoring defense, and No. 101 in rushing defense. This offseason, the staff went back to the drawing board and tried to simplify the scheme. The goal is to do less thinking and more attacking, and there is confidence within the program they'll be able to do that -- particularly up front. It also can't be overlooked that Duke doesn't have to play FSU and Clemson this fall, two opponents that outscored Duke 104-27 in back-to-back losses. A favorable nonconference schedule should help Duke get back to the postseason again.
July, 2, 2013
7/02/13
3:30
PM ET
We move on in our series looking at the weakest and strongest positions on each team in the ACC with Duke.

Strongest position: Offensive line.
Duke leads the ACC with the most returning experience on the offensive line. For that reason, this group gets the nod over the returning specialists
Ross Martin
and
Will Monday
, who should be tops in the ACC this season. The four returning starters on the line have combined to start 104 games. Two were All-ACC honorable mention selections last season -- tackle
Perry Simmons
and guard
Dave Harding
. Guard
Laken Tomlinson
was a first-team freshman All-America in 2011. Given these returning starters, and the depth at running back,
hopes are high
that the Blue Devils can be consistently effective with their ground game this season. Last season, Duke's top three running backs combined to rush for 1,401 yards on 283 attempts (4.95 average). The hope is for more in 2013.
Weakest position: Secondary.
The good news is All-ACC cornerback
Ross Cockrell
returns. The bad news? Not much in the way of proven or experienced players in the secondary. You have cornerback
Garett Patterson
, who has never started a game and played primarily on special teams. You have safety
Jeremy Cash
, who sat out 2012 after transferring from Ohio State. You have safety
Corbin McCarthy
, who had four tackles in two games in 2012 before season-ending shoulder surgery. And you have safety
Dwayne Norman
, who made 60 tackles as a freshman in 2012. Cockrell will be relied upon to provide a steady hand, especially early on, as the rest of the unit gains the experience it will need for the remainder of the season. If Duke wants to make improvements on its defense this year, the secondary has to grow up and fast.
For more on this series,
click here
.
May, 7, 2013
5/07/13
10:30
AM ET
Duke Blue Devils
2012 record:
6-7
2012 conference record:
3-5, Coastal
Returning starters:
Offense: 7; defense: 8; kicker/punter: 2
Top returners
WR
Jamison Crowder
, RB
Juwan Thompson
, DE
Kenny Anunike
, CB
Ross Cockrell
Key losses

QB Sean Renfree, WR
Conner Vernon
, S Jordan Byas, S
Walt Canty
2012 statistical leaders (*returners)
Rushing:
Jela Duncan
* (516 yards, 4 TDs)
Passing:
Renfree (260-of-392 for 2,755 yards, 18 TDs, 8 INTs)
Receiving:
Crowder* (1,025 yards, 8 TDs)
Tackles:
Canty (102)
Sacks:
Anunike* (5)
Interceptions:
Cockrell* (5)
Spring answers
1. Anthony Boone is for real.
People will still wonder how the Blue Devils are going to do without Sean Renfree, but Anthony Boone proved this spring he is the real deal. Boone was impressive as he took over the starting quarterback job, and allows the Blue Devils to add more option principles to the offense, which will make them much more unpredictable.
2. Receivers step up.
Here is another question that coach David Cutcliffe believes has been answered this spring. The Blue Devils do lose Conner Vernon, but leading receiver Jamison Crowder returns and Cutcliffe had special praise for the way
Max McCaffrey
came on this spring. "The receiving corps, I thought, had a tremendous spring," Cutcliffe said.
3. Defensive front.
The Blue Devils went back to the drawing board on defense and decided to simplify the scheme, in order to have their players do less thinking and more attacking. The result, Cutcliffe believes, could be a much better group -- particularly up front.
Fall questions
1. Secondary.
This unit has to be completely rebuilt, with Ross Cockrell the only returning starter in the group. And even he missed the second half of spring with an injury.
Jeremy Cash
,
Dwayne Norman
and
Corbin McCarthy
are the new faces that are expected to take their spots in the starting lineup, but don't be surprised if true freshmen Evrett Edwards and Quay Mann play as well.
2. Can the run game improve?
The Blue Devils appear to have great depth in their backfield with their top four rushers back. So the hope is they can have a much more consistent running game this season. Last year, Duke ranked No. 98 in the nation in this category. Boone should factor in here as well.
3. Inexperience.
Though the Blue Devils do return a good many of their starters, the ones who are gone are at the key positions on the football field -- quarterback, two receivers, center and three players in the secondary. They will have to rely on players without much game experience at all those positions so how quickly they grow up will be a huge key for this team.
April, 11, 2013
4/11/13
9:00
AM ET
With half of the conference playing spring games this weekend, here's a look at what to watch if you're keeping an eye on the ACC as spring ball comes to a close:

CLEMSON
When:
4 p.m. ET on Saturday (ESPN3)
What to watch:
Quarterbacks of the future. You know Tajh Boyd is good. Expect Cole Stoudt and Chad Kelly to take most of the snaps. Boyd played just four snaps in the last scrimmage. Let's see his backups.
The tight ends. Clemson tight ends Dwayne Allen and Brandon Ford have been the first team All-ACC tight ends the past two years. Clemson tight ends have 118 receptions and 21 touchdowns the past two years, perhaps the most underrated area in Chad Morris' offense. So who moves in there this year? Sam Cooper is the most experienced, but freshman Jordan Leggett has been impressive this spring.
How much better is the defense? All eyes will be on Brent Venables' group to see how much progress it has made this spring. If the D gets better, it could be a special season in Death Valley.
FLORIDA STATE

When:
2 p.m. Saturday, (ESPN3)
What to watch
:
The quarterbacks. It's been one of the hottest topics this spring in the ACC and arguably the biggest position battle in the conference. Check out Clint Trickett, Jacob Coker and Jameis Winston as they all battle to replace starter EJ Manuel.
The defensive line. The competition is on to replace Bjoern Werner and Tank Carradine. Mario Edwards Jr. is ready to jump in, along with Giorgio Newberry.
Don't forget the kicker. It's big at FSU. The Noles have to replace Dustin Hopkins, the ACC's all-time leading scorer and the NCAA's all-time kick scorer. It's your chance to see Roberto Aguayo, who was one of the nation's top kickers coming out of high school.
MARYLAND

When:
7 p.m. on Friday in Byrd Stadium
Parking/admission:
Free
What to watch:
The running backs. Both Brandon Ross and Albert Reid have had strong springs and will be competing for playing time come the fall.
The receivers. This group should be a strong point for the team this year, as Stefon Diggs, Deon Long and Nigel King are a talented trio.
New faces on defense. The Terps have to replace six starters on defense, including some of their best leaders in Joe Vellano and A.J. Francis.
DUKE

When
: 4 p.m. ET on Saturday (ESPN3) in Wallace Wade Stadium
Parking/admission:
Free
What to watch
:
Booooooone. Anthony Boone takes over at quarterback, and there have been rave reviews about him from within the program all spring. He's got a strong arm and is mobile.
New faces at safety. Some big names are gone, as Duke has to replace graduates Jordon Byas and Walt Canty, and Brandon Braxton, who moved back to receiver. Jeremy Cash, eligible now after transferring from Ohio State and sitting out last fall, headlines the group that includes sophomore Dwayne Norman (60 tackles in 2012 as true freshman) and redshirt freshman Corbin McCarthy.
Front and center: There is one hole to fill on the offensive line and Matt Skura takes over at center for Brian Moore.
MIAMI

When:
3 p.m. ET at Sun Life Stadium (ESPN3)
Gates open:
12:30 p.m.
Parking/admission:
Free
What to watch:
Defensive improvement. Is there any? The Canes were one of the worst in the country last year, but they return every starter up front.
The No. 2 QB. Who is it? Gray Crow started the last scrimmage as the backup to Stephen Morris and completed 8 of 13 passes for 73 yards, with a touchdown and interception. Ryan Williams, who entered the spring as the expected No. 2, completed only six of his 12 passes with a touchdown and an interception. The coaches will be watching these guys closely on Saturday, so should you.
Running back Dallas Crawford. You know Duke Johnson. It's time to get to know this guy. Those within the program have said Crawford has had a great spring and could be a rising star this fall. He scored two touchdowns in a scrimmage in Naples earlier this month.
NORTH CAROLINA

When:
3 p.m. ET on Saturday at Kenan Stadium (ESPN3)
Admission:
Free
Parking:
$5/vehicle
What to watch:
Gio's replacement(s). A.J. Blue and Romar Morris have been working to ease the loss of leading rusher Giovani Bernard. Can they be as effective as he was, how much progress have they made and who will replace Bernard in the return game?
The O-line. Former guard Jonathan Cooper should be a first-round draft pick later this month, and it won't matter how good Blue and Morris are if they can't find anyone to help block for them. A total of three starters have to be replaced on the offensive line.
Replacing big names on D. Cooper and Bernard aren't the only big names that will be missing. The defense is going to miss tackle Sylvester Williams, who could be another first-round draft pick, and linebacker Kevin Reddick (85 tackles, 8.5 for loss). How does the D look without them?
PITTSBURGH

When
: 7 p.m. ET on Friday at Bethel Park High School (ESPN3)
Gates open:
5:30 p.m.
Admission:
Free
What to watch:
The quarterbacks. Fifth-year senior Tom Savage has taken most of the reps with the first team, and redshirt freshman Chad Voytik appears to be the backup, but coach Paul Chryst has yet to name a starter.
The running backs. Earlier this month, it was announced that Rushel Shell has decided to transfer. Since then, the bulk of the carries have gone to junior Isaac Bennett, sophomore Malcolm Crockett and senior Desmond Brown. How they fare will go a long way in determining how Pitt fares in its first season in the ACC.
The offensive line. It's been problematic for the Panthers in each of the past two seasons, and Pitt now has to break in two new starters in Gabe Roberts and Adam Bisnowaty.
November, 27, 2012
11/27/12
1:30
PM ET
Miami running back
Duke Johnson
and Florida State cornerback
Ronald Darby
have been
honored as the best rookies in the ACC
, according to a vote of 46 members of the Atlantic Coast Sports Media Association.
Johnson was named the overall and offensive rookie of the year while Darby won the defensive rookie of the year.
For those of you who follow me on Twitter @ESPN_ACC, you know on Saturday I gave Duke Johnson a full endorsement after his performance against Duke. There's no question Maryland's
Stefon Diggs
was in a neck-and-neck race with Johnson all season -- in fact I gave the mid-season ROY honor to Diggs -- but in the end, Johnson's breakout season won out.
He became the first Miami player to win the rookie award after he broke Clinton Portis' 13-year-old school rushing record for freshmen, ending the year with 947 yards. He also led the ACC by averaging 33 yards per kickoff return, and his 2,070 all-purpose yards are the most by a Hurricanes freshman and second only to Willis McGahee's 2,108 in school history.
"It means a lot being the first in Miami history to win this award," Johnson said in a prepared statement. "And it means so much to me and the team because I couldn't do it without my teammates. And this is just another way to make my mom proud and show how I really appreciate the sacrifices she made for me when I was younger."
Here are the official voting results:
ROOKIE OF THE YEAR
Duke Johnson, RB, Miami (34)
Stefon Diggs, WR, Maryland (11)
Vad Lee
, QB, Georgia Tech (1)
OFFENSIVE ROOKIE OF THE YEAR
Duke Johnson, RB, Miami (35)
Stefon Diggs, WR, Maryland (10)
Vad Lee, QB, Georgia Tech (1)
DEFENSIVE ROOKIE OF THE YEAR
Ronald Darby, CB, Florida State (14)
Deon Bush
, S, Miami (9)
Jabari Hunt-Days
, LB, Georgia Tech (8)
Eli Harold
, DE, Virginia (5)
Michael Cole
, S, Virginia Tech (4)
Maurice Canady
, CB, Virginia (4)
Dwayne Norman
, S, Duke (2)
November, 16, 2012
11/16/12
11:00
AM ET
Here are the ACC injury reports for Week 12 from the schools that emailed them:

CLEMSON

Probable
Out for the season
DUKE

Probable
Doubtful
Out
Out for the season
FLORIDA STATE

Out
Out for the season
MARYLAND

Out for the season
Questionable
Probable
MIAMI

Out
Surgery/Out for the season:
NC STATE

Out for season
Out for game

August, 23, 2012
8/23/12
4:00
PM ET
Now that we are closing in on the start of the season, we have a much better idea of how many true freshmen could make an impact in the ACC this season based on preseason practice time and early depth charts.
Maryland could end up playing the most, and having players who make the biggest impact. You have quarterback
Perry Hills
starting in place of the injured
C.J. Brown
. Highly touted athlete
Stefon Diggs
has had an outstanding preseason camp. Don't forget about running backs
Albert Reid
and
Wes Brown
, who also have looked really good.
Here are a few young players to keep an eye on at each school.
Boston College: Justin Simmons, DB.
Defensive back is an area where Boston College needs help, especially after the loss of
Al Louis-Jean
, who's out six to eight weeks with a foot injury. Simmons already has made his presence felt. In a scrimmage last weekend, he had two interceptions. Also watch for defensive back
Bryce Jones
and linebacker
Steven Daniels
.
[+] Enlarge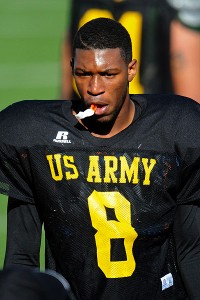 John Albright / Icon SMI The versatile Travis Blanks may line up at a number of positions on defense for the Tigers.
Clemson:
Travis Blanks, DB.
One of the top defensive backs in the country out of high school, Blanks enrolled early and had an impressive spring showing. He has followed that up with a great preseason, and will line up in a variety of positions -- nickelback, cornerback and some linebacker as well. On offense, watch for
Germone Hopper
, who has had some pretty explosive plays this fall.
Duke: Jela Duncan and Shaquille Powell, RBs; Ross Martin, PK.
Duncan and Powell have turned heads during the preseason, and coach David Cutcliffe said he would feel comfortable using both players in the opener against FIU. Martin is sure to get plenty of game experience as the starting kicker this year. Others to watch: receiver
Max McCaffrey
, tight end
Erich Schneider
and safety
Dwayne Norman
, who had an interception return for a touchdown in one scrimmage.
Florida State:
Ronald Darby, CB.
Do not be surprised if Darby ends up starting in the spot vacated by
Greg Reid
. Darby and
Nick Waisome
are competing for the starting job. Coaches like both players, but there is
something special
about Darby. Said coach Jimbo Fisher: Darby is "going to be a very, very good one." Also watch for defensive tackle
Eddie Goldman
and tight end
Christo Kourtzidis
.
Georgia Tech:
Anthony Autry and Micheal Summers, WR.
Georgia Tech only has four other scholarship wide receivers, so that increases the chances for Autry and Summers to play this season. Autry seems to have a slight edge over Summers. Others to watch: defensive back
D.J. White
.
Maryland:
In addition to Hills, Diggs, Brown and Reid, several others could make an impact this year. Punter
Brad Craddock
is competing for the starting position with redshirt freshman
Nathan Renfro
; and cornerback
Sean Davis
could be starting on opening day because he has done well, and there are some injuries on defense.
Miami:
Ereck Flowers, OL.
Flowers is listed as a starter right now at right tackle, helped in part because of
Seantrel Henderson
's absence. Offensive line coach Art Kehoe has been
extremely impressed
. Others to watch: defensive back
Tracy Howard
and running back
Duke Johnson
. Howard is listed on the two-deep behind
Ladarius Gunter
but has drawn raves so far and so has Johnson, who should also return kickoffs this year.
Deon Bush
is in the mix for a starting safety spot.
North Carolina: Quinshad Davis, WR.
Davis missed some early practice time because of a medical issue but has returned in the last week and has a big chance to make some noise. The Tar Heels are lacking depth at this position, and the way Larry Fedora likes to spread the ball around, he will take as many good receivers as he can.
NC State:
Charlie Hegedus, WR.
Receiver is a position of need for the Wolfpack, and Hegedus has seen more reps during fall camp with the injury to
Bryan Underwood
. One player NC State hopes you do not see this year is backup quarterback
Manny Stocker
, a true freshman behind veteran
Mike Glennon
.
Virginia:
Maurice Canady, CB.
Coaches are extremely high on Canady, who is in the mix to earn a starting spot in a secondary that has to be rebuilt this year. He has been working with the first team recently. Others to watch:
Michael Moore
at outside linebacker, and
Eli Harold
at defensive end.
Virginia Tech: J.C. Coleman, RB; Donaldven Manning, DB.
Both players enrolled in January and are virtual locks to play this season. Coleman has separated himself from another true freshman,
Trey Edmunds
, despite a hand injury. He has had an outstanding fall camp. Manning has had to deal with a hamstring injury, but his early enrollment works in his favor.
Wake Forest:
The Deacs rarely play true freshmen. But if there is one player who has a shot this year, it is defensive end
Tylor Harris
, who has stood out this fall for his pass-rushing ability -- something Wake Forest needs help improving this year.