April, 30, 2012
4/30/12
10:30
AM ET
Despite its 6-7 overall record in 2011, Wake Forest came within a field goal from playing for the ACC title. With key pieces such as two-year starting quarterback
Tanner Price
returning, the Demon Deacons are looking to build off that success in 2012. Here, head coach Jim Grobe talks about expectations entering his 12th year leading the program.
The offensive line is replacing four starters. How important was the spring season for them from a developmental standpoint?
Jim Grobe:
Well I thought it was really good. I think we've got three kids going forward that we can count on:
Garrick Williams
, our center, started for us last year so we feel really good about him. I think
Colin Summers
, our right tackle, is a kid who has the potential to be one of the better offensive linemen in the league, as does
Antonio Ford
, our left guard. I think all three of those kids really have the ability to get the job done for us. And then the rest of it's gonna be a toss-up. I think we've got some talented kids. I think
Dylan Heartsill
's a kid that's had some back issues at left tackle but we have great hopes for him and hopefully he'll get healthy. So we moved
Frank Souza
over to left tackle from nose guard -- he was backing up
Nikita Whitlock
on defense and we didn't feel like there was much future in that. So we moved Frank over to left tackle. I think that's gonna be a great move for us, he looked really good the last half of the spring.
We need somebody to step up at right guard; I'm hopeful that [Daniel] Blitch or [Dylan] Intemann or one of the younger guys will be that guy, so it's kind of a mixed bag. We don't have a starting five yet but I think three of those guys are really good players. If we can get a couple more guys to step up I think we can at least put a really good starting five on the field at the start of the year.
You know what you have under center in Tanner Price. Going into his third year now, what kind of strides does he need to make to take the next step?
[+] Enlarge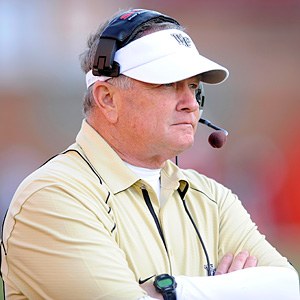 AP Photo/Nick WassJim Grobe says the goal is for Wake Forest to try to get back to a bowl game and to possibly make another run at the ACC title.
JG:
Well it's huge when you've got your quarterback coming back, especially if he's a good one. I think Tanner thew for a little over 3,000 [yards] last year, [20] touchdowns, only had six picks. So he's a guy that takes pretty good care of the football. Really smart guy. a lot of Riley Skinner-type intangible stuff with Tanner. Tanner's got a more live arm than Riley had but he doesn't do as good of a job on the underneath stuff, and I think that's where his biggest improvements needs to come and I think we saw that this spring. We really challenged him to be a little more accurate with the touch stuff and I think we saw that this spring. I think he just looked better to me this spring than he did last fall and I thought he did good things last fall. So his biggest deal is just gonna be completion percentage. If we can bump that completion percentage up, we've got a guy that can win games for us.
It's been said that Michael Campanaro be that go-to guy for him, with Chris Givens now gone. Is finding a No. 2 target more pressing right now? Who has stood out in that role for you?
JG:
Yeah I think so. I don't think there's any question. That's my concern. I think Campanero, you look at Chris last year, but in reality we had two guys -- Camp, he didn't catch as many balls as Chris, but he was close. They were really a 1-2 punch for us last year, so I think Camp, if he stays healthy, is ready for a big big year. So the key for us is we've gotta find some body else. If Camp's the only guy we've got to go to then defense are gonna make it really tough on us. So a guy like
Terence Davis
,
Matt James
,
Brandon Terry
,
Sherman Ragland
-- somebody in that group's gotta step up and kind of balance things out so that they can't just double-cover Camp and leave those other guys alone.
April, 5, 2010
4/05/10
3:47
PM ET
A few ACC recruiting nuggets for you on a gorgeous Monday afternoon, at least where
I live
.
Virginia Tech bolstered its defensive line with a commitment Monday from Kris Harley, an ESPNU 150 Watch List selection from Indianapolis. Harley recorded 91 tackles, including 19 for loss and five sacks as a junior at Warren Central High School, the alma mater of Hokies standout running back Darren Evans. Harley had received offers from USC, Michigan, Nebraska, North Carolina, Iowa, Oklahoma and Wake Forest, among others. Harley's high school coach has some high praise for the standout lineman.
Wake Forest recently added a pair of offensive tackles to its 2011 recruiting class. Dylan Intemann and Hunter Goodwin committed to play for the Demon Deacons. Intemann had received an offer from NC State, while Goodwin picked Wake over Maryland and West Virginia.
If you haven't already, check out colleague JC Shurburtt's recap of the VTO Sports Elite 100 combine, held during the weekend in Charlotte. Several top prospects considering ACC schools were on hand, including tight end Drew Owens.