October, 3, 2014
Oct 3
12:00
PM ET
Perhaps no coach in the country walked in to a tougher job this spring than Wake Forest's Dave Clawson. He lost virtually his entire depth chart on offense, and it's shown so far this season. In two of Wake's five games, the Demon Deacons have totaled 100 yards of offense or less. Clawson has still managed to keep the Deacons competitive with an eye toward the future, but the challenge this week -- a trip to Tallahassee, Florida, for No. 1 Florida State -- looks like a nearly impossible task. We talked with Clawson about the morale of the team and the matchup with the Seminoles. Here's a portion of that conversation.
David Hale: You knew going in you'd have some challenges this season. How would you evaluate the early part of the season, and what's the mind-set as your team gets set for No. 1 Florida State?
[+] Enlarge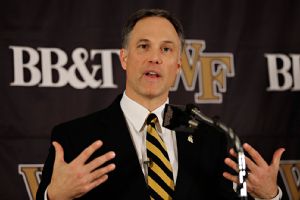 AP Photo/Chuck BurtonDave Clawson wasn't left with much on offense in his first season at Wake Forest, and that's shown in its production.
Dave Clawson:
We go into every game with the challenge of finding a way to win, and some weeks, the challenge is greater than others. Certainly this week might be the tallest order we'll face all year. We knew going in, we'd be challenged this year. We have a very thin roster, and we especially knew we'd be challenged on offense -- and we are. We've got to keep our nose down, continue to coach, that we're seeing individual improvement and having good practices and giving ourselves the best chance to win every week.
Hale: I'm sure I don't have to tell you that your quarterback, John Wolford, has been sacked a lot -- 23 times so far this year, most in the nation. How much of a concern is there that all those hits add up for a young QB?
Clawson:
It's certainly something we're keeping an eye on. The way these sacks have played out, the majority are in the fourth quarter of games that we're still in. The Louisiana-Monroe game, it's a one-score game in the fourth quarter. Against Utah State, we're in that game. The Louisville game, we had a lead in the fourth quarter. If you take his 23 sacks, [a good number] of them have happened in the fourth quarter of those three football games. But what are you going to do, not throw the ball? Not try to win? What message does it send that we're going to run the ball and give up so we don't take hits?
No, we don't like that he's taking that many sacks and that we haven't protected him better. But when we've had a little bit of balance and been in a position to run the football, we're not getting sacked. When we become one-dimensional late in the game, that's when he's taking his hits.
Hale: Talking about balance, what can you say about your running game at this point?
Clawson:
We're last in the country in rushing the football.
Hale: Is that a matter of poor blocking? Problems with the tailbacks?
Clawson:
It's been both. We're starting a true freshman center, two sophomore guards, we graduated three seniors from last year's offensive line. The starting tailback graduated. The second and third tailbacks left school before we got here. We're playing a converted receiver, a converted tight end and a true freshman at tailback. Last year, when we got here, we did not have one tailback in the program. Not one.
Hale: Obviously not an enviable situation. Is there at least some optimism for the future from the experience those guys are getting now?
Clawson:
We're playing two freshman tight ends,
Cam Serigne
and
Devin Pike
. Are they ready yet? No, but they're playing hard and been productive for us.
E.J. Scott
transferred from Virginia, and he's leading us in touchdowns right now.
Isaiah Robinson
, a true freshman tailback, he's had some very productive runs for us. You just hope all this experience -- we should be disappointed, but you can't get discouraged. We're playing with a lot of guys on offense that have a lot of football ahead of them.
Hale: With all that said, how do you go to battle against a team like Florida State that obviously has a big edge on nearly every area of the field?
Clawson:
You've got to run your stuff. Up front, their three starters are 320, 315 and 303. So, it's going to be a challenge. That's why the important thing to me is that our guys continue to compete. As long as we compete, we give ourselves a chance. [Louisville] last week was really good, and this week doesn't get easier. Even though you're playing Florida State, you have to focus on yourself and make sure we're doing things within our program to make yourself better. That's on a weekly basis and a big-picture basis.
April, 25, 2014
Apr 25
9:00
AM ET
Wake Forest
wraps up its first spring under new coach Dave Clawson this weekend, and while plenty of questions will remain beyond the spring game, the Deacons are optimistic progress has been made. We caught up with cornerback
Kevin Johnson
to see how the spring has gone for Wake and what fans can expect Saturday.
Q. Coach Clawson has come in with a new scheme, a new culture and a new attitude. How has that gone over with the team this spring?
A.
All that stuff is coming together pretty smoothly. It's been a pretty good transition. The culture is definitely changing a lot. They're expecting a lot out of us, and we're putting in a lot of hard work. They want us to be able to play like champions on and off the field, and I think we're doing a pretty good job of that.
Defensively we're putting in new schemes, and I think it's going great. We're emphasizing flying around to the football. Coaches are doing a great job of teaching us new concepts. We're really using those concepts and really nailing them in so we can play as fast as possible.
[+] Enlarge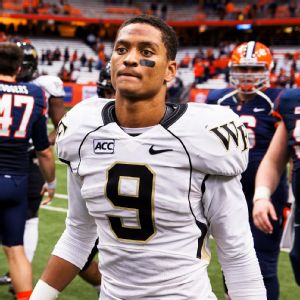 Brett Carlsen/Getty ImagesWake Forest cornerback Kevin Johnson is excited about what new Demon Deacons coach Dave Clawson is bringing to the table.
Q. Particularly for veterans like yourself, major changes like this can be tough to swallow. Has what Coach Clawson and his staff implemented provided a bit of a spark to get guys to buy in though?
A.
Oh definitely. Guys are very excited. When the new coaching staff comes in, you don't really know what to expect, but with these coaches, I think guys are really excited. I see a fire under our teammates, and there's a fire under myself, and most importantly there's a fire under these coaches. They're really hungry for success, and it's rubbing off on us as a football team. Guys are seeing that and have really bought in right now. Guys are really working.
Q. From the start of spring practice until now, where have you seen the biggest improvement?
A.
I would definitely say it's the effort. One thing that we're emphasizing is really flying out there on defense, really taking great angles to the football, getting all 11 guys running to the football. That's how big plays happen, and that's definitely something that stuck out to me early on in the practices. If we're not running to the football, we're doing up-downs. We're really implementing it, and it's paying off.
Q. Your defense lost a lot of talent up front, particularly All-ACC tackle Nikita Whitlock, but you return a good bit of veteran talent in the secondary. Are the DBs feeling like they need to step up and take a bigger role this year?
A.
As a secondary, we want to be the best in the country. That's our goal. At the same time, I have a lot of trust in the front seven. The new guys are stepping in and playing great football -- from linebackers to D-line. I also have a boatload of confidence in the coaching staff to put everyone in great position to make big plays. So I'm extremely confident in our defense. In the secondary, we're trying to push to be the best we can possibly be.
Q. Depth is a big concern all over the roster, but has there been some silver lining in that the guys out there for spring practice have been able to get a lot of reps in the new system?
A.
The more reps you get, the more you're able to pick up from the mistakes you made in previous reps. Guys are getting a lot of good action, really getting to learn what their flaws are, what they can improve on, and what they're good at. That's something that's definitely been going on this spring. Guys are able to really tune up their technique, and I look at that as a good thing.
Q. There's been some huge turnover on offense, especially at the skill positions. From your vantage point in the secondary, has anyone stood out to you on that side of the ball?
A.
I think we're having a great quarterback battle going on. Guys are making some big-time throws out there. From a receiver standpoint, we've got guys like
E.J. Scott
coming in and having a very big spring for us, catching balls, running great routes.
Matt James
-- a big receiver who can be a threat to catch the ball -- he's been having a very good spring as well. Even receivers like
Tyree Harris
,
Jonathan Williams
and
Jared Crump
-- guys are really stepping into big roles and answering that call, competing against us, giving us good looks. And we're competing against them giving them the best we can give them. Iron sharpens iron, so from a competition standpoint, we're trying to give it all we've got, and I think that's definitely paying off.
Q. As you get ready for the spring game this weekend, what can fans expect to see? What might look different to them from years past?
A.
I think the spring game is going to go smoothly, but we're running some new schemes offensively and defensively. It'll be a new look. But hopefully it's implementing that new culture we're trying to get in here, playing like a championship-level football team. I'm hoping that's something that can be our M.O. When teams watch us play, they can see we're trying to play championship-level football, doing all the little things, paying attention to the details. I'm confident that's something that will pay off for us.
June, 19, 2013
6/19/13
2:00
PM ET
We move on in our series looking at the weakest and strongest positions on each team in the ACC with Virginia:
Strongest position: Receivers/tight ends

If there's one thing quarterbacks
David Watford
and
Greyson Lambert
don't have to worry about, it's having a veteran receiver to throw it to.
Darius Jennings
,
Tim Smith
,
Dominique Terrell
and
E.J. Scott
all return, along with standout tight end
Jake McGee
. The group combined for 163 catches for 2,212 yards and 17 touchdowns last year. Each of them had at least 20 catches last fall. McGee accounted for five of those touchdown receptions, which ranked No. 5 all-time at the school by a tight end. He also had 28 catches last year, overall one of the most productive seasons for a tight end at UVa. Jennings led the team last year with 568 receiving yards, and he also had five touchdowns.
Weakest position: Quarterback
It's hard to call out the quarterbacks as the weak link, but how do you not, when it's been such an inconsistent, transient position for the Cavaliers? It's probably more accurate to call it a question than a weakness, considering the lack of playing time, but it's certainly not a strength right now. Coach Mike London began his career at UVa with a quarterback controversy that never ended. Now, he doesn't seem to have much of a choice, as starter Michael Rocco has since transferred to Richmond, and the university announced in May that Phillip Sims was ineligible and will no longer be enrolled at the university. That leaves Watford and Lambert – two players who both redshirted last year – as the frontrunners. Watford at least has some game experience, as he played in 10 games in 2011. He has thrown the ball 74 times and had four interceptions and three touchdowns. Lambert, meanwhile, has yet to take a collegiate snap in a game. Virginia fans have at least seen the potential in Watford, but it's been a year since he has played, and there are still far more questions than answers with this position.
More in this series here.
November, 18, 2011
11/18/11
10:30
AM ET
By
ESPN.com staff
| ESPN.com
Here are this week's injury reports from the schools that released them:
CLEMSON
Out

DE Joe Gore (knee)
LB Tony Steward (knee)
OT Philip Price (knee)
Questionable

WR
Sammy Watkins
(shoulder)
Probable

CB Darius Robinson (hamstring)
DUKE
Probable
WR
Brandon Braxton
(upper body)
OT Takoby Cofield (upper body)
CB Zach Greene (leg)
WR
Conner Vernon
(leg)
Questionable
LB Kelby Brown (leg)
WR
Jamison Crowder
(leg)
WR
Tyree Watkins
(leg)
Doubtful
DE Justin Foxx (leg)
LB C.J. France (upper body)
LB Kevin Rojas (lower body)
CB Johnny Williams (upper body)
Out
S Lee Butler (leg)
QB
Brandon Connette
(upper body)
DE Jordan DeWalt-Ondijo (leg)
C Brian Moore (upper body)
Out for season
DE Kenny Anunike (leg)
TE
Jack Farrell
(leg)
OT Kyle Hill (shoulder)
FLORIDA STATE
Out
Willie Haulstead
(head)
Henry Orelus (head)
Darious Cummings (hand)
Andrew Datko (shoulder)
Moses McCray (knee)
Out for season
Jacobbi McDaniel (ankle)
Chris Thompson
(back)
GEORGIA TECH
Out
LB Morgan Carter
AB
Orwin Smith
Out for season
S Fred Holton
DL Jimmie Kitchen
S Lance Richardson
MARYLAND
Out for season
WR
Tyrek Cheeseboro
DB Makinton Dorleant
OL Andrew Gonnella
DB Avery Graham
LB Garrett Lederman
QB
Danny O'Brien
DB Matt Robinson
DL Isaiah Ross
TE
Dave Stinebaugh
LB Kenny Tate
Out
LB Alex Twine
Doubtful
OL Bennett Fulper
Probable
OL Max Garcia
RB
Justus Pickett
RB
Jeremiah Wilson
MIAMI
Probable
Marcus Robinson (upper extremity)
Out
Luther Robinson (lower extremity)
Rashawn Scott
(upper extremity)
Jordan Futch (upper extremity)
Lee Chambers (upper extremity)
Davon Johnson (lower extremity)
Surgery/Out for season
Blake Ayles
(upper extremity)
Ramon Buchanan (lower extremity)
Marcus Forston (lower extremity)
Erik Lichter (upper extremity)
Corey White (lower extremity)
NC STATE
Out for season
CB Jarvis Byrd, (knee)
FB
Taylor Gentry
(foot)
LB D.J. Green (foot)
HB
Mustafa Greene
(foot)
LB Sterling Lucas (knee)
DE Jeff Rieskamp (shoulder)
Questionable

DT Markus Kuhn (abdomen)
VIRGINIA
Out
Pablo Alvarez (upper extremity)
David Marrs (lower extremity)
Charlie Richards
(upper extremity)
E.J. Scott
(medical)
Bobby Smith
(lower extremity)
Tyler Smith (lower extremity)
Matt Snyder
(lower extremity)
Michael Terrell
(lower extremity)
Joseph Williams (lower extremity)
Questionable

Kyle McCartin
(upper extremity)
Probable

Rodney McLeod (lower extremity)
Kevin Parks
(lower extremity)
Colter Phillips
(lower extremity)
WAKE FOREST
QUESTIONABLE
RB
Josh Harris
(hamstring)
OUT
DT
John Gallagher
(back)
OUT FOR THE YEAR
OT Dylan Heartsil (back)
CB Dominique Tate (knee)
LB Kyle Jarrett (hip)
WR
Airyn Willis
(shoulder)
November, 11, 2011
11/11/11
10:30
AM ET
By
ESPN.com staff
| ESPN.com
Here are your injury reports for the schools that reported them in Week 11:
BOSTON COLLEGE
Out
WR
Ifeanyi Momah
(knee)
DB CJ Jones (knee)
DT Connor Wujciak (shoulder)
RB
Montel Harris
(knee)
DT Kaleb Ramsey (foot)
LB Kevin Pierre-Louis (leg)
DB Jim Noel (ankle)
LN Nick Clancy (knee)
Questionable
DE
Dan Williams
(shoulder)
DB Spenser Rositano (leg)
Probable
RB
Andre Williams
(abdomen)
RB
Tahj Kimble
(head)
CLEMSON
Out

Joe Gore, DE, Knee
Tony Steward, LB, Knee
Questionable

Spencer Benton, PK, shoulder
Will play

Andre Ellington
, RB, ankle
DUKE
Probable
DE Justin Foxx (leg)
CB Zach Greene (leg)
CB Johnny Williams (leg)
Questionable
LB Kelby Brown (leg)
Doubtful
WR
Jamison Crowder
(leg)
Out
S Lee Butler (leg)
QB
Brandon Connette
(upper body)
C Brian Moore (upper body)
Out for season
TE
Jack Farrell
(leg)
DE Kenny Anunike (leg)
FLORIDA STATE
Out
Andrew Datko (shoulder)
Willie Haulstead
(head)
Henry Orelus (head)
Darious Cummings (hand)
Out for season
Jacobbi McDaniel (ankle)
Chris Thompson
(back)
Probable
David Spurlock (knee)
Rashad Greene
(ankle)
Bryan Stork (head)
MIAMI
Out
Luther Robinson-Lower Extremity
Curtis Porter-Upper Extremity
Rashawn Scott
-Upper Extremity
Jordan Futch-Upper Extremity
Surgery/Out for season
Marcus Forston-Lower Extremity
Ramon Buchanan-Lower Extremity
Corey White-Lower Extremity
Erik Lichter-Upper Extremity
Blake Ayles
-Upper Extremity
NC STATE
Out for season
Jarvis Byrd, CB - Knee
D.J. Green, LB- Foot
Mustafa Greene
, HB - Foot
Sterling Lucas, LB - Knee
Jeff Rieskamp, DE- Shoulder
Out for game
Taylor Gentry
, FB - Foot
Jake Kahut, DE - Knee
Brandon Pittman, LB- Hamstring
Questionable
R.J. Mattes, OT - Ankle
VIRGINIA
Out

Pablo Alvarez, (upper extremity)
Charlie Richards
, (upper extremity)
E.J. Scott
, (medical)
Bobby Smith
, (lower extremity)
Tyler Smith, (lower extremity)
Matt Snyder
, (lower extremity)
Michael Terrell
, (lower extremity)
W.J. Williams, (lower extremity)
Probable
Luke Bowanko (upper extremity)
Thompson Brown (medical)
Cam Johnson (lower extremity)
Rodney McLeod (lower extremity)
Colter Phillips
(lower extremity)
Draquan Romero (lower extremity)
November, 4, 2011
11/04/11
10:30
AM ET
By
ESPN.com staff
| ESPN.com
Here are the injury reports from the schools that reported them this week:
DUKE
Probable
S Walt Canty (upper body)
S Matt Daniels (upper body)
CB Zach Greene (leg)
Questionable
DT Jamal Bruce (leg)
CB Johnny Williams (leg)
Out
S Lee Butler (leg)
QB
Brandon Connette
(upper body)
Out for season
TE
Jack Farrell
(leg)
DE Kenny Anunike (leg)
MARYLAND
Out for season
WR
Tyrek Cheeseboro
DB Makinton Dorleant
OL Andrew Gonnella
DB Avery Graham
LB Garrett Lederman
DB Matt Robinson
DL Isaiah Ross
TE
Dave Stinebaugh
LB Kenny Tate
Out
DL Cody Blue
Doubtful
DL Justin Anderson
Questionable
DL Clarence Murphy
MIAMI
Probable
Jon Feliciano-Lower Extremity
Out
Luther Robinson-Lower Extremity
Shayon Green-Lower Extremity
Curtis Porter-Upper Extremity
Rashawn Scott
-Upper Extremity
Surgery/Out for season
Marcus Forston-Lower Extremity
Ramon Buchanan-Lower Extremity
Corey White-Lower Extremity
Erik Lichter-Upper Extremity
Blake Ayles
-Upper Extremity
NORTH CAROLINA
Out
Casey Barth, PK Thigh
TJ Leifheit, OT Ankle
Matt Merletti, FS Knee
Norkeithus Otis, LB Thigh
Devon Ramsay, FB Knee
Reggie Wilkins, WR Ankle
Questionable

DJ Bunn, SS Knee
Mark McNeill, WR Hip
NC STATE
Out for season
Jarvis Byrd - Knee
Mustafa Greene - Foot
Sterling Lucas - Knee
Jeff Rieskamp - Shoulder
Out
Taylor Gentry
- Foot
D.J. Green - Foot
Jake Kahut - Knee
Brandon Pittman - Leg
Questionable
Thomas Teal - Foot
VIRGINIA
Out
Pablo Alvarez (upper extremity)
Charlie Richards
(upper extremity)
Daquan Romero (lower extremity)
E.J. Scott
(medical)
Bobby Smith
(lower extremity)
Tyler Smith (lower extremity)
Matt Snyder
(lower extremity)
Michael Terrell
(lower extremity)
Joseph Williams (lower extremity)
Questionable
Cam Johnson (lower extremity)
Probable
Sean Cascarano (trunk)
Matt Conrath (lower extremity)
Kevin Parks
(upper extremity)
October, 21, 2011
10/21/11
10:00
AM ET
By
ESPN.com staff
| ESPN.com
BOSTON COLLEGE
Out

WR
Ifeanyi Momah
(knee)
DB CJ Jones (knee)
DT Connor Wujciak (shoulder)
TB
Montel Harris
(knee)
DL Kaleb Ramsey (foot)
RB
Tahj Kimble
(head)
DT Dillon Quinn (shoulder)
Probable

OG Nate Richman (back)
CLEMSON
Out

Joe Gore, DE, Knee
Spencer Benton, PK, shoulder
Tony Steward, LB, Knee
DUKE
Probable
WR
Brandon Braxton
(head)
S August Campbell (leg)
Questionable
C Dave Harding (leg)
C Brian Moore (arm)
WR
Donovan Varner
(leg)
CB Johnny Williams (leg)
Out
S Lee Butler (leg)
QB
Brandon Connette
(upper body)
Out for season
TE
Jack Farrell
(leg)
DE Kenny Anunike (leg)
FLORIDA STATE
Out
OT Andrew Datko (shoulder)
OG David Spurlock (knee)
OG Henry Orelus (head)
WR
Willie Haulstead
(head)
WR
Josh Gehres
(knee)
DT Darious Cummings (hand)
DT Moses McCray (knee)
Questionable

WR
Rashad Greene
(ankle)
Out for season

DT Jacobbi McDaniel (ankle)
RB
Chris Thompson
(back)
GEORGIA TECH
Probable
Jeremiah Attaochu, LB
Out

Tyler Morgan, LS
Out for the season

Fred Holton, S
Jimmie Kitchen, DL
Lance Richardson, S
MARYLAND
Out for the season
WR
Tyrek Cheeseboro
OL Andrew Gonnella
DB Avery Graham
LB Garrett Lederman
DB Matt Robinson
DL Isaiah Ross
TE
Dave Stinebaugh
Out
DL Justin Anderson
WR
Kevin Dorsey
OL Justin Gilbert
LB Shaquan Virgil
Doubtful
LB Demetrius Hartsfield
LB Kenny Tate
Questionable
DL Andre Monroe
Probable
OL Pete White
MIAMI
Out
Luther Robinson - Lower Extremity
Shayon Green - Lower Extremity
Curtis Porter - Upper Extremity
Rashawn Scott
- Upper Extremity
Surgery/Out for the season

Marcus Forston - Lower Extremity
Ramon Buchanan - Lower Extremity
Cory White
- Lower Extremity
Erik Lichter - Upper Extremity
Blake Ayles
- Upper Extremity
NORTH CAROLINA
Out
Casey Barth, PK Thigh
Curtis Byrd
, FB Knee
Kiaro Holts, OT Wrist
Devon Ramsay
, FB Knee
Questionable
T.J. Leifheit, OT Ankle
Probable
Giovani Bernard
, TB Hip
A.J. Blue, TB Ankle
Erik Highsmith
, WR Ankle
Cam Holland, C Back
Jonathan Smith, S Ankle
NC STATE
Out for the season
Jarvis Byrd, CB - knee
Mustafa Greene
, HB - foot
Sterling Lucas, LB - knee
Out
Taylor Gentry
, FB - foot
Jake Kahut, DE - knee
Jeff Rieskamp, DE - shoulder
Thomas Teal, DT - foot
Curtis Underwood, HB - foot
Questionable
D.J. Green, LB - abdomen
J.R. Sweezy, DT - foot
VIRGINIA
Out
Pablo Alvarez (upper extremity)
Diamonte Bailey (lower extremity)
Darius Lee
(upper extremity)
Charlie Richards
(upper extremity)
E.J. Scott
(medical)
Bobby Smith
(lower extremity)
Tyler Smith
(lower extremity)
Matt Snyder
(lower extremity)
Joseph Williams (lower extremity)
Doubtful
Tim Cwalina (lower extremity)
Michael Terrell
(lower extremity)
Questionable
Brian Oden (lower extremity)
Probable
Luke Bowanko (lower extremity)
Henry Coley (lower extremity)
Cam Johnson (lower extremity)
Jake McGee
(lower extremity)
Clifton Richardson
(lower extremity)
Michael Rocco
(trunk)
VIRGINIA TECH
Out for the Season
Kwamaine Battle (knee)
Jeron Gouveia-Winslow (foot)
Antoine Hopkins (knee)
Dyrell Roberts
(arm)
E.L. Smiling
(wrist)
Out
Eric Martin
(shoulder)
Mark Shuman (knee/ankle)
David Wang (foot)
Doubtful
Jayron Hosley (hamstring)
WAKE FOREST
Probable
RB
Josh Harris
(leg)
TE
Andrew Parker
(ankle)
DT Tristan Dorty (ankle)
C Garrick Williams (ankle)
NT Duke Mosby (illness)
Out
NT Ramon Booi (knee)
DT John Gallagher (back)
Out for the season
OT Dylan Heartsil (back)
CB Dominique Tate (knee)
LB Kyle Jarrett (hip)
October, 14, 2011
10/14/11
10:30
AM ET
By
ESPN.com staff
| ESPN.com
All 10 teams that are playing this weekend have released their injury reports for Week 7:
CLEMSON
OUT

DE Joe Gore (knee)
PK Spencer Benton (shoulder)
WILL PLAY

QB
Tajh Boyd
(hip)
LB Stephone Anthony (ankle)
DUKE
PROBABLE

DE Jordan DeWalt-Ondijo (leg)
DE Justin Foxx (leg)
C Dave Harding (leg)
RB
Desmond Scott
(leg)
RB
Josh Snead
(foot)
K Will Snyderwine (foot)
QUESTIONABLE

S Matt Daniels (leg)
CB Johnny Williams (leg)
DOUBTFUL

S August Campbell (leg)
OUT

S Lee Butler (leg)
QB
Brandon Connette
(upper body)
C Brian Moore (arm)
OUT FOR SEASON

TE
Jack Farrell
(leg)
DE Kenny Anunike (leg)
FLORIDA STATE
OUT

Willie Haulstead
(head)
Henry Orelus (head)
Josh Gehres
(knee)
Darious Cummings (hand)
Andrew Datko (shoulder)
David Spurlock (knee)
QUESTIONABLE
Rashad Greene
(ankle)
GEORGIA TECH
DOUBTFUL

LB Jeremiah Attaochu
OUT

K-P Chandler Anderson
OL Morgan Bailey
WR
Tyler Morgan
OUT FOR SEASON

S Fred Holton
DL Jimmie Kitchen
S Lance Richardson
MARYLAND
OUT FOR SEASON
OL Andrew Gonnella
DB Matt Robinson
DL Isaiah Ross
TE Dave Stinebaugh
OUT FOR GAME
DL Justin Anderson
OL Justin Gilbert
LB Demetrius Hartsfield
LB Garrett Lederman
DL Andre Monroe
LB Shaquan Virgil
DOUBTFUL
LB Kenny Tate
QUESTIONABLE
LB Darin Drakeford
PROBABLE
WR
Marcus Leak
MIAMI
PROBABLE

Jalen Grimble (lower extremity)
Kacy Rodgers (lower extremity)
Adewale Ojomo (upper extremity)
Thurston Armbrister (upper extremity)
Davon Johnson (lower extremity)
OUT

Luther Robinson (lower extremity)
Shayon Green (lower extremity)
Curtis Porter (upper extremity)
SURGERY/OUT FOR SEASON

Marcus Forston (lower extremity)
Ramon Buchanan (lower extremity)
Cory White
(lower extremity)
Erik Lichter (upper extremity)
Blake Ayles
(upper extremity)
NORTH CAROLINA
OUT
OT Kiaro Holts (wrist)
FB
Devon Ramsay
(knee)
DOUBTFUL
PK Casey Barth (thigh)
C Cam Holland (back)
QUESTIONABLE
TB AJ Blue (ankle)
OT TJ Leifheit (ankle)
LB Kevin Reddick (ankle)
SS
Jonathan Smith
(ankle)
PROBABLE
WR Josh Adams (illness)
VIRGINIA
OUT

Pablo Alvarez (upper extremity)
Vince Croce (medical)
Tim Cwalina (lower extremity)
Darius Lee
(upper extremity)
Charlie Richards
(upper extremity)
E.J. Scott
(medical)
Bobby Smith
(lower extremity)
Tyler Smith
(lower extremity)
QUESTIONABLE

Henry Coley (lower extremity)
VIRGINIA TECH
OUT FOR SEASON
Kwamaine Battle (knee)
Jeron Gouveia-Winslow (foot)
Antoine Hopkins (knee)
Dyrell Roberts
(arm)
OUT FOR GAME
James Gayle (ankle)
Eric Martin
(shoulder)
David Wang (foot)
FULL
Jaymes Brooks (ankle)
WAKE FOREST
DOUBTFUL

RB
Josh Harris
(leg)
OUT

TE
Neil Basford
(knee)
DT
John Gallagher
(back)
OUT FOR THE YEAR

OT Dylan Heartsil (back)
CB Dominique Tate (knee)
LB Kyle Jarrett (hip)
ACC SCOREBOARD
Wednesday, 12/24
Saturday, 12/20
Monday, 12/22
Tuesday, 12/23
Friday, 12/26
Saturday, 12/27
Monday, 12/29
Tuesday, 12/30
Wednesday, 12/31
Thursday, 1/1
Friday, 1/2
Saturday, 1/3
Sunday, 1/4
Monday, 1/12
Tweets from https://twitter.com/ESPNCFB/lists/acc