January, 27, 2015
Jan 27
11:00
AM ET
Every team has issues to address this offseason, and this week, we're taking a look at the most glaring holes for each ACC team and figuring out where they might find answers between now and the season opener.
Florida State Seminoles
Position to improve:
Linebacker
Why it was a problem:
It's not often that a defense can lose a playmaker such as Telvin Smith (and DE/OLB Christian Jones to an extent) and move on without missing a beat. With the talent Jimbo Fisher has recruited, some thought the Seminoles might have minimal drop-off. But the unit had its ups and downs for a variety of reasons. There were injuries and suspensions, and there also a lot of inexperience and not as much athleticism. The linebackers struggled at times against the run and the pass, and there was not a great pass-rusher among the group.
How it can be fixed:
A healthy
Terrance Smith
Jr. will obviously help, and so will a full season from redshirt sophomore
Matthew Thomas
. Smith battled a sprained knee throughout the second half of the season, and Thomas was suspended for the first six games. The Seminoles need one of their younger linebackers to step up, though, especially with the losses of
E.J. Levenberry
and
Reggie Northrup
(ACL surgery).
Jacob Pugh
played sparingly as a freshman, and
Delvin Purifoy
never played a down after a season-ending injury. The good news is Pugh, Purifoy and defensive end/linebacker
Lorenzo Featherston
were all blue-chip recruits in the 2014 class and will have a full year under their belts.
Early 2015 outlook:
There are definite reasons for optimism, as Smith and Thomas will be joined by one of the younger players. The 2014 class was filled with talent, and there will be an opportunity for the second-year linebackers to step up. The Seminoles also went the junior college route in the 2015 class with linebacker
Lorenzo Phillips
. He was the third-ranked outside linebacker among junior college players, and the idea is for him to make an immediate impact. But while the outlook is hardly bleak, one of the younger players has to step up and help the defense return to the top of the national rankings.
January, 8, 2015
Jan 8
1:00
PM ET
Florida State expected departures in the front and back end of its defense, but the Seminoles received news earlier this week the depth at linebacker will also take a hit.
Sophomore
E.J. Levenberry
has left Tallahassee, Florida, and intends to transfer from Florida State, his father, Eric, told ESPN.com on Tuesday.
Coupled with the midseason dismissal of
Ukeme Eligwe
, the Seminoles are down to seven scholarship linebackers, a unit that had its bouts with consistency all season.
Reggie Northrup
, who battled Levenberry for a starting spot through fall camp, and
Terrance Smith
are returning for their senior seasons, but there is not much experience beyond those two.
The Seminoles do have a number of talented younger players at linebacker, and the group will need to step up as a whole to fill out the starting lineup and provide production throughout the linebacker rotation. Redshirt freshman
Matthew Thomas
is a former five-star player, although he has battled injuries and off-field issues through his first two seasons. From the 2014 class, third-ranked inside linebacker
Kain Daub
and top-six outside linebackers
Jacob Pugh
and
Delvin Purifoy
should have roles in 2015.
Ro'Derrick Hoskins
has not seen the field much his first two seasons, but he was highly regarded coming out of high school, too.
Daub could be the beneficiary and slide into a second-string role for the Seminoles at middle linebacker. The Jacksonville, Florida, native was an early enrollee, and the 6-foot-4, 243-pound Daub could earn the role of primary backup to Northrup, who also hails from Jacksonville.
Florida State was not as athletic at linebacker this past season, especially with a sprained knee limiting Smith the second half of the season. The expectation was the unit would struggle to match the 2013 production considering mainstays
Telvin Smith
and
Christian Jones
were lost to the NFL. Florida State's young core of linebackers could provide some of that same athleticism this coming season.
The loss of Levenberry still could sting Florida State, especially as the sophomores and freshmen continue gaining experience. As a freshman, Levenberry racked up 39 tackles, but he played sparingly as a sophomore. Few matched Levenberry's work ethic, and the second-year player had reshaped his body to withstand the expected pounding at middle linebacker. He gained 20 pounds between the end of spring practice and start of fall camp last year. Eric, Levenberry's father, said his son felt there was a better chance he would see the field elsewhere.
"He loved Florida State, loved Jimbo Fisher, loved Tallahassee, loved the fans," Eric said. "… We just didn't see a future for him under the current defensive regime."
When former defensive coordinator Jeremy Pruitt left for Georgia, Fisher promoted Charles Kelly to coordinator and hired Bill Miller to replace Kelly as the linebackers coach.
"Sometimes a system might not be for a kid," Eric said. "He's going to be an asset. He's not going to test positive for drugs or make a program look bad. We hope a college coach can recognize that and recognize his talent."
August, 5, 2014
8/05/14
3:30
PM ET
TALLAHASSEE, Fla. -- Florida State had the No.1 pass defense in 2013. It's hard to believe it, but the secondary could be even better in 2014, with four possible first-round picks starting in the backfield.
Seminoles coach Jimbo Fisher knows what he is going to get out of his defensive backs. However, the front seven is looking for players to emerge to alleviate the burden of losing tackle Timmy Jernigan and linebacker Telvin Smith. The defensive line needs a handful of role players to complement the starters, and the linebacking corps doesn't have a definitive first-team unit just yet.
"I want to see those [starting linemen] take responsibility, and I want to see the quality depth behind it so we can get a quality rotation," Fisher said. "I know we have plenty of guys capable.
[+] Enlarge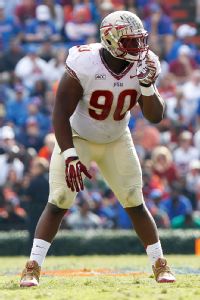 Kim Klement/USA TODAY SportsEddie Goldman will start at defensive tackle, but Jimbo Fisher is hunting quality behind the junior.
"The leadership role at linebacker,
Terrance [Smith
] is there but who steps up at Mike linebacker? Who's going to become the pass rushers, who's going to be the DPR [designated pass rushers], who's going to be the nickel 'backers, who's going to be the first- and second-down 'backers?"
Standing at the podium for his first fall camp news conference, Fisher still displayed a palpable confidence as he elaborated on the defense's questions, but he was cataloging them so he could return to them in another two weeks to see which have been answered.
Florida State has what looks to be a clearly defined set of starters on the defensive line with
Mario Edwards Jr.
,
Eddie Goldman
,
Nile Lawrence-Stample
and
Chris Casher
. Defensive line inherently is a position that requires a bevy of fresh bodies, though, which is why Fisher is determined to uncover quality rotational players who will allow his starters to come off the field without the defense taking a step back.
There is no shortage of options behind Florida State's starters. There are 10 backups along the line who are either freshmen or sophomores, and they average almost 6-foot-4 and 293 pounds.
Keith Bryant
,
Justin Shanks
and
DeMarcus Walker
were blue-chip recruits out of high school, and the defense needs those three to become primary rotational players with the idea they could be the starters in 2015. Florida State also brought in a number of freshmen, and Fisher said, physically, they already fit the Florida State defensive lineman archetype.
The luxury Fisher has is the younger players will all be able to learn from Edwards, who is in his second year in this defensive system but in his first as the unquestioned leader of the defensive line. The former No. 1 high school recruit, few players nationally are as physically gifted as Edwards.
"He's so daggone big and athletic. He's still 300 pounds, but we played a lot with those guys at LSU, 300-pound ends," said Fisher, calling upon his days as an assistant in Baton Rouge, Louisiana. "When you can do a standing back flip and a run a 5-flat [in the 40-yard dash] and bend like he does, you don't worry."
Behind the defensive line, Smith returns as a starter in the linebacker corps, but it is a tossup as to who will partner with him.
Ukeme Eligwe
, who is recovering from a Lisfranc injury,
E.J. Levenberry
and
Reggie Northrup
all played at least 13 games last season, and
Matthew Thomas
was shelved after four games in 2013 to repair a balky shoulder and preserve his redshirt. Thomas was a five-star recruit and one of the top players during the spring. When a player has a good practice, Fisher likes to say he "flashed," and routinely this spring Fisher said "No. 6 flashed," referring to Thomas.
As Fisher balances each player's talents and weaknesses, the potential deciding factor ultimately could boil down to chemistry. Fisher said it's often overlooked, but certain players raise their level of play when lining up next to certain teammates.
"We'll mix and match and also see who plays well together," Fisher said. "Sometimes people don't look at that. Some guys play better beside certain guys, and creating those packages is going to be critical."
April, 14, 2014
4/14/14
1:00
PM ET
Florida State's spring camp
came to a close
on Saturday with the annual Garnet and Gold game, and now the Seminoles are prepping for a second straight national title.
The game is secondary compared to the rest of spring practices, so with that in mind, here are some of the biggest answers the 15 spring sessions presented.
[+] Enlarge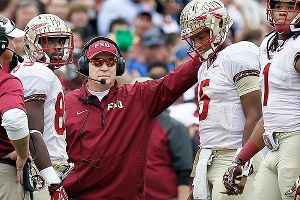 Don Juan Moore/Getty ImagesFlorida State coach Jimbo Fisher escaped the spring with a healthy roster.
1. FSU will be at full strength this fall.
In early March, Noles coach Jimbo Fisher noted how healthy his team was and how rare it is to have a squad almost entirely intact for spring practice. As the practices mounted, though, so did the injuries. The silver lining is that none of the injuries are expected to linger into preseason camp. Running backs
Dalvin Cook
and
Ryan Green
had shoulder surgery but will be 100 percent by around July.
Nick O'Leary
missed the final half of spring practices with a second motorcycle accident, but he avoided any serious injuries. There were a few concussions in camp, but
Terrance Smith
, who suffered one of them, was back for the spring game. The lone setback that could impact fall camp is the foot injury
Ukeme Eligwe
sustained, which Fisher hinted could be the dreaded Lisfranc injury, which has a tendency to persist for quite some time. The thought is he should be fine for August, though.
2. The secondary is among the best in the country.
Quarterback
Jameis Winston
said after the spring game that "we got the best [defensive] backs in the country." He should know, having thrown against the unit for much of the spring and the entire Garnet and Gold game. The secondary of
P.J. Williams
,
Jalen Ramsey
,
Nick Waisome
and
Tyler Hunter
shut down the No. 1 offense's passing attack the entire first half, and the unit was without sophomore
Nate Andrews
. Fisher said throughout the spring that Ramsey is a star-in-the-making and should become a nationally recognized name replacing
Lamarcus Joyner
. Ramsey showcased his skills by moving around at cornerback, safety and nickel during the game. Fisher and Winston are raving about freshman
Trey Marshall
, too. Williams is a star in his own right, shutting down No. 1 receiver
Rashad Greene
.
3. The receivers need to step up.
Speaking of Greene and the receivers, that position is probably the biggest weakness heading into the season. Fisher was upset with the production and consistency his receivers showcased through much of the spring, and the starting unit did not get any separation from the Noles' secondary.
Jesus Wilson
has the potential to be a playmaker from the slot, but can he replace
Kenny Shaw
's production?
Isaiah Jones
is 6-foot-4, but his production did not match that of departed 6-foot-5 receiver
Kelvin Benjamin
.
Levonte Whitfield
announced himself to the world in the national title game, but he is still needs some refinement as a receiver. The coaches can spend two hours a week breaking down film with players during the offseason, and Fisher said that will be a critical step in Florida State's development at receiver.
4. The talent is there at linebacker.
The Noles lose beloved figure
Telvin Smith
and consistent producer
Christian Jones
, but the depth at linebacker is there so those losses might not be felt all that much.
Matthew Thomas
is a budding star, and the former five-star recruit will not be kept off the field this fall.
Terrance Smith
is the leader of the unit and could be a viable replacement for Telvin Smith. Before Eligwe's injury, Fisher voiced his opinion that Eligwe was having as good of a spring as any player.
Reggie Northrup
and
E.J. Levenberry
should each see significant snaps in the rotation, and
Ro'Derrick Hoskins
could be a dangerous third-down specialist from the position.
5. Sean Maguire is a quality backup for Noles.
Earlier this spring, Winston missed a practice to travel to Clemson with the baseball team, putting the pressure squarely on No. 2 quarterback Maguire to perform at a competent level. Following the practice, the third of the spring, Fisher was lukewarm on Maguire's performance. But Maguire looked the part of a quality No. 2 option for Florida State during the spring game. The Noles got him in rhythm with three straight passes to the flats to open the game, and then Maguire dropped in a 26-yard touchdown on a post route over the defender. Maguire, a redshirt sophomore, said he made the most progress this spring than he's ever made at any point in his college career.