September, 26, 2013
Sep 26
10:15
AM ET
The Week 5 slate has a handful of conference showdowns on tap, but the weekend figures to have its share of mismatches, too. Here are a few storylines to watch as the ACC closes out the season's first month:
[+] Enlarge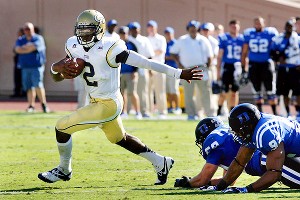 Mark Dolejs/USA TODAY SportsGeorgia Tech quarterback Vad Lee and the Yellow Jackets face a tough Virginia Tech defense on Thursday.
Vad Lee's big test:
It's been a sterling start for the Georgia Tech QB, but the test gets much tougher this week. Lee has thrown seven touchdowns and rushed for three more through three games, and Georgia Tech's offense looks primed for a big season. But Virginia Tech's defense ranks among the nation's best thus far. The Hokies lead the ACC in rushing defense (96.5 yards per game) and have allowed just two passing plays of 25 yards or more through four weeks -- the two areas the Yellow Jackets have thrived. Georgia Tech took a big step toward establishing itself as a contender last week, but if Lee can find a way to break Virginia Tech's defensive stranglehold this week, the Yellow Jackets just might be the new favorite in the Coastal Division.
As Logan Thomas goes ...:
The Hokies' offense has been brutal through four games, with Thomas shouldering the bulk of the criticism -- for good reason. He's completing fewer than 50 percent of his passes with just four TDs to go with six interceptions. But when Thomas is sharp, there's hope. On Tech's three scoring drives vs. Marshall last week, he was 10-of-13 for 106 yards. The rest of the game, he was just 8-of-10 for 75 yards. One key may be running Thomas more often. He had 23 rushing attempts against Marshall -- nearly double his total from the first three games combined.
Supporting the cause:
As big as Georgia Tech's win over North Carolina last week was in the standings, it was the message Lee and others wore on wristbands
designed to draw attention toward a push to reform NCAA regulations
on player compensation and other issues. Coach Paul Johnson said this week that there should have been a team vote before any players took such a public stand, so it will be interesting to see if Tech's protesters take a step back or if more players -- both on the Yellow Jackets and around the nation -- step up to make a stand.
North Carolina's struggles:
The Tar Heels figured to be at the top of the ACC's second tier this season, but they've hardly looked the part so far. UNC never really challenged South Carolina in a marquee nonconference opener, and the Heels blew a lead against Georgia Tech last week that puts them in an early hole in the division.
Bryn Renner
and the offense haven't been nearly as potent as the talent on the roster suggests, and the defense has struggled to stop the run all year. North Carolina tries to rebound against East Carolina this week, but the Pirates took Virginia Tech to the brink just two weeks ago and won't be a pushover.
More highlights from Crowder:
In last week's loss, junior
Jamison Crowder
ran for a touchdown, caught a touchdown and returned a punt for a score -- the first time that feat had been accomplished at Duke since 1999. The Blue Devils' defense appears to be in complete disarray, but Crowder has injected enough life into the offense and special teams that Duke has at least remained competitive -- including last week's ferocious comeback attempt against Pitt. For the year, Crowder ranks among the ACC leaders in receptions (30), receiving yards (381), touchdowns (4) and all-purpose yards (668).
Keeping the faith at NC State:
The Wolfpack nearly pulled the upset last week against Clemson, but concerns remain at quarterback, where
Pete Thomas
has yet to throw a TD pass this year. Still, NC State has kept itself afloat with a 2-1 start, and
Brandon Mitchell
could be back in a few weeks. The Wolfpack don't figure to be tested much against Central Michigan, and with a manageable schedule leading up to an Oct. 26 showdown against Florida State, Thomas simply needs to steady the ship and avoid catastrophe to keep NC State in the mix in the ACC.
Battle of the ground games:
In the past 35 games, just four players have managed to exceed 100 yards on the ground against Florida State's defense. One of them is Boston College's
Andre Williams
, who is off to a strong start in 2013. He'll be the key to any potential BC upset, but the Seminoles have plenty of weapons in their backfield, too.
Devonta Freeman
has run for more than 100 yards in each of the past two games and ranks fourth in the nation in yards per carry. Offensive newcomer
Karlos Williams
has racked up 193 yards and three scores on just 17 carries so far. Overall, FSU ranks third in the country averaging 7.2 yards per rush so far this season.
Clemson building momentum:
The general consensus after last week's near miss against NC State is that Clemson got lucky to escape with a win. A close call on what appeared to be a long touchdown for the Wolfpack was followed by a key turnover, swinging the momentum in a 26-14 Tigers win, but
Tajh Boyd
wasn't at his best and Clemson showed some vulnerability. The task against struggling Wake Forest this week will be to regain that air of invincibility, getting Boyd's Heisman campaign back on track and establishing that the Tigers are still the team to beat in the ACC.
Stephen Morris' health:
The Miami quarterback left last week's blowout win over Savannah State early with a bone bruise in his right ankle, but he insists the injury isn't serious. He said he expects to be in the lineup when Miami takes on winless South Florida this week, and it could be a good chance for him to jump-start his season. While the Hurricanes are off to a 3-0 start, Morris is completing just 53 percent of his throws and has just four touchdowns to go with two INTs. USF's D hasn't been tested much through the air so far, but the unit figures to provide a bigger challenge than woeful Savannah State.
Pitt's O vs. Virginia's D:
Aside from the blowout loss to Oregon -- a fate shared by many of the Ducks' opponents in recent years -- the Virginia defense has been solid, led by playmakers such as
Eli Harold
and
Anthony Harris
. But Virginia figures to be tested this week with an offense that might have playmakers to rival even Oregon's gaudy numbers. Pitt QB
Tom Savage
threw six touchdowns against Duke last week, while
Devin Street
,
Tyler Boyd
and
James Conner
all rank among the ACC's offensive leaders so far this season.
September, 6, 2013
Sep 6
2:00
PM ET
Clemson scored the marquee nonconference win of Week 1 for the ACC, but it was Virginia that may have pulled the biggest surprise. The Cavaliers staged an impressive fourth-quarter comeback, led by safety
Anthony Harris
' late interception against BYU. New coordinator Jon Tenuta had his defense playing exceptionally well, but the test gets much bigger in Week 2 when Oregon travels to Charlottesville. We chatted with Harris about what's in store this weekend.
[+] Enlarge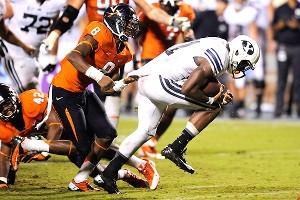 Rafael Suanes/USA TODAY SportsAfter a big win over BYU, Anthony Harris' Cavaliers will get a big test from Oregon's explosive offense on Saturday.
Last week was a big win for you guys, spearheaded by the defense. Has there been a lot of excitement about the performance this week?
Anthony Harris:
Yeah, we're very excited. We would've liked to have held them a little more in a few categories, but we think we played well at some times and came up big for our offense. [And we] were able to get the ball back when we needed to and stop them on a couple key third-down plays.
Q.
What has Jon Tenuta brought to the unit that has made such an instant impact?
A.
Coach Tenuta is a great guy. With him, it's always just go, go, go. Play fast. You want to dictate to the offense how the tempo of the game may go, what you do up front as far as different pressures and movements. He expects nothing but the best out of you. He talks about effort a lot, talks about penetration and stuff like that. He brought this whole mental aspect of we're going to play hard, play fast and know your assignment.
Q.
You had a huge game against BYU, winning Walter Camp defensive-player-of-the-week honors, but a lot of your teammates had impressive performances, too. How good do you think this defense can be?
A.
Yeah, this past Saturday we had a lot of guys step up for us.
Maurice Canady
in the nickel did a great job playing some man and some zone coverage. [He] had a bunch of tackles (a team-high 13). The defensive line as a whole did a great job. A lot of different guys showed up around the ball, putting pressure on the quarterback.
Eli Harold
did a good job for us. And we think Saturday was just a glimpse of how good we really can be. We've got to iron out a few kinks, a few wrinkles, but we're just looking to move forward onto this week and continue to get better.
Q.
Oregon's up-tempo style is going to be a huge challenge. Last week, they ran 71 plays in less than 20 minutes of possession time. Is there a way to slow that down?
A.
You've got to make sure you take care of assignments. Be in position and make the play when you're in position to make the play. You can't allow them to get in that tempo when they get big gains and have a big play. And in order to counter-act that, you have to try to stop them by taking away [what] they're looking for, try to get them in third-and-long, second-and-long, and that limits their play selection. And it takes them a little longer to get to the ball to make sure they get the play they want.
Q.
The win over BYU was big for you, but would stopping that Oregon offense establish Virginia's D as one of the top units in the ACC?
A.
This is a big game for us. With Oregon coming in, they're a nationally-known team. We feel we have some good players on this team [who] can play at some of the highest levels. We're just going to work hard and continue to do what we do. [We will] focus in on them and what they do on offense and defense, and go out there and lay it all on the line.
September, 4, 2013
Sep 4
12:00
PM ET
Julie, hey, guess what day it is ... Hump day!
Here's a great story from the Miami Herald on Hurricanes' running back
Duke Johnson
, who is
driven by promises he made to his mother
.
Everyone fell in love with
Jameis Winston
in Florida State's opener, but Tomahawk Nation points out that there is
ample reason for concern about the Seminoles' defense
.
If there's a silver lining to Pitt's loss to Florida State, it's that the Panthers
identified a few serious playmakers
-- namely freshman
Tyler Boyd
, writes the Tribune-Review.
After a horrendous opening-week performance, Virginia Tech's receiving corps has a lot of work to do
to win back the trust
of QB
Logan Thomas
.
Virginia sophomores
Eli Harold
and
Maurice Canady
have
grown into big roles on Jon Tenuta's defense
, writes the Daily Progress.
Wake Forest's defense is
expecting a serious test
when it opens ACC play against Boston College, writes the Winston-Salem Journal.
Look for
Andre Williams
to carry a hefty load
for Boston College this weekend, writes the Boston Herald.
C.J. Brown
reveled in his comeback from an ACL injury, but
he's ready to turn the page
and focus on Old Dominion, according to the Washington Post.
The Tar Heel Blog
wonders if it's fair to suspend
UNC offensive lineman
Kiaro Holts
for his seemingly cheap shot on
Jadeveon Clowney
in the opener.
The loss to Penn State
doesn't necessarily tell us a lot
about what Syracuse has in store for Northwestern, writes the Troy Nunes blog.
This week's game against South Carolina State figures to be an easy one for Clemson, which
opened as a whopping 52-point favorite,
writes the Charleston Post & Courier.
Paul Johnson is nothing if not a quintessential football coach. He
managed to find plenty to work on
after Georgia Tech's historic 70-0 win over Elon, writes the Atlanta Journal-Constitution.
September, 4, 2013
Sep 4
9:00
AM ET
Eli Harold
watched the South Carolina game last week with his eyes locked on superstar
Jadeveon Clowney
. Harold is in awe of the Gamecocks' pass rusher and he said he watches YouTube highlights of Clowney on a regular basis.


But something about Clowney's play against North Carolina's hurry-up offense last week rattled Harold. Clowney, who has been pegged as a sure-fire first-round NFL draft pick, was tired. It was an image striking enough to have Harold still on edge when he began gasping for breath Saturday against BYU.
"That guy's my idol, and I look up to him, but I didn't want to be as hurt as he was against North Carolina when they ran their no-huddle," Harold said. "I just said to myself, I don't want to be that guy that's bending down, touching my knees."
Harold and the rest of the Virginia defense managed to keep their composure Saturday in a stunning finish against BYU, but the task only gets tougher in Week 2. Yes, BYU ran an up-tempo attack, but it's nothing compared to the light-speed offense Oregon employs.
Nevertheless, Harold said he's confident he won't have his hands on his knees, sucking wind, when the Ducks click things into high gear.
"Even though Oregon runs it that much faster, I think we showed on film we can handle it and be in good shape," Harold said. "I think we're ready to play against that even that much more of a high-paced offense."
The confidence starts with a good game plan, and Virginia defensive coordinator Jon Tenuta said he has been breaking down film on Oregon since last season ended.
While the up-tempo, zone-read offenses are all the rage, Tenuta said few teams can match the speed with which Oregon runs it. What's worse is the rapid-fire offense keeps Tenuta from substituting on defense, meaning it will be a significant test of endurance for his players.
"You have to be pretty sharp in when and where you can sub," Tenuta said. "When you're sucking air, you're sucking air."
[+] Enlarge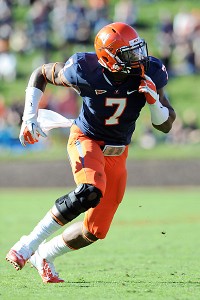 AP Photo/University of VirginiaDefensive end Eli Harold, who had two sacks in the Cavaliers' opening win over BYU, thinks Virginia is ready for Oregon's high-paced offensive attack.
With that in mind, Tenuta has had his defense work against the first-team offense in no-huddle situations throughout fall camp, and the scout team has worked with a two-huddle system to recreate the tempo Oregon will run.
If Virginia can keep pace from a cardiovascular standpoint, the next step is finding a way to throw speed bumps in front of the Ducks' offensive machine. That's simply a matter of execution, according to safety
Anthony Harris
.
"You've got to know your assignment, take care of your assignment each play, and you've got to tackle well," said Harris, who was named the ACC defensive back of the week after his 11-tackle performance against BYU. "You've got to be tackling down to the ground."
The pass rush figures to be the other piece of the puzzle. Harold said it's imperative the line disrupts Oregon's downhill attack, forcing the Ducks to the sidelines and taking them out of their rhythm.
"Look at the teams that beat Oregon in the past," Harold said. "They just shoot their gaps and get a lot of penetrations. If you stop them from running up the middle where they want to run the ball, get them to bounce it outside, just set the edge and penetrate, we can really stop those guys."
The final key is for the Virginia offense to keep Oregon's gunslingers off the field. That's a concern on two fronts. For one,
David Watford
and the Cavaliers mustered just 223 yards of offense last week. Secondly, Oregon doesn't need much time to make some big plays. In their opener, the Ducks held the ball just 19:42, and still ran 71 plays.
But if the numbers seem stacked against Virginia, Harold isn't worried. He knows it will be a test, and he's used to the role of underdog. The way he sees it, Oregon represents a chance for his defense to make its mark.
"I'm not afraid of anybody," Harold said. "I don't care who we're playing. I'm up for the challenge. I want to see what all the hype is about. I take a lot of pride in playing this team this weekend, and I can't wait."
August, 8, 2013
Aug 8
10:18
AM ET
Today we look at the
Virginia Cavaliers
, who look to rebound after finishing last in the Coastal in 2012.
Virginia Cavaliers
Coach:
Mike London (40-26 overall, 16-21 at Virginia)
2012 record:
4-8 (2-6)
Key losses:
QB Phillip Sims, QB
Michael Rocco
, RB Perry Jones, DT Chris Brathwaite, LB Steve Greer, LB LaRoy Reynolds
Key returnees:
RB
Kevin Parks
, LT
Morgan Moses
, WR
Darius Jennings
, CB
Demetrious Nicholson
, S
Anthony Harris
, DE
Jake Snyder
[+] Enlarge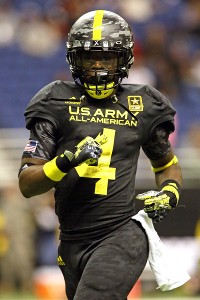 Soobum Im/USA TODAY SportsWith questions at quarterback, the Cavaliers may need Taquan Mizzell to help in the run game quickly.
Newcomer to watch:
RB
Taquan Mizzell
. The talented tailback, nicknamed "Smoke" because of his elusiveness on the field, is perhaps the top recruit London has landed at Virginia. With veteran runner Parks on the roster, Mizzell won't need to carry the load in his first season, but given the serious question marks at quarterback, the Cavaliers figure to run the ball often. Mizzell's speed and athleticism should make for a valuable weapon immediately, and if the offensive line can take a step forward, he could be one of the league's top rookies in 2013.
Biggest games in 2013:
vs. Oregon, Sept. 7; vs. Clemson, Nov. 2; at Miami, Nov. 23; vs. Virginia Tech, Nov. 30
Biggest question mark heading into 2013:
It's London's fourth season at Virginia, and he's facing his fourth quarterback battle. That's an unlikely scenario given the talent on the depth chart at the position just a year ago, but the transfer of Rocco and the dismissal of Sims served to reshuffle the deck once again. Redshirt sophomore
David Watford
looks to be the favorite to grab the starting job. He's more athletic than redshirt freshman
Greyson Lambert
, which could be a necessity given last year's woes on the offensive line, and Watford did gain limited playing time in 2011.
Forecast:
London's tenure at Virginia started well enough, but the Cavaliers have now lost 10 of their past 14 games, and the hot-seat rumors have begun for the coach. Add in the serious questions at quarterback and a tough early slate that includes nonconference games against BYU and Oregon, and things could get ugly fast for Virginia.
Still, there is reason for optimism. Mizzell may be the most talented runner Virginia has had in a decade, and with Parks back after racking up nearly 1,000 yards from scrimmage last season, the running game should be a strength. Meanwhile, the offensive line certainly left ample room for improvement a year ago, but Moses is one of the conference's top blockers and the unit does return four starters.
A massive overhaul of the coaching staff also figures to shake things up in Charlottesville, and none of the new faces will bring as much enthusiasm as new coordinator Jon Tenuta. He has built a reputation for being aggressive, and after finishing 2012 dead last in the ACC in takeaways, that's good news for the Cavaliers. Last year, Virginia defenders managed just four interceptions all season. A strong and experienced secondary should make it easier for Tenuta to use blitz packages liberally, and a solid group of pass-rushers led by Snyder and
Eli Harold
figure to be an improvement on last year.
Of course, the biggest challenge Virginia may face is not simply improving its own production on both sides of the ball, but the daunting schedule. In addition to the grueling nonconference start, Virginia wraps up the year with November showdowns against Clemson, Miami and Virginia Tech. A loss in 2013 would be the 10th straight to its in-state rival.
March, 25, 2013
Mar 25
3:30
PM ET
If you're just joining us, this series is categorizing the unranked teams in the ACC as either contenders or pretenders heading into the 2013 season. We're leaving out Florida State and Clemson because they are the only two teams from the ACC expected to be ranked this preseason. Those rankings automatically qualify them as contenders. The Hoos are up next.

Why they're contenders:
Virginia returns a majority of its starters on offense and defense, so the Hoos should be a much more experienced team heading into the season. Though
Perry Jones
is gone from the running backs, a deep and talented group remains with
Kevin Parks
,
Khalek Shepherd
and
Clifton Richardson
having all played significant minutes in games. Then there is the much-anticipated arrival of five-star running back Taquan Mizzell. The receivers should be better, too, with the top five players from a year ago all returning. Yes, there are questions at quarterback, but there is some major talent on this team. A new coordinator in Steve Fairchild should help them put up more than 396 yards of total offense per game. Defensively, the secondary should turn into an area of strength with four returners. The defensive line has an opportunity to build on some of the progress it made toward the end of last season with
Jake Snyder
back at one end and
Eli Harold
set to start on the other side after a promising freshman season.
Why they're pretenders:
OK, so I downplayed the quarterback questions in the first category. The Hoos have to pick one starter and go with him instead of playing musical quarterbacks if they want to try to find any semblance of consistency at this position. Easier said than done for sure.
David Watford
,
Phillip Sims
and
Greyson Lambert
are all competing for the starting job. Quarterback questions aside, this offense is not going to function the way it wants without a solid running game. The offensive line was not an area of strength last year. With Jones and
Oday Aboushi
gone, can the Hoos get back to the production they had on the ground in 2011? Defensively, losing
Steve Greer
in the middle is a huge blow, considering how sure of a tackler he was for this team throughout the course of his career. The pre-spring depth chart has strongside linebacker
Henry Coley
moving back to the middle. At least the Hoos will have an experienced player there. But linebacker is definitely a question mark heading into the season. Depth at defensive tackle also is an issue, particularly after the loss of
Chris Brathwaite
, who is no longer on the team.
Final verdict:
I expect the Hoos to be much improved this year, but they remain a pretender. First, there are too many unknowns at quarterback. Second, the schedule is difficult. And third, there has been an overhaul to the entire coaching staff. How will this impact the offense and defense?
More in this series
November, 27, 2012
11/27/12
1:30
PM ET
Miami running back
Duke Johnson
and Florida State cornerback
Ronald Darby
have been
honored as the best rookies in the ACC
, according to a vote of 46 members of the Atlantic Coast Sports Media Association.
Johnson was named the overall and offensive rookie of the year while Darby won the defensive rookie of the year.
For those of you who follow me on Twitter @ESPN_ACC, you know on Saturday I gave Duke Johnson a full endorsement after his performance against Duke. There's no question Maryland's
Stefon Diggs
was in a neck-and-neck race with Johnson all season -- in fact I gave the mid-season ROY honor to Diggs -- but in the end, Johnson's breakout season won out.
He became the first Miami player to win the rookie award after he broke Clinton Portis' 13-year-old school rushing record for freshmen, ending the year with 947 yards. He also led the ACC by averaging 33 yards per kickoff return, and his 2,070 all-purpose yards are the most by a Hurricanes freshman and second only to Willis McGahee's 2,108 in school history.
"It means a lot being the first in Miami history to win this award," Johnson said in a prepared statement. "And it means so much to me and the team because I couldn't do it without my teammates. And this is just another way to make my mom proud and show how I really appreciate the sacrifices she made for me when I was younger."
Here are the official voting results:
ROOKIE OF THE YEAR
Duke Johnson, RB, Miami (34)
Stefon Diggs, WR, Maryland (11)
Vad Lee
, QB, Georgia Tech (1)
OFFENSIVE ROOKIE OF THE YEAR
Duke Johnson, RB, Miami (35)
Stefon Diggs, WR, Maryland (10)
Vad Lee, QB, Georgia Tech (1)
DEFENSIVE ROOKIE OF THE YEAR
Ronald Darby, CB, Florida State (14)
Deon Bush
, S, Miami (9)
Jabari Hunt-Days
, LB, Georgia Tech (8)
Eli Harold
, DE, Virginia (5)
Michael Cole
, S, Virginia Tech (4)
Maurice Canady
, CB, Virginia (4)
Dwayne Norman
, S, Duke (2)
November, 9, 2012
11/09/12
12:00
PM ET
November, 9, 2012
11/09/12
11:00
AM ET
Here are the ACC injury reports for Week 11 from the schools that emailed them:
Clemson
Probable
Out for the season
Miami
Doubtful
Out
Surgery/Out for the season
North Carolina
Out
NC State
Questionable
Out
Out for the season
Virginia
Probable
Questionable
Doubtful
Out
Out for the season
October, 30, 2012
10/30/12
3:00
PM ET
The main point of emphasis at Virginia during is bye week: get the little things right.
No more silly penalties.
No more turnovers.
Cut down on the mental errors.
Execute the way you know how.
"I think it comes down to being smart football players," linebacker
Steve Greer
said on a conference call Tuesday. "When you have a lot of penalties and assignment errors and stuff like that, it comes down to mental breakdowns. That's why we we're stressing doing the little things right and executing. Those little things, when they show up in games it's big. That's what it comes down to, be smart football players, do your job and execute. When you do that, it helps your team out a lot."
Greer and his team know what is at stake. The Hoos (2-6) have lost six straight and must win out to get to a bowl game. A loss would make this UVa team the first to lose seven games in a row since the 1981 squad started its season off 0-7.
They get their first chance to start a winning streak Saturday against NC State, hoping the extra week to prepare will be a huge advantage. But it will not be an easy task trying to win the next four games. Every opponent left on the schedule has a record of .500 or better.
What has been particularly frustrating has been seeing all the untimely mistakes, and inconsistency on offense. Virginia ranks last in the nation in turnover margin (minus-16) and No. 11 in the ACC in penalties. The offense has not been able to run the ball as well as a season ago, and ranks No. 10 in the ACC in scoring offense.
Those errors have masked improvements on defense, a unit that has seemingly turned the corner in recent weeks. Virginia ranks No. 3 in the ACC in total D and has gotten better play up front. The one area that still remains a concern is the secondary -- Virginia has managed just one interception all season.
But keep in mind the Hoos are a very young team and that has contributed to their overall struggles.
"Any time you're not wining as much as you want, it's frustrating, but you've got to keep showing these young guys the right way to do stuff," Greer said.
Plenty more young guys will get opportunities as the season winds down. Coach Mike London said true freshman defensive end
Eli Harold
will start against the Wolfpack. In addition, sophomore linebacker
Daquan Romero
will start in place of
Henry Coley
, who has been suspended indefinitely along with reserve receiver
Jeremiah Mathis
and fullback LoVante Battle.
Behind Romero, London said freshman Demeitre Brim will get playing time. On the depth chart for the Wolfpack game, Virginia lists five senior starters.
"We are close to or at that point of making sure that the players we talk about and that you see in the two deep, that they gain some of that game experience," London said. "But first things first for us is to put us in a position where we can earn, we can get a victory, and then hopefully hang onto another opportunity. These are a series of one game playoffs or however you want to call it. These games are Bowl games for us right now. We have to win these games that are this game that's being presented to us. That's how we have to look at it."
October, 19, 2012
10/19/12
12:00
PM ET
August, 23, 2012
8/23/12
4:00
PM ET
Now that we are closing in on the start of the season, we have a much better idea of how many true freshmen could make an impact in the ACC this season based on preseason practice time and early depth charts.
Maryland could end up playing the most, and having players who make the biggest impact. You have quarterback
Perry Hills
starting in place of the injured
C.J. Brown
. Highly touted athlete
Stefon Diggs
has had an outstanding preseason camp. Don't forget about running backs
Albert Reid
and
Wes Brown
, who also have looked really good.
Here are a few young players to keep an eye on at each school.
Boston College: Justin Simmons, DB.
Defensive back is an area where Boston College needs help, especially after the loss of
Al Louis-Jean
, who's out six to eight weeks with a foot injury. Simmons already has made his presence felt. In a scrimmage last weekend, he had two interceptions. Also watch for defensive back
Bryce Jones
and linebacker
Steven Daniels
.
[+] Enlarge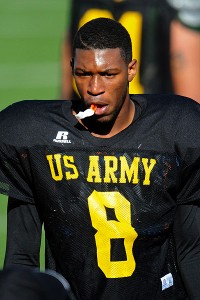 John Albright / Icon SMI The versatile Travis Blanks may line up at a number of positions on defense for the Tigers.
Clemson:
Travis Blanks, DB.
One of the top defensive backs in the country out of high school, Blanks enrolled early and had an impressive spring showing. He has followed that up with a great preseason, and will line up in a variety of positions -- nickelback, cornerback and some linebacker as well. On offense, watch for
Germone Hopper
, who has had some pretty explosive plays this fall.
Duke: Jela Duncan and Shaquille Powell, RBs; Ross Martin, PK.
Duncan and Powell have turned heads during the preseason, and coach David Cutcliffe said he would feel comfortable using both players in the opener against FIU. Martin is sure to get plenty of game experience as the starting kicker this year. Others to watch: receiver
Max McCaffrey
, tight end
Erich Schneider
and safety
Dwayne Norman
, who had an interception return for a touchdown in one scrimmage.
Florida State:
Ronald Darby, CB.
Do not be surprised if Darby ends up starting in the spot vacated by
Greg Reid
. Darby and
Nick Waisome
are competing for the starting job. Coaches like both players, but there is
something special
about Darby. Said coach Jimbo Fisher: Darby is "going to be a very, very good one." Also watch for defensive tackle
Eddie Goldman
and tight end
Christo Kourtzidis
.
Georgia Tech:
Anthony Autry and Micheal Summers, WR.
Georgia Tech only has four other scholarship wide receivers, so that increases the chances for Autry and Summers to play this season. Autry seems to have a slight edge over Summers. Others to watch: defensive back
D.J. White
.
Maryland:
In addition to Hills, Diggs, Brown and Reid, several others could make an impact this year. Punter
Brad Craddock
is competing for the starting position with redshirt freshman
Nathan Renfro
; and cornerback
Sean Davis
could be starting on opening day because he has done well, and there are some injuries on defense.
Miami:
Ereck Flowers, OL.
Flowers is listed as a starter right now at right tackle, helped in part because of
Seantrel Henderson
's absence. Offensive line coach Art Kehoe has been
extremely impressed
. Others to watch: defensive back
Tracy Howard
and running back
Duke Johnson
. Howard is listed on the two-deep behind
Ladarius Gunter
but has drawn raves so far and so has Johnson, who should also return kickoffs this year.
Deon Bush
is in the mix for a starting safety spot.
North Carolina: Quinshad Davis, WR.
Davis missed some early practice time because of a medical issue but has returned in the last week and has a big chance to make some noise. The Tar Heels are lacking depth at this position, and the way Larry Fedora likes to spread the ball around, he will take as many good receivers as he can.
NC State:
Charlie Hegedus, WR.
Receiver is a position of need for the Wolfpack, and Hegedus has seen more reps during fall camp with the injury to
Bryan Underwood
. One player NC State hopes you do not see this year is backup quarterback
Manny Stocker
, a true freshman behind veteran
Mike Glennon
.
Virginia:
Maurice Canady, CB.
Coaches are extremely high on Canady, who is in the mix to earn a starting spot in a secondary that has to be rebuilt this year. He has been working with the first team recently. Others to watch:
Michael Moore
at outside linebacker, and
Eli Harold
at defensive end.
Virginia Tech: J.C. Coleman, RB; Donaldven Manning, DB.
Both players enrolled in January and are virtual locks to play this season. Coleman has separated himself from another true freshman,
Trey Edmunds
, despite a hand injury. He has had an outstanding fall camp. Manning has had to deal with a hamstring injury, but his early enrollment works in his favor.
Wake Forest:
The Deacs rarely play true freshmen. But if there is one player who has a shot this year, it is defensive end
Tylor Harris
, who has stood out this fall for his pass-rushing ability -- something Wake Forest needs help improving this year.
ACC SCOREBOARD
Saturday, 12/21
Monday, 12/23
Tuesday, 12/24
Thursday, 12/26
Friday, 12/27
Saturday, 12/28
Monday, 12/30
Tuesday, 12/31
Wednesday, 1/1
Thursday, 1/2
Friday, 1/3
Saturday, 1/4
Sunday, 1/5
Monday, 1/6
Tweets from @ESPNCFB/acc