December, 29, 2011
12/29/11
6:10
PM ET
ORLANDO, Fla. — Here are a couple of items worth nothing as we approach kickoff:


Ethan Johnson, Louis Nix and Aaron Lynch took reps with the first-team defensive line. This is as healthy as the group has been since the middle of the season. Johnson says he is fully recovered from a sprained right ankle that sidelined him for four games this season, and freshman end Stephon Tuitt is expected to be fine after missing the last two games because of an illness. Against an undermanned Florida State offensive line, this could be key.
Seminoles coach Jimbo Fisher was given a one-year contract extension earlier today, locking him up through 2016.
This crowd is PUMPED. The fans went wild during a few pee-wee touchdowns when kids took the field before the game, and several parachuters into the stadium only amped them up even more. Hopefully the play on the field can live up to the excitement.
December, 29, 2011
12/29/11
10:33
AM ET
A pre-January bowl meeting and regular seasons that failed to meet lofty preseason expectations have provided no hiding for Brian Kelly and Jimbo Fisher. Just look at Wednesday, when the second-year head coaches were asked during their final pre-bowl press conferences about restoring their respective programs back to glory.
No, a Dec. 29 finale in the Champs Sports Bowl is not what Notre Dame or Florida State had in mind when summer talk focused on BCS bowl berths and returns to greatness. But the pair of 8-4 teams have found consolation in the opportunity to take down the other and go into 2012 on a high note.
[+] Enlarge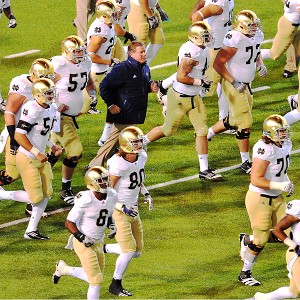 Matt Cashore/US PresswireNotre Dame coach Brian Kelly cited a bowl game's value in building team chemistry.
"I think it starts with the ability to keep your football team together for another month," Kelly said of what it will take bring Notre Dame back to its prominent status. "The ability to build more relationships and bonds with your players. You're still evaluating and giving opportunities to freshmen that may not have that chance to go out and prove themselves. I think there's a lot of things that go into having a bowl game. The game itself as a win/loss is not going to change the direction of your program. Certainly it's going to make you feel good about yourself going into the offseason, but all of those other things are much more important than actually singularly one game."
Said Fisher, in response to a similar question: "Recruiting, a little bit of luck, and staying healthy. You have to understand the culture. It's not been two years or three years since we've been on the top, it's been 10. That's something we have to change. I've said all year that I've been pleased with how our players practice. Their effort, their tenacity, they break out the distractions. And then the football gods have to be on your side a little bit, too. Sometimes the ball's got to bounce your way. We've got a good recruiting class this year and I think we'll have another great year next year. And hopefully a great game tomorrow."
Ten turnovers and two mind-boggling defeats to start 2011 all but sealed Notre Dame's fate for Orlando, Fla., from the early going. An 8-2 finish that featured a brief return to the national rankings showed what the Irish were capable of, but the sour taste from an 0-2 start lingered.
Florida State, meanwhile, saw a 2-0 start give way to three consecutive losses, dampening its BCS-bowl hopes and, like the Irish, leaving many to wonder what could have been.
The offensive-minded Kelly saw the Irish notch at least 500 yards of offense five different times this season, as they averaged better than 45 more yards per game than a season ago. But that was tempered by 26 turnovers and the fact Notre Dame is closing the season with another quarterback controversy (
Tommy Rees
or
Andrew Hendrix
), albeit a different one from the beginning of the campaign (Rees or
Dayne Crist
).
"I would look at it as we're still evolving," Kelly said. "From last year to this time there has been a process of evolution for our entire offense and it's still ongoing. It's ongoing as we speak relative to our offensive players understanding our system and of course in the recruiting area."
The Seminoles saw their growth on the defensive side of the ball, where they finished the regular season sixth in the nation in total defense, fourth in points allowed and second against the run — way up in all categories from last season (when they finished 39th, 24th and 26th, respectively).
"Are we disappointed about the wins?" Fisher said. "Yes, we wish we would've won more games. I mean, you'd like to win them all. But for a young football team to deal with distractions, with criticisms, the things that come with not winning as many games as you'd like to, they never lost faith in each other. In fact, it maybe made them closer. I feel very good about the future."
But the future must wait until this season is finished, and Thursday's matchup will provide one last opportunity for each side's seniors to end their careers on high notes.
And for Notre Dame, it's a chance to notch a nine-win campaign for the first time since 2006, before any current players came aboard.
"I feel like it's all that matters," senior end Ethan Johnson said of win No. 9. "It's all that matters. It's what we're focused on right now. Everyone says you take each game as it comes. That's very true. But there's a limited amount of time you can focus on each game in a season. And for this game we've had a long time to focus on it, and we're going to stay focused on it, and we're gonna continue to work and prepare and get ready to play our best football. And there's no reason why we shouldn't do that. No reason why we're not going to do that. We're going to do that.
"We're gonna continue to focus and practice hard and have fun while we're doing it. But yeah, it's really all that matters is getting this win, especially for the seniors. For the juniors, sophomores, freshmen, high school kids coming in — we're all pulling for it and we're all just gonna do the best we can because I came here my freshman year. And I'm a guy who believes you leave something better than it was when you came. I definitely wanna do that. I wanna leave this place better than when I found it."
November, 19, 2011
11/19/11
4:46
PM ET
SOUTH BEND, Ind. — Notre Dame will be missing a starter on each side of the ball today, as both receiver
Theo Riddick
(hamstring) and lineman Stephon Tuitt (illness) will not play.
Riddick, a junior, was in a sweatshirt and sweatpants during warm-ups and is missing his second straight game.
Robby Toma
will likely make his second straight start in Riddick's place, though it's possible senior
John Goodman
could see the field first since it's Senior Day.
The news of Tuitt comes as more of a surprise, as Notre Dame announced he would not be playing just minutes ago. Fellow freshman Aaron Lynch will start in his place, with Ethan Johnson manning the other defensive end spot.