September, 23, 2013
9/23/13
11:00
AM ET
Here is one last look back at the week that was in the ACC.
The good
: Perhaps Clemson teams of the past would have faltered when adversity struck early Thursday in Raleigh, N.C. But the defensive line stood up, and the offense made plays when it needed to, turning a close contest into a more comfortable 26-14 win, allowing the Tigers to remain the ACC's most likely national title contender.
[+] Enlarge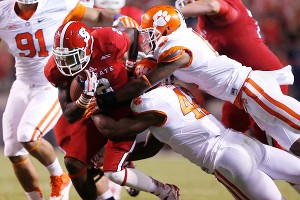 Ethan Hyman/Raleigh News & Observer/MCT via Getty ImagesThe Clemson defense played well in the win over North Carolina State.
The bad
: Pitt's defense avoids this distinction only because Duke's was worse. The Panthers escaped Durham, N.C., with a 58-55 win Saturday for their first ACC victory. The Blue Devils surrendered 598 yards of offense and did not force a single turnover, while committing four themselves. Duke coach David Cutcliffe said Sunday that he had never been a part of any game like it before.
The ugly
: Virginia Tech beat Marshall 29-21 in three overtimes to get to 3-1. The first two overtimes featured no scores. The game had five total turnovers. Marshall committed 11 penalties. Oh, and both kickers combined to go 0-for-5 on field goal attempts, with the Hokies'
Ethan Keyserling
going 0-for-3 while replacing
Cody Journell
, who was suspended for an unspecified violation of team rules. The one bright spot was
Derrick Hopkins
coming oh-so-close to a walk-off fat guy touchdown after a
Rakeem Cato
fumble in overtime No. 2.
The wake me when it's over
: The fourth quarter of Miami's 77-7 win over Savannah State was shortened to 12 minutes, as mutually agreed upon by both coaches. What more needs to be said about this matchup?
The wake me when it's over, Parts 2 and 3
: In case one FCS beatdown wasn't enough for you, Virginia beat VMI 49-0 and Florida State beat Bethune-Cookman 54-6. For those keeping count, that's a combined 180-13 margin for the three ACC squads against FCS foes this past weekend.
The rebound
: Wake Forest needed a win in the worst way, and the Demon Deacons came through Saturday at Army.
Josh Harris
had two second-half touchdowns and
Nikita Whitlock
notched 14 tackles, giving the Deacs a 25-11 win before they prepare to head to Clemson this week.
The statement
: Nice little stories don't force six turnovers and beat West Virginia 37-0. They don't hold the Mountaineers to six first downs and 175 total yards of offense. And they don't start 4-0. It may be time to take Maryland seriously after its rout of WVU, as the Terrapins are two wins shy of their previous two-year total under Randy Edsall, who refused to call the win a signature one but is surely pleased with his team's start this season.
The what-could-have-been
: Hindsight is 20/20. We don't know how ready
Terrel Hunt
would have been to start for Syracuse in the season opener. And Wagner and Tulane are not as good as Penn State and Northwestern. That said, the loss to the Nittany Lions was a winnable game. And Hunt's two starts after the Orange's first two losses with
Drew Allen
under center have been great, as he completed 16 of 21 passes Saturday against the Green Wave for 181 yards and four touchdowns. He added 39 yards and another score on the ground, and he did not turn the ball over. Hunt,
as Anish Shroff pointed out
, has the highest Total QBR rating in the country, though he has not played enough yet to qualify for the top spot.
The stand
: Georgia Tech improved to 2-0 in the conference with a 28-20 home win over North Carolina, and it did it with its defense. The Yellow Jackets trailed by 13 twice in the first half. But they held the Tar Heels without a point over the game's final 39-plus minutes and held UNC to just 319 total yards of offense.
September, 7, 2012
9/07/12
11:00
AM ET
Here are the injury reports from the schools that emailed them (ACC schools don't have to give injury reports for nonconference games, and not all schools release them to the media anyway):

DUKE

PROBABLE
OUT
OUT FOR SEASON
FLORIDA STATE

OUT
OUT FOR THE SEASON
MARYLAND

OUT FOR THE SEASON
OUT
QUESTIONABLE
PROBABLE
MIAMI

OUT
NORTH CAROLINA

OUT
VIRGINIA TECH

OUT FOR SEASON
OUT
QUESTIONABLE

August, 27, 2012
8/27/12
12:30
PM ET
Virginia Tech's season opener against Georgia Tech is just a week away, and the Hokies are still unsettled at a few positions. Coach Frank Beamer held his first weekly teleconference of the season on Monday, and addressed some of the few position battles still remaining:
RIGHT GUARD:
Michael Via
, a redshirt senior, has lined up at every position on the offensive line during his career, but he will compete with
Brent Benedict
, a redshirt sophomore, for the starting job at right guard this week. "He's the guy we've got a lot of confidence in," Beamer said. "He's smart, he can play all of them. ... We'll practice both of them and see who starts and who's the backup."
PUNTER
: The Hokies are counting on two freshmen walk-ons at punter, and the competition between
A.J. Hughes
and
Hunter Windmuller
continues.
"We've got their stats over the preseason, and their times are about equal -- their operation time, their hang time, their distance," Beamer said. "Hughes is listed No. 1, Windmuller No. 2, and that's how I think of it right now, but I tell you, we're going to continue this week. Both of them certainly have had their moments. They're two good punters, I can tell you that."
KICKOFFS:
The Hokies are still trying to replace kickoff man Justin Myer, and
Michael Branthover
,
Cody Journell
and
Ethan Keyserling
continue to push each other, along with freshman
Brooks Abbott
.
"They've all done very well, along with Abbott," Beamer said, "but we're going to next couple of days figure out who's going to be our kickoff guy."
NOTE:
Beamer also said that linebacker
Tariq Edwards
(knee) will not play in the opener.
Bruce Taylor
will start in his place.
May, 11, 2011
5/11/11
3:30
PM ET
By
ESPN.com staff
| ESPN.com
Virginia Tech receiver
Danny Coale
realizes it's unusual -- just not to him.
Coale couldn't tell you the names of any athletes who have doubled as a starting receiver and a starting punter. They're certainly not easy to find. Rutgers'
Mohamed Sanu
, who is a starting receiver, Wildcat quarterback and kick returner for the Scarlet Knights, practiced as first-string punter this spring. And Pat McInally was both a starting receiver and punter at Harvard and went on to a long career as a punter with the Cincinnati Bengals.
[+] Enlarge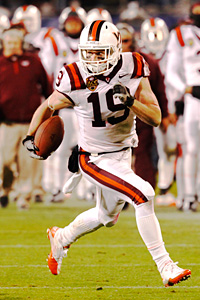 AP Photo/Chuck BurtonVirginia Tech wide receiver Danny Coale might be the Hokies best option at punter.
If there are any more, it has to be a short list. And Coale might add his name to it this fall.
For the second straight season, Virginia Tech needs to find a punter. Scott Demler, Ethan Keyserling, Conor Goulding and Grant Bowden are all options. So is Coale, who averaged a team-best 18.8 yards per catch last year and enters his final season already ranked among the top 10 in school history in receptions and receiving yards.
While it might seem a bit surprising to those who only know Coale as a receiver, punting is a passion he's had since he was in middle school.
"It wasn't just something I did," he said. "It was something I took pride in. I tried to make the ball turn over. I tried to get some height on it and things like that in high school. It's something I've always loved doing."
Coale was a jack-of-all trades at Episcopal High in Alexandria, Va., where he also returned punts and kickoffs in addition to punting and placekicking, and playing receiver and defensive back.
"Whenever I'd go to the park or the field to throw the football with my dad, we'd always punt a few at the end," he said. "It was something he did and he kind of taught me the basics to it. I told myself when I committed here that if I ever had the opportunity to do something like this, I would try."
This spring, he got that opportunity.
Coale said he asked defensive coordinator Bud Foster, who recruited Coale out of high school, if he could try to punt for the Hokies. Foster approved, and the next day Coale gave it a shot. He ended spring ball with a legitimate chance at earning the starting job this fall.
"I'm lucky and thankful I did get the opportunity to," he said. "We do have four or five other punters so to get in the rotation and the mix and actually be able to punt some in the spring game I thought was pretty awesome. I'm really thankful coach (Frank) Beamer did give me the opportunity to do that."
Rusty?
"Absolutely," he said.
Coale hasn't punted behind a live line since high school, and only has done it about a dozen times since he came to campus, and even then it was just fooling around.
"It will take a lot more work to sharpen everything, but I'm willing to do that," he said.
If he were to win the starting job, Coale said he doesn't think it would take anything away from the goals he wants to accomplish in his final season as a receiver. Instead, he said, he thinks it can add to the team.
"If I can get everything down, if I can get quickness, get the ball out, and all those things a punter needs to do, I could help the team there," he said. "Finding that balance is going to be interesting and probably something I won't really grasp until camp starts in the fall."
This past spring, Coale would practice punting during the special teams period at the beginning of practice, and then leave to be with the receivers. He would return to punting again during a team period in the middle of practice.
"I'm far from being great at it, or even good at this point," he said, "but if I can try and get some things done and sharpen it up, hopefully I'll be able to help us out a bit."
And there's certainly nothing unusual about Coale lending a hand.
May, 5, 2011
5/05/11
6:30
AM ET
By
ESPN.com staff
| ESPN.com
2010 overall record:
11-3
2010 conference record:
8-0
Returning starters
Offense: 6, defense: 6, kicker/punter: 0
Top returners
SE
Danny Coale
, FL
Jarrett Boykin
, RT Blake DeChristopher, DT Antoine Hopkins, LB Bruce Taylor, CB Jayron Hosley, FS Eddie Whitley

Key losses
QB
Tyrod Taylor
, RB
Darren Evans
, RB
Ryan Williams
, C Beau Warren, TE
Andre Smith
, DT John Graves, CB Rashad Carmichael, ROV Davon Morgan, PK Chris Hazley
2010 statistical leaders (* returners)
Rushing:
Evans (854 yards)
Passing:
Tyrod Taylor (2,743 yds)
Receiving:
Boykin* (847 yds)
Tackles:
Bruce Taylor (91)
Sacks:
Steven Friday (8.5)
Interceptions:
Hosley* (9)
Spring answers
1. A new Fab Four:
Virginia Tech's defensive line is oozing with talent and potential -- the kind that can resurrect the Hokies' defense to the standard Bud Foster and fans are used to. All four projected starters are underclassmen, and redshirt sophomores J.R. Collins and James Gayle had a phenomenal spring.
Derrick Hopkins
couldn't be blocked, and he, Collins and Gayle took their games to another level this spring.
2. Logan Thomas is ready.
The first-year starting quarterback erased any lingering doubts about his ability to take over the offense and replace the winningest quarterback in school history. He'll have some growing pains, but he's got veteran receivers, four senior offensive linemen in front of him and an exceptional running back who can catch the ball out of the backfield in
David Wilson
.
3. Linebacker Tariq Edwards has replaced Lyndell Gibson.
Edwards could have a breakout season, thanks in part to Gibson's decision to transfer prior to spring practices. Foster has compared Edwards to Xavier Adibi as far as his size and speed. The redshirt sophomore is about 6-foot-2, runs well and is athletic.
Fall questions
1. Who's the No. 2 QB?
It's still unsettled, as coach Frank Beamer praised redshirt freshman
Mark Leal
this spring, and
Ricardo Young
will increase the competition this summer when he returns from a foot injury he suffered during one of the scrimmages that caused him to miss the rest of the spring.
Ju-Ju Clayton
was the front-runner for the job entering the spring, but it could turn into a three-player battle this summer.
2. Defensive depth.
The staff is excited about its starting lineup, but the lack of experience behind it remains a concern, particularly at linebacker where injuries depleted the group, and in the secondary, where Detrick Bonner and Theron Norman haven't played a collegiate snap yet.
3. Kicking game.
Will Danny Coale really be the Hokies' starting receiver AND punter? He will if none of the other candidates beat him out for the job this summer. If Coale wins the job -- and it's a very real possibility -- the logistics also remain a question. Will he warm up with the punters or run routes as a receiver? Will he run routes in his punting shoe? Beamer would prefer if Scott Demler and Ethan Keyserling win the job so it's not an issue, but Beamer will go with the senior who has game experience if he's the best choice. Cody Journell enters the summer as the No. 1 place-kicker, but it's not a lock.
April, 22, 2011
4/22/11
10:30
AM ET
By
ESPN.com staff
| ESPN.com
The Hokies will wrap up spring practices at 2 p.m. on Saturday in Lane Stadium. Here are three main storylines to watch:
Quarterback Logan Thomas: All eyes will be and should be on the first-year starter as he takes over the offense for the first time with so many fans watching. He's drawn rave reviews so far from the coaching staff and his teammates, but it's the first official introduction to a new era of quarterback in Blacksburg.
The defensive line:Virginia Tech had to replace three starters in tackle John Graves and both ends, Steven Friday and Chris Drager, who moved back to tight end (another player worth watching). While coach Charley Wiles has been pleased with the starting four this spring, depth at the position remains a concern. Keep an eye on James Gayle, who really impressed the coaches this offseason.
The kicking game:For the fifth straight season, Virginia Tech entered spring practices looking for a new place-kicker, and like last year, the Hokies also need to name a new punter. Receiver Danny Coale has tried out for the position this spring, along with redshirt junior Scott Demler, redshirt freshman Ethan Keyserling, redshirt freshman Conor Goulding, and redshirt sophomore Grant Bowden, who is the brother of former Tech punter Brent Bowden.