May, 13, 2014
May 13
2:00
PM ET
The
NFL draft
concluded with 42 ACC players selected last weekend, and a slew more ended up signing free-agent deals in the days afterward.
Here's a quick rundown of where the ACC's undrafted free agents landed.

BOSTON COLLEGE
QB
Chase Rettig
,
Green Bay Packers
OLB
Kasim Edebali
,
New Orleans Saints
LB
Steele Divitto
,
New York Jets
OT
Ian White
,
San Diego Chargers
OT
Matt Patchan
,
Tampa Bay Buccaneers
DB Albert Louis-Jean, Chicago Bears

CLEMSON
K
Chandler Catanzaro
,
Arizona Cardinals
G
Tyler Shatley
,
Jacksonville Jaguars
LB
Spencer Shuey
, Jacksonville Jaguars
CB
Darius Robinson
,
Buffalo Bills

DUKE
RB
Juwan Thompson
,
Denver Broncos
DE
Kenny Anunike
, Denver Broncos

FLORIDA STATE
LB
Christian Jones
,
Chicago Bears
RB
James Wilder Jr
.,
Cincinnati Bengals
WR
Kenny Shaw
,
Cleveland Browns
FB
Chad Abram
,
Detroit Lions
DT
Demonte McAllister
,
Seattle Seahawks
DT
Jacobbi McDaniel
, Cleveland Browns

GEORGIA TECH
DT
Euclid Cummings
, Tampa Bay Buccaneers
CB
Lou Young
, Denver Broncos
DE
Emmanuel Dieke
,
New York Giants

LOUISVILLE
DT
Roy Philon
,
Pittsburgh Steelers
S
Hakeem Smith
,
Tennessee Titans
DT
Brandon Dunn
, Chicago Bears
WR
Damian Copeland
, Jacksonville Jaguars

MIAMI
WR
Allen Hurns
, Jacksonville Jaguars
QB
Stephen Morris
, Jacksonville Jaguars
TE
Asante Cleveland
,
San Francisco 49ers
DT
Justin Renfrow
, Arizona Cardinals
FB
Maurice Hagens
,
Atlanta Falcons
S
A.J. Highsmith
, San Francisco 49ers
OG
Jared Wheeler
,
Carolina Panthers
LB
Jimmy Gaines
, Buffalo Bills

NORTH CAROLINA
OT
James Hurst
,
Baltimore Ravens
QB
Bryn Renner
, Denver Broncos

NC STATE
DE
Carlos Gray
, Green Bay Packers
TE
Asa Watson
,
New England Patriots
DL
Deylan Buntyn
, New England Patriots

PITTSBURGH
P
Matt Yoklic
, Atlanta Falcons
SYRACUSE

CB
Keon Lyn
,
Indianapolis Colts
CB
Ri'Shard Anderson
, Tennessee Titans
RB
Jerome Smith
, Atlanta Falcons

VIRGINIA
DE
Jake Snyder
,
Minnesota Vikings
VIRGINIA TECH
DT
Derrick Hopkins
, Baltimore Ravens

LB
Tariq Edwards
,
Miami Dolphins
WR
D.J. Coles
,
Oakland Raiders
G
Andrew Miller
, Tampa Bay Buccaneers
DE
James Gayle
, Tennessee Titans

WAKE FOREST
DT
Nikita Whitlock
, Cincinnati Bengals
LB
Justin Jackson
, Detroit Lions
LB
Zach Thompson
, New York Jets
September, 24, 2013
9/24/13
11:00
AM ET
Georgia Tech coach Paul Johnson said Monday that the players who
wore wristbands with the letters APU
-- for All Players United -- last week should have first given their teammates
a chance to vote on the idea
to support NCAA reform.
According to the Associated Press, Johnson said coaches and most players had no idea quarterback
Vad Lee
, linebacker
Jeremiah Attaochu
and a few other players were wearing the letters APU -- for All Players United -- on wristbands in Saturday's 28-20 victory over North Carolina. Johnson says he first learned of the message after the game.
According to the report, senior defensive tackle
Euclid Cummings
said he doesn't expect the team to wear the letters on Thursday night against Virginia Tech.
May, 29, 2013
5/29/13
2:00
PM ET
Georgia Tech released its
post-spring depth chart
on Wednesday without a whole lot in the way of big surprises.
Nothing is set in stone of course, as the Jackets use this chart as a starting point for the start of practice come Aug. 1. Among the highlights:
Start with quarterback. Vad Lee is listed alone as the starter, but coach Paul Johnson has repeatedly talked about the possibility of playing both Lee and Justin Thomas this season.
As for the A-backs, Robert Godhigh and B.J. Bostic are listed with the first team, but you figure this position is going to see plenty of competition come fall practice. Deon Hill OR Tony Zenon are behind Godhigh; and Synjyn Days OR Dennis Andrews are listed behind Bostic.
The Jackets return four starters on the offensive line, though they did some shuffling with right guard Omoregie Uzzi gone. Shaquille Mason moves over to right guard, while Will Jackson is penciled in at left guard. Veterans Ray Beno, Jay Finch and Morgan Bailey return to the starting lineup.
Two spots do not have a definitive starter listed -- one defensive end spot has Emmanuel Dieke OR Chris Crenshaw; and middle linebacker has Jabari Hunt-Days OR Daniel Drummond. Hunt-Days missed spring with an injury, allowing Drummond to see an increased number of reps.
With Jemea Thomas moving to cornerback, Chris Milton is penciled in to start at safety.
Adam Gotsis and Euclid Cummings are listed as the new starters at defensive tackle.
Receiver Anthony Autry, offensive lineman Freddie Burden and nose tackle Shawn Green are all listed as injured.
One more note to keep in mind: the depth chart does not include incoming freshmen, who could make an impact at kicker and wide receiver.
March, 29, 2013
3/29/13
12:00
PM ET
Tough loss for the Canes and Coach L ...
March, 25, 2013
3/25/13
9:00
AM ET
Georgia Tech opens spring practice today with a new defensive coordinator in Ted Roof, and a new starter at quarterback in
Vad Lee
. I had a chance to catch up with coach Paul Johnson to ask about his expectations of both headed into the spring. Here is a little of what he had to say.
I have to start off by asking -- how are you enjoying Twitter so far?
PJ:
My daughter, she said, 'You'll be good at that, Dad, you need to do it.' And, 'I'm like, I don't know about that.' She goes, 'Oh just try it.' So it's been interesting.
What is the No. 1 thing you want to see this spring out of your defense as it starts to get adjusted to playing a different scheme?
PJ:
It's the same regardless of scheme. You want guys that can play fast, play hard and understand what they're doing. The scheme is there to help them. We try to work the scheme around them rather than trying to fit them into the scheme. And I think our guys are excited about it. Ted's a fiery guy. He's going to have a lot of passion, a lot of energy and I think they're looking forward to that. And it's not that big of a change from what we did the last half of the season.
You guys showed major improvement the second half. Is the goal to build on some of what you were able to do?
PJ:
Yeah I think the second half we simplified things and tried to let guys play fast and understand what they were doing and basically we played a lot of 4-3 tenets the last six games. We got away from the 3-4 a little bit.
Jeremiah Attaochu is going to be playing more at defensive end. What are your hopes for him in that role?
PJ:
That's what he played last year. Very seldom did he drop. He was more our rush guy. We played a field boundary guy and it's going to be very similar in what we're doing now, so we'll try to play to his attributes and his strong suits. He's a really good pass-rusher and we'll try to utilize him in that area and line him up on some tight ends and some of that.
[+] Enlarge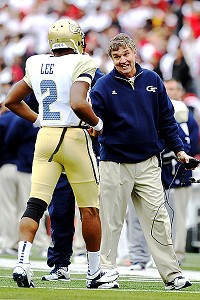 Mitch Stringer/USA TODAY SportsGeorgia Tech's Vad Lee is in a QB competition this spring, but coach Paul Johnson said there's no doubting Lee's leadership skills.
How do you see some of the competition playing out along the line with T.J. Barnes and Izaan Cross gone?
PJ:
We've got some good depth.
Euclid Cummings
is a guy I'm excited about. I think he's got a ton of ability.
Emmanuel Dieke
has played a lot.
Adam Gotsis
,
Shawn Green
played. We've got a couple guys, Pat Gamble, Rod Chungong,
Francis Kallon
that we redshirted so we feel like we've got depth there and some guys so we'll probably play six, seven guys up front.
Now that Vad looks to be your starter, have you seen him taking on more of a leadership role?
PJ:
Vad's always been a leader. It's in his DNA. Usually the good ones in that position are that way. He's a hard worker and I think that he's trying to develop a chemistry with everybody and we've got another guy named
Justin Thomas
that we redshirted at quarterback, and that ought to be a heck of a battle this spring. Clearly, Vad's in front but Justin's a good player in his own right, so that ought to be some pretty good competition between those two guys.
How will you work the reps?
PJ:
Well, Vad will start out at 1 but in the spring, you're going to run two teams anyway so they'll probably get an equal number of reps.
Any kind of scenario where you play both like you did with Vad and Tevin Washington last year?
PJ:
It's possible. It will be determined on how it turns out, once we get into the spring and we start playing how it looks and how it unfolds, but I think going into the spring you'd have to say Vad's the No. 1.
What about at A-back. Orwin Smith was able to do so much, what's the competition going to look like there?
PJ:
We've got a lot of guys back there who have played a lot.
Synjyn Days
played the last half of the season there, we moved from quarterback so we're excited about him.
Robbie Godhigh
is the starter that returns.
Deon Hill
,
B.J. Bostic
,
Dennis Andrews
is a guy we redshirted. We have a lot of guys there we feel can be pretty good players.
What are you looking for out of those guys to take the next step?
PJ:
Well Robbie's been a reliable guy, he played well all year and I think the other guys are very capable. I think the more Synjyn plays, hopefully the better he's going to be. He's 225 pounds so he's ideal. He can block, has good speed, hard to tackle. B.J. and
Tony (Zenon
) both are shifty littler guys, Deon's in the middle so out of that group of guys we just hope to find a rotation that fits what we need really.
What about Broderick Snoddy? Will he continue to run track this spring?
PJ:
Football will override the track part and so he'll be at practice. Whenever they have meets and those kind of things we'll try to work it out and let him do both.
Do you envision a bigger role for him?
PJ:
Yeah, I would hope so. Every time we got to the point last year where we were trying to get him in, he would get hurt or something would happen and it just didn't materialize but certainly we'd love for him to have a bigger role. But that's going to be up to him this spring to earn it.
Who are you looking at to replace Omoregie Uzzie on the offensive line?
PJ:
There will be some competition. We were able to redshirt a couple of classes of guys and we feel like we have some depth, so we'll just work it out. We'll end up with the best five playing if we have to move some guys around. With Jay (Finch) missing the spring,
Catlin Alford
,
Freddie Burden
will get a lot of reps. We'll slide some guys. We've got some guys,
Will Jackson
has played both guard and tackle. He can slide in there. He and Shaq (Mason) will probably be the starters and then
Morgan Bailey
and
Ray Beno
, who both started at tackle all year -- we could still have five guys who started a lot of games.
December, 1, 2012
12/01/12
7:08
PM ET
CHARLOTTE, N.C. -- It's a beautiful evening here in the Queen City, and the dedicated ACC fans who are here are enjoying themselves.


Let's get to the news first.
B.J. Bostic
will start in place of A-back
Orwin Smith
, the Jackets' leading rusher who injured his ankle in the Duke game and was also sidelined for last week's game against Georgia. Defensively,
Euclid Cummings
will start in place of defensive end
Emmanuel Dieke
. Florida State has not reported any lineup changes.
As for attendance, which is sure to be a hot button topic this year ...
More than 50,000 tickets were sold in advance, according to an ACC official. There are two giant, black, ACC-branded tarps blocking off four upper-deck sections in each end zone, and if the seats are empty, you'll be able to see them on TV, as the majority are Carolina Panthers blue. This year should be an anomaly, though, not a trend for the league championship game (at least ACC officials hope). Last year was great attendance for the Clemson-Virginia Tech rematch, but let's face it: this game has taken the backseat even to other news within the conference this week. Not to mention the Coastal Division was an absolute disaster, with both Miami and North Carolina ineligible to play in this game. Georgia Tech is here by default, and if it loses this game, it will drop to 6-7 and play in a bowl game thanks to a waiver granted by the NCAA.
And yet Georgia Tech is just one win away from playing in the Discover Orange Bowl.
It's the goal for both teams, regardless of how many fans come out to watch tonight.
August, 1, 2012
8/01/12
5:00
PM ET
By
ESPN.com staff
| ESPN.com
As ACC teams begin to start practicing again, Andrea Adelson and I will have a quick preview of each team to get you caught up on the basics. Next up to open camp …
School:
Georgia Tech
Start date:
Friday

Predicted finish at media days:
Second in the Coastal Division
Biggest storyline: Year 3 under Al Groh.
Could this finally be the year the defense gets off the field? Georgia Tech was No. 83 in the country last year in third-down defense and No. 60 in scoring defense. The Jackets should see some significant progress, considering it is the third year in Groh's 3-4 scheme and the players are familiar with the playbook and what Groh expects of them. Georgia Tech will be missing its leading tackler in Julian Burnett, but
Jeremiah Attaochu
is one of the better linebackers in the ACC. The secondary is also an experienced group, but Georgia Tech has to replace two of three starters up front. The defense has some questions on its depth chart, but expectations are still higher for Groh's group.
Biggest position battle: Defensive end.
Izaan Cross
is a three-year starter, but that's about all that is certain right now.
Emmanuel Dieke
and
Euclid Cummings
were both dead-even on the depth chart following spring practices. Cummings had a good spring, and Dieke is a good pass-rusher at 6-foot-6, 270 pounds. Both will likely end up playing a lot. A fourth player,
Chris Crenshaw
, will also be pushing for playing time.
Who needs to step up: The receivers.
None of them have ever caught a pass in a game, and Georgia Tech needs to improve its passing efficiency this fall.
Jeff Greene
and
Darren Waller
are two sophomores who played sparingly last year and should have increased roles.
Chris Jackson
, a former transfer from Alabama, will also see his first playing time.
Jeremy Moore
, who has battled injuries throughout his career, should also get more meaningful snaps this year.
Opening camp
January, 23, 2012
1/23/12
10:30
AM ET
We've already taken a look at what the recruiting needs were for the Atlantic Division. Let's shift our attention to the Coastal Division. Here's a look at where each school's biggest holes will be in 2012 or are anticipated to be in the near future:
DUKE

Offensive skill positions:
After last year's rare class that didn't include either a quarterback or running back, both positions are needed in this group. Quarterback
Thomas Sirk
-- the MVP of the 57th annual Florida Athletic Coaches Association North-South All-Star Football Classic last December -- has already enrolled in school while
Shaquille Powell
-- a PARADE All-American running back from Las Vegas -- has committed to the program. In addition, with David Cutcliffe's offense, wide receivers and tight ends also are a priority.
Kicker:
Will Snyderwine
, who earned first team All-America honors as a junior before struggling through a sub-par season in 2011, graduated, but Duke has a commitment from Ohio native
Ross Martin
, considered the No. 2 placekicking prospect in the country by ESPN.com.
Safety:
With the transition to a 4-2-5 alignment that utilizes three safeties, this becomes an annual point of emphasis. The Blue Devils lose All-American
Matt Daniels
to graduation.
GEORGIA TECH

Defensive line:
This is the most glaring need in the current class. The Yellow Jackets have to replace senior starters
Logan Walls
(DT) and
Jason Peters
(DE), but return
Izaan Cross
(DE) and solid backups
T.J. Barnes
(DT),
Emmanuel Dieke
(DE) and
Euclid Cummings
(DE). The Jackets are expected to sign about 18 players in this year's class, and five of them should be defensive linemen.
Wide receiver:
This is another glaring need after the departures of
Stephen Hill
, who decided to leave early for the NFL draft, and
Tyler Melton
.
Darren Waller
and
Jeff Greene
, who both played last season as true freshmen, have lots of potential, but the position still needs depth.
MIAMI

Defensive backs:
There's still a lot of depth with this group, and the return of
Ray-Ray Armstrong
and
Vaughn Telemaque
helps, but the Canes have to replace two starters in the secondary and have six commits in the current class to help do that.
Defensive line:
The Canes have to replace
Adewale Ojomo
,
Micanor Regis
,
Andrew Smith
and
Olivier Vernon
from last year's two-deep. The defensive end position was a particular focus in this class.
Receiver:
This position lost a lot with the departures of
Tommy Streeter
,
LaRon Byrd
and
Travis Benjamin
.
Allen Hurns
is now the veteran of the group, along with redshirt senior
Kendal Thompkins
. There are five receivers currently committed in this class.
Quarterback
: Beyond
Stephen Morris
, Miami has a lot of questions at the position and not a lot of experience. True freshmen
Gray Crow
and
Preston Dewey
are already on the roster, along with redshirt sophomore
Ryan Williams
.
NORTH CAROLINA

Defensive line:
This is one of the biggest areas of concern after the departures of
Quinton Coples
and
Tydreke Powell
.
Receivers
: Larry Fedora's offense will make good use of this group, but he needs to replace standout
Dwight Jones
.
Linebackers:
This group was thin to begin with in 2011, and now the Heels need to replace outgoing senior
Zach Brown
.
Kevin Reddick
is now the main man.
Safety:
UNC will have to replace two starters in
Matt Merletti
,
Charles Brown
and
Jonathan Smith
, so this position will have to be rebuilt for the future.

VIRGINIA
Defensive back:
This should be the main priority in this class. The Cavaliers will lose four DBs, including two starting safeties in Rodney McCleod and
Corey Mosley
, and standout cornerback
Chase Minnifield
. They'll also miss
Dom Joseph
, who came in for the nickel packages.
Demetrious Nicholson
, who started as a true freshman last year, is suddenly the veteran of the group.
Offensive line:
The Hoos will have to replace their starting center and left guard. Redshirt freshman center
Cody Wallace
could get a promotion, and sophomore right guard
Luke Bowanko
started in the bowl game. They've got some big bodies waiting in the wings, but they'll have some questions to answer here this spring.
Kickers:
This position needs to be rebuilt, as the Cavaliers lose
Robert Randolph
, who finished sixth all time in scoring at UVa, kickoff specialist
Chris Hinkebein
, and four-year punter
Jimmy Howell
. The position is wide open heading into the spring.
VIRGINIA TECH

Running back:
This one is a no-brainer, as the Hokies have lost four players here in the past two years.
David Wilson
and his backup,
Josh Oglesby
, were the latest to depart, and
Tony Gregory
just had ACL surgery and is out for the spring. The staff likes
Michael Holmes
, who redshirted last year, and
J.C. Coleman
enrolled last week.
Receiver:
The Hokies will miss
Danny Coale
and
Jarrett Boykin
, and next year's class has three seniors in
Dyrell Roberts
,
D.J. Coles
, and
Marcus Davis
. The future of the position is young, and the staff is still going after several uncommitted players pretty hard.
Defensive line:
This year's class already includes at least five committed defensive linemen, and the Hokies will be particularly thin at noseguard. They had some players graduate early who didn't play a lot, but at least provided depth.
Linebacker:
The Hokies have four committed, and are still chasing another just to build the depth. The staff missed on some recruits at this position last year and would like to make up for it in this class.
ACC SCOREBOARD
Friday, 12/26
Saturday, 12/20
Monday, 12/22
Tuesday, 12/23
Wednesday, 12/24
Saturday, 12/27
Monday, 12/29
Tuesday, 12/30
Wednesday, 12/31
Thursday, 1/1
Friday, 1/2
Saturday, 1/3
Sunday, 1/4
Monday, 1/12
Tweets from https://twitter.com/ESPNCFB/lists/acc