September, 3, 2013
9/03/13
8:52
AM ET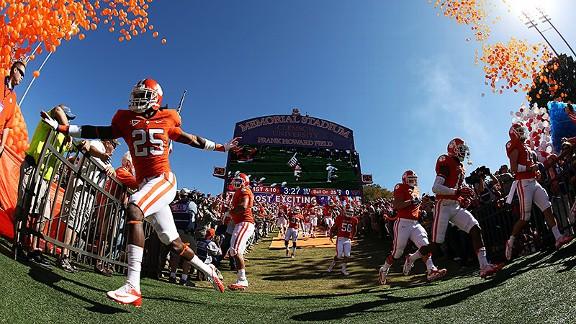 Recruiting is not always about just getting the 25 best players to complete a class. Each school has to recruit to its needs, which changes each class. Here is the biggest need for each ACC school and what its coaching staff is doing to address it.
To continue reading this article you must be an Insider
July, 11, 2013
7/11/13
12:00
PM ET
November, 25, 2011
11/25/11
9:00
AM ET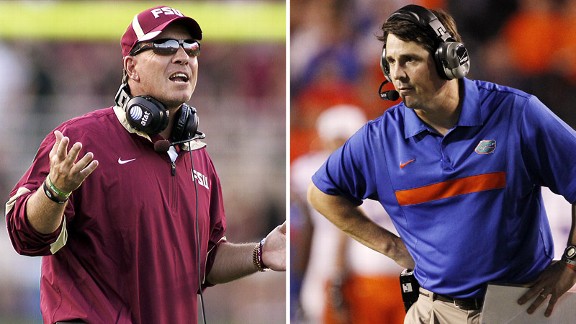 AP PhotoJimbo Fisher's Seminoles and Will Muschamp's Gators are one of four ACC vs. SEC matchups Saturday.
The final weekend of the regular season features four ACC versus SEC battles, which means SEC blogger Chris Low and ACC blogger Heather Dinich can't be in the same room together this week.
Instead of trading blows, though, they hash it out in a blogger debate.
Chris Low:
Heather, forget the chaos in the BCS right now and all the talk about how we need a playoff. We have our own little SEC versus ACC playoff this weekend to close the regular season. It was a 2-2 split last season. I'm on record that the ACC will be lucky to win one this season. Two of the matchups are between nationally-ranked teams. No. 17 Clemson travels to No. 12 South Carolina, and No. 13 Georgia visits No. 23 Georgia Tech. Also, Vanderbilt pays a visit to Wake Forest, while Florida State plays at Florida. All right, Heather, here's your chance to convince me that the ACC can win at least two games again this year.
Heather Dinich:
Lucky to win ONE? Last I checked the ACC wasn't playing the only three teams in the SEC anyone has paid attention to this year. I will admit, that before the season began, I said the ACC would have a winning record against the SEC this season, but I wasn't predicting Georgia's SEC East title, nor Vanderbilt's bowl hopes in the first season under James Franklin, or South Carolina's defense leading the way. I think we could all see what was in store for Florida. I can, however, argue that the ACC will win at least TWO games against the SEC this weekend: against Vanderbilt and Florida. Jimbo Fisher is a step ahead of his friend Will Muschamp when it comes to getting their programs in order, but clearly this will be a defensive game and FSU's defense is better. So is its special teams. As for Wake-Vandy, Jim Grobe has beaten that team before, and quarterback
Tanner Price
is on a hot streak. What makes you so confident the SEC will come out on top this weekend?
CL:
Well, since I wound up picking two ACC teams this weekend, maybe we should revisit my original proclamation. I like Georgia simply because the Bulldogs have been on such a hot streak and their defense has been terrific under second-year coordinator Todd Grantham. That said, it's a whole different game when you're facing that option offense. I also like Vanderbilt. This game means more to the Commodores than it does to the Deacons. Vanderbilt needs one more win to qualify for a bowl game, and Franklin has brought a different mindset to that program. The Commodores are also very good on defense with a lot of veterans who understand what this game means to their season. I had a hard time with Florida and Florida State, but the Gators simply haven't been able to score against anybody that counts. I also picked Clemson over South Carolina. I just don't see the Tigers losing three in a row in this series. How well do you think Clemson will fare against a South Carolina defense that has been rock-solid for most of the season?
HD:
I almost picked Clemson. Almost. The one thing that held me back was during my conversation with offensive coordinator Chad Morris earlier this week, he talked about confidence. Because of 11 turnovers in the past three games, Clemson has lost some of its swagger, and I'm not sure they can get it back in time to beat that South Carolina D. I honestly have a hard time believing they will lose three straight in this series, too, but I can't get over how the offense has bumbled its way through the past three games. The timing just doesn't add up in favor of Clemson. Quarterback
Tajh Boyd
needs to make better decisions, and they need to win the turnover battle. With
Sammy Watkins
back in the lineup, their biggest advantage might be in the kicking game. What's interesting to me is that Clemson has to be more concerned about South Carolina's defense than its offense. But SEC defenses are having a great year, at least from where I sit. Both FSU and Florida have had their share of struggles offensively. How do you think the Gators will fare against
EJ Manuel
? The Noles' passing game hasn't been in sync lately. Low-scoring game in the Swamp?
CL:
Well, the Gators' offense hasn't been in sync -- period. This is a very big game for Muschamp and the Gators. They need something out of this season they can hang their hat on, and right now, there's nothing. As you might imagine, 6-6 seasons don't go over too well in Gainesville, and they're even worse when two of the losses are to Georgia and Florida State. Now, I'm one of those who thinks Muschamp walked into a bigger mess than anyone will ever know there. He needs a chance to get his players in there, so he can play the way he wants to. But you still need to generate a little momentum going into the offseason. Again, that's why this is such a big game for Florida, which believe it or not, has only lost once at home this season ... to No. 2 Alabama.
January, 9, 2009
1/09/09
9:00
AM ET
Posted by ESPN.com's Heather Dinich
The final votes are in, and the ACC finished with three teams in the top 25 of the Associated Press poll -- No. 15 Virginia Tech, No. 21 Florida State and No. 22 Georgia Tech.
The coaches had a slightly different opinion, as their final order was No. 14 Virginia Tech, No. 22 Georgia Tech and No. 23 Florida State. (Don't forget during the regular season the Yellow Jackets did beat the Seminoles at home).
For what it's worth, I had Virginia Tech No. 16, Florida State No. 18 and Georgia Tech No. 19 in the ESPN.com Power Ranking I turned in this morning. (And Utah No. 1, but that's a whole other discussion). I put FSU ahead of the Yellow Jackets because of the way they handled Wisconsin and because of what Georgia Tech didn't do against Georgia in the Chick-fil-A Bowl.
Still, Georgia Tech is better than it played in its bowl game, and despite the losses on defense should have one of the most productive offenses in the league and again compete for the Coastal Division.
It's safe to say these three teams should be the league's representatives in the 2009 preseason poll, with the Hokies possibly earning a top 10 spot.
September, 19, 2008
9/19/08
6:50
PM ET
Heather Dinich talks with Florida State defensive coordinator Mickey Andrews

about this weekend's game against Wake Forest.
Also, Florida State QB Christian Ponder tells Heather Dinich why he feels confident

heading into Saturday's game against Wake Forest.