December, 23, 2013
12/23/13
9:00
AM ET
The story that best encapsulates
Matt Johnson
's emergence as perhaps the latest Mid-American Conference quarterback prodigy is told by one of his high school coaches.
Throughout Harrisburg (Pa.) Bishop McDevitt's 2010 season, head coach Jeff Weachter and assistant Dick Shiner had spoken about the resilience of Shiner's friend Frank Reich, who, like Shiner, was a Maryland product who went on to the NFL. With the Terrapins, Reich engineered a 31-point comeback win over Miami, then an NCAA record. Later with the Bills, the quarterback helped Buffalo dig out of a 32-point hole in a playoff game to top the Houston Oilers, an NFL record.
With this in mind, and with Bishop McDevitt trailing Erie (Pa.) Cathedral 21-3 as it left the locker room for the second half of the state semifinals, a knowing smile flashed across Johnson's face as he returned to the sideline.
"Hey Coach," Weachter recalled Johnson saying, "Frank Reich."
[+] Enlarge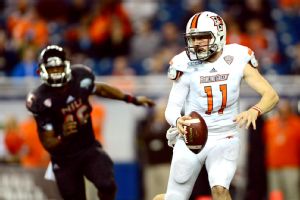 Andrew Weber/USA TODAY SportsBowling Green's Matt Johnson was considered too short to be a big-time quarterback, a slight he hopes to remind home-state Pittsburgh about in the Little Caesars Bowl.
Two quarters and 21 unanswered points later, Johnson had authored a Reich moment of his own, a 24-21 victory that helped cement his prep legend. That tale tapped out, as most eventual MAC sagas do, with the quarterback lacking the physical measurements to wow most college suitors. Johnson's height (6 feet) scared away many bigger schools, including Pitt. It left him down to Temple and Bowling Green, with the Harrisburg native choosing the Falcons.
It now has the redshirt sophomore set to square off against the state school that passed on him, as Bowling Green will face Pitt in Thursday's Little Caesars Bowl. Johnson hid little with that matchup on the horizon,
tweeting his hopes to play Pitt
in the hours before the game became official.
Johnson has no ill will toward the current Pitt staff, which is in its second year there. He counts several Panthers players as friends and high school peers. But this game is a chance for him to deliver another signature performance against a BCS-conference opponent, and it just happens to be in Detroit, where he left a huge impression earlier this month.
"Hey, right up the road, not too bad, especially the way that we ended our season," Johnson said with a laugh. "Definitely good memories up there, and it'll be nice to [try to] add another good memory on the 26th."
On Dec. 6, Johnson completed 21 of 27 passes and tallied 426 total yards and five touchdowns in a 47-27 rout over undefeated Northern Illinois, ruining the Huskies' BCS hopes and delivering Bowling Green its first MAC title in 21 years. Johnson has drawn plenty of attention after outdueling NIU's
Jordan Lynch
, who finished third in the Heisman Trophy voting.
If there were such a thing as an overlooked player within his overlooked league, Johnson was just that entering Ford Field more than two weeks ago.
"Jordan deserved all the credit that he was getting and all the publicity, and I personally thought he deserved to be in New York," Johnson said. "But I did have a little chip on my shoulder because it was like Bowling Green was the team that Northern Illinois was playing. It wasn't really like we have a chance to win a MAC championship. If we won, it was going to be a huge upset and everybody was just really talking about how Northern Illinois was going to bust the BCS for the second year in a row."
Weachter said college coaches several years ago uttered the phrase, "if he were just two inches taller" so often that he considered printing Johnson a T-shirt to wear to every college camp he would attend, simply stating: "I Know." Weachter said he has since heard from several college coaches who are sorry they passed on Johnson, whom he calls the best leader he's ever coached. (That list of pupils includes NFL leading rusher LeSean McCoy.)
Johnson went to junior high with Pitt center
Artie Rowell
, playing little league baseball and basketball with him before Rowell went to rival Central Dauphin. Johnson played in the Big 33 Classic, a Pennsylvania all-star game, with current Panthers cornerback
Lafayette Pitts
and defensive lineman
Ejuan Price
.
"I'm very happy for him," Rowell said. "I'm glad he's doing what he's doing. His high school has a proud tradition of putting guys in a position to be successful, as do many other high schools in our area. Personally, I couldn't wish him more success."
Pitts, describing how to defend Johnson, said:
"Get pressure on him, first and foremost. And just contain to keep him inside the pocket because he can move with his legs, but he also has a strong arm, too. So coverage-wise we're going to have to be tight as well."
Special teams coordinator Adam Scheier is serving as interim coach for Bowling Green, as Dave Clawson left to become head coach at Wake Forest. To replace Clawson, Bowling Green hired Dino Babers last week from Eastern Illinois. There, Babers tutored FCS player of the year
Jimmy Garoppolo
at quarterback. Before that, he helped coach Robert Griffin III as a Baylor assistant during Griffin's Heisman Trophy season.
All of that could very well indicate that #MACtion could already have its marquee quarterback and program lined up to carry the conference's torch in 2014. But for now, Johnson and his Falcons are champing at the bit for their latest chance to play the role of "that other team" on the day after Christmas.
"It'll be a nice opportunity because there's guys on the team that are actually from Pittsburgh, and they didn't receive an offer from Pitt, either," Johnson said. "It kind of hurts a little bit when you're coming out of high school and you don't receive an offer from your home state. But we are happy with where we're at, and we wouldn't change it for the world. But it will be nice to play against your home state and kind of show them, I could've been here, but I didn't get that opportunity, but I'm going to make the most of playing against you guys."
August, 1, 2008
8/01/08
12:45
PM ET
By
ESPN.com staff
| ESPN.com
Posted by ESPN.com's Heather Dinich
Notice these guys are in alphabetical order.
Brock Berlin, Miami -- In 2003, he helped Miami score 28 unanswered points for a 38-33 comeback win against his former team, Florida.
James Davis, Clemson -- Davis scored the game-winner in 2005 against rival South Carolina, a 2-yard run with 5:58 left that gave Clemson the 13-9 win. He also scored the game winner in 2006 against Florida State, a 1-yard run with eight seconds left for the 27-20 win.
| | |
| --- | --- |
| | |
| | Boston College/Getty Images |
| | Doug Flutie celebrates his last-second touchdown pass to defeat Miami in 1984. |
Doug Flutie, Boston College -- Is there a play that defines "clutch" better than Flutie's Hail Mary pass against Miami? Flutie left school as the NCAA's all-time passing yardage leader with 10,579 yards.
Chris Gould, Virginia -- Virginia wouldn't have been the ACC's most current clutch team had it not been for Gould. He kicked 16 field goals last season and his kicks in five games were the difference (game winners vs. Middle Tennessee and UConn, 5 FGs in 22-20 win over UNC, early FG vs. Maryland in 18-17 win and early FG vs. WFU in 17-16 win).
Sebastian Janikowski, Florida State -- He set Florida State and ACC records with 27 field goals in 1998. A year later, Janikowski made 84.4 percent (27-of-32) and led the nation with an average of 2.23 per game.
Calvin Johnson, Georgia Tech -- The No. 1 draft pick finished with 178 career receptions for 2,927 yards and 28 touchdowns. He ranks first in school history in career receiving yards, second in receptions, first in touchdown receptions, and first in most career 100-yard receiving games with 13.
Frank Reich, Maryland -- Can't forget the King of the Comeback. In 1984, trailing defending national champ Miami 31-0 at halftime, Reich completed 12 of 16 passes for 260 yards and three touchdowns for a 42-40 win and a trip to the Orange Bowl. Eight years later, he orchestrated one of the NFL's greatest comebacks. His Buffalo Bills trailed Houston, 35-3, but Reich came in for an injured Jim Kelly and won, 41-38, in overtime.
Philip Rivers, NC State -- The number of clutch plays this guys made is worth a separate entry, as he made six comeback wins his freshman year alone.
Matt Ryan, Boston College -- His two-touchdown come-from-behind win over Virginia Tech in Blacksburg last season with 2:11 left on the clock will always be remembered.
David Treadwell, Clemson -- Treadwell kicked game-winning field goals inside the last five seconds against Georgia in consecutive years. He kicked a 46-yard field goal on the last play in 1986 at Georgia, then kicked a 21-yarder with two seconds left to beat the Bulldogs in 1987. He also kicked a field goal on the last play of the game in 1985 to beat Virginia Tech.