November, 26, 2010
11/26/10
10:00
AM ET
Boston College linebacker Mark Herzlich made one of the most miraculous comebacks in college football this year when he first set foot on the field again after first defeating Ewing's Sarcoma cancer. As Herzlich's career at BC comes to a close, he shared some reflections on where he's been and where he's headed. Here are the highlights of our conversation:
You probably have a different perspective on what it means to be successful at this point. While you probably would've liked to be playing for an ACC championship, you're also probably grateful just to be back on the field again. What's your perspective on this season, the good and the bad of it?
[+] Enlarge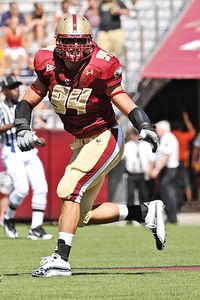 Michael Tureski/Icon SMIMark Herzlich has compiled 54 tackles and three INTs this season.
Mark Herzlich:
Well, obviously my first game back was something huge for me. There was a lot of fanfare for that game and everything. Just being able to play again was for me, a huge success. We had a five-game losing streak, which obviously was terrible. The morale around the team dropped a little bit. We needed to get a win. Leaders stepped up. We started making plays and four games later we're on a winning streak. That's definitely part of the good. It goes to show how the team stuck together. After we lost five straight games we figured, 'OK, we've got to stop worrying about bowl games, we've got to stop worrying about the ACC championship game. We've just got to get a win.' That's where our minds were at, and that's where it's at every game. I'm very pleased with the way we turned it around. That's been a huge success this season.
How have you felt this season?
MH:
I've felt pretty good. It's been a gradual process. In the beginning I didn't feel as fast as I had before. I wasn't making the plays I had before, but as the season progressed, every game I got a little better. Last game I felt pretty good and I thought there was finally a time I had a solid game.
How difficult was it for you this season to not come back immediately like you looked in 2008, or for it to be that gradual process?
MH:
It's frustrating. You want to just strap it on and get right back to where you were, but as frustrating as it is, it's really rewarding to see strides you're making on film and in the games. That's a good way to look at it.
Can you believe your career is coming to a close?
MH:
No, it's pretty crazy. I feel like I've been at Boston College forever.
I'm sure your opponents do, too.
MH:
[Laughs.]) I remember back when … [Herzlich stopped on campus to oblige a passerby who wanted to take a picture with him. 'There you go, buddy. Take care …']. It's been a great run. It's time for some young guys to step up and let me go on my way.
What are you most proud of this year?
MH:
I'm most proud of the way our team never gave up. I think that we've all made personal gains and personal strides, but the way the team bounced back from a five-game losing streak, that's what I'm most proud of.
Have you been seeing any doctors this whole season?
MH:
Yep. I actually had a checkup on Monday. The MRI and CT-scan came out clear. It's been a year and a half since my diagnosis, and everything is clear now, so that's still good.
How often do you have those checkups?
MH:
Once every four months.
Do you have to go back to Philly?
MH:
Yeah, I go back to Philly for them.
And do you hold your breath every time you go?
MH:
Kind of. My mom does. I take it in stride. I'm usually pretty confident nothing is wrong, but it's always nice to get the reassurance.
Were you ever afraid of playing this year?
MH:
No, not really. I had made a decision a long time ago that I wanted to play again. Once I made that decision I wasn't scared about hurting myself or anything like that -- just come back and play.
Have you heard anything about a potential NFL career, any feedback? What's next?
MH:
Yeah, I'll be doing the agent interview process over the next few weeks. I'll narrow that down, I'm going to the Senior Bowl late in January, and down the line, who knows. But I know that people have seen progression and will look to see how I play at Syracuse, in the bowl game and the Senior Bowl and then it will be off to the combine.
What are your hopes for what happens? What's your dream scenario? What's realistic?
MH:
Yeah, dream scenario is 30 tackles in the next two games and I go first round. A realistic goal for me is I want to get a shot. I understand that my stock has dropped, obviously, since 2008, and I'm hoping to perform well at the Senior Bowl and the combine, and try to build it back up a little bit, but either way, I just want to get a shot at a team. I know if I get there I'll make a difference, make an impact. That's the biggest thing -- get drafted. It doesn't matter when, really, just try and get on a squad.
November, 19, 2010
11/19/10
3:00
PM ET
By
ESPN.com staff
| ESPN.com
Ray McCartney has been Wake Forest's recruiting coordinator since 2001, and was instrumental in luring in the most talented class the program had seen in 2004. Of those 14 players, five were eventually drafted by NFL clubs and three others signed as free agents. Nobody gave that class much respect when it was signed, but that's how Wake rolls -- these guys go for potential, not stars. Wake fans, though, want to know what kind of potential is lurking on the sidelines and in the incoming recruiting classes. Is it enough to get the struggling Deacs back to the postseason?
I know you can't talk specifically about players, but can you address in general terms how recruiting is going moving forward, and do you think you guys are bringing in the kind of talent Wake needs to get back to the postseason?
Ray McCartney:
Yes. Recruiting is going great. We're not allowed to mention specifics, but we're addressing our needs.
What do you think the biggest needs are?
RM:
At this point, as we try and complete our class for this year, the linebacker position, quarterback and running back would be major areas of emphasis at this point. As we look at the overall class, offensive line and secondary have also been addressed, but as we try and close out this class, we're still looking at every position.
[+] Enlarge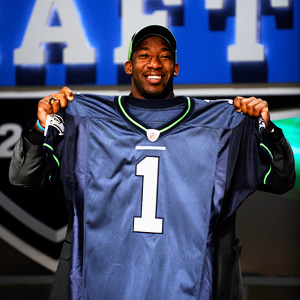 Jeff Zelevansky/Getty ImagesAaron Curry was one of five players from Wake Forest's Class of 2004 to be drafted in the NFL.
How has recruiting changed at Wake Forest since you guys brought in the class that had Alphonso Smith and Aaron Curry?
RM:
I think the biggest thing is that everything is happening so much earlier in the recruiting process. If you're not locked on kids really late in their sophomore year, early in their junior year as far as identifying the top prospects as early as possible, that's a major, major thing. The other thing that's happening is recruiting is becoming so much more Internet-based. The plethora of information that exists on the Internet is incredible and sorting through it is a very demanding task that takes time, but you have to do it. With the onset of Facebook, Twitter, the incredible number of recruiting sites, those are some of the major things that have changed. It used to be the personal relationships with the high school coaches in your respective recruiting areas that was the key to everything. With the process being sped up tremendously, that's changed dramatically.
Do you guys think the success of your ACC championship and Orange Bowl appearance has paid off yet in recruiting?
RM:
I think our fifth-year senior class at that time was the last class we took the year before the Orange Bowl. That class was not recruited with success having occurred in our program. We're hoping in the next year or two that the young players who are now working our way through our system will continue to grow and flourish and help us return to consistent bowl contention.
You guys played an unusual amount of freshmen this year. What was different that you weren't able to redshirt like you usually do?
RM:
As I alluded to, the senior class this year was a small class. But here at Wake Forest, the biggest thing you have to realize is we have very little attrition. Our average recruiting class is only going to be 15 to 18 kids. We're very fortunate to recruit kids who are good students, who very rarely don't make it in school academically, usually keep their nose clean, do the right things, are not disenchanted or wanting to transfer. With small recruiting classes, that's an issue there. If you have a class like our fifth-year senior class that was small already and then it was a class that was taken off a lack of success on the field at that point, then you can have issues at the top of the class, so you have to play some of your younger players because you don't have that large senior class. If you look carefully at the 2004 recruiting class, of the 16 kids we took, eight of them went to the NFL, all 16 graduated. That was a cornerstone class for our program. Right now we're facing the younger kids getting their feet wet, getting experience, really probably before they're ready to play, but they are the best athletes we have in our program at this juncture, so we're getting their feet wet right now. The biggest reason is the small size of the senior class that was recruited before we went to the Orange Bowl, and the fact that in the last few recruiting classes, all of our three bowl teams and our ACC championship, those are the kids who are really starting to play, especially some redshirt freshmen.
You mentioned that cornerstone class. Can you guys recruit a class like that again?
RM:
We sure hope so. That was one of the 10 greatest classes is FBS history. There were some stats on that that are incredible. The bottom line is, that's not going to happen every year, obviously, but if we could get one of those classes every three to four years, that would be tremendous. So, to answer your question, I think so, but you just never know. We're going to continue to try and recruit the high character kids that do all the right things, who are a good fit for our program, a developmental player. You'll very rarely see the "four or five-star recruit" coming to Wake Forest. We're much more in the business of trying to find the developmental player that in his third, fourth, fifth year who will really shine and help us win games.
Is there anything else you want Wake fans to know about the direction of the program?
RM:
With Jim Grobe at the helm, everything will be fine.
November, 12, 2010
11/12/10
3:30
PM ET
By
ESPN.com staff
| ESPN.com
Virginia Tech rover Davon Morgan is a game-changer, and the Hokies will need him to be on Saturday at North Carolina against quarterback
T.J. Yates
. Morgan is second on the team with 58 tackles and has two interceptions and four pass breakups this season. I caught up with Morgan earlier this week to get his take on the season and the UNC game:
What in your mind has been the difference in the season so far?
[+] Enlarge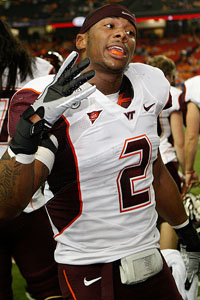 Mike Zarrilli/Getty Images)Virginia Tech's Davon Morgan says he's not thinking about the Hokies tripping up in the ACC race.
Davon Morgan:
I would say the focus and dedication we have right now. Everybody is playing at a high level, and everybody is playing together as a team. We're not getting down on one another, we're pushing each other every day.
When you look at North Carolina on film, T.J. Yates is obviously having a really good year. How do you guys game plan for that and how do you feel you guys match up against their receivers?
DM:
We feel like we match up pretty good. We have a good secondary and we have a good defense. We're going to throw some different looks at them and get them to think a little bit. North Carolina has been doing a pretty good job of giving them a lot of pre-snap things to look at. We're just going to go out there and try to play ahead of them.
There might not be an answer to this, but you guys are 5-1 against Carolina and have played very well against that state. Is there a reason for that, or is that just the way it goes?
DM:
That's just the way it goes. It doesn't matter where we play or who we play. We're going to go out there and play hard, whether it's North Carolina, Washington or California -- wherever it may be. We're going to go out there with the attitude to play hard.
How does the absence of Drager affect you guys defensively?
DM:
Oh, man, Drager is one of those guys who's hard to replace. He's got a motor. He's relentless. Without him, he's a big piece of the puzzle who's missing, but we've got some young guys who are stepping in there doing a great job, guys like James Gayle and J.R. Collins. Those guys step in and fill the void. They do a great job of coming in there and making it happen.
I understand you might be a kick returner. How comfortable are you with that?
DM
: I'm very comfortable. That was how I got injured against Nebraska, my sophomore year. I was very comfortable with it, but due to the injury, it slowed me down. Now that I'm healthy and 100 percent, I'm ready to go.
How do you guys avoid tripping up here down the stretch? It seems like it's almost inevitable in the ACC that it's going to happen. How do you guys keep it from happening?
DM:
First of all not thinking about tripping up.
Sorry about that.
DM:
You can't think about tripping up. It's football. These are the things we do every day. If we continue to go out there every day and continue to get better, everything else will take care of itself.
Defensively, how do you think you guys have done overall this year, considering you had to replace seven starters?
DM:
Overall defensively I think we've done a good job. I think we can do a lot better. It's a work in progress. Each week we're trying to get better and better. When you look at the pass defense, the pass defense is very dominant. We've been dominant, but we can be better.
What are the areas you think you need to improve on?
DM:
I would just say more gap-fit and tackling.
Did you guys think you'd be in this place right now after that loss to James Madison?
DM:
Before the loss we knew we would be in this place. It was just how hard are we willing to work for it? The JMU game was a setback for us, but from that point on, the seniors, we looked each other in the eyes and said, 'Look man, this is our senior season. We can't go out like this. We need to turn it around.' I think the seniors have done a good job of stepping up and being leaders and going out there and practicing hard and setting the tone for the young guys.
What would it mean to you because you are a senior to close out your career with another championship? Three in four years? That's got to be unprecedented.
DM:
It is, it would mean a lot to me. But in order to do that, we have to beat North Carolina this week. We're not trying to look too far ahead. We'll take it one game at a time and control our destiny.
November, 5, 2010
11/05/10
3:30
PM ET
By
ESPN.com staff
| ESPN.com
Maryland safety Kenny Tate is the leading tackler in the ACC among defensive backs (7.9 per game), and he is tied for second in the FBS with four forced fumbles. He leads the team with 35 solo tackles and leads all ACC defensive backs in sacks (3.5), and has two interceptions, including one he returned for a touchdown against Wake Forest. I caught up with Tate earlier this week to get his take on the Terps' defense and their turnaround season. Here are the highlights of our conversation:
How much better is the defense because it's the second season under Don Brown?
Mitch Stringer/US PresswireEven though Maryland is 6-2, Kenny Tate believes many observers are still overlooking the Terps.
Kenny Tate:
It's definitely a big difference. Last year we expected big things and were expecting to make turnovers and everything to just be clicking from this new pressure defense we installed two years ago. We did get some good things out of it last year, and we started to see it pick up at the end of the season. But this year, definitely with the second year under our belts, everything is clicking and looking good.
How much fun are you guys having in this system, being that it's such an attacking-style defense?
KT:
So much fun. It allows us to run, have fun, make plays, anything we really want to do.
How has your career gone so far compared with what you might have expected?
KT:
This is much more than what I expected. When I first came in, it was a different defense. I had to get accustomed to that. I thought I was just going to find my place, now with this new system, I guess it fits me.
You and Antwine Perez have both been having great seasons. What's your relationship like with him and how much communication is going on between you two on the field?
KT:
We're side by side all the time. It's our third year being around each other. We have chemistry. I always know where he is. My dad told me before, 'Y'all are always around each other. You're always talking about something on the field, or when you're standing on the sideline, next to each other about to go in.' We hang out off the field, too.
What do you think you guys are capable of here down the stretch as a team and as a defense?
KT:
As a team, I think we're capable of proving a lot of people -- I wouldn't say wrong, but opening their eyes to Maryland football. Definitely after last season, going 2-10, it's just like, 'Oh, it's just Maryland.' People are still saying that about us, even though we're 6-2. We like sitting in that position because any given day, your team could be beat. As a team we're just hoping for the best. We're playing really well right now and very confident. Hopefully things work out for us.
How much more comfortable are you in the defense this year?
KT:
Oh, I'm extremely comfortable. The coaches think I'm too comfortable.
Really? Why?
KT:
I know the ins and outs of the defense. It allows me to do other things on the field as far disguising things, knowing where people are supposed to be, how to fit, just everything. That can be the difference of a big play or a stop in the backfield.
How did you get to that point?
KT:
Just working at it. This defense, we've come so far. We all worked together this summer, this winter, from last year, just wanting to be better. We've definitely improved now.
What's the most surprising thing to you so far about this season?
KT:
I'd probably have to say that people are still looking at us as a slouch team. I have no problem with that. We're sitting pretty good right now, but we still have four games to go, so you never know.
When you look at the overall picture from a team perspective, what do you attribute the turnaround to? Going from 2-10 to 6-2 is pretty big.
KT:
It was just our drive. We bought in to each other and said that we were going to work to be the best, do everything full speed. No half-speed, just laying it all on the line. After being the worst, we're striving to be the best right now.
October, 29, 2010
10/29/10
3:30
PM ET
By
ESPN.com staff
| ESPN.com
This is the second part of an interview with Virginia tight end Colter Phillips. Click here for part one.
Team-wise, how frustrating has it been for you guys going through this season, trying to get those wins?
CP:
Offensively, it's been frustrating sometimes because it's a new offense and this is my third offense in three years. This year, in the beginning at least, it was a little frustrating learning a new offense, and having to learn everything over a third time again. There have been a lot of games where the score really hasn't shown the true game. We've given up a lot of easy plays on both sides of the ball where a one-touchdown game turns into a three-touchdown game by the end of the game. It's just frustrating sometimes to be that close and then lose it.
Do you think you guys can change that here down the stretch?
CP:
Oh yeah, for sure. There are kind of some growing pains with learning a new offense and being with a new coaching staff, but I think, you know, we are ready to change what has happened here in the past and really step it up and become a big-time team in the ACC.
How far away do you think you guys are from doing that?
CP:
You don't really want to look too far ahead in the future. I just try to look ahead to the next game, but it is nice to know I have two years after this season to play. I'm confident that by the time I leave here, we're going to be one of the best teams in the ACC.
So how did you and your brothers wind up going to different schools? Are you friends?
CP:
My family is really close. My final two schools were here and Stanford. I went on all of these recruiting trips with my dad and at first I wanted to play out in California with my brother. I visited around a little bit and came to UVA and just absolutely fell in love with it. My dad liked the school and my mom but they made me visit Stanford one last time to make sure I didn't want to play with my brother. So we did that, and I actually committed to UVA in the Palo Alto airport. That kind of made the Stanford guys a little mad. I had to go out there and check it out one last time before I came here, but I felt like each of us wanted to go through our own paths in life. Going to a different school has been good for each of us to grow up a little bit. Growing up I really relied a lot on my older brother. We played for the same coach every year, and he could tell me what to expect, and in school what classes to take. I felt like in order for me to really grow and mature both as a player and as a student I had to go to my own school and do my own thing. I feel like it has helped me to do my own thing and be my own person.
So what was it like at your house? Were you guys out there tackling each other in the backyard every night?
CP:
My mom went crazy when we were all pretty young. We're all two years apart, and my youngest brother is seven years younger than me. When it was us three growing up, it was pretty crazy in our house. Somehow we turned out all right.
How much are you talking to your brothers now?
CP:
I talk to all three of them every day, whether it's through text messages or phone calls. We check in on each other. It's a tough time for us now still. We're just happy that Willy is doing OK and getting better. We're going to stick together and get through this thing together.
I was going to ask you how your little brother was doing. He's the youngest, right?
CP:
Yeah, he's 13. He's doing alright. I think he's had five or six surgeries since the crash. His leg is starting to heal. He's in a wheelchair still. But he's hanging in there. He's a tough little kid. I have so much respect for him. I know that it's been especially tough for him, what he's been through. He's just doing his best, and trying to get better.
Wow. What an emotional year. Is there anything else you want Virginia fans to know?
CP:
I don't know if anyone out there is aware, but my man
Marc Verica
has been throwing out
some new songs
on YouTube if people want to check them out. If any Marc Verica fans are out there,
they can check him out
on YouTube.
October, 29, 2010
10/29/10
3:00
PM ET
By
ESPN.com staff
| ESPN.com
This past summer, Virginia tight end
Colter Phillips
lost his father, William "Bill" Phillips Sr., in the Alaskan plane crash that also took the life of former U.S. Sen. Ted Stevens. Colter's father and younger brother, Willy, were among the nine passengers in the small plane. Willy was one of four survivors. It's been an emotional season for Phillips and his family. Colter has an older brother, Andrew, who is a senior offensive guard at Stanford, and his younger brother, Paul, is a freshman tight end at Indiana. I spoke with Colter earlier this week about his season and was extremely impressed by his positive outlook. Here are the highlights of our conversation:
First I wanted to say I'm sorry for everything your family has gone through this season. I can't imagine how difficult that has been for you.
[+] Enlarge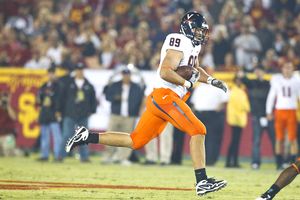 Jason O. Watson/US PresswireFootball has been a therapeutic outlet for Colter Phillips.
Colter Phillips:
Yeah, it's been tough. But I've had a lot of really great people around me, helping me out and giving me support. Just being on the team has been so important through this whole thing. It's been nice to have that kind of support from everybody around here.
How much has the game of football -- I don't want to trivialize it -- but how much has it helped you heal emotionally?
CP:
Every day when we go out on the field, it's kind of like the only time where I can just let everything loose and not really have to worry about everything. Before that, when I'd go out on the field, that was the biggest part of my day where I was trying to do everything perfectly and all that. Now it's a way for me to get away and just have fun and relax. My coaches have really taught me to play loose and play relaxed and I think it's really helped my game to use football as a way to have therapy. Just being out there with my teammates and everybody has been really great to have that kind of fun every day when I'm out on the field.
Your career so far to date, how has it gone compared to your expectations?
CP:
I'm not really worried about statistics and all that, but personally I feel like my game has really improved a lot from what it was last year, especially my confidence. I feel like I can really play at the highest level right now. It's a great feeling to know that you can play with the best.
It seems like you really do have such a carefree attitude toward it and love for the game. Is that because your priorities have recently changed or been changed for you?
CP:
I've always really loved and respected and appreciated playing. Every day could be your last play. Joe (Torchia) just got hurt. He didn't know he was never going to play college football again. You have to take that with you every day and play every play like it's your last. That's how you have to live life -- do your best every day.
Stay tuned for Part II with Colter Phillips.
September, 24, 2010
9/24/10
3:30
PM ET
By
ESPN.com staff
| ESPN.com
How about your own play? Myself and a lot of other people have said you're probably one of the most improved quarterbacks this year, but players around you have also gotten better as well. How much better do you feel out there?

T.J. Yates: I feel very comfortable. It was kind of a struggle with the offense last year. This year it just seems so much easier for everybody. Everything is going a lot smoother. Passing-wise, we're taking care of the ball. We've had some fumbling problems, but as far as the passing game, I know where guys are going to be, they know where they're going. Everybody is a little bit older, a little smarter. We have a lot of confidence in the offensive line to protect. It's just evidence of a year this entire offense has had together to grow and build.

The past two bowl games you guys have struggled against Big East opponents, but you have another chance this weekend. How badly do you guys want to get this win?

Yates: It's not really a want thing. We have to. We can't go 0-3. We have to get back in the win column and doing whatever it takes is our plan right now. No matter what happens in that game, now it's all about the win or the loss.

How do you avoid putting too much pressure on yourselves and going out and playing football without thinking too much about the consequences?

Yates: For me and lot of the older guys it's pretty easy. We know what we have to do to go out there. It's our job to get the younger guys who might not have been in this situation before not to dwell on it way too much, but to focus on your assignments and what you have to do on the field. A lot of the seniors and leaders will really have to bring along the younger guys not being discouraged going into a hole like this.

And what do you see on film from Rutgers?

Yates: They're a very well-coached defensive team. Coach [Greg] Schiano is a great coordinator and head coach. He's very well respected throughout our coaching staff and the country as being a very good defensive mind. They blitz a lot, they have a lot of talent over there, a lot of athletes. We're ready for them to come after us. They've had a week off to draw some new stuff up, so they're going to have something we haven't seen before. It's going to be how well we pick up the new stuff and make some in-game changes and corrections and move on.
September, 24, 2010
9/24/10
3:00
PM ET
By
ESPN.com staff
| ESPN.com
Just when it seemed as if North Carolina quarterback
T.J. Yates
had made enough strides to lead his offense to an ACC title, the program has come unraveled with an NCAA investigation and an 0-2 start. Yates leads all ACC quarterbacks with 32 career starts, leads the nation in passing yards and is second in the nation in total offense. I caught up with Yates earlier this week (before the suspensions were announced) for his take on the state of the program heading into Saturday's game against Rutgers. Here are the highlights of our conversation:
If you could assess where you guys feel like you are at this point in the season with the team that you have, not the one you're missing, heading into this Rutgers game.
[+] Enlarge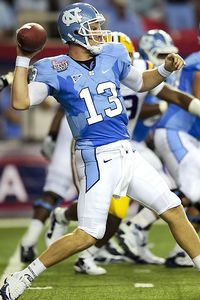 Paul Abell/US PresswireQuarterback T.J. Yates has completed over 65 percent of his passes and has thrown four TDs and no picks.
T.J. Yates:
We're obviously a little diminished. We don't have everybody we normally would, but we're playing very well under the circumstances. We're a couple plays away from being 2-0, and that's what's the most frustrating thing right now. We just hold onto the ball a little bit in the third quarter there this last week and it would be a lot different game. Every time we did sustain a drive and move it down the field, we ended up scoring, but there was that stretch in the third quarter where we had a penalty and went three and out and fumbled on the first down, and fumbled on the second down the next series. That little three-series stint right there absolutely killed us. If we could get over the hump and get rid of those things on offense, we think we can carry this team to a win.
Just being so close, is there any sense of the team letting the frustration get to it at this point?
Yates:
I think it's the other way around. We know we're close enough. We just have to do a little bit more and keep grinding away because we know eventually we're going to get through this little thing and we're finally going to get a win, get our season started.
At least from the outside looking in, it's been really hard for me not to imagine, 'wow, these guys are so close, after losing all of those guys, what could they have done full strength?' Is it hard for you guys not to think about that?
Yates:
It probably crosses everyone's minds a little bit because it's there and everybody talks about it so, but we're trying our best to get that out of our heads. If we go into every game thinking what if this, what if that, then our minds are not going to be in the right place and we're not going to be focused on what we need to be doing with the people we have out there on the field.
The guys who are out right now, have they apologized about anything? Are they feeling bad? What's their take on everything?
Yates:
I can't really speak for any of the other guys because I'm not in their shoes, but I don't think there's any need for apologies. We know that every single one of them didn't do this intentionally to hurt the team or anything like that and we feel for them because they're not getting the opportunity to play. That's bad enough for them, because a lot of those guys are seniors, and this is their last chance to go out there. We feel for them just as they're feeling for us.
What do you think you guys can do to stay in the race? Every weekend counts and when you get in a hole like this, it's hard to even get to a bowl game.
Yates:
Yeah. We know that looking throughout the season is not our focus. Our focus is on Rutgers and we know we have to get one win to get the season kicked off. We're fighting right now through all the stuff that's going on and these first two losses have been kind of tough, but guys are not down in the dumps. We're not making excuses. We're just working hard, trying to get that next win.
Stay tuned for the second half of our interview.