December, 21, 2010
12/21/10
11:00
AM ET
By
ESPN.com staff
| ESPN.com
No, Maryland AD Kevin Anderson hasn't shared his list of candidates with me, but I've got two more suggestions for him:

1. Larry Johnson, Penn State defensive line coach: If you can't beat him, hire him. Johnson has been the Nits' top recruiter in the state of Maryland, and this is the perfect chance for him to return to the state. Johnson was head coach at McDonough High School in Pomfret, Md., for 19 years. He had an impressive 139-36 record and won state championships in 1983, '85 and '90. In 1992-93, he was head coach at T.C. Williams High School in Alexandria, Va. He knows this recruiting territory extremely well, and it's the perfect head-coaching opportunity for him. Johnson has spent the past 15 seasons on Joe Paterno's staff, developing numerous first-round NFL draft picks along the way.

2. Houston coach Kevin Sumlin: He's extremely well-respected in the business and should be for what he's done at Houston. His name surfaced in connection with the Miami job. Houston struggled in Sumlin's third season this year, but he took the Cougars to back-to-back bowl games and record-setting numbers in his first two seasons. Prior to taking over at Houston, Sumlin spent seven years in the Big 12, including five seasons at Oklahoma, where he was both the co-offensive coordinator/wide receivers coach (2006-07) and special teams coordinator/tight ends coach (2003-05).

So there are other, less risky options out there besides Mike Leach. These are just two suggestions. It depends on which direction Anderson wants to go.
December, 21, 2010
12/21/10
10:00
AM ET
By
ESPN.com staff
| ESPN.com
Virginia Tech coach Frank Beamer and Maryland coach Ralph Friedgen have been friends for decades. They went to Lamaze class together with their wives. They have neighboring homes on Lake Oconee in Georgia. On Monday, their careers went in opposite directions.
Beamer won the inaugural Paterno Award, and Maryland announced it would buy out the remaining year of Friedgen's contract. Beamer was not happy about this news. Thanks to Hokies beat writer Kyle Tucker of the Virginian-Pilot for passing this quote along from Beamer's teleconference Monday:
"We're close, but whether we're close or not, I don't think it would change my thoughts. I do know Ralph and I know he's a heckuva football coach; I know he's a heckuva good person. It's very unusual that a guy could have the year that he had and be coach of the year and having the coaching performance that he had and then all of a sudden he's not going to be your coach. I know the season-ticket sales are down, but to me, that came off of last season. I would think next season when he's got a young team -- he's got a lot of those starters back that performed well; he's got his quarterback who was rookie of the year coming back -- I would think it would help those season-ticket sales. I would think it would sell some of those suites. I understand all that.
"What's happened this year when you think of guys that have winning records and now they're not going to be the coach of their team next year -- I think of West Virginia, Pittsburgh; I think about Miami, about Maryland -- and knowing how hard it is to win ... I think a perfect example is Texas. They play for the national championship last year. They've got good players. They've got good coaches and they just got on a bad run and it's hard to win. I think people think, 'Hey, let's just change the coach and everything's going to be alright.' But usually it goes deeper than that. I know what's real and I know Ralph's a heckuva football coach and I thought he did a heckuva job and deserves better than he got."
December, 21, 2010
12/21/10
9:00
AM ET
By
ESPN.com staff
| ESPN.com
Former Texas Tech coach Mike Leach was the only candidate Maryland AD Kevin Anderson was willing to mention on Monday as a possible successor to Ralph Friedgen, but he's not the only candidate on Anderson's list.

Leach, though, should definitely be at the top for three main reasons:

1. He's affordable. The man is in no position to bargain. He's living the high life right now, fishing in Key West and waiting for somebody to offer him a job. He's got legal baggage from an ongoing lawsuit against his former employer, and a lot of schools -- like Miami -- aren't even willing to give him a look right now.

2. He's explosive. Maryland doesn't just need a spark, it needs a Fourth of July in Washington show. Attendance has declined over the past few seasons, but Leach in name and personality alone is enough to help reverse that trend. He's a pirate. A meteorologist. And the winningest coach in Texas Tech history all wrapped into one. If you guys are bored today, search for Mike Leach on YouTube. You'll see what I mean.

3. He can win. Leach never had a losing season at Texas Tech. He finished 84-43 there. He's extremely smart (ever notice how some of the best coaches always seem a little off-kilter?), and Texas Tech led the nation in passing in six of his final eight seasons. His spread passing attack was indisputably successful, but of course, he'll have to overcome the challenge of recruiting those players to College Park.

Leach himself would be a full-time job. Anderson would have to keep an eye on him closely. Their personalities don't seem to mesh. Anderson seems like a straight and narrow kind of guy. Leach, well, he's out to sea. He could be a public relations nightmare for any school, which means he's a reporter's dream. Leach would put Maryland in the national spotlight before he even coached a game, and that's exactly where Anderson wants the program on a consistent basis.

With Leach, for better or for worse, that's where it would be.
December, 20, 2010
12/20/10
4:42
PM ET
COLLEGE PARK, Md. -- Maryland had the ACC's Coach of the Year. It had the second-biggest turnaround in the FBS. And it was one win away from a chance to play in the Discover Orange Bowl.
None of it helped Ralph Friedgen's job security.
[+] Enlarge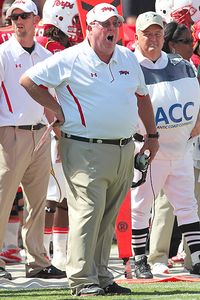 Jeff Fishbein/Icon SMIMaryland will pay $2 million to buy out the final year of coach Ralph Friedgen's contract.
"I took that into account," first-year athletic director Kevin Anderson said. "This was a good football team. I believe it can be great. We're going to bring the best person in here to get to that greatness and to sustain it. That's what we're looking at. That's why the decision has been made at this time."
With a new administration came a new standard at Maryland, and an 8-4 record apparently won't cut it.
Friedgen, a Maryland alum and leader of the Terps for the past decade, did everything he could do this season short of winning the Atlantic Division. It was a remarkable turnaround for a team picked to finish last in the ACC after an embarrassing 2-10 finish in 2009, but a unique situation forced Anderson to make a tough decision and think long-term. The departure of former offensive coordinator James Franklin opened the door for Anderson to make a sweeping change and put his stamp on the program less than three months on the job. With no offensive coordinator, only one year remaining on Friedgen's contract, and no extension, it was the right choice and the only choice.
Maryland will pay $2 million to buy out the final year of Friedgen's contract – an expense to be paid entirely by the financially struggling athletic department. Anderson, who took office on Oct. 1, said he expects a search firm to be hired by the end of the day, and that yes, former Texas Tech coach Mike Leach is a candidate. Anderson declined to discuss any other names on his list, but said he hopes to name Friedgen's successor by Jan. 4.
"Right now there is no leading candidate," Anderson said. "… I do have a list. Mike Leach is on that list."
Franklin, who was hired to be head coach at Vanderbilt, opted not to be.
Even if Franklin would have stayed, Anderson said there was no guarantee that he would have honored former athletic director Debbie Yow's coach-in-waiting plan. Franklin would have been a candidate, Anderson said, but not the only one.
"James and I did have a discussion," he said. "I told him I would not automatically give him the job, but he would have been a candidate had he chose to stay and the decision was his."
Following his eight-win season, Friedgen wanted a contract extension, but Anderson said he "wasn't willing" to give him one. Friedgen's contract expires Jan. 2, 2012, and it would have been impossible for him to recruit and hire assistants with only one year remaining. No offensive coordinator in the country is going to sign a one-year deal in College Park, let alone anywhere else.
The only option was to start over.
Friedgen, who will coach the Terps in the Military Bowl, will leave behind a team that can win. The Terps have the ACC's Rookie of the Year in quarterback Danny O'Brien, and if the team stays intact, it can contend for the Atlantic Division title again in 2011.
But based on today's decision, Anderson wants more than that.
He wants Maryland in the Top 25 on a consistent basis. He wants a coach who can get fans excited about football here again. That's a tall task for a program consistently competing with the Redskins, Ravens, Orioles, Wizards, Caps, etc. The expectations are loftier than the budget to support them, and championship-caliber coaches don't come cheap.
But a precedent has now been set.
On Jan. 2, Maryland will fire the ACC's Coach of the Year -- the first time in conference history the league's coach of the year has been dismissed.
It's a nice title, but to Anderson, ACC titles clearly mean more.
December, 20, 2010
12/20/10
3:02
PM ET
COLLEGE PARK, Md. -- Maryland will buy out the final year of coach Ralph Friedgen's contract for about $2 million, AD Kevin Anderson announced at Comcast Center on Monday. It will be effective Jan. 2, 2011. A nationwide search for Friedgen's successor will begin immediately. Friedgen will officially be under contract through the Military Bowl and will coach the Terps against East Carolina.