August, 23, 2013
8/23/13
10:30
AM ET
We're wrapping up our preseason previews with Boston College, which is looking to bounce back from a dismal 2012 with a new coaching staff and renewed optimism.
Boston College Eagles
Coach
: Steve Addazio (13-11, first season at BC)
2012 record
: 2-10 (1-7 ACC)
Key losses
: WR Johnathan Coleman, OT Emmett Cleary, OT John Wetzel, LB Nick Clancy, CB Jim Noel, P Gerald Levano
[+] Enlarge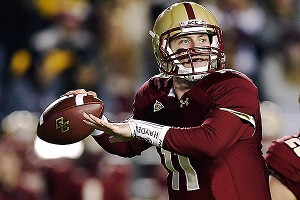 AP Photo/Winslow TownsonChase Rettig was sacked 36 times in 2012. Can the offensive line better protect the quarterback this season?
Key returnees
: QB
Chase Rettig
, WR
Alex Amidon
, RB
Andre Williams
, LB
Kevin Pierre-Louis
, LB
Steele Divitto
, S
Sean Sylvia
Newcomer to watch
: OT
Matt Patchan
. If there's a perfect example of the hope Addazio has brought with him to Boston College, it's Patchan. The talented left tackle transferred in from Florida -- Addazio's old stomping grounds as an assistant coach -- and immediately plugs into one of the Eagles' biggest areas of need. BC's line was awful last season, and attrition threatened to make the situation even worse. Enter Patchan, a former high school All-American and sixth-year senior who missed 2012 with a torn pec. He is fully healthy now and should contribute immediately.
Biggest games in 2013
: Sept. 14 at USC; Sept. 28 vs. Florida State; Oct. 12 at Clemson; Nov. 2 vs. Virginia Tech
Biggest question mark heading into 2013
: The offensive line was dismal for Boston College last season, and the only good news heading into 2013 is that it would be tough for things to get much worse. The Eagles ranked 106th nationally in sacks allowed per game last season, and they're losing both starting tackles for this year. Worse yet, BC was among the worst rushing teams in the country, ranking 119th out of 124 Football Bowl Subdivision teams in rushing yards per game. Only four teams in the nation managed fewer rushing touchdowns than BC's seven.
Forecast
: Addazio is a high-energy coach with an SEC pedigree, and his arrival at Boston College has at the very least injected some much-needed optimism for a program that not only missed out on the postseason for a second straight season in 2012, but did so in dismal fashion, winning just one game against an FBS foe.
But as bad as the numbers look from last year, Addazio hasn't inherited a program with a talent vacuum. Rettig established himself as a serviceable quarterback with some upside. His top target is Amidon, who is already an All-ACC performer. Add in some established talent on defense, including Pierre-Louis, Divitto and
Nate Freese
. BC returns eight of its top nine tacklers overall.
Still, all of Addazio's energy and all of the talent at the top of the depth chart can't mask some serious concerns at the line of scrimmage and on the bench. Boston College should be markedly more competitive than during the past two lost seasons under former coach Frank Spaziani, but the lack of depth in key areas will make it awfully tough for the Eagles to hold up over the course of a difficult schedule.
The bar isn't set high for Addazio, and it would be surprising if Boston College doesn't show signs of improvement. But the rebuilding project isn't likely to be a quick fix, and 2013 could be another long season in Chestnut Hill.
August, 23, 2012
8/23/12
2:00
PM ET
Boston College held its final scrimmage of preseason training camp on Wednesday at Alumni Stadium. Here are the highlights, according to
the team's practice report
:

Offensive highlights:
Junior quarterback
Chase Rettig
completed 7-of-13 pass attempts for 130 yards and one touchdown -- a 50-yard pass to
Bobby Swigert
on the opening series of the scrimmage. Backup quarterback
Josh Bordner
threw a 13-yard touchdown pass to
Johnathan Coleman
in an overtime situation. Bordner finished 4-for-10 for 36 yards with the touchdown. Tailback
Tahj Kimble
had seven carries for 26 yards, and
Colin Larmond Jr.
led the receivers with three receptions for 61 yards.
Defensive highlights
: Senior linebacker
Nick Clancy
led all defensive players with six tackles, and junior linebacker
Kevin Pierre-Louis
recorded four tackles and one pass break-up. Six-foot-7, 250-pound freshman defensive end
Malachi Moore
knocked down a Rettig pass at the line of scrimmage, and senior defensive tackle
Bryan Murray
also registered a pass break-up.
Kasim Edebali
recorded a sack during situational play.
Special teams highlights:
Placekicker
Nate Freese
made field goals from 37 and 34 yards and finished 2-for-3 in field goal attempts. He combined to make 8-of-9 field goal attempts in the Eagles' four scrimmages.
Gerald Levano
punted three times, including a 33-yard punt on the 13 yard line and a 53-yard punt.
August, 9, 2012
8/09/12
10:00
AM ET
This past offseason, Boston College defensive tackle
Kaleb Ramsey
dedicated himself to getting into the best shape of his life.
He did this in some pretty unconventional ways.
First, he started seeing stretching specialist Bob Cooley as a way to become more flexible and avoid many of the injuries that have hurt him in the past. Ramsey missed nearly all of 2011 as he recovered from plantar fasciitis in his left foot, and was granted a waiver to be able to play this season. After seeing the results punter
Gerald Levano
got in his sessions with Cooley, Ramsey decided to join up with offensive tackle
Emmett Cleary
.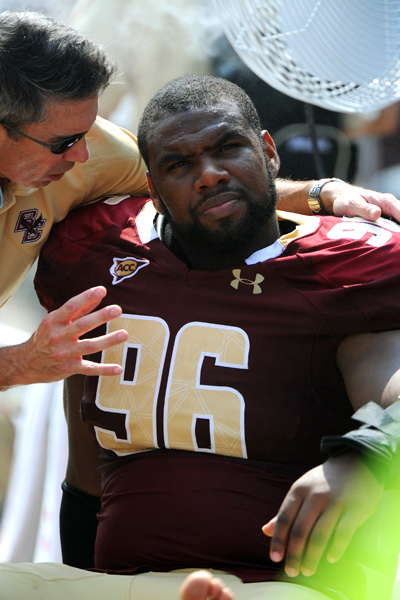 AP Photo/Tomasso DeRosaIn an effort to avoid injuries, Kaleb Ramsey worked with a stretching specialist and a sensei in the offseason.
"I've seen the improvement in his body and how flexibile he is, so I figured I'd give it a try," Ramsey said. "It's my last year, so I'm going to go all out for my body to make sure I can have the best season."
Before you read on, erase any notion you have of stretching. We are not talking about raising your arms into the sky and breathing deep. Cooley puts Ramsey and Cleary through some intense 2 to 3 hour workouts, and when they are done, they are drenched in sweat.
Much of the stretching focus is on
resistance
. Ramsey explains.
"[Cooley] puts your body in all different types of positions because your muscles aren't used to working a certain way," Ramsey said. "So when you are put in those positions, you're able to handle it. He puts your legs all the way back and you have to go against somebody else to try to keep your legs from going back. The stretching, it's not like casual stretching. It's a good workout."
Ramsey already has felt a difference, saying, "I feel like I've changed my body. I'm in the best shape I've ever been in. Being hurt last year taught me a lesson -- not to take anything for granted."
As for improving his technique, Ramsey said defensive line coach Jeff Comissiong brought in a sensei to work with every lineman on his hand work. It was not the first time Ramsey worked with a sensei -- he took karate two years ago -- but he did get a lot out of the drills.
"It's definitely beneficial because you get used to using your hands, which on the D-line that's all you do -- it's a hand battle with the offensive lineman in front of you," Ramsey said. "[The sensei] teaches us to use offensive linemen against them for leverage, where he's most vulnerable, where to strike to make sure it inflicts the most pain, so he's a little bit weary of putting your hands on you again. It helps you be more precise with where you put your hands."
Ramsey said the defensive linemen practiced their new skills against the Boston College offensive linemen all summer, and noticed an improvement. Boston College has put a huge emphasis on playing better up front, particularly on pass rush. The Eagles only had 11 total sacks last year.
Having Ramsey back helps. He also is expected to provide leadership, after being selected one of the four team captains for this season by his teammates, who clearly have seen how hard he has worked after sitting out last year.
"It wasn't easy seeing my team out there every weekend, knowing I should be out there to help them win," Ramsey said. "But it definitely humbled me, made me more appreciative of the game because I realized any second the game can be taken away. It made me more hungry for this season coming up. I'm ready to go."