May, 2, 2014
May 2
4:00
PM ET
Let's dig into the mailbag.
rtXC in Denison, Texas, writes:
Hey AA, love the blog! After the SEC's "groundbreaking" announcement to stay at eight conference games and have each of its teams play one team from the Power 5, would you like to see the other conferences band together and make a stand? Other than certain SEC-ACC rivalries and current contracts for future games, how about the four conferences band together and abstain from scheduling SEC teams in the future? That'd surely solve things, eh?
Andrea Adelson:
Thanks for reading! I think you make some good points here, but it is also a double-edged sword to avoid scheduling SEC teams. Many teams in the other four conferences want the strength-of-schedule boost that would come from playing a marquee SEC team. Others just want the national boost that would come from playing an SEC team. Case in point, Indiana
tweeted out the number
to its football offices in reply to a tweet that read, "Don't everyone call Indiana all at once, SEC schools." I do not think blocking out SEC scheduling will force the SEC to change. Right now, the SEC has no incentive to change. It has been the strongest conference playing only eight games and has played in eight straight national championship games using this formula. The reason to change is .... what exactly? The SEC has no reason to "even the playing field," so to speak. In my opinion, the only true incentive to change is if the league starts to miss out on slots in the College Football Playoff because its strength of schedule is not tough enough.
---

Gullatte Hunter in Auburn, Ala., writes:
Will the running game for the Miami Hurricanes be primed for a good year with RB
Duke Johnson
coming back, former RB
Dallas Crawford
switching to defensive back and incoming freshman
Joe Yearby
also recovering from an injury?
Adelson writes:
Miami HAS to run the football given the uncertainty at the quarterback position. I never have any doubts about Johnson's ability. He is one of the best running backs in the country, and I believe he will be even better this year because he has become physically stronger. Yearby should be healthy for the fall. Al Golden was also pleased with the way
Gus Edwards
and
Walter Tucker
ran this spring, saying one of the biggest areas of improvement was depth at running back. Miami would not have moved Crawford if it did not believe it would be fine without him. I think the Canes will be -- but Johnson has to stay healthy.
---
Jeff in Buffalo, Minn., writes:
Thoughts on the
new uniforms
for the Canes?
Adelson writes:
Love 'em! My two favorite looks are the all orange, and believe it or not, the gray unis with the orange helmet. I had always been against gray uniforms because green and orange are so identifiable with the U. But this look is just sharp!
---
Patrick Patti writes:
Andrea, Hello! I have been reading your blog for a pretty long time. I had a couple questions for you regarding your take on reporting injuries in sports. When you get breaking news about an injury during a football game or practice, how do you go about reporting that and who do you get that information from? With HIPAA laws in effect, it must be extremely difficult to cover sports injuries and there must be stipulations at hand, so I was interested to see how reporting injuries goes about.
Adelson writes:
We are at the mercy of what schools release to us. The ACC requires schools to put out a weekly injury report for conference games that lists players and their status (out, doubtful, questionable, probable), with a brief description of what is ailing them, such as head, knee, wrist. That has been helpful. It is up to the players and their parents if they want to go into more detail about injuries.
---

Sean Stephens in Louisville, Ky., writes:
Hello, Andrea. Regarding the ACC and the divisions, do you see a potential shake-up in the divisions to create a more competitive conference? It seems that with the Atlantic having FSU, Clemson and now Louisville, it far outstrips the Coastal in terms of potential. What are the chances that Louisville ends up in the Coastal in order to help balance the divisions, seeing as they are the "new kid?"
Adelson:
There is no momentum for division realignment. I think there might be more impetus to get rid of divisions all together, however. That is a topic that will be under discussion at the upcoming ACC spring meetings. Getting rid of divisions means not being tied to the same six divisional games, opening up opportunities for teams to play each other more often. It also means the ACC can put its top two teams into the championship game. Remember, the ACC has petitioned the NCAA to
loosen restrictions
to the championship game format.
---

Scott Cowitt in Jacksonville, Fla., writes:
I agree with you in that Cuse will not win their division. It will take several more years, at least. Then they also have to learn to beat FSU and Clemson. I do think the program is heading in the right direction. Do you think
Terrel Hunt
is the right QB to lead the Orange?
Adelson:
At this point, I do. He grew up in the last month of the season and impressed coaches with his leadership and maturity this spring. In fact, offensive coordinator George McDonald told me Hunt was playing at a different level and was able to do things this spring he could not a year ago. He was named the team's MVP for last season, so these are all positive signs for Hunt moving forward.
---
Ben in San Diego writes:
Do you think the ACC should institute a rule to not play any FCS teams in order to increase the conference's strength of schedule?
Adelson:
This was a topic of discussion last year at the spring meetings, and most coaches and athletic directors were
against the idea
. I think it is fine if you have an eight-game league schedule and your other three nonconference games are challenging. But if the ACC moves to a nine-game conference schedule, given how strength of schedule will be a major factor in the College Football Playoff, it would be much smarter to stay away from the FCS games.
September, 25, 2013
9/25/13
10:30
AM ET
Wake Forest coach Jim Grobe is a throwback, and he's never been eager to play his freshmen too early. In his career at the helm of the Demon Deacons, just 22 true freshmen have seen action. And yet, in 2013, Grobe has already played 11 more.
It's a sign of the times that true freshmen are making an instant impact, and that's been particularly true in the ACC. And while virtually every program has seen some results from its Class of 2013 already, these five classes have produced the most through four weeks.
[+] Enlarge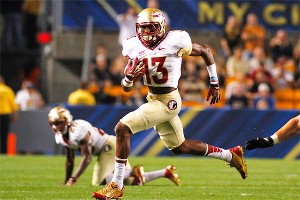 Justin K. Aller/Getty ImagesIn FSU's season opener, Jalen Ramsey became the Noles' first true freshman cornerback to start a game since Deion Sanders in 1986.
1. Pittsburgh:
According to ESPN's rankings, Pitt had the 41st-ranked recruiting class last season, but few programs have gotten more production from their freshmen right off the bat than the Panthers. Pitt has played 12 true freshmen already this season, including two of the nation's best. Tailback
James Conner
ranks second in the ACC in rushing, and receiver
Tyler Boyd
has been electric, ranking fifth in the nation in all-purpose yards. Including receiver
Scott Orndoff
and kicker
Chris Blewitt
, freshmen have accounted for 70 percent of Pittsburgh's scoring this season.
2. Virginia Tech:
The Hokies opened the season with two freshman defensive backs aiming to shut down the two-time defending champions. It was a major question mark, but
Brandon Facyson
and
Kendall Fuller
answered emphatically. Facyson has three interceptions and four passes defended so far, while Fuller has racked up 12 tackles, seven defended passes, six pass breakups and an interception. With the two freshmen starting all four games, Virginia Tech's passing defense ranks sixth in the nation.
3. NC State:
Without starting quarterback
Brandon Mitchell
, the Wolfpack have had to find offense wherever they can, and two true freshmen have answered the call. Tailback
Matt Dayes
has racked up 143 yards on 37 carries so far, scoring three touchdowns. Meanwhile, receiver
Marquez Valdes-Scantling
ranks in the top 15 in the ACC in receiving yards, yards per reception and yards per game.
4. Florida State:
Jalen Ramsey
became the first Florida State cornerback to earn a starting assignment as a true freshman since Deion Sanders in the opener, and he didn't disappoint, picking off Pitt QB
Tom Savage
for the Seminoles' first takeaway of the season. Ramsey ranks sixth on the team with 12 tackles, and he's recorded one of FSU's six sacks. Defensive end
DeMarcus Walker
earned a start, too, and
Matthew Thomas
has two tackles for loss. In all, 13 freshmen have seen the field for FSU.
5. Miami:
The Hurricanes have yet to see significant contributions from a number of members of their 15th-ranked recruiting class, but the early results from
Gus Edwards
,
Alex Figueroa
and
Stacy Coley
have offered a glimpse of what's to come. Edwards has carried just 18 times, but he's scored on three of those runs, and his 7.3 yards-per-carry average ranks fourth in the ACC. Coley has just five catches, but one went for a touchdown, and Figueroa has eight tackles and a sack for a particularly tough Miami linebacking corps.
September, 19, 2013
9/19/13
12:00
PM ET
August, 16, 2013
8/16/13
12:00
PM ET
February, 6, 2013
2/06/13
2:10
PM ET
ESPN 150 defensive tackle
Keith Bryant
announced Wednesday that he would play for Florida State, choosing the Seminoles over Miami.

Bryant, rated the No. 135 overall player in the nation out of Delray Beach, Fla., was once a Miami commitment. But he changed his mind because, "I love what they're doing up there in Tallahassee. I love the atmosphere, I love the coaches."
The No. 14 overall defensive tackle was just the latest to make a choice between the rival schools on signing day. Florida State also won the battle for No. 1 overall linebacker
Matthew Thomas
, who chose the Noles over Miami.
But Miami won two others -- ESPN 150 receiver
Stacy Coley
picked the Canes over Florida State and three-star running back Gus Edwards also picked Miami over the Noles.
Florida State now has six ESPN 150 commits and 11 from the ESPN 300. The Seminoles picked up three ESPN 150 players alone Wednesday -- Bryant, Thomas and cornerback
Jalen Ramsey
, who flipped from USC.