April, 11, 2014
Apr 11
11:00
AM ET
RALEIGH, N.C. -- If he's being honest, the question makes
Jacoby Brissett
a bit uncomfortable. He hears it routinely -- from friends, from fans, from media eager to make him the headliner in NC State's revitalization project -- and after three years waiting to be anointed the starter, he should be thrilled.
Still, every time someone asks Brissett what it feels like now that he's the man -- the starting quarterback and offensive ring leader -- he feels compelled to downplay the significance of it all.
"I'm not big into that stuff," Brissett said. "I'm like, 'You don't have to say that.' I'm competing to remain the starter -- competing with myself, the guys around me, the other guys in the conference. You have a national championship quarterback in this conference, so I have a lot of catching up to do."
It's no surprise Brissett feels like he's playing from behind. Three years ago, he got a taste of life as the starting quarterback at Florida. That door closed quickly though, and after a year on the bench in 2012, he transferred to NC State. NCAA rules forced Brissett to redshirt, so he spent last year again waiting on the sideline for his chance.
When a 3-9 campaign marked by offensive struggles concluded in December, NC State coach Dave Doeren officially put an end to Brissett's wait, tabbing him as the Wolfpack's starter for 2014. But Doeren's decision wasn't about finally giving Brissett his chance. It was an acknowledgement of everything the quarterback had done while he was waiting for it.
"The way he plays is part of it," Doeren said, "but the way he interacts and leads is a big part of it."
"

I'm not big into that stuff. I'm like, 'You don't have to say that.' I'm competing to remain the starter -- competing with myself, the guys around me, the other guys in the conference. You have a national championship quarterback in this conference, so I have a lot of catching up to do.

"

-- NC State QB Jacoby Brissett on the hype about him being the starting QB
Brissett came to NC State just a month after Doeren arrived. He'd been frustrated by his back-up role at Florida, and he needed a fresh start. A highly touted recruit out of high school, Brissett was again a hot commodity, but NC State -- and Doeren -- felt right.
"I was actually looking at West Virginia, but every time I was there, the coach kept saying something about [former quarterback]
Geno [Smith]
," Brissett said. "I'm like, I'm not Geno. I won't be Geno. I just wanted to be Jacoby, and I feel like this is a place I can be Jacoby."
That comfort level didn't manifest overnight, however.
With just two quarterbacks on the roster last spring, Brissett got plenty of early work with the first-team offense, wowing coaches and teammates, but he was reluctant to take a leadership role. No matter how well he performed, his script for 2013 was already written. It was someone else's team, and he didn't want to muddy the waters.
When spring ended, however, it was clear to Doeren that he'd found his quarterback of the future. He called Brissett into his office and gave his quarterback a clear mandate.
"The guys need to know it will become your offense by how you practice, how you act, how you are in the locker room," Doeren told him. "You can't just be a ghost."
Brissett offered assurances that wouldn't happen, but even Doeren was surprised by how thoroughly he grabbed the reins.
Over the summer, Brissett helped organize practices. In the weight room and film room, he was a fixture. Once the season began, Brissett took his role on the scout team seriously, often frustrating NC State's first-team defense in the process. It was clear the Wolfpack had a budding star.
"The other quarterbacks didn't really look anyone off," NC State safety
Hakim Jones
said. "With Jacoby, you never know what to expect from him. He seemed a lot more advanced."
Then there was the famed road trip to Tallahassee, which is everyone's favorite evidence of Brissett's command of the team.
NC State had a road date with Florida State last October, but because he was a first-year transfer, Brissett couldn't travel with the team. So he hopped in his car, made the 600-mile drive alone, and arrived -- complete with speeding ticket in Tallahassee -- in time for the game. Teammates were shocked to see him, but the image of Brissett still rallying his troops after NC State fell behind 42-0 at halftime is what stuck.
"Since he cared and he's not even playing, it let us know it's a serious matter, and we had to step it up," receiver
Bryan Underwood
said.
For all Brissett's emotion from the sideline, NC State's offense was a mess throughout much of last season. Starting quarterback
Brandon Mitchell
, an athletic runner, broke his foot in the opener. His backup, Pete Thomas, was a pure pocket passer, and Doeren was forced to adjust his game plan on the fly. The result was an enigmatic approach, and the Wolfpack never fully gelled around either QB.
This season, things are different, Doeren said. Brissett isn't the dual-threat nightmare Doeren had in
Jordan Lynch
at Northern Illinois, but he can make plays with his legs. At 6-foot-4, 240 pounds, he's a physical threat with an arm to match. NC State's receiving corps is young, but Brissett has already established a standard he expects the group to meet. Even before Doeren made it official, the Wolfpack knew Brissett was in charge.
"His skill set is obviously good, and we all know that," Underwood said. "But outside of throwing the ball and learning the plays, he's that guy that we can say, he's going to get us into shape."
Underwood said he sees aspects of former Wolfpack QBs
Russell Wilson
and
Mike Glennon
-- both now starting in the NFL -- in Brissett, and that's just the beginning of the praise for NC State's new starter.
Fans get their first chance to see him in action Saturday when NC State holds its annual spring game, and the expectations are high. Brissett understands that, too. The wait was long, but it also served as the perfect preparation for what's ahead.
"When you're starting, it's about making sure that everybody around knows why you're quarterback," Brissett said, "and make sure you're being an example to look up to."
March, 26, 2014
Mar 26
2:00
PM ET
RALEIGH, N.C. -- In most places, it would speak volumes that
Kalen McCain
and
Germaine Pratt
, both just a few weeks into their college careers, were running with the second-team defense Saturday during NC State's first scrimmage of the spring.
Indeed, both freshmen safeties have impressed teammates so far. McCain is instinctive, according to senior
Jarvis Byrd
, looking like a ball hawk in coverage. In that scrimmage, McCain picked off a pass and returned it for a touchdown, but at just 175 pounds, he needs to add some bulk. Pratt, on the other hand, is a charging bull in the secondary. At 6-foot-3, nearly 200 pounds, he plays like a linebacker -- a throwback to his high school days when he spent significant time in the box, playing the run -- and still needs refinement in coverage. But when he hits, he hits hard.
[+] Enlarge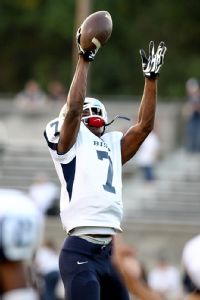 Miller Safrit/ESPN.comJust months ago, Germaine Pratt was a three-star prospect. Now he's pushing for a big role in NC State's secondary.
It's a promising start for both players, but for the Wolfpack, their spot on the depth chart is a matter of necessity.
"They're running with the twos because they have to," safety
Hakim Jones
said. "We only have four safeties."
This is the landscape in Raleigh for the nine early enrollees at NC State -- seven scholarship freshmen, along with long snapper Robert Brunstetter and preferred walk-on
Ty Linton
, a former North Carolina commitment who has played professional baseball for the past four years. There is opportunity at every turn, the result of a disproportionately young roster, but it is also a trial by fire.
"You go through this whole recruiting process and it seems like it should take a long time, but then you get here and it's fast," said
Bo Hines
, one of two freshman wide receivers enrolled for the spring. "Everything is moving."
By coach Dave Doeren's math, 71 percent of NC State's roster this year will be freshmen or sophomores. Many saw action last year as the Wolfpack struggled to fill out a depth chart amid myriad injuries en route to a disastrous 3-9 season in which they didn't win a game in conference play. The new arrivals, meanwhile, are getting a healthy dose of snaps on the practice field with an eye toward playing time this fall.
It's a challenge, Doeren admits, but it's also an investment in the viability of a crucial freshmen class this fall.
"[Many of] those guys are playing with the ones at times out there," Doeren said. "Just imagine the learning curve for them in August when the other freshmen are coming in. It helps a lot."
And this spring isn't simply a chance for the freshmen to dip their toes in the pool and test the waters of life in the ACC. It's a blank slate, with a chance for them to etch their names into permanent jobs when the Wolfpack open the 2014 season.
"Since Day 1, since we went into the first meeting, [Doeren] said nobody had a guaranteed spot," Pratt said. "I'm pushing hard to earn my spot."
Perhaps as important, Doeren said, is the veterans are now pushing harder to keep their spots.
With such a thin roster a year ago, Doeren had little choice but to hand playing time over to unproven players. The results were mixed. Some blossomed, like receiver
Jumichael Ramos
, who caught 11 passes and scored three times in the final three games of his freshman campaign last year. Some struggled, including a defensive line that featured a trio of freshmen and sophomores who earned regular playing time, but finished 103rd nationally in run defense. Others, like receiver
Marquez Valdes-Scantling
(12 catches for 174 yards in his first two games, 10 catches for 107 the rest of the way) did a little of both.
"

[Many of] those guys are playing with the ones at times out there. Just imagine the learning curve for them in August when the other freshmen are coming in. It helps a lot.

"

-- NC State coach Dave Doeren on early enrollees
All of that was to be expected, Doeren said. What concerned the second-year coach was that, after winning playing time by default in 2013, complacency could set in this season. The nine new faces this spring can go a long way toward alleviating those concerns.
"The freshmen are coming to me, asking how to run a route and what the concepts are or just asking how we felt when we came in as freshmen and what we did to play," Ramos said. "I do feel older. I don't feel like a freshman anymore."
Still, Doeren is aware of the reality. Most of the time, it's 18-year old freshmen asking 19-year old veterans for advice, and that's not an ideal recipe for success. That makes NC State's real veterans -- the handful of juniors and seniors like Byrd and Jones -- an immensely valuable asset this spring.
It's a role they've been happy to take on, receiver
Bryan Underwood
said. Last year, he was a mentor for Ramos and Valdes-Scantling. Now, he's finding more room under his wing for the new arrivals.
Jones busies himself each night hosting his new protégés in the secondary, too. Pratt and McCain are fixtures in his room, the playbook spread open throughout the evening.
"We came to them with open arms and just -- welcome to the team," Jones said.
That's exactly what Doeren was hoping for, but it's hardly the end of his concerns.
Pratt and Hines and the rest of the new arrivals are still wide-eyed and overmatched more often than not. It's a learning experience, and for now at least, most of the lessons will be tough ones.
But that's the other advantage of this big class of early enrollees for NC State. Even after the toughest workouts, the miserable have plenty of company.
"Having those guys around," Hines said, "we're all going through the same thing."
August, 13, 2013
8/13/13
10:30
AM ET
Today, we're looking at NC State, which changed coaches in spite of a third straight bowl appearance last year and is now entering a season of transition.
North Carolina State Wolfpack
Coach:
Dave Doeren (first year at NC State, 23-4 overall)
2012 record:
7-6 (4-4 ACC)
Key losses:
QB Mike Glennon, LG R.J. Mattes, WR Tobais Palmer, LB Rickey Dowdy, S Earl Wolff, CB David Amerson
Key returnees:
WR
Bryan Underwood
, WR
Quintin Payton
, RB
Tony Creecy
, DT
T.Y. McGill
, DE
Darryl Cato-Bishop
, CB
Dontae Johnson
Newcomer to watch:
QB
Pete Thomas
. The redshirt junior sat out all of last season after transferring from Colorado State, but he may be the answer to NC State's gaping need at quarterback this year. A two-year starter before transferring, he threw for 18 touchdowns and completed better than 63 percent of his passes to establish his credentials, then outplayed
Manny Stocker
this spring to gain an edge on the starting job with the Wolfpack.
Biggest games in 2013:
vs. Clemson, Sept. 19; at Florida State, Oct. 26; vs. North Carolina, Nov. 2
[+] Enlarge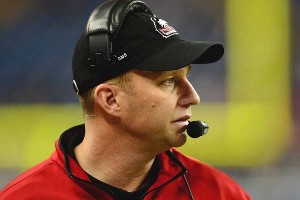 Andrew Weber/USA Today SportsCan Dave Doeren lead NC State to a fourth straight bowl game despite losing numerous key members from the 2012 squad?
Biggest question mark heading into 2013:
It would be easy enough to look at Miami's dismantling of NC State's secondary to the tune of an ACC record 566 passing yards and assume there was nowhere to go but up. But the truth is, in spite of its notable missteps last season, there was a ton of talent in the defensive backfield, and much of it has moved on for 2013. Gone are longtime stalwarts Amerson, Wolff and Brandan Bishop, meaning a massive overhaul is in store. Johnson is the lone returning regular from last season, and
Hakim Jones
and
Jarvis Byrd
will need to step up into bigger roles.
Forecast:
The Wolfpack won 24 games in the past three seasons, but it wasn't enough to save Tom O'Brien's job. He was fired before a bowl loss to Vanderbilt, and Doeren, the former Northern Illinois coach, was brought in to right the ship. It's a tall order for the new coach.
It's a year of transition across the board for NC State. Not only has Doeren revamped the coaching staff, but the Wolfpack will be looking for a new starting quarterback after sending Glennon to the NFL. They also must replace four offensive linemen and overhaul a significant portion of the defense. That's a lot of transition, but there is room for optimism.
NC State returns ample talent at the skill positions on offense, including its two top rushers from last season in Creecy and
Shadrach Thornton
, who combined for nearly 1,200 yards rushing in 2012. Doeren has a strong track record of running the football with success, and after finishing 111th nationally in that department last season, there's plenty of room for improvement.
The secondary is a concern defensively, but NC State does return some serious talent on the line of scrimmage -- including all four starters from a year ago. McGill is a rising star, and Cato-Bishop and
Art Norman
should disrupt plenty of opposing quarterbacks. Whether it's enough to overcome the questionable defensive backfield, however, remains to be seen.
Of course, the swing vote on the season is likely to be Thomas. NC State's schedule is manageable and there are plenty of weapons on offense if Doeren can find a quarterback capable of exploiting them. It's a new era at NC State, but a fourth straight bowl game isn't out of the question.
June, 24, 2013
6/24/13
3:30
PM ET
We move on in our series looking at the weakest and strongest positions on each team in the ACC with NC State.
Strongest position: Defensive line

Considering the returning starters here, this position is the Wolfpack's most experienced headed into the season. And when you have a veteran line with the ability to get into the opponent's backfield, you can make up for weaknesses on other parts of the defense (we'll get there in a minute). The Wolfpack return
T.Y. McGill
and
Thomas Teal
in the middle of the line, along with
Darryl Cato-Bishop
and
Art Norman
at defensive end. Cato-Bishop (6.5), Norman (5.5) and McGill (5) accounted for 17 of the team's 33 sacks a year ago. But Cato-Bishop and Norman are not quite locks to start opening day. Cato-Bishop was challenged this spring by rising talent
Mike Rose
, and that position remains open for competition headed into the fall.
Forrest West
is pushing Norman as well. Defensive coordinator Dave Huxtable does have some concerns over depth at end, but there is a veteran group returning that has proven it can hold its own up front.
Weakest position: Defensive back
There are a number of spots we could have chosen here, as the Wolfpack have major concerns at quarterback, receiver and the offensive line as well. But defensive back has the most questions of all because only one starter returns, and there are some depth concerns here as well. NC State has to replace starting cornerback David Amerson and starting safeties Earl Wolff and Brandan Bishop -- both Amerson and Wolff were selected in the NFL draft this past April. Though Amerson did not have the year everybody expected in 2012, he did start 35 games in his Wolfpack career.
Juston Burris
, slated to replace him, had a great spring but only has five career starts, all at nickel back.
Dontae Johnson
, the lone returning starter from a year ago, will be expected to provide leadership for the entire secondary. As for safety, Huxtable also has depth concerns here though coach Dave Doeren was encouraged by the way
Jarvis Byrd
performed this spring after knee injuries have had a major impact on his career. Sophomore
Hakim Jones
is ahead of
Tim Buckley
at the other safety spot. Both are sophomores. Of the eight players listed on the post-spring depth chart, Byrd and Johnson were the only seniors. The other six? Freshmen or sophomores.
More in this series here.
May, 7, 2013
5/07/13
7:30
AM ET
2012 record:
7-6
2012 conference record:
4-4 ACC (third in Atlantic Division)
Returning starters:
offense: 5; defense: 5; kicker/punter: 2
Top returners:

WR
Quintin Payton
, OT
Rob Crisp
, OT
Tyson Chandler
, DE
Darryl Cato-Bishop
, CB
Dontae Johnson
PK
Niklas Sade
, P
Wil Baumann
Key losses:
QB Mike Glennon, WR
Tobais Palmer
, OG
R.J. Mattes
, C
Camden Wentz
, CB David Amerson, S Earl Wolff, S
Brandan Bishop
2012 statistical leaders (*returners)
Rushing:
Shadrach Thornton
* (694 yards)
Passing:
Glennon (4,031 yards)
Receiving:
Palmer (781 yards)
Tackles:
Wolff (119)
Sacks:
Cato-Bishop* (6.5)
Interceptions:
Amerson (5)
Spring answers
1. QB Pete Thomas is next in line.
Thomas edged out
Manny Stocker
for the majority of first-team reps this spring, and while the staff isn't ready to name Thomas the starter, it became clear he is the front-runner to take over for Mike Glennon.
2. Picking up the pace:
First-year coach Dave Doeren and his staff didn't install the entire offense, but the Wolfpack did begin to make the switch to an up-tempo, no-huddle offense this spring. Doeren wants to snap it every 15 seconds, and the players began to adjust to a different pace of play.
3. Solid specialists:
If there is one area the Pack shouldn't be concerned about this fall, it's the kicking game. The holder, punter and place-kicker are all true juniors who have been playing since they were true freshmen. Doeren said all of them had a great spring.
Fall questions
1. Unproven quarterbacks:
While Thomas took the majority of reps, Doeren has stressed this remains an open competition into summer, and none of them have yet to compose a résumé comparable to Glennon's.
2. Shuffling on the offensive line:
NC State has to replace three starters up front, and the new staff spent this spring experimenting with different combinations to try and find the best fits. The linemen have also had to adjust to different blocking schemes in the faster-paced offense.
3. New faces at safety.
It's been almost three and a half years since anyone besides Wolff and Bishop had to play safety at NC State. Replacing that experience will be difficult.
Hakim Jones
was a backup last year who has been penciled in as a starter, and
Jarvis Byrd
, a fifth-year redshirt senior who has been injured for most of the past two seasons and was a former cornerback, is another top option. Finding a rotation at safety will be a priority this summer.
April, 19, 2013
4/19/13
10:00
AM ET
The rest of the ACC wraps up practice this weekend. Here is a look at what to watch at each spring game.

BOSTON COLLEGE
When: Cancelled.
UPDATE:
Boston College decided to cancel its spring game, set for Saturday, because of the tragic events that unfolded in the area this week. Though there is no game, these are still three keys for the Eagles as they move into the offseason.
Chase Rettig. Rettig has been through one coordinator too many during his career with the Eagles, and now he has to learn a new system that is not exactly the pro-style brand more suited to him. Coach Steve Addazio has said he will not force Rettig out of his comfort zone this year, but how Rettig handles yet another change is definitely something to watch.
The run game. Addazio has placed a heavy emphasis on the run game this spring. Does he have the talent and depth to improve the dreadful numbers from a year ago? With Rolandan Finch gone, senior Andre Williams has been the guy left to shoulder the load this spring. He says, "Bring it on."
More aggressive D? This will be a good chance to see how Don Brown has gone about revamping the defense. We have all heard how he wants to be more aggressive this year. Let's see it.

GEORGIA TECH
When:
Friday, 7:30 p.m. (Note: There is a threat of rain so a decision on whether the game will be played as scheduled will be made later today. As of this morning, the game is still on.)

NC STATE
When:
Saturday, 1:30 p.m., ESPN3
The quarterbacks. Starting to sound like a theme, right? Coach Dave Doeren has said he will not name a starter after spring practice. Pete Thomas and Manny Stocker are still learning the new system, and Doeren says, "They're getting better. I told somebody the other day: I just don't think it's fair to make a decision on a guy that doesn't know your offense yet. I think we've got to give those kids a chance to play football without thinking. We're not there yet."
The secondary. This group will have three new starters when fall rolls around, and much less game experience. Juston Burris is listed as the starter at the cornerback spot David Amerson leaves behind, while Hakim Jones and Jarvis Byrd are set to take the open safety spots.
The defensive ends. There is still open competition at both defensive end spots, according to the depth chart the team released ahead of the spring game. Art Norman and Forrest West are battling for one spot, while Mike Rose and Darryl Cato-Bishop are competing for the other.

SYRACUSE
When:
Saturday, noon.
Terrel Hunt vs. Charley Loeb. Hunt has reportedly gotten more of the first-team reps as the spring has gone on, but this is a good chance for both quarterbacks to make an impression on their coaches -- especially with Oklahoma transfer Drew Allen headed to Syracuse in the summer.
Defensive line. There is no question Syracuse has to work on building depth here because of several losses the group has taken. One player to watch is Iowa transfer John Raymon, who has worked at both tackle and end this spring.
Quinta Funderburk. Funderburk sat out last season after transferring in from Arkansas. He has made a few highlight catches during the spring scrimmages to catch some attention, and with Alec Lemon and Marcus Sales gone, Funderburk has an opportunity to become a go-to receiver on this team.

VIRGINIA TECH
When:
Saturday, 3 p.m., ESPN3
Logan Thomas and the offense. So, how does Thomas look under new offensive coordinator Scot Loeffler? His rebound from a mediocre 2013 is going to be huge for the Hokies this season.
The running backs. Nobody has really stepped up to take the starting job, although Trey Edmunds has had a good spring, including 86 yards and two touchdowns in the last scrimmage. JC Coleman, also vying for the job, is not expected to play because of a leg injury.
Brandon Facyson. It's no secret the Hokies need some help in the secondary, and every single report out of Blacksburg points to the freshman cornerback as being the next star on defense.

WAKE FOREST
When:
Saturday, 1 p.m., ACC Digital Network
The receivers. One of the big goals this spring has been to find another receiver to complement Michael Campanaro. Orville Reynolds, who moved from running back, has so far turned some heads with his performance, so keep an eye on him.
New faces. Two players who have drawn raves on defense this spring are defensive linemen Desmond Floyd and Johnny Garcia. In fact, coach Jim Grobe believes his defensive line has been a bright spot this spring because the group has been able to develop some depth.
Competition. This will actually be a scrimmage, not a game, because the Deacs simply do not have enough offensive linemen to split the team in two. At last check, Wake had seven healthy offensive linemen after Cody Preble injured his ankle in the last scrimmage.