November, 30, 2014
Nov 30
9:00
AM ET
Well, as rivalry weeks go, this is about as good as it gets for the ACC. And with that in mind, there's plenty of competition for the helmet stickers.

Virginia Tech DL Dadi Nicolas:
The Hokies needed a win to continue a decade-long streak of wins over rival Virginia, but more importantly, to get bowl eligible.
Michael Brewer
,
Bucky Hodges
and the offense did just enough to
get the win
in the end, but it was the defense that set the stage, and Nicolas was the star. He racked up nine tackles, including two for a loss, a sack and five QB hurries in the game, and Nicolas helped stifle the UVA running game to the tune of just 38 yards allowed.
Clemson QB Deshaun Watson and WR Artavis Scott:
Watson's passing numbers certainly looked a lot better Saturday thanks to his roommate. Scott took three short throws and raced downfield for big gains, finishing with seven catches for 185 yards and two touchdowns. Watson played on a torn ACL, as Dabo Swinney admitted after the game, but still accounted for four touchdowns. And most importantly, for the first time since 2008,
Clemson toppled its in-state rival
.
Georgia Tech RB Zach Laskey:
The senior had never beaten Georgia, but he did his part to ensure it happened Saturday. Laskey ran 26 times for 140 yards with three touchdowns, including a 2-yarder that proved to be the
difference in overtime
. Of course, a big hat tip still goes to kicker
Harrison Butker
, whose 53-yard field goal as time expired sent the game to OT, and to
D.J. White
, who picked off
Hutson Mason
to seal the win.
Louisville WR DeVante Parker:
Down both of its top two QBs, Louisville didn't need to worry. Parker makes everyone look good.
Kyle Bolin
came on in relief of
Reggie Bonnafon
and connected with Parker three times for scores. Overall, Parker caught six passes for 180 yards to help the
Cardinals knock off Kentucky
. But a special helmet sticker also goes to
Gerod Holliman
, who sealed the game with an INT -- his 14th of the season, tying the NCAA record.
NC State QB Jacoby Brissett:
Perhaps the biggest surprise of the day was the
Wolfpack thumping North Carolina
, and Brissett was the star. He completed just nine passes for 66 yards, but threw three touchdowns and added another on the ground, while rushing for 167 yards in the win. Teammate
Shadrach Thornton
chipped in with another 161 yards and a TD, too.
Florida State RB Dalvin Cook:
The storyline is getting awfully familiar. FSU falls behind early.
Jameis Winston
coughs up some costly turnovers. And then the freshman tailback
saves the day late
. It was more of the same against Florida as Winston slumped through four INTs, but Cook was spectacular. He rushed 24 times for 144 yards and caught two passes for 28 yards. Overall, Cook had eight plays of 10 yards or more in the win.
Pitt receiver Tyler Boyd:
The Panthers needed a
win in Miami
to get bowl eligible, and Boyd did all he could to ensure it happened. He caught five passes for 72 yards and scored on an all-out dive for the end zone. He also added 190 yards in the return game to set Pitt up with terrific field position throughout the game. The end result? Two 6-6 teams headed in completely opposite directions.
November, 29, 2014
Nov 29
4:07
PM ET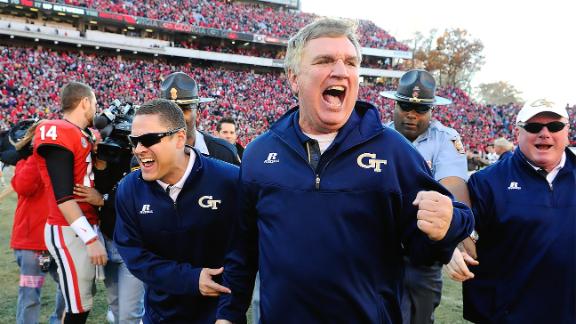 A thrilling renewal of the Georgia-Georgia Tech rivalry ended in overtime for a second straight year -- with Tech winning this time
30-24
on
D.J. White
's overtime interception.
Georgia (9-3) scored what it thought was the game-winning touchdown on a
Malcolm Mitchell
catch with 18 seconds left in regulation, only to have Georgia Tech (10-2) force overtime with a 53-yard
Harrison Butker
field goal at the buzzer.
Georgia was close to scoring the game-tying points on its first overtime possession when White picked off
Hutson Mason
at the 5-yard line to clinch the win.
Let's recap the memorable meeting between the Bulldogs and Yellow Jackets:
How the game was won:
Georgia Tech's grind-it-out rushing attack dominated the second half, but the Yellow Jackets needed Butker's miraculous field goal at the last second to force overtime. Once they got into overtime, the Jackets ran it five straight plays to post what would become the game-winning touchdown on a
Zach Laskey
dive.
Game ball goes to:
Laskey. The Georgia Tech running back was a force, scoring the Jackets' go-ahead touchdown in the fourth quarter and their winning touchdown in overtime. The tough runner finished the day with 140 rushing yards and three touchdowns on 26 carries.
What it means:
Not only did Tech stop a five-game losing streak against Georgia, but it gained a measure of retribution. The Jackets blew a 20-0 lead against Georgia last season before losing in double overtime. Saturday they rallied in the final seconds to force overtime and spoiled senior day at Sanford Stadium with their victory.
Playoff implication:
Probably none. Georgia is ninth in the College Football Playoff rankings, and Georgia Tech is No. 16. With Georgia not playing for the SEC title next week, its playoff chances were shot. And Georgia Tech is far enough back that even a win against Florida State probably wouldn't help the Jackets crack the top four.
What's next:
Missouri's win against Arkansas means that Mizzou, not Georgia, will play in the SEC title game next Saturday. Georgia's next game will be its bowl appearance. Georgia Tech, however, gets one more game before bowl season. It faces FSU in the ACC title game next Saturday.
September, 30, 2014
Sep 30
12:00
PM ET
The stats do not scream perfect team! But through four games, Georgia Tech has an unblemished record, emerging as one of the big surprises in the ACC through the first month.
Still, it is hard to get a gauge on just how good these Jackets are, considering how they have gotten to 4-0. They looked uninspired in a win over Wofford. They trailed early to Tulane. They needed a last-ditch rally to beat Georgia Southern. And they needed a last-second field goal to beat Virginia Tech.
Are they lucky or good?
We may have an answer Saturday, when the Jackets face Miami in a crucial Coastal Division game. Their overall defensive performance to date may not inspire much confidence, but a big reason Georgia Tech has remained undefeated has been its ability to make game-changing plays.
[+] Enlarge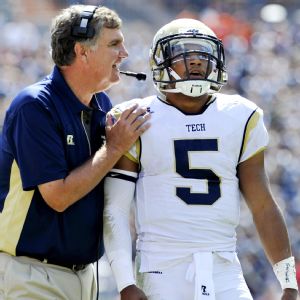 Michael Shroyer/Getty ImagesCoach Paul Johnson, QB Justin Thomas and the Yellow Jackets have opened the season 4-0.
All seven Georgia Tech takeaways have resulted in points. In each of Georgia Tech's last two games, the Jackets have gone on game-winning drives thanks to takeaways. Down 38-35 with Georgia Southern driving to the Jackets' 24 in the closing minutes,
Jamal Golden
forced a fumble that
KeShun Freeman
recovered.
Quarterback
Justin Thomas
marched the Yellow Jackets 72 yards for the winning score, capping the drive with a 13-yard touchdown pass to
Deon Hill
with 20 seconds remaining.
Then against Virginia Tech the following week,
D.J. White
got an interception with 1:58 to play, setting up
Harrison Butker
's 24-yard field goal to win.
"I think we've gotten better each week. I wouldn't sleep too much on Georgia Southern," coach Paul Johnson said during the ACC coaches call last week. "They got a pretty good football team. We got off to a big lead, 35-10 at halftime. As a young team, we relaxed. They got the momentum and it was hard to get it back. To our credit, we found a way to get it back.
"We've got a young team. Hopefully they're going to get better each week. We're going to have to play better than we played."
Doomsday scenarios and dark clouds seemed to hover around the program headed into the season, as Johnson had to deflect questions about fan discontent and his own future as head coach after four straight seasons with mediocre results.
Yet the Jackets have found ways to win. Sometimes, that means getting a little lucky.
Like all teams, they are a work in progress. Johnson wants to see more consistency, especially on defense. For all the big plays the Georgia Tech D has made, the Jackets rank No. 11 in scoring defense in the ACC, No. 14 in rush defense, No. 12 in total defense, last in sacks and No. 12 in opponents' third down conversions.
They have fit the "bend-but-don't-break" motto this season. As for the offense, Thomas has been an upgrade over
Vad Lee
. Thomas ranks No. 3 in the ACC in rushing, and Georgia Tech has gone from No. 9 in the ACC in pass efficiency to No. 2 because Thomas is better throwing the football.
His connection with
DeAndre Smelter
finally gives the Jackets the type of passing combination they need to keep defenses off balance. Still, improvements must be made there. Georgia Tech missed on several big pass plays against Virginia Tech and Thomas is completing just under 50 percent of his passes.
But there are plenty of reasons for encouragement. In addition to scoring off the takeaways, the Jackets have been able to hold onto the football. Georgia Tech only has four turnovers -- second fewest in the ACC. Last year, Georgia Tech turned the ball over 24 times.
And beating Virginia Tech was big, considering it ended a four-game losing streak in the series. So now that they have ended one losing streak, the Jackets have a chance to break a five-game skid against the Canes on Saturday. Johnson has never beaten Virginia Tech and Miami in the same season.
The last time Georgia Tech did that was 2006, the year they lost to Wake Forest in the ACC title game. There is little doubt, then, that a "prove it" moment awaits this weekend.
August, 1, 2014
Aug 1
12:00
PM ET
As many schools open fall camp this weekend, talking season will die down.
And if you've been following along during this seemingly eternal offseason, you know that this year's chatter among coaches in particular has been extra salty.

Colleague Chris Low
examined the dynamic in a column Thursday
, looking at some of the jabs between coaches during July. The Wall Street Journal
takes a different spin on things
, looking at which coaches from each conference are the biggest chatterboxes.
The result, at least in the ACC, is a bit surprising.
Syracuse's Scott Shafer comes away with the title, having said 2,075 words on a transcript the WSJ analyzed. Virginia Tech's Frank Beamer was the least talkative, at 1,153 words.
The Beamer bit is not all that shocking. But the fact that Jimbo Fisher or Dabo Swinney is not at the top certainly raised an eyebrow. Math is math and it is difficult to argue, so we'll reason that Fisher's fast-talking ways make it seem like he says a lot more than he actually does. And, well, who can forget some of Dabo's jabs last month?
As the old adage goes, sometimes it's about quality, not quantity, especially during talking season.
As for the rest of your ACC links ...
July, 24, 2014
Jul 24
3:00
PM ET
The ACC's Coastal Division is wide open entering the 2014 season. With six of seven teams receiving at least one first-place vote in the preseason media poll, the possibilities for how this race shakes out are seemingly endless. Here, we take a look at the six teams that garnered first-place votes, examining reasons that are working for and against them in their quests to get to the ACC title game.
Why Georgia Tech will win the Coastal
[+] Enlarge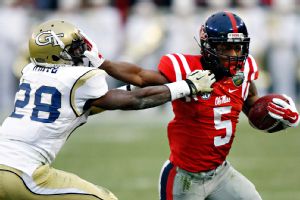 AP PhotoCornerback D.J. White returns after having a breakout game in the Music City Bowl.
1) The secondary should be improved. Lose three starters, welcome back four. Sound confusing? Well, Georgia Tech does say goodbye to cornerbacks Jemea Thomas and Louis Young, but it returns a pair of players who had missed most or all of last season, as safeties Isaiah Johnson (knee) and Jamal Golden (shoulder) return from injury. Demond Smith had replaced Golden at safety last season and is now at corner, along with D.J. White, who was dominant in the Music City Bowl loss to Ole Miss (career-high 13 tackles, two forced fumbles, interception). This group should anchor the defense, perhaps offsetting some of the potential shortcomings that could await the defensive line this fall.
2) Don't sleep on special teams. Getting Golden back is crucial, as he is a versatile talent who showed he can make plays as both a punt and kick returner, having been the only player in the nation to finish in the top of each category in 2012. That might be easy to forget after some of the exploits of the rest of the ACC's returners in 2013, but Golden could be as good as any of them. Harrison Butker, meanwhile, is a reliable kicker with a strong leg, having converted 53 of 54 extra points as a true freshman last season, along with 10 of 14 field goal tries (including five of 40 or more yards).
3) The schedule is (fairly) favorable. Sure, six home games may be tough for most Power-5 conference schools to swallow in this era, but the Yellow Jackets do get Miami and Duke in Atlanta. More importantly, they get the Hurricanes following a bye week. The same goes for their trip to Athens, Ga., for the regular-season finale at rival Georgia. Georgia Tech's other three nonconference games to open the season are certainly winnable (Wofford, at Tulane, Georgia Southern), so it could help give this group some confidence going into the Sept. 20 conference-opening showdown at Virginia Tech.
Why Georgia Tech won't win the Coastal
1) The offseason turnover will take a toll. As noted Wednesday, Georgia Tech has had no shortage of turnover this offseason, and not in a good way. In addition to the seniors it said goodbye to like every other team, the Yellow Jackets have had 13 different non-senior players depart the program this offseason due to a number of different issues. ESPN 300 athlete Myles Autry, meanwhile, has been unable to enroll at Georgia Tech yet because of NCAA clearinghouse issues.
2) The defensive line has some question marks. Three starters are gone up front, the biggest among them being All-ACC end Jeremiah Attaochu. It will now likely be up to nose tackle Adam Gotsis to anchor the group after he tallied 14.5 tackles for loss last season. With second-year coordinator Ted Roof operating out of the nickel instead of the 4-3, Jabari Hunts-Days was moved up after playing linebacker, but he now finds himself sidelined for the season, as he is academically ineligible.
3) What do we know about the quarterbacks? Here's what we do know: Last year's starer, Vad Lee, is gone, having transferred to James Madison. Speedster Justin Thomas will replace him and seems like an ideal fit for Paul Johnson's triple-option attack, although he still has some work to do. Johnson is very high on reserve signal-caller Tim Byerly, but the possibility of him earning meaningful playing time inevitably begs the question of whether the Yellow Jackets have a controversy or competition on their hands.
July, 16, 2014
Jul 16
12:00
PM ET
It's Day 3 of media days for the SEC, and while we've yet to get any juicy ACC bashing
like we did last year
, first-year Vanderbilt coach Derek Mason did say something on Monday that warranted a little more discussion.
Mason's comments,
courtesy of Team Speed Kills
:
"We don't believe in redshirting at Vanderbilt. What we'll do is we'll take out of that class of 22, we'll probably have 17 guys that will step on the field and play at some point in time this year."
Mason's estimates certainly seem a bit generous, given that playing 77 percent of your true freshmen is virtually unheard of around college football. But it's also possible the Vandy coach is at the forefront of a new way of doing things. Tennessee coach Butch Jones added to the discussion Tuesday, promising
at least 10 true freshmen would play significant roles
for the Vols this season.
More and more, particularly among the most competitive schools on the recruiting trail, immediate playing time for freshmen is an essential sales pitch. And for top recruits who seem likely to bolt for the NFL with eligibility remaining anyway, the redshirt year only takes away from time spent on the field. At the very least, regular work on special teams for true freshmen gets them game experience and prevents key contributors from being exposed to injury, so why not go that route?
It's a philosophy I've discussed with FSU's Jimbo Fisher a few times, and while he certainly hasn't gone to quite the level Mason has suggested, the Seminoles -- who have inked a
top-10 recruiting class
each year of Fisher's tenure -- have made a habit out of playing true freshmen. Just last year, Nate Andrews, Jalen Ramsey and Kermit Whitfield all played critical roles in the team's BCS title, while 13 of 16 non-QB skill players in the class saw some action.
That got us to thinking how the rest of the ACC stacks up when it comes to redshirting freshmen. Here's how the numbers from the Class of 2013 played out:
Of note, we didn't include any signees who never arrived on campus, and we didn't include juco players or transfers.
Overall, 107 of the ACC's 258 true freshmen signed in 2013 saw playing time last year -- or 42 percent. That number was a bit higher for ESPN 300 players, of which 23 of 41 (56 percent) saw action. Pitt played the most true freshmen (12), and Miami played the highest percentage of its signing class (67 percent), while Louisville (3 of 16) and Georgia Tech (2 of 13) played the fewest.
That latter category is interesting because Paul Johnson's recruiting has been criticized regularly at Georgia Tech, and the 2013 class has already had more transfers (three) than players to see the field (two). And, of course, one of those two who saw action was kicker Harrison Butker. Moreover, Charlie Strong may find redshirting is a far tougher sell at Texas than it was at Louisville.
That FSU, Miami, Clemson and UNC inked the most ESPN 300 players and were among the most likely to play true freshmen shouldn't come as a surprise. Part of the formula is getting freshmen who are ready to play, and obviously the more talented the player, the more likely he is to see the field. (It's noteworthy, though, that just two of Clemson's nine ESPN 300 signees avoided a redshirt -- wide receiver Mike Williams started three games and linebacker Ben Boulware was largely used on special teams). But the other part of the argument is that giving true freshmen a chance to play is crucial to landing the best recruits. And in the case of Whitfield and Andrews, both were three-star recruits. So, too, were impact freshmen like Breon Borders, Brisly Estime and James Conner.
There will always be strong candidates for redshirts -- quarterbacks and offensive linemen, in particular -- and for some recruits, the opportunity to watch and learn and develop physically for a year remains a blessing. But there's also a good chance Mason is on to something, and while it's doubtful that 75 percent of true freshmen will see the field at most schools, there's ample motivation for coaches to at least move in that direction.
More links:
July, 10, 2014
Jul 10
9:00
AM ET
From Florida State's veteran line to Clemson's fearsome defensive front, the ACC projects to have some of the country's best position groups this fall, while a few other contenders will enter 2014 with some major question marks in key areas. With that in mind, we're looking at the ACC's best units, a few more that might surprise in 2014 and the top teams with holes that could keep them from an ACC title.
Previous installments of this series can be found
here
.
Next up:
Special teams
Best of the best:
Florida State
There is no shortage of ACC teams with playmakers on special teams, but in the end, the Seminoles' talent overwhelms. They bring back sophomore
Kermit Whitfield
after a historic rookie campaign that was the best in school history. He had a nation-best 36.4 yard kick return average (an ACC record) and a 100-yard touchdown return late in the fourth quarter of the national title game. On top of that, there's reigning Lou Groza Award winner and All-American
Roberto Aguayo
, whose redshirt freshman season saw him nail 21 of his 22 field goal attempts and all 94 of his extra point tries. His 157 points set a new national record for a kicker as well. FSU also brings back punter
Cason Beatty
, in addition to the more-than-capable
Rashad Greene
at punt returner, where the Seminoles have a number of precocious speedsters behind him.

Next up:
Duke
North Carolina certainly has a strong argument in returning
Ryan Switzer
, but the nod here ultimately goes to rival Duke, which brings back all of the key pieces from a special teams unit that played no small role in helping the Blue Devils win the Coastal Division title. There's
Jamison Crowder
, one of the most versatile players in the country, who amassed 401 yards and two touchdowns last season on 25 punt returns. There's
DeVon Edwards
, who thrived all over the field as a redshirt freshman, returning 19 kickoffs for 574 yards and two sores. And there's kicker
Ross Martin
and punter
Will Monday
, both of whom put forth stellar efforts last season, with Martin connecting on 2 of 3 tries from 50 yards or longer and Monday pinning 21 punts inside the 20.

Possible sleeper:
Georgia Tech
Jamal Golden
is back after a one-year absence because of a shoulder injury. But don't count out the junior, as he was the only player in 2012 to rank in the top 10 nationally in both punt returns (14.6) and kick returns (28.4). His time away has given way to more film study, and if fully healthy, Golden's numbers figure to be right up there with the rest of the talented specialists returning in the ACC this season.
Harrison Butker
impressed as a true freshman last season, hitting 10 of 14 field goal attempts and missing just one extra point. Punter
Ryan Rodwell
, meanwhile, figures to be the main guy after redshirting in 2013.

Problem for a contender:
Virginia Tech
Beamer Ball has undoubtedly taken a hit, most notably with the team's kicking woes (VT missed 11 field goals last season) and the dismissal of Cody Journell. Freshman Michael Santamaria may be the answer at starter, for better or worse.
Kyshoen Jarrett
is back after averaging 5.3 yards per punt return last season. So, too, is
Demitri Knowles
, who averaged 21.8 yards per kick return in 2013. Something needs to be done about coverage, as the Hokies surrendered three touchdown returns last season.
May, 7, 2014
May 7
10:30
AM ET
The 2013 signing class has already made its mark on the ACC, from
Tyler Boyd
and
Stacy Coley
shining on offense to
Jalen Ramsey
and
Kendall Fuller
starring on defense to
Ryan Switzer
racking up All-America honors on special teams. But for most players, the transition from high school to college takes a little time, and it's not until Year 2 that they truly shine. With that in mind, we're taking a look at the best candidates for second-year stardom in the conference -- the players who didn't quite hit the big time as true freshmen, but are poised for a breakthrough in 2014.
See our previous projections
here
.
Next up:
Georgia Tech
Class recap:
The Jackets signed a small class of 14 players that has already seen its ranks dwindle.
Kevin Robbins
Jr. and
Justin Akins
have announced their decisions to transfer, while No.3 quarterback
Ty Griffin
also reportedly wants to transfer as well. Two of the top prospects in the class were offensive linemen --
Shamire Devine
and
Chris Griffin
. They are expected to see much bigger roles this upcoming season.
Second-year star:
K
Harrison Butker
.
Recruiting stock:
ESPN Recruiting had Butker ranked as the No. 3 kicker in the nation out of Decatur, Ga. He chose the Jackets over Auburn.
2013 in review:
Butker came in last fall and won the starting job, leading the team with 83 points. He made 53 of 54 extra point attempts, tying for the second-most single-season PATs in school history. His only miss came on a bad snap against Miami. Butker also hit 10 of 14 field goal attempts, including nine of his final 11. Half of the field goals he made were 40 yards or longer.
2014 potential:
Coach
Paul Johnson
truly believes Butker can be one of the best kickers in the nation. During the spring game, er monsoon, Butker made a 54-yard field goal. Something to note headed into the fall: Georgia Tech will have a new special teams coach after Dave Walkosky
abruptly resigned
last week.
Also watch for:
The 6-foot-6, 294-pound Griffin ran with the first team in the spring at tackle and has a great chance to win the starting job. Devine, the biggest Jacket at 6-7, 340 pounds, enters the fall second on the depth chart, but coaches love his potential. Linebacker
Paul Davis
, who played as a true freshman last year, is also competing for a starting job.
April, 29, 2014
Apr 29
9:00
AM ET
Three things we learned in the spring about the Georgia Tech Yellow Jackets:

1. New defensive scheme.
Second-year coordinator Ted Roof moved from a 4-3 to a 4-2-5 base, building off last season as Georgia Tech tries to develop a better pass rush on the edge and create more opportunities for its defensive playmakers. It's a unit that sacrifices size for speed for the sake of the many spread offenses it will face.
2. Tim Byerly emerges.
Justin Thomas
is the starting quarterback, but Byerly has given the Yellow Jackets some much-needed insurance -- and maybe even more than that. The Middle Tennessee State transfer will earn a scholarship this summer, and his impressive spring game further cemented himself as a legitimate game option for this fall.
3. Strong special teams play.
Georgia Tech brings back one of the ACC's best kickers in
Harrison Butker
, but its biggest lift came in March, when the NCAA granted
Jamal Golden
a fifth year of eligibility. Golden was one of the top punt and kick returners in the nation in 2012 and gives the Yellow Jackets another scoring threat.
Three questions for the fall:
1. It is Justin Thomas' job … right?
Paul Johnson praised Byerly for closing the gap with Thomas, and Byerly will likely see the field a good amount this fall regardless. Still, neither Thomas nor Byerly has ever started a collegiate game, and as impressive as both have been, little will matter until they live up to the praise.
2. Can the D-line reload?
No group took a bigger hit after last season than the defensive line, which said goodbye to three starters, including All-ACC performer
Jeremiah Attaochu
.
Adam Gotsis
is the leading returner up front, and he'll need help from fellow pass-rushers to excel in the 4-2-5.
Jabari Hunt-Days
moved from linebacker to end to help get some more athleticism on the edge.
3. Will the O-line help improve the run game?
Johnson has said that his team will be better at running the football this season than last, which was the worst of his Georgia Tech tenure. That will depend in large part on the growth of a young offensive line, which lost three fifth-year seniors from last season's squad.
One way-too-early prediction:
Thomas and Byerly will make many people forget about
Vad Lee
. Sure, Lee's decision to transfer was a bit of a surprise, and neither of his potential replacements boast much meaningful college experience. But Thomas and Byerly have said and done all the right things this spring and, more important, Georgia Tech brings back what may be the best receiving corps of the Johnson era, led by
DeAndre Smelter
,
Micheal Summers
and
Darren Waller
.
February, 4, 2014
Feb 4
12:00
PM ET
Just a heads up: I'll be taking official visits to Jimmy Johns and Arby's today before announcing my decision on where I'll eat lunch tomorrow. High drama.
ACC SCOREBOARD
Saturday, 12/27
Saturday, 12/20
Monday, 12/22
Tuesday, 12/23
Wednesday, 12/24
Friday, 12/26
Monday, 12/29
Tuesday, 12/30
Wednesday, 12/31
Thursday, 1/1
Friday, 1/2
Saturday, 1/3
Sunday, 1/4
Monday, 1/12
Tweets from https://twitter.com/ESPNCFB/lists/acc