October, 17, 2014
10/17/14
9:30
AM ET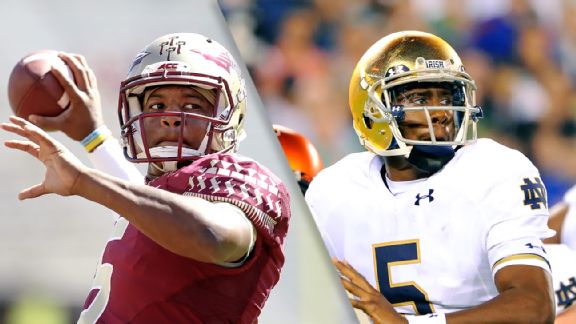 Getty Images, USA Today SportsThe winner of Saturday's ND-FSU game will have the inside track on the College Football Playoff.
SOUTH BEND, Ind. -- They weren't supposed to be back like this. Not so soon. Not this powerful.
Notre Dame and Florida State had entered the 2011 Champs Sports Bowl as perennial underachievers, in the second years under their respective head coaches. The running joke was that the winner would automatically be a title contender the next season, for the hype around the Fighting Irish and Seminoles could hardly ever subside. Their performances that night in Orlando were reflective of each's underwhelming regular season: four total turnovers, fewer than 300 total yards apiece, a fourth-quarter Irish collapse and an 18-14 Noles victory to move them to 9-4 and push the losers to 8-5.
"I thought we had a chance to be a very good team in the future, and they played us extremely well, so we thought they would be a very good team," FSU coach Jimbo Fisher said. "That was a heck of a football game. You knew they had good players and guys that went to the draft, and you're expecting to be where they are."
In a scenario that is hardly against all odds -- though certainly a turn from each's recent history -- No. 2 FSU will host No. 5 Notre Dame on Saturday in what is likely the biggest game of both teams' seasons. The Irish recovered from that 2011 season-ending defeat to win 12 straight games in 2012 before falling in the BCS title game. The Noles did even better the following season, going 14-0 and winning it all. This weekend's winner will have the inside track to playing for the top prize for the second time in the three years since that bowl matchup.
"It hasn't been borne out this year with Rutgers and Virginia Tech," Florida Citrus Sports digital media director Matt Repchak quipped in an interview with ESPN.com last year, referring to the Irish's and Noles' successors in that bowl game. "But I'd like to think that maybe we have some kind of magic."
The truth of the matter is that both teams simply needed to get out of their own ways. Notre Dame entered the second year of the Brian Kelly era ranked No. 16 in the preseason AP poll, with BCS-bowl goals in mind. But 10 turnovers over the Irish's first two games portended an undoing that was mostly self-inflicted.
FSU, meanwhile, entered the season at No. 6 but saw a close, early-season loss to then-No. 1 Oklahoma spiral into a three-game slide. By the time they faced Notre Dame, the Noles were starting four true freshmen on the offensive line. Three of those starters -- left guard
Josue Matias
, right guard
Tre' Jackson
and right tackle
Bobby Hart
-- will line up with the first team Saturday. The fourth, center
Austin Barron
, is sidelined with an arm injury.
"The first half, you can tell, and in the second half we came out and played much better and got their feet on the ground and we were able to move the ball," Fisher said of the unit in that 2011 game. "It was a big point for them for their acceptance to college football."
Notre Dame had two first-round draft picks the following spring: receiver Michael Floyd and safety Harrison Smith. Two more potential ones -- tight end Tyler Eifert and linebacker Manti Te'o -- elected to return for their senior years, the surest validation that the program, despite consecutive 8-5 seasons, was going in the right direction under Kelly.
"When we both played, you could tell that both teams were definitely ascending, and then better things were definitely in front of us," Kelly said. "It was definitely going to be what's next for these programs moving forward in a positive way. That's kind of how I saw it after that game. I remember meeting with Te'o and talking to him about the next step, and of course we played for the national championship a year later, and Florida State won one."
Te'o, a 2013 second-round pick, ended up being the Heisman runner-up. Six days before he and the Irish took the field at Sun Life Stadium to face Alabama, FSU kicked off the 2013 calendar year in the same spot, beating Northern Illinois for an Orange Bowl win to cap a 12-2 season. The Noles then lost 11 draft picks and six assistant coaches, but they had a redshirt freshman quarterback,
Jameis Winston
, who would end up winning the Heisman the next season and is now 19-0 for his career as a starter.
Though his suspension for the Clemson game last month nearly cost his team dearly in the ACC (and national title) race, a strong showing from Winston against the Irish defense Saturday can get him right back into the Heisman conversation. The same goes for Notre Dame quarterback
Everett Golson
, who himself is 16-1, the lone defeat coming to the Crimson Tide in the title game.
Both teams have new defensive coordinators this year, the third in three years for the Noles. The Irish also said goodbye to their offensive coordinator this past season. They welcomed three new assistants between the 2011 and 2012 campaigns, too.
"I thought we had an awesome team that year, we had a lot of talent," Irish redshirt junior
Joe Schmidt
said of 2011. "It's extremely hard to win college football games, so that was a very talented team and so is this one, and I think guys are just trying to do everything we can to help Notre Dame win."
For both programs, it has all started at the top, with fifth-year head coaches who found their footings and have their teams on the brink of something special.
"I guess you could say we've always been a work in progress," Irish redshirt senior
Christian Lombard
said. "We've always come to work, and I think that's the biggest thing. We've always known that we don't have it made. So just that attitude that we've got to come to work every day has helped us, and we're making progress each year."
November, 6, 2011
11/06/11
1:07
AM ET
WINSTON-SALEM, N.C. -- Jimmy Newman's 42-yard field goal sailed wide right, and
Jonas Gray
and
Cierre Wood
immediately wanted the ball.
Five-minutes, 24 seconds remained. And even though Wake Forest had all three timeouts remaining, there was not a doubt in either back's mind that the Demon Deacons' luck had run out in an eventual
24-17 loss
to Notre Dame.
"Definitely, definitely," Gray said. "That was the first mindset we had. The guys were doing a great job blocking on the perimeter and inside. We knew what we had to do was run the clock out, and by doing that we had to run the ball."
Wood got the first two carries, totaling 11 yards. Gray, who made his second straight start, took it from there, rushing it five straight times for 16 yards, the final carry a third-and-1 conversion that sealed the game with 1:40 left.
The Irish had let other hosts stick around in primetime games before, and they had been bitten, most notably when they struggled in short-yardage situations late in a last-second loss at Michigan. But Gray, who has improved as much as anyone during the course of the season, said the team takes on a different mentality now.
[+] Enlarge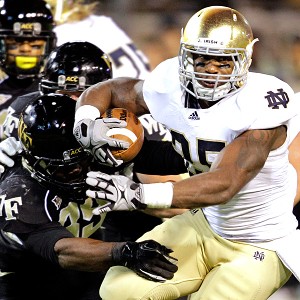 AP Photo/Chuck BurtonJonas Gray had 92 yards on 19 carries with a long run of 25.
"We welcome it," the senior said.
Gray finished with 92 yards on 19 carries -- again, ironically, hurting his yards per rush average in his chase of George Gipp's single-season school record of 8.1.
For that, he can blame a review that followed his 26-yard third-quarter rush into the end zone, as it got marked down at the 1, where he punched it in from two plays later for his ninth touchdown in the last six games.
That score tied things up at 17 after the Irish went into the half down seven, Wake Forest's offense keeping the banged-up defense on its toes with the elusive
Tanner Price
running the show.
Brian Kelly won his 14th straight November/December regular-season game, and his 20th in his last 22 tries. And he did it the hard way.
When a third-quarter flea-flicker resulted in a 54-yard interception return and eventually first-and-goal for Wake Forest, down seven in the third, Harrison Smith forced a fumble that was recovered by Gary Gray.
The next time the Demon Deacons got so close, Stephon Tuitt recorded a sack, Smith blew up a backfield pass for another loss and Newman missed from 42 yards.
Notre Dame played the majority of the game with Mike Golic Jr. at center instead of Braxston Cave, who left the game after the first play of the second quarter with an undisclosed injury. All-everything linebacker Manti Te'o "was playing on one leg," Kelly said, after the junior left Wake Forest's last drive of the third quarter before returning on the next series.
Defensive end Aaron Lynch had to leave the game on two separate occasions, further depleting an already depleted defensive line, and T.J. Jones somehow made it back after taking a vicious hit on an impressive six-yard grab early in the third quarter.
"We got a lot of guys banged up. A lot of guys banged up," Kelly said. "We'll give you a full report on that when I get a sense of, we got guys that are gonna be -- hey, listen, it's November, too. So there's gonna be some guys that come to practice on Tuesday not full-speed. But these guys are tough, they're gritty and they'll answer the bell."
Earlier, Kelly was less pleased with a question about Notre Dame's passing game.
Tommy Rees
finished the night 14-of-23 for 166 yards with two touchdowns and two picks.
"I mean is there a negative to everything? Is there a negative?" Kelly said. "We just won a football game, on the road. I mean, what kind of, really, what kind of question, what do you want me to say? What's the answer? We won 24 to 17 against a good football team, and you want to know what's wrong with the passing game. You know what's wrong with it? Um, the coach doesn't call good plays. How's that? There's nothing wrong with it. We're fine. We just won a good game."
It's the best game Notre Dame can win before Nov. 26, as it will face hapless Maryland and Boston College before traveling to what Kelly said will be "hopefully an undefeated Stanford team."
Kelly was later asked if he was looking forward to Stanford, and he made sure to not look ahead with two games left before the regular-season finale.
"No, no, we're on the right track," Kelly said. "We're not too far ahead. The guys know what they're playing for. We're playing for a consistent performance. We have a sign, I don't know if you know this, but we have a sign that says 'Play Like A Champion.' And to play like a champion you have to play consistently. You can't have spurts.
"Tonight was a great step in that direction, of playing on the road, against good competition, down at halftime, come back a couple of times -- that's resolve. That's toughness. That's gritty. We've been trying to build this and it's starting to come and you can see it. And that's why I'm proud of my guys tonight."
November, 5, 2011
11/05/11
11:17
PM ET
WINSTON-SALEM, N.C. -- That was a close one, no?


Notre Dame overcame a pair of turnovers Saturday night to escape BB&T Field with a
24-17 win
over Wake Forest, making the Irish bowl-eligible at 6-3.
A couple of big defensive plays in the second half played a role in deciding this one, as Harrison Smith forced
Brandon Pendergrass
to fumble with Wake Forest facing second-and-goal late in the third quarter. Gary Gray recovered for the Irish.
Wake Forest received another chance to even things up in the fourth quarter, getting as close as first-and-goal from the 10. But Stephon Tuitt came up with a sack for a loss of 11, a pass in the backfield was blown up by Smith for a four-yard loss and
Tanner Price
overthrew on 3rd-and-goal from the 25.
Jimmy Newman then missed a 42-yard field goal attempt with 5:24 remaining, and the Irish were able to run out the clock from there.
Be sure to keep it here for postgame reaction from a close one at BB&T Field.