September, 12, 2014
9/12/14
8:00
AM ET
Let's get the morning started with a few quick news items:
Miami receiver
Stacy Coley
is
out against Arkansas State
on Saturday with a shoulder injury. The announcement is not a huge shock, considering Coley was in a non-contact jersey during practice this week after getting hurt against Florida A&M. Still, Coley has not gotten off to the start the Hurricanes anticipated after a breakout freshman season.
He only has three catches for 9 yards, all in the opener against Louisville, as the Miami offense has struggled to find consistency and production in the passing game. Coley was a major deep threat for Miami a year ago, averaging 17.9 yards per catch. But with freshman quarterback
Brad Kaaya
, Miami has not been able to get its downfield passing game going the way it did with
Stephen Morris
, who excelled at the deep ball.
The season is early, and Coley is not seriously injured. Perhaps he will be back next week when the Hurricanes travel to Nebraska. But there's no doubt Miami is going to need a Kaaya-to-Coley connection to develop for the passing game to be seen as a serious threat. Miami does have depth at the position with
Phillip Dorsett
,
Malcolm Lewis
, freshman
Braxton Berrios
, and
Herb Waters
. But Coley is the most dynamic player in that group.
Meanwhile, Virginia Tech defensive tackle
Corey Marshall
is questionable for the East Carolina game with a sprained ankle. Marshall was hurt last week against Ohio State, and would be a pretty big loss for the group up front. As the Roanoke Times notes, Marshall has
six quarterback hurries
already this season and was the MVP of the spring for the Hokies. Facing a veteran quarterback in
Shane Carden
, the Hokies will want to keep the pressure on to disrupt his timing in the pass game.
If he can't play,
Woody Baron
would get the start. Tight end
Kalvin Cline
also is out for his third straight game.
Finally, North Carolina announced it had
concluded its investigation
into an alleged hazing incident between football players last month. But that is basically all the school said. No details were provided on what exactly happened; on the players involved; or whether what happened was, indeed, a hazing incident. The information gathered has been given to the student attorney general, who will decide whether any player will be charged through the honor court.
Strangely enough, the Raleigh News & Observer reported earlier this week that a police report on the alleged incident was
riddled with errors
. The truth, it seems, remains elusive.
Now here's a look at what else is happening in the ACC:
July, 25, 2014
7/25/14
4:00
PM ET
Earlier this week, I asked:
Will Miami win
the Coastal Division? Over 3,000 votes were cast, and the overwhelming majority say absolutely not.
Let's dig into the mailbag to see what you had to say.
Richard in Raleigh writes:
You mentioned Miami had far too many concerns to overlook to be named the preseason Coastal favorites. Can this not also be said for the other 5 teams with a shot of winning the Coastal?
Andrea Adelson:
Absolutely. But the Miami Hurricanes have a backbreaking schedule; and headed into the season, I am more confident in the quarterbacks for four of those teams (Duke Blue Devils,
Georgia Tech Yellow Jackets
,
Pittsburgh Panthers
,
North Carolina Tar Heels
). As for the
Virginia Tech Hokies
, as long as their defense plays up to standards, the Hokies will always be in contention.
---
Ryan in Charlotte writes:
Agree with Duke winning the Coastal. Duke's D-Line lost three, but I really don't think there will be a huge drop off in terms of production. Miami has an incompetent coaching staff, otherwise they should win it and [Frank] Beamer for not getting a real offensive coordinator prevents VT from being the favorite. Carolina every year is projected to win it and chokes consistently despite NFL talent. GT is also underrated, [Paul] Johnson has never finished lower than third in his time at GT. Pitt lost their QB and [Aaron] Donald, don't see them as being a dark horse. All of this coming from a die-hard Duke Fan.
Patrick Clark in Durham, North Carolina, writes:
I'm quite surprised that you and I seem to be in the minority picking Duke to win the Coastal. Duke returns their top three tacklers, All-ACC WR
Jamison Crowder
, and are one of only three teams in the conference to return their starting QB in senior
Anthony Boone
. Throw in one of the easiest schedules in the conference and it seems to me, if you're able to put past history and stigmas aside, that Duke is the obvious choice to represent the Coastal Division and make it back to Charlotte. Are we crazy?
Adelson writes:
Crazy like foxes!
---
Jason Freeman in Cumming, Georgia, writes:
I would just like to know the insistence on picking a UNC, Miami, and now Duke! Until Duke did it last year, there has been only TWO schools that have represented the Coastal. And one of them is absolutely NEVER picked, I think you know which one I'm talking about! But what baffles me is, Duke is the favorite this season, but Georgia Tech went to Duke and embarrassed them, one of only two teams that beat them in the regular season! ... Oh and by the way, Georgia Tech beat the only other team to beat Duke in the regular season last year! And I know that Johnson isn't living up to what we thought he would do after the first two seasons. Keeping that in mind, we then were picked at the bottom in the Coastal and way surpassed expectations! But the same teams keep getting these exaggerated picks, and constantly fall under what is expected of them.
Rich in Atlanta writes:
Shocking...that the media would pick Miami for the Coastal. Also funny that UNC & VT are ahead of GT. Duke maybe. Year after year, GT has the No. 1 offense in points and yardage for the Coastal (No. 1 in both categories again last year). What everyone is overlooking is that GT had the No. 2 defense in those categories last year only trailing VT. GT's average finishing rank in the Coastal is second since Coach Johnson arrived. D is on the upswing, O will produce as it always does. When has CPJ's O not been No. 1 in Coastal? Never.
Ryan in New York City writes:
I'm definitely not one to downplay the Canes' woes of the last several seasons, particularly on defense. But I think most people are being really unfair in their evaluation of
[Jake] Heaps
. He had a very solid freshmen year at BYU before transferring due to a scheme change. Then he went to play for one of the worst coaches (Charlie Weis) at one of the worst programs (Kansas) where he got no help from his O-Line or receivers. At the very least, he's a mature player who has experienced a lot of different schemes, and will be in an offense with playmakers EVERYWHERE around him. By no means do I expect us to win the division (particularly because of the complete lack of defense), but I expect Heaps to earn the starting nod and surprise some people early in the season.
Phil in New York writes:
Duke Johnson
.
Anthony Chickillo
.
Stacy Coley
.
Clive Walford
.
Phillip Dorsett
.
Herb Waters
.
Tyriq McCord
.
Tracy Howard
.Get ready for your Coastal champs - the University of Miami Hurricanes!!!
CaliNative in SF/Miami writes:
Miami and Virginia have the hardest conference schedules in the Coastal this year (Virginia's is harder because they play @FSU instead of UL). But my question is do you think if you switch Duke (or even VTech's) and Miami's schedule, do you think Miami becomes the overwhelming favorites? I mean Duke's schedule is set up only to lose to VT, UNC, and Miami. I think Miami (and UNC) are just set up so that they have to sweep the Coastal, or only have one loss, to win it. And honestly, that is the only reason I can see for not having Miami or UNC winning the Coastal.
Adelson writes:
The schedule Miami has to play would be difficult for any team. One of the reasons why the Hurricanes want a nine-game league schedule is to even out the slate a little more for everyone. They have to play the
Florida State Seminoles
every year; their Coastal brethren don't. If Duke played Miami's schedule, then I would not pick the Blue Devils. Schedule is a huge reason why I think Duke has an edge, as I stated in the post. The schedule you play impacts how you finish, no matter how talented you are.
---
Al in Florida writes:
You love to talk Miami down don't you, AA? I don't blame you, I would still be salty if I was a Gator fan. All Miami needs at QB is someone to get the ball to the playmakers without turning the ball over. We have the playmakers, more so than FSU or Clemson. Plus our O-line isn't too shabby. If (James) Coley can improve the O and if (Mark D'Onofrio's) D is half as good as it was last year, you can buy me a beer in North Carolina come December.
AJ Brown in Plantation, Fla., writes:
The one true reason in my mind that Miami is favored to win the Coastal is because you can't ignore the talent that Miami possesses. Firstly, Miami has the best group of receivers RIGHT NOW in the entire ACC. That means that whoever starts at QB for Miami does not have to be STELLAR, but a game manager instead. Last year, the problem Miami had on offense was that
Stephen Morris
could not make the right reads and could not make the intermediate throws. Often times he was a one-trick pony who could only throw the deep ball. Jake Heaps, for example, may not have the arm or the pretty deep ball, but he can make the intermediate throws that Morris could not. As far as the defense, Miami SHOULD BE a lot better because of addition by subtraction. Miami had starters on the defense last season who had absolutely no business starting, like Tyrone Cornelius, Shayon Green,
Jimmy Gaines
, Kacy Rodgers and AJ Highsmith. The players replacing them are without a doubt more talented with way more athleticism, like
Dallas Crawford
,
Jermaine Grace
, Quan Muhammad,
Jamal Carter
, Tyriq McCord etc. Bottom line is, I don't think you can compare the talent level between Miami and Duke as Miami has a clear advantage there. I'm not saying Miami WILL win the Coastal, but I think you're drinking too much Blue Devil Kool-Aid because you're looking at Duke's Cinderella year from last season and the fact that they're returning their starting QB.
Adelson writes:
I could not resist a parting shot. Duke beat the far more talented Miami head-to-head a year ago.
October, 21, 2013
10/21/13
12:00
PM ET
Will Florida State run the table?
September, 20, 2013
9/20/13
10:00
AM ET
Four weeks into the new season, and a few intra-conference matchups are beginning to separate the contenders and pretenders. Here are a handful of tidbits to shed some light on this weekend's games. (Hat tip, as always, to ESPN Stats and Information and ACC sports information departments.)
DUKE:
Wide receiver
Jamison Crowder
has at least six catches in five consecutive games and 13 of his last 16. He has averaged 7.7 receptions per game so far in 2013, tops in the ACC. He also leads the ACC in punt-return yards (149) and is second in all-purpose yards (389).
FLORIDA STATE:
In a 62-7 win over Nevada last week, eight different Seminoles scored touchdowns. That's one shy of the program record of nine, set in a 66-17 win over Memphis State in 1979. It's just the fourth time in program history that eight different offensive players scored a touchdown, however. The last time that happened was a 72-13 win over Wake Forest in 1995.
GEORGIA TECH:
Vad Lee
accounted for five total touchdowns in last week's win over Duke, including four through the air. He became the first Georgia Tech QB to throw for at least four touchdowns since 2006. This week, he takes on North Carolina. In last year's game, Lee led the Yellow Jackets to a 68-50 win -- the highest-scoring game in ACC history -- by throwing for a season-high 169 yards.
MARYLAND:
The Terps are off to a 3-0 start for the first time since 2001, when they won their first seven games of the year. That season, Maryland finished 10-2, won the ACC and played in the Orange Bowl. The biggest difference for Maryland so far has been the offense, which has eclipsed 500 total yards in each of its first three games. Only two other teams in the country have done that (Oregon, California).
MIAMI:
Sophomore wide receiver
Herb Waters
has just 18 touches in 14 career games (15 receptions, three rushes) yet he's now found the end zone in four consecutive contests, dating back to last season.
NORTH CAROLINA:
With two touchdown passes Saturday against Georgia Tech, UNC quarterback
Bryn Renner
would tie T.J. Yates for second on the school's all-time list with 58. The record belongs to Darian Durant, who finished his career with 68.
PITTSBURGH:
The Panthers have utilized 12 true freshmen and seven redshirt freshmen already in 2013. Freshmen accounted for 37 of Pitt's 49 points in last week's win over New Mexico, and they lead the team in receiving (
Tyler Boyd
), rushing (
James Conner
) and scoring (
Chris Blewitt
).
SYRACUSE:
A win over Tulane on Saturday would be the 700th in Syracuse program history. Only 14 other programs in college football have won at least 700 games. Virginia Tech is also looking for its 700th win this week, while Georgia Tech could become the third ACC team to reach that milestone this season with four more victories.
VIRGINIA:
The Cavaliers finished 2012 ranked 114th nationally in turnover margin at a woeful minus-14, and the Virginia D mustered just four interceptions. New DC Jon Tenuta hopes to turn around those numbers in 2013, but he's off to a rough start. Virginia's minus-5 turnover margin is 121st nationally, and it has just one takeaway so far.
VIRGINIA TECH:
The Hokies' defense has been exceptional so far this season, ranking second in the nation in total defense (190.7 yards per game) and yards allowed per play (3.36). Virginia Tech has allowed just three touchdowns in three games, and 30 of its opponents' 41 drives have ended in a punt, turnover or safety.
WAKE FOREST:
Senior receiver
Michael Campanaro
caught 16 passes for 177 yards in a losing effort against Louisiana-Monroe last week. Those numbers are impressive, but it's not the first time Campanaro has hauled in that many passes. Against Boston College last year, Campanaro caught 16 balls for 123 yards and three touchdowns. He's the only receiver in ACC history with multiple 16-catch games. It's the fifth time in his career he's recorded double-digit receptions.
August, 30, 2013
8/30/13
11:59
PM ET
Duke Johnson
reminded everybody why he should be considered one of the best running backs in the nation against Florida Atlantic on Friday night.
There's no sophomore slump in sight.
Johnson followed up a dazzling freshman season with a spectacular debut to 2013, setting career highs with 19 carries for 186 yards and a touchdown in Miami's otherwise ho-hum 34-6 win over the Owls. He ripped off long runs with ease.
Consider: Johnson had seven plays of 35 or more yards in 2012. He had three before halftime.
[+] Enlarge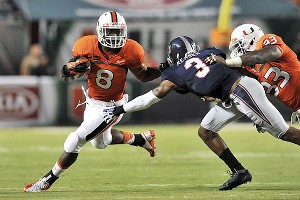 Steve Mitchell/USA TODAY SportsMiami sophomore Duke Johnson was off and running against Florida Atlantic, racking up 186 yards and a touchdown.
Johnson was the hands-down highlight of the game as the Hurricanes ended up rushing for over 300 yards. But Johnson also was involved in the scariest moment of the game. After throwing a block on a reverse that
Herb Waters
ran in for a 63-yard touchdown in the third quarter, Johnson stayed down on the field, and doctors had to help him off.
He was given a concussion test and showed no symptoms but he stayed on the sideline for the remainder of the game. No disputing that decision, though you have to wonder what Johnson was doing throwing a block with his head down. It's doubtful that the Canes are going to want him to do that again.
Aside from Johnson, it was an uneven performance on offense. Miami had way too many drops early in the game, drops that should have resulted in touchdowns. Freshman
Stacy Coley
had two of them, one coming in the end zone. Coach Al Golden delivered quite the quote at halftime when he told ESPN's sideline reporter that he would tell Coley to "relax, bro." Miami also struggled on third down once again, an area Golden targeted for improvement this season.
As for the defense, it's simply too tough to tell how far this group has come given the opponent. What did stand out was that the Hurricanes got an immediate impact from the additions to its defensive line.
David Gilbert
, a transfer from Wisconsin, forced a fumble that the Canes converted into a touchdown. Miami also had much better success with its pass rush, an encouraging sign with Florida looming next week.
April, 15, 2013
4/15/13
11:00
AM ET
Seven ACC teams held their spring games this past weekend as practice begins to slowly wind down until August.
Heather
provided her Pitt recap
earlier this morning. Here is a quick look at the headlines from the other spring games across the league:

CLEMSON
The Tigers suffered a big hit during their spring game last Saturday, when the team lost backup quarterback
Chad Kelly
to
an apparent torn ACL
. Kelly was in a heated competition with
Cole Stoudt
for the backup job, but it now appears he could be lost for the season. Coach Dabo Swinney said Kelly was hurt while making a cut at the end of a run. Starter
Tajh Boyd
was held out of the game so the Tigers could get a good look at Kelly and Stoudt. The backup last season, Stoudt set a Clemson spring game record with 304 yards passing and threw four touchdown passes, but his White team lost to the Orange team 34-26 in front of a spring-game record crowd of 30,000.
Sammy Watkins
led all receivers with seven catches for 156 yards and two scores, while
Grady Jarrett
had three sacks.
Vic Beasley
had two sacks, giving him 10 sacks in four scrimmages.
Tight end
Sam Cooper
and tackle
Kalon Davis
also sustained knee injuries in the game, but they are not believed to be as serious.

DUKE
Anthony Boone
and
Jamison Crowder
were the stars of the spring game as the Blue Devils showed a glimpse of how good they can be on offense this season. Boone went 18-of-30 for 273 yards with two touchdown passes to Crowder, and two interceptions. Crowder finished with four catches for a team-high 71 yards as the Blue team beat the White 27-12.
Blue team end
Britton Grier
had two sacks and seven tackles, including three for loss.
Lucas Fisher
,
Sam Marshall
and
Keilin Rayner
each added sacks for the Blue team.
"I like where we're headed," coach David Cutcliffe said. "We're building some depth. I think we can be a more energetic defense. The big thing is focusing on why we give up big plays, but trying to play defense, trying to force longer drives. It's going to be interesting film to study. We got a lot out of this game."

FLORIDA STATE
Coach Jimbo Fisher did not name a starting quarterback after the spring game, so the competition will go on into the offseason. But highly touted
Jameis Winston
sent jaws dropping
with his standout performance, going 12-of-15 for 205 yards with two touchdown passes before leaving the game early to play in the Noles' baseball game against Duke.
"He came in there and he took advantage of opportunities," Fisher said. "That's what you got to do. You've got to go make plays and he's done a nice job of making plays. He took the opportunity to take the day with the stage he had and I thought he played pretty well for the most part."
Winston and
Clint Trickett
split time with the first team for most of the afternoon. Trickett was just 10-of-16 for 98 yards and an interception before switching to the second team, where he was 12-of-16 for 161 yards and a touchdown.
Jacob Coker
, also competing for the starting job, went 15-of-26 for 186 yards, a touchdown and two late interceptions.

MARYLAND
Running backs
Brandon Ross
and
Albert Reid
took center stage, as both ran for over 100 yards in a 13-13 tie between the White and Red teams on Friday night.
Ross had 123 yards on 10 carries, while Reid had 138 yards on 23 carries in the game.
Wes Brown
, who missed the spring with a shoulder/ankle injury, is expected to be healthy in the fall so the competition at this position is going to be an intriguing storyline during the offseason.
"I limited what the defense could do. It was still good to see them," coach Randy Edsall said. "That is what we have seen out of Brandon and Albert all spring along with how they run. The one thing we have to be able to do is run the ball efficiently. When we do that it opens up the passing game. With the skill guys we have at wide receiver it will make us more productive and a chance to get big plays. They ran the way they have been running all spring."

MIAMI
Stephen Morris
threw for a game-high 256 yards and four first-half touchdowns to lead the Orange team to a 35-20 win over the White team. Meanwhile, ACC freshman of the year
Duke Johnson
led all rushers with 120 yards on 10 carries as the Hurricanes showed how explosive they can be on offense this season.
"We're pretty dominant," receiver
Rashawn Scott
told local reporters
. "Everyone is communicating and … no one is frustrated. If we mess up, we all talk instead of yelling at each other."
At halftime, the Canes handed out four Spring awards to
Nantambu-Akil Fentress
(305 walk-on award),
Olsen Pierre
(defensive most improved player),
Danny Isidora
(offensive most improved player) and
Herb Waters
(special teams most improved player).

NORTH CAROLINA
Bryn Renner
went 16-of-27 for 216 yards and three touchdowns to lead the Blue team to a 34-10 win over the White. The running back who took center stage in the game was not
A.J. Blue
or
Romar Morris
but true freshman Khris Francis, who ran 20 times for 101 yards to lead the White team. Blue had eight carries for 30 yards, and Morris had 15 carries for 80 yards to lead the Blue team as the Tar Heels work to replace
Giovani Bernard
. Blue added a 33-yard touchdown reception on a screen pass.
"I thought all three of our running backs played well," coach Larry Fedora said. "But Khris, for his first time out there in a game-type atmosphere, he did a good job. He hit some holes and exploded in them. One time I thought he got stood up. I said something to him and the next time he's got his shoulders down and he's running north-south. That's what he's got to do, so he did some nice things."
Defensively, end
Kareem Martin
had seven tackles, including four sacks.
Travis Hughes
added a team-high 14 tackles, including two sacks.
November, 14, 2012
11/14/12
5:00
PM ET
Finally some good news for the Miami receiving corps: coach Al Golden said starting receiver
Allen Hurns
is "OK to play" on Saturday against South Florida, and Golden is not concerned about the depth of the position despite several injuries and a suspension.

Hurns, the team's third-leading receiver, wore a hard cast on Tuesday to protect
a cracked bone in his thumb
, according to the South Florida Sun-Sentinel. Hurns injured it in Saturday's 41-40 road loss to Virginia. He had two receiving touchdowns in that game. Miami's second-leading receiver,
Rashawn Scott
(35 catches, 512 yards, three touchdowns), is suspended, and freshman receiver Robert Lockhart is out for the season with an injury, as is freshman receiver
Malcolm Lewis
,
according to the Miami Herald
.
Golden said he is still waiting to learn the status of
Davon Johnson
,
who was injured in Tuesday's practice
.
The Canes still have leading receiver
Phillip Dorsett
(42 catches, 648 yards, four touchdowns),
Herb Waters
(five catches), and
Kendal Thompkins
(two catches), and the staff also counts on
Duke Johnson
in the passing game. Dorsett had his third 100-yard receiving game of the season in the loss to Virginia. South Florida is ranked No. 68 in the country in pass defense.
"We've played multiple personnel groups, and obviously Phillip is having a good year," Golden said. "Herb's been playing much better of late, and Allen had one of his better games last week. We're going to need some guys to step up for sure, because we lost Scott and Robert Lockhart in the last couple of weeks, but hopefully these guys will step up and answer the call."
September, 14, 2012
9/14/12
10:00
AM ET
Time for a final few notes and nuggets to get you ready for Week 3. As always, thanks to the awesome sports information staffs across the league, and ESPN Stats & Information for the assist.
BOSTON COLLEGE:
Kicker
Nate Freese
, who was successful on field-goal attempts from 39 yards and 20 yards against Maine in Week 2, improved to 5-for-5 this season. He leads all ACC kickers in successful field goals and ranks tied for third among all kickers in the country in field goals made.
CLEMSON:
Tajh Boyd
has completed 78.8 percent (41-of-52) of his passes from the pocket this season (61.1 percent last season). Boyd was under duress on just four of his 52 attempts from the pocket and 7-of-57 attempts overall.
DUKE:
Receiver
Jamison Crowder
is just the third Blue Devil to have 100 or more receiving yards in the first two weeks of a season, joining Clarkston Hines (1988) & Richmond Flowers (1998). In the loss to Stanford last week, Crowder (10) and
Desmond Scott
(11) had double digit receptions, the second time that has happened in school history.
FLORIDA STATE:
EJ Manuel
is 5-of-5 with a touchdown on throws of 20 yards or longer this season. Last season, Manuel completed 34.7 percent of his 20-yard throws with seven touchdowns and three interceptions. ... Florida State has allowed just 24.2 percent of its opponents' rushes to gain five yards or more since the start of last season, second-lowest percentage in FBS behind Alabama.
GEORGIA TECH:
Before its 20-17 loss in overtime at Virginia Tech, the last time Georgia Tech lost a season opener came in 2006. The Yellow Jackets lost to Notre Dame, then went on to win the ACC Coastal Division title. The last time Tech opened a season with a five-day turnaround, 2009, was also a year in which the Jackets won the ACC Coastal crown.
MARYLAND:
Joe Vellano
and
Demetrius Hartseld
have helped the Maryland front seven get extremely stingy against the run. The Terps are holding opponents to an average of just 1.95 yards per rush and of the opponents' 80 rushes this season, 56 have been for 3 yards or fewer. That effort has led to Maryland ranking ninth nationally in total defense, a big reason for its 2-0 record.
MIAMI:
The Hurricanes have 12 different players with at least one reception in the first two games of the season:
Allen Hurns
,
Rashawn Scott
,
Phillip Dorsett
,
Clive Walford
,
Malcolm Lewis
,
Duke Johnson
,
Devon Johnson
,
Mike James
,
Asante Cleveland
,
Kendal Thompkins
,
Eduardo Clements
and
Herb Waters
.
NORTH CAROLINA:
Coach Larry Fedora and Louisville head coach Charlie Strong both served on Ron Zook's Florida staff in 2003-04. Fedora was the offensive coordinator and Strong was the defensive coordinator. UNC assistant Dan Disch was the secondary coach coach for the Gators in 2004 and strength and conditioning coach Lou Hernandez had a similar role in Gainesville from 2002-04. Fedora and Louisville defensive coordinator Vance Bedford were on the Oklahoma State staff in 2007. Fedora was the offensive coordinator and Bedford was the defensive coordinator. UNC wide receivers coach Gunter Brewer was also on that staff. Brewer and Strong were on the same staff at Mississippi in 1990.
NC STATE:
In the rst two games of the season, 11 spots on offense and defense have been manned by seniors who have had starting experience prior to 2012. That number is almost double the most senior starting experience coach Tom O'Brien has had during his rst ve years with the Wolfpack. The number is particularly high on offense, where seven of the 11 starting spots are slated to be lled by seniors with previous starting experience.
VIRGINIA:
So far in 2012, UVa has nine pass plays that have gone to wide receivers or tight ends for 20 yards or more -- an average of 4.5 per game. Compare that number to 2011, when the entire season saw 35 passes of 20 yards or more to wide receivers or tight ends for a rate of 2.69 per game. The 2010 season resulted in 38 total receptions by wide receivers or tight ends of 20 yards or more for an average of 3.17 per game.
VIRGINIA TECH:
The Hokies' current 219-game scoring streak from 1995 to the present is tied for the 15th-longest in Division I-A college history. In the 219-game run, Tech scored on its first offensive possession 73 times, plus another three occasions where it scored on returns on its first touch of the game. The Hokies have scored in the first quarter 160 times during the streak.
WAKE FOREST:
The Deacs' last two wins over ranked teams have come against FSU. The Deacs beat the No. 22 Noles 35-30 last year, and also recorded a 12-3 victory in Tallahassee on Sept. 20, 2008. Wake Forest is 3-14 against ranked Seminole teams and 1-8 against ranked FSU teams in Tallahassee.