ACC:

Howard Schnellenberger
September, 4, 2013
9/04/13
11:00
AM ET
By
ESPN.com staff
| ESPN.com
The team that started a dynasty trudged into the locker room after its season opener, bracing for the wrath of its coach.
Miami had just played a terrible game, losing to hated in-state rival Florida 28-3. The Gators were the higher ranked team, and had the home-field advantage, but that was no excuse for the turnovers that piled one on top of the other.
Howard Schnellenberger looked at the young men before him. And he made a decision that ultimately changed college football. He did not yell. He did not point fingers. He simply told his team, "We gave that one away. Let's clean up the mistakes and get ready to go play."
"We practiced like we had won the game and that to me was the biggest decision that I've ever made in my life -- particularly in that season for that situation," Schnellenberger recalled in a recent phone interview.
That loss to Florida, 30 years ago almost to the day, could have broken Miami. Instead, the 1983 Hurricanes were emboldened. Miami reeled off 10 straight victories in 10 consecutive weeks to earn a spot in the Orange Bowl against No. 1 Nebraska for the national championship.
Impressive, yes.
But not as impressive as its shocking win over the Huskers in perhaps the greatest championship game ever played, a victory that propelled Miami to five titles over an 18-year period, an era of dominance unmatched since.
Before Miami became known as "The U," though, it was a program struggling to find itself. Schnellenberger, himself familiar with college football dynasties from his days as an assistant to Alabama coach Bear Bryant, would change all that. He got players to buy into his master plan to make Miami into a powerhouse. Schnellenberger promised every single one of his players that Miami would be a champion one day.
Every single one of those players believed him.
"He told us in his fifth year that we'd challenge for the national championship," recalled Jay Brophy, a linebacker on the '83 team. "Now, he could tell me, 'Jump off the roof, you'll be fine,' and I'll do it. Because what he told us is true. In the fifth year, we won the national championship."
That might not have happened had Schnellenberger reacted differently following the loss to Florida.
To read more of Andrea Adelson's story, click here.
April, 23, 2012
4/23/12
10:30
AM ET
Howard Schnellenberger
has
to do the honorary coin toss for this one, right?
Miami and Florida Atlantic
will play each other three times between 2013 and 2016
, the schools announced Saturday. Despite being roughly an hour apart, the schools have never met.
"I'm thrilled to death that FAU and UM are going to face-off on the gridiron," Schnellenberger said in a statement. "It is part of the big plan and may develop into a wonderful addition to south Florida football."
Schnellenberger coached the Hurricanes to their first national title in 1983. He started the Owls' program in 1998 and was its only coach before retiring at the end of this past season and becoming a school ambassador. Carl Pelini succeeded him as coach. Schnellenberger's career record is 158-151-3
FAU will travel to Sun Life Stadium on Aug. 31, 2013 and host Miami at FAU Stadium in 2015. Miami will host FAU again in 2016. The dates for the last two games have yet to be announced.
The 2013 game will be the first of four games Miami plays against in-state schools that season, as the Hurricanes will also travel to Florida State, host Florida and visit South Florida. The 2015 game will mark Miami's first in Palm Beach County and its first away game south of Tampa.
FAU's only game against an ACC school was a 54-6 loss at Clemson on Sept. 2, 2006.
"It's a great matchup," Pelini said in a statement. "Miami is a prestigious program of which we would like to emulate. It will be great for our players to challenge the names they played against in high school and for the fans to have a close away game to attend."
April, 10, 2012
4/10/12
9:00
AM ET
Miami offensive line coach Art Kehoe is one of the most honest men in America, which makes him a dream for people like me. Ask him anything, and he tells you the unvarnished truth. What makes him more compelling for my story on college football in Florida is his incredible role in the transformation. Kehoe had a front-row seat for it all, having played at Miami when the Hurricanes began their rise under Howard Schnellenberger. He got his first coaching job under Schnellenberger in 1982 and remained on staff there until 2005, coaching under Jimmy Johnson, Dennis Erickson, Butch Davis and Larry Coker. If anybody is an expert on the rise of football in the state, it is Kehoe.
He returned to Miami under new coach Al Golden last season and is back where he belongs.
[+] Enlarge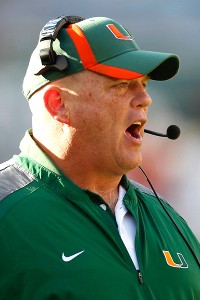 Al Diaz/Miami Herald/MCT via Getty ImagesArt Kehoe watched the Hurricanes rise under Howard Schnellenberger in the 1980s and he believes they'll do so again under Al Golden.
Here are some of his insights into why football in Florida exploded and how the Canes make their return.
On why Florida is breeding ground for high school talent
:
Art Kehoe
: When I grew up in Pennsylvania, the season got over in Thanksgiving. In December, January, February, March, you were locked in doors watching the "Three Stooges" and eating potato chips. Unless you were wrestling or good enough to play basketball. All the kids down here, they're doing Frisbee, or they're on a surfboard, playing basketball, baseball, football all year round. The best months of the year are November, December, January, February, March. To me, I always felt there was so much speed down here and the combination of, you were getting a Florida kid he might be a little scrawny because he wasn't lifting all the weights and doing all the eating. You were getting a faster, tougher kind of athlete down here. You also had a mushrooming community that was producing tons of athletes, in a climate that said we're going to practice year round, get faster, better and tougher.
On why Miami never skipped a beat despite the coaching transition in the 1980s and 1990s
:
AK
: People have said whether it was Jimmy or Howard, if they had stayed here, they could have been icons. Now they're icons anyway, but it's all the same reasons. It's like Coach Golden says: We're a landlocked peninsula. There's nowhere else to go so why shouldn't we control this area? If people want to win a national championship -- you have a private school, high graduation rate, beautiful campus, tremendous city, the weather's fantastic, and we have the players in ... Miami, why can't we control that?
On Miami's return
:
AK
: If anybody thinks Miami is gone, you're going to learn the hard way. We are not gone, and we're not falling off by the wayside. We're going to win and we're going to win big, and the reason I feel that is the guy at the top. I don't know how close we are, because we've had a couple of dents in our armor, but I know it's coming. I watched Coach Schnellenberger do it and I was in awe to be a part of it with the teammates we had. It was an awesome thing to watch. I've been through all the transitions, to do that, for that long and not believe you've got a leader and it's going to happen again.
On heightened expectations when you win as many championships as Miami has
:
AK
: Nobody wants to hear about the pain, just deliver the baby and the baby's got to be winning. People know what's been done here, and they expect things to happen. And if it doesn't, our fate will be sealed, and so will the guys up at Florida State if it doesn't and so will the guys up at Florida if it doesn't. That's the inevitable thing about sports and society, especially if you go up levels. If you're at the college level or the professional level, there's big money involved and people expect results, especially at places where you have nothing but winning.
February, 20, 2009
2/20/09
9:00
AM ET
Posted by ESPN.com's Heather Dinich
Impossible.
It's a good thing Miami was in the second batch, because this was another one that required some thought. As in, sleep on it. Didn't work. So I turn to you for advice ...



Marc in Boston wrote: For the Mighty Canes of Miami, I submit that the four individuals most deservng of having their mugs chiseled into a mountain are 1) Howard Schnellenberger, 2) Vinny Testaverde, 3) Ken Dorsey, and 4) Michael Irven. But of course choosing four individuals for Mount Canemore is pretty difficult and arbitrary. There have been so many dominant players, and how do we go about judging them? Gino Toretta won a Heisman and proceeded to stink it up in the NFL. Should that matter? Ken Dorsey was the undisputed leader or a team that won a title and might have been the most talented team in college football for three straight seasons, but he certainly was not even one of the 5 or 10 best players on his own college team. God I love the U...
Chris in Port Saint Lucie, Fla., wrote (again): OK so here is my revised, updated, finalized list. After much thought, here it goes for the mighty U (in no particular order): 1. Edgerrin James 2. Ray Lewis 3. Ted Hendricks 4. Michael Irvin While this is hard to do (and there are no wrong answers - unless Kyle Wright, Kirby Freeman, or Larry Coker are on the list), this is the list for the U. All are (or soon to be) NFL HOFers, BTW.
David in Fort Myers, Fla., wrote: Cant wait to see the UM Rushmore. I know FSU thinks they have a whole bunch of players....whatever. The Canes list of possible players puts the Noles to shame. Heres a start, in no particular order: Howard Shnellenberger, Vinny Testaverde, Edgerinn James, Ray Lewis, Reggie Wayne, Dan Morgan, Russel Maryland, Michael Barrow, Clinton Portis, Ken Dorsey, Jeremy Shockey, Kellen Winslow, Ed Reed, Sean Taylor, Andre Johnson, Dennis Erickson, Butch Davis, Gino Toretta, Willis Mcgahee.... and I know ive been a bit specific to the post-Shnell era and there are others that Im forgetting. Still, a pretty impressive list....Booya. Much love HD
Jonathan in Boynton Beach wrote: So I'm all about the U. I know we're going through tough times but randy Shannon's doing his thing. Thank God all that Bryce Brown mess is over, I can't stand his "ME, ME, ME" attitude. But anyway heres my Mt. Rushmore of Miami: If all goes well and Randy Shannon brings the U their "swagger" back then im gonna start off with 1. Randy Shannon 2. Vinny Testaverde 3. Ed Reed 4. Sean Taylor (R.I.P.) Let me know what you think!
Here's the verdict U have been waiting for:
Howard Schnellenberger -- As Miami's eighth head coach, Schnellenberger installed a pro-style passing attack, and in his second season, the Hurricanes went 8-3 and were invited to the Peach Bowl. A 20-10 win over Virginia Tech for the nine-win season was considered by many as a turning point in the program. By Schnellenberger's fifth and final season in 1983, Miami was in the national championship. Led by Bernie Kosar, the Canes upset Nebraska 31-30 in the 50th Orange Bowl for an 11-1 season and a No. 1 spot in the polls. It was the beginning of Miami's reign as a national power.
Michael Irvin -- The leader of Miami's 1987 national championship team, Irvin had a record-setting career and still holds the mark for the most touchdown passes caught (26). In three seasons (1985-87), Irvin had 2,423 receiving yards and 143 receptions. His 73-yard touchdown reception against FSU in 1987 led the Canes to a 26-25 win en route to the national title. He went to a Hall of Fame career in the NFL as a three-time Super Bowl champion.
Vinny Testaverde -- He won the Heisman Trophy, the Maxwell Award, the Davey O'Brien Award, and was the Walter Camp Player of the Year. What's left to win? As a starter, Testaverde led Miami to a 21-1 regular-season record. He ranks third in all-time passing yardage (6,058), and is tied with Steve Walsh for second in touchdown passes thrown (48). His most memorable performance came in Miami's 28-16 win over No. 1 Oklahoma in the 1986 Orange Bowl when he completed 75 percent of his passes (21 of 28) for 261 yards and four touchdowns.
Ken Dorsey -- The deciding factor in the final pick was Dorsey's career record as a starting quarterback -- an astounding 38-2, including the 2001 national championship. Dorsey, the winningest quarterback in Miami history, set eight school career records, including total offense, passing yards, passing touchdowns, completions and attempts. He completed 222 of 393 passes for 3,369 yards and 28 touchdowns with 12 interceptions in 2002.