August, 3, 2011
8/03/11
3:03
PM ET
UNC junior running back
Hunter Furr
has decided to transfer, the school announced on Wednesday.
"Hunter came to me this week and asked for his release," interim coach Everett Withers said in a prepared statement. "He is seeking an opportunity for more playing time and I respect his wishes. We've enjoyed having Hunter in the program and I wish him nothing but the best as he continues his college career."
"I would like to thank the entire Carolina coaching staff for their support and guidance over the last two years," Furr said in a prepared statement. "I've enjoyed being a part of this program and I've developed several great relationships with my teammates and coaches. I feel it's in the best interest of my football career to transfer and compete for playing time at another institution. I have nothing but respect for Coach Withers and I believe he will do an outstanding job building the program."
Furr played in 11 games last season and saw action in 13 games as a true freshman in 2009. In two seasons, he had eight carries for 35 yards.
This is a position that needed all of the bodies it could get, as UNC had to replace three tailbacks who accounted for 96 percent of last year's rushing production.
Ryan Houston
will be the Heels' go-to running back, but Furr's decision leaves only fullback
Curtis Byrd
, tailback
Giovani Bernard
and fullback
Devon Ramsay
as the top options out of the backfield. Bernard was able to participate in spring non-contact drills but was held out of the spring game for precautionary reasons.
June, 20, 2011
6/20/11
3:30
PM ET
Last week we looked at how the quarterbacks stacked up in the ACC. This week, we'll take a closer look at the running backs. Again, the position rankings by team put heavy weight on the depth of the position -– hence the
team
ranking, not individual. Just because Virginia Tech has one of the best running backs in the ACC doesn't mean that collectively, as a group, Virginia Tech is the best team in the league at the position. Florida State? Loaded. Wake Forest? Not. These are based on the best combination of talent, experience and depth.
Here's a look at how each team ranks in the position:
[+] Enlarge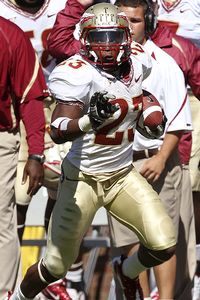 Lee Coleman/Icon SMIChris Thompson averaged 6.4 yards per carry for the Seminoles last season.
1. Florida State:
Chris Thompson
,
Ty Jones
and
Jermaine Thomas
combined for 1,862 yards, 6.1 yards per carry, and 17 touchdowns last year. Thompson had 1,000 yards combined from both rushing and receiving last year, and Thomas enters his senior season with 1,084 career yards -- the second most of any active ACC runner, behind only
Montel Harris
(3,600).
2. Boston College:
Montel Harris could break a 33-year-old ACC rushing record this fall, and his backup,
Andre Williams
, is a bigger back who has proven more than capable of shouldering the load himself. Together they're one of the best one-two combos in the league.
3. Miami
: The transfer of
Storm Johnson
hurt, but
Lamar Miller
should be one of the best in the ACC, and
Mike James
was ahead of Johnson on the depth chart. The Canes also have
Darion Hall
,
Maurice Hagens
and incoming freshman Kevin Grooms.
4. Clemson
:
Andre Ellington
will be the leader of the pack, but true freshman Mike Bellamy could also make an immediate impact, and the group runs deep with
Roderick McDowell
,
D.J. Howard
and
Demont Buice
.
5. Virginia Tech:
Had Ryan Williams and
Darren Evans
returned, this would have been one of the premier groups of running backs in the country. Instead, it will be the
David Wilson
show (and
Josh Oglesby
). Not that the Hokies will have any problem with that.
6. Maryland:
Davin Meggett
and
D.J. Adams
are a talented duo, but depth should be a concern. Meggett posted a team-high 720 rushing yards in 2010, while Adams had a freshman school-record 11 rushing touchdowns.
7. NC State:
The Wolfpack are in a much better position at running back than they were a year ago, when nobody with starting experience returned.
Mustafa Greene
,
James Washington
and
Brandon Barnes
should make NC State's running game a bigger factor this fall.
8. Georgia Tech:
Coach Paul Johnson isn't concerned about his B-back position because it's one of the deepest on the team. There isn't one superstar like in recent years, but
Richard Watson
,
Charles Perkins
and
Preston Lyons
will work together to keep the Jackets one of the top rushing teams in the country.
9. North Carolina:
The Tar Heels have to replace three tailbacks who accounted for 96 percent of their rushing last year.
Ryan Houston
is back for his sixth season of eligibility, but he is the only one who has seen significant playing time.
Giovani Bernard
,
Hunter Furr
and Travis Riley help the depth.
10. Wake Forest:
Josh Harris
could crack the 1,000-yard mark if he stays healthy, and
Brandon Pendergrass
is a capable backup. There are three true freshmen at the position, and it's one area coach Jim Grobe can't afford any injuries.
11. Virginia
:
Perry Jones
and
Kevin Parks
are talented, but the Cavaliers will miss the production of
Keith Payne
, who accounted for 14 of the team's 17 rushing touchdowns. Jones started all but one game last year, but only scored one touchdown.
12. Duke:
The Blue Devils' running game is starting to show progress, but last year it still ranked 104th in the country. Depth isn't a problem, as
Desmond Scott
,
Josh Snead
and
Juwan Thompson
should help make it a more productive group this year.
Stay tuned for the top 10 ACC running backs for 2011 ...
April, 21, 2011
4/21/11
10:38
AM ET
By
ESPN.com staff
| ESPN.com
Despite the return of veteran
Ryan Houston
, North Carolina coach Butch Davis said on Thursday's spring coaches' teleconference that he wants more than one running back to carry the load this fall.
"You have to have a stable of running backs," he said. "I don't know that I even want to have one guy you say this guy is going to take 95 percent of the reps. I think it's a detriment to the kid."
Davis said that when he was at Miami, he always played two and possibly a third running back and would like to do the same this fall. Last year, because of injuries, he didn't have much choice. This year, he doesn't have much experience to choose from after the departures of
Johnny White
,
Shaun Draughn
and
Anthony Elzy
.
Houston was the leading rusher in 2009 but redshirted last year after his season was disrupted by the NCAA investigation. He's the most experienced of the group, as
Hunter Furr
played sparingly last year and
Giovani Bernard
and true freshman Travis Riley have yet to see the field.
"There's plenty enough work to get two good quality players a lot and maybe a third," Davis said. "We've got to have more than one running back and we've got an awful lot of unproven guys."
April, 13, 2011
4/13/11
5:00
PM ET
Despite
the recent injury
to tailback
Ryan Houston
, North Carolina coach Butch Davis said Houston has what it takes to be an every-down back this season.
[+] Enlarge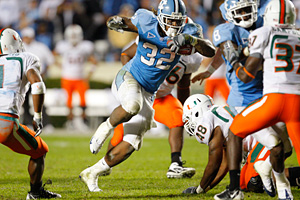 Bob Donnan/US PresswireNorth Carolina coach Butch Davis is confident running back Ryan Houston, shown here in 2009, will be his starter this fall.
"Absolutely," Davis said in a phone interview this afternoon. "I believe that. I think that early in his career when he was threatening at 265, 270 pounds, that in and of itself probably dictated as to the way he was going to have to be used, but over each of the years, he's gotten that weight down. He
wants to be an every-down back
. It's important to him and he's worked hard at it. He's shown in the spring he can be an every-down back, that you don't have to just rely on him to be the four-minute offense guy and the goal-line guy. He's headed in the right direction."
Davis said Houston, who was the team's leading rusher in 2009 but redshirted last season as an eventual result of the NCAA investigation, currently weighs 238 pounds. He'll have surgery tomorrow for a fractured scapula, but Davis said UNC's medical staff is confident they "can fix it," and "he'll be back and ready to go for the season."
There's no question UNC needs Houston, as it lost three key players from last year's roster, but there is depth at the position. Experience? Not so much.
Giovani Bernard
was expected to see some playing time last season as a true freshman but tore his ACL on the third day of training camp.
Hunter Furr
played sparingly last season, and true freshman Travis Riley, who enrolled in January, is also a potential contributor. Davis said it's been "all learning" for Riley this spring, but that he's strong and has good running instincts. Bernard was able to do about 75 percent of what the staff asked him to do, with the exception of full-speed, live scrimmages.
"There's probably going to be more diversity in that group than maybe we've had in previous years," Davis said. "Each one of them has uniquely different skill sets. Obviously Ryan is a big, strong, powerful, very good power runner. He's worked very hard at getting faster and quicker by losing weight and catching the ball. Hunter Furr, he got a significant amount of opportunities because we lost the three guys who played a lot in previous years. We got little glimpses of some of the things he did in the Florida State game. He's got some really good instincts, he's got some speed, and like everybody else he's got a lot of things he has to continue to work on. Giovani Bernard, we're excited about getting him an opportunity."
April, 11, 2011
4/11/11
9:00
AM ET
Expectations are high for North Carolina quarterback
Bryn Renner
, and in his debut as the Tar Heels' starter, Renner delivered. He completed 9 of 13 attempts for 123 yards and a touchdown in North Carolina's spring game on Saturday. The controlled scrimmage consisted of approximately 50 plays.

Renner was one of four quarterbacks to play, along with
Braden Hanson
,
A.J. Blue
and freshman
Marquise Williams
. While Renner's ability to flourish in games is one of the Tar Heel's biggest questions heading into the fall, UNC's receivers are proven.
Dwight Jones
had five catches for 56 yards and and
Erik Highsmith
had four for 67 yards, with most of that yardage coming on a 43-yard touchdown pass from Renner.
"I was a lot more nervous today because I was running with the ones and it was the first time Coach (John) Shoop was in the (press) box," Renner said, according to
the team's practice report
. "I thought I did alright, but I know I've got a lot more to learn. I worked the ball to Dwight a lot today and he made me look good. He has the potential to be one of the best receivers in the country."
Ryan Houston
started at tailback and had just two carries for 22 yards.
Hunter Furr
and junior walk-on
Matt Kolojejchick
each had seven carries.
Defensively, Quinton Coples made a team-high six tackles and was credited with one sack. Safety Josh Hunter had four tackles and one interception.
December, 29, 2010
12/29/10
10:00
AM ET
North Carolina enters the Franklin American Mortgage Music City Bowl undermanned once again, but the Tar Heels are determined to win with what they have. With the game in Nashville, UNC will also have to overcome what should amount to a home-field advantage for Tennessee. Here's a closer look at the Music City Bowl:


WHO TO WATCH:
The backups. With North Carolina starting tailback
Anthony Elzy
suspended,
Shaun Draughn
is the only proven runner remaining on the roster. His backup will be
Hunter Furr
, whose career-high is 27 yards. Elzy will not compete because he failed to meet his obligations as a student-athlete at UNC. The Tar Heels will also be without starting offensive guard Alan Pelc and starting linebacker Bruce Carter, both of whom are injured. Travis Bond, a sophomore, is Pelc's backup at right guard, but the problem extends to center, where Pelc was the backup to Cam Holland. At linebacker, Herman Davidson, a career reserve, is No. 2 behind Carter. There could be some shuffling at linebacker and offensive line as a result, and the Heels can't afford to have Draughn get hurt again.
WHAT TO WATCH:
Turnovers. These teams are so evenly matched on paper that one slip-up could be the difference. The Tar Heels have committed 15 turnovers in five losses this year and turned the ball over just six times in their seven wins (three of those six were in the victory at Rutgers).
WHY TO WATCH:
To see if North Carolina can squeeze one more win out of a roster that hasn't been at full strength all year. This team has been ravaged by injuries and suspensions, yet somehow still found a way to win seven games.
PREDICTION:
UNC 21, Tennessee 17. The experience of UNC quarterback
T.J. Yates
will be enough to overcome the Vols' home-field atmosphere, and North Carolina's defense -- even without Carter -- will be good enough to force true freshman quarterback
Tyler Bray
into some mistakes.
November, 10, 2010
11/10/10
4:00
PM ET
By
ESPN.com staff
| ESPN.com
North Carolina coach Butch Davis said today that his tailback rotation for Saturday's game against Virginia Tech could be a game-time decision.
With leading rusher
Johnny White
out for the rest of the season with a broken collar bone, the staff is deciding whether or not to redshirt
Ryan Houston
. Some of that depends on whether or not
Shaun Draughn
(ankle) is healthy, but there is no update on his status.
"We haven't decided any of those right now," Davis said. "Certainly I've had some conversations with Ryan. That will probably be a potential game-time decision. ... We're working with the guys who played in last week's game."
That would include
Hunter Furr
, who has since been promoted from the scout team. Furr entered last weekend's Florida State game on the Tar Heels' final drive and had three carries for 27 yards. Davis said Furr's practice time has increased "a lot" this week, and is getting about 20-30 percent of the practice reps.
"Obviously the whole team was ecstatic for Hunter," Davis said. "He's been very unselfish in his willingness to play whatever role we've given him. He's played on a lot of the special teams this season. Because we had four senior running backs, he knew this probably wasn't going to be the year he was going to get an awful lot of opportunities at running back, but he continued to practice hard, study, know the game plans, and ... clearly the team was very happy with what he did."
November, 8, 2010
11/08/10
3:30
PM ET
It's come to this: North Carolina walk-on running back
Steven Hatley
, who had never played in a game before and never even
practiced
with the Tar Heels' kickoff coverage team, was volunteering to do both against Florida State because UNC ran out of special teams players.
The totals are staggering -- 19 players on defense, including seven starters (the entire secondary) and 14 total from the preseason depth chart; 12 players on offense, including five starters, all three tailbacks from the preseason depth chart and both fullbacks.
The amount of tackles, interceptions, rushing and receiving yards North Carolina has missed out on because of the 31 players who have missed at least one game because of injuries and the ongoing NCAA investigations is incomprehensible.
So is the fact that North Carolina (6-3) is still winning.
And yet here they are, bowl-eligible and in contention to win the Coastal Division heading into Saturday's game against Virginia Tech. UNC's upset of Florida State this past weekend -- on the road no less -- was the program's first win against Florida State in Tallahassee and just the second win all-time in the series. Carolina is now bowl-eligible for the third straight season. That's the longest such run since going to eight straight bowls from 1991 through 1998.
Six wins were inconceivable a week before the season opening kickoff against LSU, when the NCAA investigation derailed the careers of 13 players.
That, of course, was just the beginning.
There have been more reasons to count Carolina out this season than there are barbecue joints on Tobacco Road. Against Virginia last month, walk-on offensive guard Peyton Jenest lined up at defensive tackle for the Heels. At FSU, North Carolina literally had three healthy corners who could play. The Tar Heels were down to four defensive ends and two of them got hurt. Running back
Hunter Furr
, who was on the scout team a week ago, was suddenly instrumental in the game-winning drive. If starter
Shaun Draughn
(ankle) can practice this week, he'll obviously play, but if not, it's up to Furr and -- well, Hatley.
Doesn't matter. Hasn't yet.
With quarterback
T.J. Yates
rising to the occasion every week and receiver
Dwight Jones
racking up three 100-yard games in the past four weeks, North Carolina has a chance to upset Virginia Tech on Saturday.
What are the odds?
Probably as good as a walk-on seeing his first playing time.
For all of the reasons to doubt UNC before this season even started, the Tar Heels now have six good reasons not to.
September, 30, 2010
9/30/10
6:48
PM ET
By
ESPN.com staff
| ESPN.com
The key here is starting linebacker Quan Sturdivant and running back
Johnny White
, who are both listed as questionable. UNC can't afford to be missing any more players, let alone those two contributors.
Out

Giovani Bernard
TB Knee
Brendon Felder
WR Knee
Tommy Heffernan LB Shoulder
Shane Mularkey LB Shoulder
Doubtful

Matt Kolojejchick
RB Illness
Darius Lipford LB Concussion
Questionable
Hunter Furr
RB Knee
TJ Leifheit OL Ankle
Quan Sturdivant LB Thigh
Johnny White TB Ankle
Probable
AJ Blue QB Knee
Jared McAdoo DT Illness
Devon Ramsay
FB Ankle
March, 26, 2010
3/26/10
9:30
AM ET
North Carolina didn't hold much back for its spring game this season.
The pre-game festival on April 10 features plenty for everyone. Students who have convinced themselves they're fast can compete in a 40-yard dash contest. Finalists will line up against tentatively scheduled players Zach Brown, Robert Quinn and
Hunter Furr
at halftime of the spring game at 3 p.m for a chance to earn the title of "Fastest Tar Heel on Campus."
Sorry though,
unlike Urban Meyer
, coach Butch Davis won't be offering a roster spot and/or scholarship to any student who can beat his fastest players. Kids will have a chance to get on the field, too, but the school will set up bounce houses and other inflatable games, as well as hosting a cheerleading clinic for kids at noon.
Plenty of admittedly cool door prizes will be up for grabs.
If you want a trip to Carolina's game at Miami (very nice), two tickets to the ACC Championship game, two tickets to the Orange Bowl, or four tickets to any Carolina game, you might want to stop by. They'll also give out two season tickets.
Davis and his players will sign autographs on the field at 1 p.m.
But maybe the coolest part of the day is its effort to get the other sports involved with the big crowd on campus mainly because of spring football.
The No. 4 Tarheels host Maryland in lacrosse at 11 a.m. and the baseball team plays NC State when football is over.
No word on if the UNC suits have brought in the
Chinese scientists from Beijing
to make sure it doesn't rain.
August, 11, 2009
8/11/09
4:32
PM ET
By
ESPN.com staff
| ESPN.com
Posted by ESPN.com's Heather Dinich
Here is UNC's official statement on the July dorm fight between freshmen Donte Moss and Hunter Furr:
"We became aware of the incident immediately on the night of the altercation," coach Butch Davis said in a prepared statement. "Donte and Hunter both regret the incident and have been disciplined internally."
August, 11, 2009
8/11/09
3:46
PM ET
By
ESPN.com staff
| ESPN.com
Posted by ESPN.com's Heather Dinich
It's never good when one teammate punches another in the nose. Twice. That's what UNC freshman Donte Moss reportedly did to Hunter Furr in a July dorm room fight, according to the Raleigh News & Observer.
The school hasn't issued any statement yet, but I've got a call in to see if UNC is taking any disciplinary action.