August, 7, 2014
Aug 7
9:00
AM ET
TALLAHASSEE, Fla. -- It's the double-edged sword of having a wildly talented team but with nearly a month's worth of practices still standing in the way of the season opener. There are not many question marks in the starting lineup for Florida State, which means the uncertainties at those few positions are squarely under the microscope.
[+] Enlarge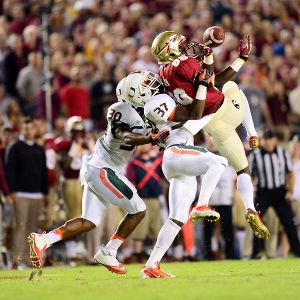 Phil Ellsworth/ESPN ImagesSenior Christian Green is among a group of Florida State wide receivers looking to complement Rashad Greene.
That's why Jimbo Fisher,
Rashad Greene
, the offensive line and even the Seminoles' secondary are being asked about the inexperienced group of receivers. It's understandable why the receiver corps has been a debated and scrutinized, and it is a legitimate question to ask which receivers will step up to complement the senior Greene, the team's leading receiver. Especially when considering Fisher's frustration with the receivers boiled over this spring.
A lack of consistency drew the ire of Fisher in March, but through three practices this fall, Fisher has been much more measured and complimentary of the receivers. However, consistency is still a concern during preseason practices for a unit that, outside of Greene, combined for 23 catches in 2013.
"Consistency, guys knowing what to do, where to be when that ball is thrown to you," Fisher said when asked what will separate the jumble behind Greene. "I've been pleased with the younger and older receivers."
The younger receivers, for only practicing three days and none with full pads on, have been the stars among the corps so far. At this point, though, that is more a product of the vast hype and media and fan intrigue rather than on-field performance.
Ermon Lane
was the No. 2 receiver nationally in the ESPN 300 and stands 6-foot-4 and weighs 206 pounds.
Travis Rudolph
was not far off in the recruiting rankings, registering as the sixth-best receiver in the 2014 class. Four-star
Ja'Vonn Harrison
rounds out the highly regarded freshman trio.
"Travis and Ja'Vonn, those two really do have good routes. Ermon is more of a physical type guy, he can go up, get off the jam. That's what separates those guys," senior receiver
Jarred Haggins
said. "By the time they all take their role, they're going to be awesome."
Haggins missed the entire 2013 season with a stress fracture in his knee but is healthy and competing for the No. 2 spot. With
Kermit Whitfield
and
Jesus Wilson
-- who is still indefinitely suspended -- likely filling the slot receiver role, Haggins,
Christian Green
and
Isaiah Jones
are competing with the freshmen for the starting outside receiver position.
The 6-foot-2, 204-pound Green caught 13 passes last season, second most among returning receivers, but he caught more passes as a redshirt freshman (26) than he has the rest of his career combined. A member of the 2010 recruiting class, Green arrived in Tallahassee with the same national acclaim as the current freshmen, as he ranked No. 53 in the ESPN 150.
Despite the limited action and attention he has received the first four years of his career, Green is determined to make a senior jump similar to the departed
Kenny Shaw
, Green's freshman roommate and a receiver who caught nearly as many passes a senior (54) as he did his first three seasons (70).
"It's something I've been waiting for," Green said. "I've been patient and playing my role and doing whatever they asked me to do. Now is the time."
Green said he is doing his best balancing his own ambitions with mentoring the younger receivers, but this offseason they were all under the tutelage of
Jameis Winston
. Last summer, Winston was still embroiled in a quarterback competition. During summer 7-on-7 workouts and throwing sessions that coaches couldn't watch, it was Winston who took the lead role of developing his young receivers.
"Jameis really understands what he wants and how he wants it," Fisher said. "It's something he picked up this summer from
Peyton Manning
. I always talk to him about taking two routes a day and running it 100 times. Make those guys understand how to do it."
April, 14, 2014
Apr 14
1:00
PM ET
Florida State's spring camp
came to a close
on Saturday with the annual Garnet and Gold game, and now the Seminoles are prepping for a second straight national title.
The game is secondary compared to the rest of spring practices, so with that in mind, here are some of the biggest answers the 15 spring sessions presented.
[+] Enlarge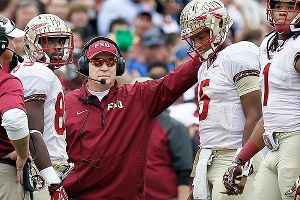 Don Juan Moore/Getty ImagesFlorida State coach Jimbo Fisher escaped the spring with a healthy roster.
1. FSU will be at full strength this fall.
In early March, Noles coach Jimbo Fisher noted how healthy his team was and how rare it is to have a squad almost entirely intact for spring practice. As the practices mounted, though, so did the injuries. The silver lining is that none of the injuries are expected to linger into preseason camp. Running backs
Dalvin Cook
and
Ryan Green
had shoulder surgery but will be 100 percent by around July.
Nick O'Leary
missed the final half of spring practices with a second motorcycle accident, but he avoided any serious injuries. There were a few concussions in camp, but
Terrance Smith
, who suffered one of them, was back for the spring game. The lone setback that could impact fall camp is the foot injury
Ukeme Eligwe
sustained, which Fisher hinted could be the dreaded Lisfranc injury, which has a tendency to persist for quite some time. The thought is he should be fine for August, though.
2. The secondary is among the best in the country.
Quarterback
Jameis Winston
said after the spring game that "we got the best [defensive] backs in the country." He should know, having thrown against the unit for much of the spring and the entire Garnet and Gold game. The secondary of
P.J. Williams
,
Jalen Ramsey
,
Nick Waisome
and
Tyler Hunter
shut down the No. 1 offense's passing attack the entire first half, and the unit was without sophomore
Nate Andrews
. Fisher said throughout the spring that Ramsey is a star-in-the-making and should become a nationally recognized name replacing
Lamarcus Joyner
. Ramsey showcased his skills by moving around at cornerback, safety and nickel during the game. Fisher and Winston are raving about freshman
Trey Marshall
, too. Williams is a star in his own right, shutting down No. 1 receiver
Rashad Greene
.
3. The receivers need to step up.
Speaking of Greene and the receivers, that position is probably the biggest weakness heading into the season. Fisher was upset with the production and consistency his receivers showcased through much of the spring, and the starting unit did not get any separation from the Noles' secondary.
Jesus Wilson
has the potential to be a playmaker from the slot, but can he replace
Kenny Shaw
's production?
Isaiah Jones
is 6-foot-4, but his production did not match that of departed 6-foot-5 receiver
Kelvin Benjamin
.
Levonte Whitfield
announced himself to the world in the national title game, but he is still needs some refinement as a receiver. The coaches can spend two hours a week breaking down film with players during the offseason, and Fisher said that will be a critical step in Florida State's development at receiver.
4. The talent is there at linebacker.
The Noles lose beloved figure
Telvin Smith
and consistent producer
Christian Jones
, but the depth at linebacker is there so those losses might not be felt all that much.
Matthew Thomas
is a budding star, and the former five-star recruit will not be kept off the field this fall.
Terrance Smith
is the leader of the unit and could be a viable replacement for Telvin Smith. Before Eligwe's injury, Fisher voiced his opinion that Eligwe was having as good of a spring as any player.
Reggie Northrup
and
E.J. Levenberry
should each see significant snaps in the rotation, and
Ro'Derrick Hoskins
could be a dangerous third-down specialist from the position.
5. Sean Maguire is a quality backup for Noles.
Earlier this spring, Winston missed a practice to travel to Clemson with the baseball team, putting the pressure squarely on No. 2 quarterback Maguire to perform at a competent level. Following the practice, the third of the spring, Fisher was lukewarm on Maguire's performance. But Maguire looked the part of a quality No. 2 option for Florida State during the spring game. The Noles got him in rhythm with three straight passes to the flats to open the game, and then Maguire dropped in a 26-yard touchdown on a post route over the defender. Maguire, a redshirt sophomore, said he made the most progress this spring than he's ever made at any point in his college career.
March, 28, 2014
Mar 28
10:30
AM ET
The image is now part of Florida State lore, etched into the history books for all time.
Jameis Winston
lofts a pass into the end zone in the final minute of the national championship game. As he'd done so often in 2013,
Kelvin Benjamin
-- all 6-foot-5, 240 pounds of him -- overwhelmed his defender and hauled it in for the score.
The touchdown was the capper in the Seminoles' third national title, but it was also the finale to Benjamin's career in Tallahassee. He's off to the NFL, where he's projected as a potential first-round selection.
Now, Florida State is left to find a replacement, and Jimbo Fisher has a sense of humor about the difficulty of the task, joking with reporters
he'd simply stack two of his current receivers atop each other
.
At least Fisher can laugh about it, but the truth is, Florida State simply doesn't have an obvious replacement because, well, players like Benjamin don't come around very often.
Benjamin wasn't always the most refined route runner or sure-handed receiver, but his raw physical ability was unparalleled. He was a mismatch every time he was on the field. While Florida State retains its best receiver in
Rashad Greene
, has some developing talent in
Kermit Whitfield
,
Jesus Wilson
and
Isaiah Jones
, and has three prized prospects arriving this summer, none provide the same physically imposing target that Benjamin did last season.
So, who picks up the slack for the 89 targets Benjamin received from Winston last season (not to mention the 74 for
Kenny Shaw
or the 38 for FSU's departed backs)?
Fisher's answer is probably somewhat accurate. The young receivers will all play their part, but none are likely to replace Benjamin's production on their own. It will have to be a combined effort, and the new arrivals will need some time to adjust to the college game.
Of the receivers that remain, Jones is the tallest at 6-4, but he's 50 pounds lighter than Benjamin and perhaps the least refined of the Seminoles' current receiving corps. No other receiver on the roster -- including the incoming freshmen -- measures taller than 6-2. And size does matter. Since Fisher took over as playcaller in 2007, FSU has always had at least one receiver 6-5 or taller catch at least 30 passes for at least 450 yards. That won't happen in 2014.
But that doesn't necessarily mean Florida State will be without a physical mismatch in the passing game. It's just likely that mismatch will come from its tight end.
Last season,
Nick O'Leary
blossomed to the tune of 33 catches for 557 yards and seven touchdowns. It was a breakthrough campaign for the junior tight end widely considered among the best in the nation coming out of high school.
O'Leary's big season was a necessity, too. Florida State had no other options at the position after Christo Kourtzidis transferred and
Kevin Haplea
went down with a knee injury.
Giorgio Newberry
was moved from defensive end to tight end, but he was targeted just twice all year, once resulting in an ugly interception when Winston attempted to force the ball to his makeshift tight end against Wake Forest.
Now, there is some depth. Haplea is healthy. So, too, is redshirt freshman
Jeremy Kerr
. Two more tight ends arrive this summer. None possess O'Leary's skill set as a receiver, but all could fit as blockers should FSU decide to run a two-tight end set with any regularity.
But O'Leary (6-3, 245 pounds) again will be crucial this season. He was targeted 42 times last season. Aside from Greene, all other returning receivers were targeted a combined 18 times by Winston last year. Winston routinely referred to O'Leary as his favorite target. That O'Leary caught eight of nine passes thrown his way on third down and had five grabs in the end zone only reinforced Winston's faith in him.
Still, three of O'Leary's red-zone catches came in Week 1. After hauling in five catches for 161 yards against Clemson, O'Leary didn't have more than three catches or 55 yards in any game the remainder of the year. He scored just once in FSU's last seven contests. He was shut out in the national title game.
So why did O'Leary disappear as the year went on? It was likely as much because of FSU's needs for him to be a blocker and Benjamin's emergence as the physically dominant downfield target as it was any regression by O'Leary. Neither will be an issue in 2014, and Fisher said he'd like to see O'Leary's receptions reach the 45 to 50 range by year's end.
"You can do a lot of different things with Nick," Fisher said. "He's grown into this offense. I think he will be critical."
No, Florida State won't have another Kelvin Benjamin this season. The Seminoles would be lucky to get another receiver with that skill set and body type again this decade. But there is talent at the position, as Fisher has made clear, and there is still a player who can provide some brute force in the passing game. It's just a matter of opening things up for O'Leary and seeing if he can take the next step in an already promising career.
March, 21, 2014
Mar 21
2:00
PM ET
TALLAHASSEE, Fla. -- Most coaches keep practices behind closed doors. They don't want any important information finding its way to opponents.
Florida State coach Jimbo Fisher, however, graciously tipped his hand Wednesday when asked about what new formations and which underclassman receivers could mitigate the departure of potential first-round NFL draft pick
Kelvin Benjamin
, all 6-foot-5 and 240 pounds of him.
[+] Enlarge
Melina Vastola/USA TODAY SportsKermit Whitfield isn't going to do the same things Kelvin Benjamin did in the Florida State passing game, but his speed could be every bit as dangerous to defenses.
"I'll stack Bobo (
Jesus Wilson
) and Kermit (
Levonte Whitfield
) on top of each other," quipped Fisher, clearly armed in anticipation of a question on his receivers' height. Wilson stands 5-foot-9 and Whitfield is 5-7.
The humor could be a deflection as Fisher masks any possible concerns about replacing Benjamin, who at Tuesday's pro day showcased a rare catching radius and leaping ability that no player on the Seminoles' current roster has illustrated. Senior
Rashad Greene
's presence is vital, as he led the team with 76 catches last season, but no other returning receiver had more than 13 catches in 2013, which leaves mostly a unit with little to no in-game seasoning.
But while Benjamin's size and strength combination won't be replaced by anyone on the roster in its current form, his Tallahassee exit doesn't necessarily mean a step in the wrong direction for the Seminoles offense. Whitfield and Wilson are small packages of instant offense. Whitfield initially trumpeted his speed for Florida State fans with touchdowns of 31 and 74 yards the first two times he rushed the ball, and then for a national audience with a 100-yard kickoff return in the fourth quarter of the VIZIO BCS National Championship.
"You can jump or you can run there -- there are two different avenues [to catch the ball]," Fisher said. "Bobo and Kermit, those guys get the ball short and it's hard to get them on the ground."
Quarterback
Jameis Winston
knows receivers like Benjamin do not come around often, but he said neither do players with the acceleration and speed of Whitfield and Wilson.
"Kermit and Bobo, they're going to catch the ball and you're not going to tackle them," Winston said. "Bobo is as electric as Kermit, but Kermit is special. And those guys can jump, and I'm pretty sure they can dunk."
Expecting the talented but inexperienced Whitfield, Wilson,
Jarred Haggins
and 6-4 sophomore
Isaiah Jones
to quickly jell with Winston in the passing game is oversimplifying an issue that requires a quarterback and receiver to connect on an innate level. Official practice time is in short supply this spring in Tallahassee as Winston bounces between football and baseball, which will cost him Saturday's practice.
Yet as foolish as it would be to assume Benjamin and
Kenny Shaw
won't be missed, at this point it would be equally ill-advised to doubt any aspect of the team Winston touches.
"We trust all the guys we got. That's why we come to Florida State, to win championships, and we've got great players," Winston said. "It's going to be a fast adjustment with timing, and we're going to get this thing rolling."
January, 22, 2014
Jan 22
1:00
PM ET
The news was hardly a surprise, but Florida State nevertheless could breathe an immense sigh of relief when
Rashad Greene
announced he'd be back for his senior season in 2014. There are more talented, more highly regarded players from the Seminoles' national championship team departing for the NFL, but perhaps no one on the current FSU roster was more crucial in 2014 than Greene. He was practically irreplaceable.
[+] Enlarge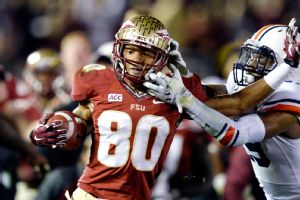 Robert Hanashiro/USA TODAY SportsRashad Green had a team-high 76 catches in 2013, including 9 in the national title game.
The run-up to the start of the 2013 season was a disaster for Florida State's receiver group. Greg Dent was expected to blossom into a consistent threat, but instead spent the year awaiting a trial for sexual assault. Willie Haulstead figured to return from more than two years saddled with the lingering effects of a concussion, but academics ended his season before it began.
Jarred Haggins
was poised for a far bigger role, but a knee injury relegated him to the sidelines.
What was left for
Jameis Winston
and the Florida State offense was essentially a three-man show: Greene,
Kelvin Benjamin
and
Kenny Shaw
. Of Winston's 384 pass attempts in 2013, he targeted his big three receivers 279 times (73 percent), according to ESPN Stats & Info.
The tight rotation actually proved to be a benefit. Greene, Benjamin and Shaw all enjoyed breakout seasons, with the former two topping 1,000 yards for the season. But as Florida State looks to 2014, the lack of established depth at the position means a massive rebuilding project must begin, with Greene providing the foundation.
Shaw is graduating. Benjamin departed early for the NFL. Winston's top three targets out of the backfield all moved on as well. Aside from Greene, the current Florida State roster accounts for just 44 of Winston's completions, the bulk of those to tight end Nick O'Leary.
So as the enthusiasm builds for a repeat performance by the Seminoles' high-flying offense thanks to the return of the Heisman Trophy winner and four-fifths of his offensive line, the obvious question is: Who will be catching all of those throws?
Greene's 76 catches last season were the second-most in Florida State history. It seems likely that number will increase in 2014. Even with tempting options in Shaw, O'Leary and Benjamin, Winston targeted Greene on more than 30 percent of his throws last year.
Greene was fond of telling the story of Florida State's receivers meeting last summer to discuss the new quarterback running the offense. It would be up to them, Greene said, to make Winston comfortable, to do their jobs so well it made his job easy. In 2014, Greene's role will be similar, except he'll now be mentoring a young group of receivers around him, too.
Kermit Whitfield
is electric with the ball in his hands, one of college football's fastest players. He figures to be a nice fit to replace Shaw as the team's top slot receiver, but he caught just five passes in 2013 -- none from Winston.
Benjamin's loss provides an even bigger hole. Receivers who are 6-foot-5, 235 pounds and can run and jump effortlessly are rare gems. Still, tall receivers have been a cornerstone of Florida State's offense, from Greg Carr to Rodney Smith to Benjamin. The last time the Seminoles didn't have a receiver taller than 6-4 record at least 30 catches and 400 yards was 2005. That role in 2014 figures to fall to 6-4
Isaiah Jones
, who caught just two passes for 31 yards as a freshman last season. And while he offers height similar to Benjamin, he checks in almost 40 pounds lighter and is hardly the same matchup nightmare as his predecessor.
Teammates raved about
Jesus Wilson
's work on the practice field in 2013, and he'll get his share of reps, too.
Christian Green
will be back again, but after a solid freshman campaign in 2011, he's all but disappeared in the past two seasons. Haggins returns from the knee injury, too, but since Oct. 13, 2012, his combined stat line looks like this: 1 catch, 1 yard.
All of that is simply to underscore the importance of Greene in FSU's 2014 passing game. His fellow receivers have potential, but Greene is the established weapon. And while the losses of Shaw and Benjamin are big, it's worth remembering that Winston's favorite weapon remains.
On third down last season, Winston targeted Greene 27 times -- nearly twice as often as any other receiver on the team. His 18 third-down catches doubled the next closest receiver, and all 18 went for first downs. Winston's other returning star, O'Leary, converted 8 of 9 third-down targets, too.
In the red zone in 2013, Greene was again Winston's top target (14 throws) and receiver (eight catches), and he and O'Leary accounted for nearly half of Winston's red-zone targets.
In short, few receivers made more catches when it mattered most. Fifty of Greene's receptions went for a first down, tied for third among ACC receivers. And no player on Florida State's offense has been as consistent. Greene has led the team in receiving in each of his first three seasons in Tallahassee. He needs 41 more catches and 1,133 more yards in 2014 to match FSU's career receiving marks.
Of course, as good as Greene has been, the onus will still fall to his emerging teammates to draw the attention of safeties away from him and provide Winston with a wider variety of weapons at his disposal. That development remains a work in progress for the next seven months, but Greene's ability to handle double coverage, to make the big plays when it matters most, to set the standard for game day on the practice field during the week -- that makes the jobs of everyone around him much easier.
For an offense that returns so many stars in 2014, Greene will again be the cornerstone.
January, 22, 2014
Jan 22
9:00
AM ET
The ACC has lost 10 players who have decided to forgo their final seasons of eligibility and enter the NFL draft. It's not a mass exodus, but their departures definitely leave some holes. Florida State is losing some talent, but Clemson arguably has the biggest shoes to fill, as the Tigers are losing their top two receivers from 2013, including All-American
Sammy Watkins
. With spring football around the corner, there will be plenty of competition throughout the league, but based on what we know now, here is the best guess at who the replacements will be for each of the ACC's early entrees:
Leaving: Florida State WR Kelvin Benjamin
[+] Enlarge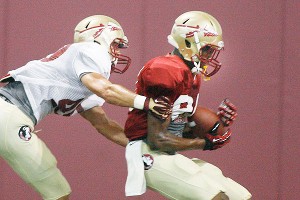 AP Photo/Phil SearsIsaiah Jones (right) caught only two passes as a freshman, but Kelvin Benjamin's departure means he'll have to play a bigger role.
The replacement: Isaiah Jones.
He is 6-foot-4, but he lacks Benjamin's physical strength (he weighs about 35 pounds less).
Christian Green
also could be an answer after playing sparingly the past two seasons. He's 6-foot-2 and known for his speed. He had 26 catches for 450 yards as a freshman in 2011 but has just 16 catches for 190 yards in the two seasons since. As far as a true red zone target and receiver who can win the jump balls, tight end
Nick O'Leary
will likely get the bulk of the throws that went to Benjamin in 2013.
Leaving: North Carolina C Russell Bodine
The replacement: Lucas Crowley.
As a freshman, Crowley made his collegiate debut against rival NC State. He played 11 snaps and graded out at 90 percent. An encouraging sign for UNC fans should be Crowley's performance against Pitt, where he played a respectable game opposite All-American defensive tackle
Aaron Donald
. He played 66 snaps at center in that game and had five knockdowns.
Leaving: Clemson DB Bashaud Breeland
The replacement: Garry Peters.
He was one of Clemson's rising stars at cornerback in 2012, but an injury last season set him back. He still played in 10 games and enters this fall with 54 tackles, 4.5 tackles for loss, one interception, 12 pass breakups, one forced fumble and one fumble recovery in 33 games (five starts) in his career.
Leaving: Clemson WR Martavis Bryant
The replacement: Mike Williams.
The true freshman played in all 13 games and started three, finishing 2013 with 20 catches for 316 yards and three touchdowns. His first career start came against Wake Forest, and Williams had a 14-yard touchdown. As a prep, he was rated the No. 3 player in South Carolina by ESPN.com. Williams has a lot of potential, and the Tigers will need him to reach it quickly.
Leaving: North Carolina TE Eric Ebron
The replacement: Jack Tabb.
He played in 10 games at tight end and on special teams, and he also saw some time at linebacker. He finished with six catches for 116 yards and 10 tackles. UNC also signed two tight ends in the 2014 class, including one,
Brandon Fritts
, who enrolled in January. The other,
Avery Edwards
, is regarded as the top TE in North Carolina.
Leaving: Florida State RB Devonta Freeman
The replacement: Ryan Green.
He played in all 12 games (no starts), and finished with 163 yards and one touchdown on 33 carries. He showed some explosiveness in his limited playing time, as six of his carries went for 10 yards or more. His blocking and ability to take advantage of open holes still need to improve.
Leaving: Florida State DT Timmy Jernigan
The replacement: Nile Lawrence-Stample.
He played in 13 games and started six alongside Jernigan at defensive tackle. He finished the season with 15 tackles, including 1.5 for loss. He also had two quarterback hurries. He made his first career start against Pitt and had a season-high three tackles against both Boston College and Maryland. He had one tackle in the national championship game.
Leaving: Syracuse RB Jerome Smith
The replacement: Prince-Tyson Gulley.
He was granted a fifth season of eligibility and as of now is expected to play this fall. Gulley qualified for a medical hardship waiver because he broke his collarbone in 2011 and played just four games. He was third on the team in rushing in 2013 and finished with 456 yards and four touchdowns on 83 carries. He also had 15 catches and one receiving touchdown.
Leaving: Clemson WR Sammy Watkins
The replacement: Charone Peake.
Watkins was one of a kind, and his record-setting production nearly impossible to duplicate, but Peake is the next man up. He was the Tigers' second-leading receiver before he tore his ACL during a simple non-contact drill in practice on Sept. 10. Prior to the injury, Peake had eight catches for 84 yards and a touchdown, second only to Watkins in both receptions and yards. In 2012, Peake had 25 receptions for 172 yards and two scores.
Leaving: Florida State RB James Wilder Jr.
The replacement: Karlos Williams.
He moved from safety to tailback in Week 2 and finished his first season at the position with 91 carries for 730 yards. His 8.02 yards-per-carry average was sixth in the nation. His 11 rushing touchdowns tied for seventh in the ACC. No running back from an automatic-qualifier conference school scored more routinely than Williams, who scored once every 8.3 carries.
January, 9, 2014
Jan 9
2:00
PM ET
Florida State finished off a spectacular season with a national championship, and with
Jameis Winston
,
Rashad Greene
,
Jalen Ramsey
and a host of other stars returning for 2014, the expectations for next season are already sky high.
So if FSU is going to repeat as national champs, what are the big stumbling blocks on the road ahead? We take a look at the top five.
1. Rebuilding the defensive line.
[+] Enlarge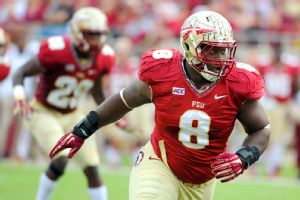 Melina Vastola/USA TODAY SportsWith Timmy Jernigan heading to the NFL, Florida State will have a big hole to fill in the middle of its line.
With
Timmy Jernigan
leaving early
for the NFL draft
-- he's widely considered a top-15 pick — Florida State will have a huge hole in the middle of the line. But the Seminoles also need to find someone to rush off the edge, as
Christian Jones
did throughout the season and develop some depth after waving goodbye to
Demonte McAllister
and
Dan Hicks
.
Nile Lawrence-Stample
,
Matthew Thomas
and others could fill those voids, but it will be incumbent on emerging stars
Mario Edwards Jr
. and
Eddie Goldman
to step up their games, too.
2. Developing new receivers.
It wasn't a huge surprise, but it was nevertheless a relief when Greene decided to return for his senior season. Florida State's receiving corps was exceptional in 2013, but it wasn't deep.
Kenny Shaw
is moving on, and
Kelvin Benjamin
could follow. That leaves Greene as FSU's only established, consistent receiver.
Isaiah Jones
,
Jesus Wilson
and
Kermit Whitfield
all got a taste of playing time in 2013, but they'll need to do a lot more next season.
3. Finding new leaders on defense.
This might be the toughest task for Florida State.
Telvin Smith
,
Lamarcus Joyner
,
Terrence Brooks
, Jones and Jernigan weren't simply the defensive standouts on the field, they were the heart and soul of the unit in the locker room. There's still plenty of talent remaining on the unit, but no one who has had to step up and galvanize a locker room or push the younger players to work harder. Finding leaders on that side of the ball — Edwards, Goldman,
Terrance Smith
and
Ronald Darby
, perhaps — will be crucial to maintaining the unit's immense production in 2014.
4. Managing the schedule.
If the knock on Florida State this season was that it wasn't tested until the title game, the concern for 2014 might be that there are simply too many big tests. The Seminoles open in Dallas against Oklahoma State, but also have Clemson, Louisville, Notre Dame, Miami and Florida before the season is out. If this title was a victory for the ACC's legitimacy on a national stage, the 2014 slate for Florida State only underscores how much tougher winning the league will be going forward.
5. Handling the hype.
It's one thing to win when no one is expecting it. Winning when everyone has you pegged as No. 1 is a whole other challenge. Florida State will enjoy its national championship now, but in 2014, everyone will be gunning for the Seminoles, and the media scrutiny will be immense. Can Winston go a full offseason as a Heisman winner and national champion and not waver from his commitment to getting better? Can the coaching staff maintain that same level of dedication from a group that already has a title on its résumé? There's a reason so few teams repeat as champions. It's really hard to do.
January, 8, 2014
Jan 8
2:00
PM ET
Jimbo Fisher was still on the podium, gazing into the crystal trophy that comes with winning a national championship, when it was suggested that once the team returned to Tallahassee, it was back to work preparing for 2014.
First on the docket for FSU will be identifying which star players will be returning for next season. Running back
James Wilder Jr.
is
entering the draft, according to a source
, and more decisions will trickle in before the Jan. 15 deadline. Here are our best guesses at what's to come — and who might step in for departing underclassmen.
Likely going
[+] Enlarge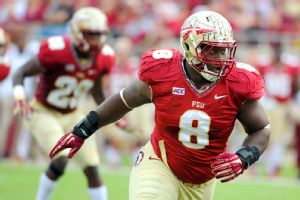 Melina Vastola/USA TODAY SportsFSU nose tackle Timmy Jernigan is a force inside, and how well the Tigers do against him could determine how well they run the ball.
DT Timmy Jernigan (junior)
Why he'd leave:
Entering the season, Jernigan was Florida State's top-rated underclassman by most draft experts, and that standing never changed. Jernigan was dominant all season, and his impact was never more noticeable than in the national title game. When he was on the field, Auburn found no running room between the tackles. When he was out of the game, the Tigers moved the ball with ease on the ground.
Next up:
Nile Lawrence-Stample
took a big step forward this season, gaining valuable playing time in the defensive line rotation. He started six games and finished with 15 tackles. Florida State has five current defensive tackle commitments, so it's certainly possible one of the incoming freshmen could make a big impact early — as Jernigan did in 2011 — but Lawrence-Stample is the safest bet to step in full time.
WR Kelvin Benjamin (redshirt sophomore)
Why he'd leave:
Benjamin was projected as a star from the moment he arrived on campus, but it took him a while to get acclimated. He enjoyed a breakthrough 2013 season, finishing with 1,011 yards and 15 touchdowns, including the game-winner in the VIZIO BCS National Championship. Some of his game could still use some refinement — as evidenced by two big drops vs. Auburn — but his physical skills already peg him as a likely first-rounder.
Next up:
Kermit Whitfield certainly projects as Florida State's next big-play receiver after an electric season as a freshman, but he fits more in the slot. Replacing Benjamin's size and physicality isn't an easy task, but 6-4 freshman
Isaiah Jones
figures to have the best chance. He saw limited playing time this year, catching two balls for 31 yards.
Possibly going
RB Devonta Freeman (junior)
[+] Enlarge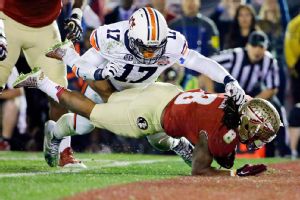 AP Photo/David J. PhillipDevonta Freeman became the first Seminoles tailback to gain 1,000 yards in a season since Warrick Dunn in 1996.
Why he'd leave:
Freeman has been the steadying force for FSU's running game for three years, and on Monday, he became the first Seminoles tailback to top 1,000 yards in 17 years. Wilder's role was smaller this year as injuries hampered his production, but that could also have served as a reminder why it's better to take the big hits with an NFL paycheck. Neither has a ton of early draft buzz which could convince them to return, but both could show out at the combine and work their way into the top three rounds.
Next up:
Karlos Williams
showed plenty of promise this season after moving from safety in Week 2, finishing with 748 rushing yards in reserve duty. He's largely a straight-ahead runner, but his combination of size and speed makes him a weapon. FSU will still need to develop depth, likely with
Mario Pender
or
Ryan Green
, but could get a boost from four-star commit Dalvin Cook.
LT Cameron Erving (redshirt junior)
Why he'd leave:
Erving has hovered near the top of the offensive tackle draft boards since the end of 2012, and in his second season since moving from the defensive line, he showed significant progress. Still, it's a deep draft at the position, and there were moments — including against Auburn's impressive defensive front Monday — when he showed some flaws.
Next up:
Florida State brought in two potentially strong replacements last year in
Ira Denson
and
Wilson Bell
. Injuries hampered the progress for both during the season, however, which makes Erving's decision potentially crucial for the stability of the line going into 2014.
Likely staying
G Tre Jackson and G Josue Matias (juniors)
Why they'd leave:
Matias and Jackson might be among the top underclassmen at the position, but both could benefit from another year working with line coach Rick Trickett.
Next up:
Florida State has struggled to recruit on the line the past few years, which makes depth — particularly on the interior — a significant concern. The Seminoles have a solid class coming in for 2014, but the loss of more than one of their underclassmen on the line would be a serious concern.
TE Nick O'Leary (junior)
Why he'd leave:
O'Leary made huge strides this season, developing into one of Jameis Winston's favorite targets and a legitimate red-zone threat. He's an adept route-runner, a sure-handed receiver and his blocking game has developed nicely. But with Florida State's receiving corps in transition, O'Leary could be in a position to post huge numbers in 2014 if he sticks around.
Next up:
Kevin Haplea
returns from a knee injury next year, but he's more of a blocking tight end than a true replacement.
WR Rashad Greene (Jr./WR)
Why he'd leave:
What more can Greene accomplish at Florida State? He's been the team's most reliable receiver for three consecutive seasons. He became the Seminoles' first 1,000-yard receiver since Anquan Boldin this year. He's quick, a great route-runner, and he has good hands. He does everything well, and his quarterbacks have taken notice. The problem for Greene is that he lacks the obvious physical skills that make scouts drool, so his draft value might not reflect his on-field contributions.
Next up:
It would be a surprise if Greene left, but it would also be a huge blow to Florida State's offense. Winston was a star this season in part because of an exceptional group of receivers, but the group will get a major makeover in 2014. The Seminoles need Greene to help ease the transition.
December, 18, 2013
12/18/13
10:30
AM ET
For the past four seasons, Florida State's seniors have worked to rebuild a program that was mired in mediocrity when they arrived. The project was a resounding success, but after the VIZIO BCS National Championship on Jan. 6, they'll be gone. If 2013 gave the seniors a chance to take that final step toward a title, it also offered a glimpse at what's to come, and Florida State appears well stocked to weather the inevitable losses.
Out: Lamarcus Joyner, CB
[+] Enlarge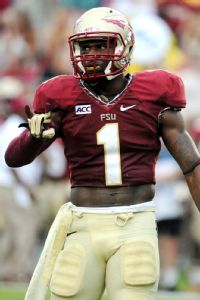 Melina Vastola/USA TODAY SportsTyler Hunter could replace cornerback Lamarcus Joyner for the Seminoles in 2014.
After moving from safety to corner, Joyner proved he was one of the nation's top defenders, leading FSU in sacks and finishing second in tackles.
In: Tyler Hunter, DB
Joyner is a huge loss, but Hunter is well prepared to step into the vacancy. His 2013 season was cut short by a neck injury, but he knows the defense well and his combination of size and speed allows him to fit well at safety, corner and nickel. Replacing Joyner is impossible, but Hunter could be in for a huge 2014.
Out: Terrence Brooks, S
He has been an under-the-radar performer since he arrived at FSU as a three-star recruit, but Brooks has been consistently good at safety for two years.
In: Nate Andrews, S
Brooks found a perfect protégé in the similarly underrated Andrews, and the relationship has already paid dividends. Andrews started just one game, but he leads the Seminoles with seven takeaways (four INTs, three forced fumbles) and is second on the team with eight passes defended.
Out: Telvin Smith, LB
For the past two years, there has been no louder voice in the locker room than Smith, and in 2013, he blossomed on the field, too, leading FSU in tackles.
In: Reggie Northrup, LB
Northrup hasn't started a game in his two seasons at Florida State, but when he's been on the field, he has proven to be a big-play defender. He has 46 tackles this season, and he has a skill set to both play the run and in coverage.
Terrance Smith
is FSU's only returning linebacker with starting experience, but there's ample depth at the position, led by Northrup.
Out: Christian Jones, OLB
Jones' move from traditional linebacker to edge rusher was a turning point for Florida State's defense, helping to seal the edge and add another dynamic pass rusher to the D line.
In: Matthew Thomas, OLB
An injury ended Thomas' season after just five games, but his potential is immense. He had two tackles for loss in his limited playing time, and his athleticism and strength could make for a smooth transition into the role Jones defined so well in 2013.
Out: Kenny Shaw, WR
Always a reliable option in the slot, Shaw blossomed as a senior and is on pace for 1,000-yard season while also handling punt return duties.
In: Levonte Whitfield, WR
Whitfield may lack Shaw's consistency, but his big-play potential is through the roof. He racked up 646 total yards and three TDs on just 21 touches (an average of 31 yards per touch) as a runner, receiver and kick returner. It was valuable experience as a freshman, and Whitfield should be an excellent fit in the slot in 2014.
Out: Bryan Stork, C
As Florida State's line developed from disaster in 2011 to dominant in 2013, Stork was the centerpiece. The veteran leader of the group has been the foundation for the unit's growth.
In: Austin Barron, C
Losing Stork is big, but Barron is no rookie. He has six career starts already under his belt, and he has worked routinely with the first-team line during practices this season while Stork has nursed a foot injury.
Out: The underclassmen
No one has made it official that they're leaving, and with so much talent on the roster, plenty of Florida State's draft-eligible underclassmen could decide to come back for what figures to be another big season in 2014. Of the group, defensive tackle
Timmy Jernigan
-- widely considered a first-round selection -- is the most likely to depart. Beyond that, tailbacks
Devonta Freeman
and
James Wilder Jr
., receiver
Kelvin Benjamin
, tight end
Nick O'Leary
, and lineman
Cameron Erving
will all have big decisions to make.
In: The next regime
Replacing Jernigan will be a tough task, but
Nile Lawrence-Stample
(14 tackles, 2 QB hurries) took some big steps in 2013.
Karlos Williams
(705 yards, 11 touchdowns) is ready to pick up the slack if either tailback leaves, while
Jesus Wilson
and
Isaiah Jones
will see their workload at receiver increase in 2014.
Kevin Haplea
returns from a knee injury, though he's unlikely to match O'Leary's productivity in the passing game.
Wilson Bell
earned rave reviews before an injury ended his season, but he could step into a vacancy at tackle should one arise in 2014.
August, 26, 2013
8/26/13
11:00
AM ET
TALLAHASSEE, Fla. -- Jimbo Fisher finally put the biggest question of fall camp to rest Friday, officially
naming Jameis Winston his starting quarterback
. But if Winston's position on the depth chart finalized one lingering issue, a handful of other questions remain as the Seminoles begin their final week of preparation for the season opener at Pittsburgh.
Here's a quick rundown of what's left on Florida State's preseason to-do list:
Developing receivers:
A knee injury will keep
Jarred Haggins
on the sideline all season, meaning Florida State is now down three senior wide receivers. Add in a finger injury that has limited junior
Rashad Greene
for the past week, and a position that figured to be among the deepest on the Seminoles' roster is now a major concern. Greene should be fine for the start of the season, but it's apparent that Florida State will still need to rely on a trio of freshmen to step up. Fisher has raved about
Jesus Wilson
throughout camp, and
Levonte Whitfield
and
Isaiah Jones
have talent to spare, but the transition to the college game is rarely a seamless one.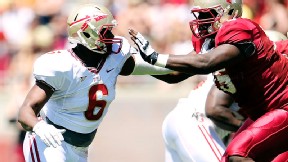 Stacy Revere/Getty ImagesDefensive end Dan Hicks, who missed all of 2012 with a knee injury, is still wearing No. 6. So is cornerback Nick Waisome. One of them will have to change numbers before next Monday.
Grasping the defense:
The response from players has been universally upbeat, but even the most optimistic of Florida State's defenders admit there's still work to be done in learning Jeremy Pruitt's new defensive scheme. Florida State ranked in the top three nationally in total defense in each of the past two seasons, and there's enough buzz among the returning players to think this year's unit could be even better, but Pruitt's scheme is a challenge. The team has worked extensively on mastering the nuance throughout fall camp, but when the season begins next week, Pruitt said fans might see a more watered-down version. "When it comes to game week, we're only going to call what they know," Pruitt said. "You throw a lot of stuff at them, hope part holds, and as the season progresses, you pull out what you need each week."
Depth at tight end:
Fisher tried to put a happy face on the situation when camp opened, but the lack of depth at tight end remains a major concern.
Giorgio Newberry
made the switch from defensive end just a week before camp began, and while he's got the size to do the job, he's definitely a work in progress. Freshman
Jeremy Kerr
remains sidelined with a knee injury, and Fisher continues to tinker with options, using freshman defensive end
Davarez Bryant
at tight end during practice last week. While Fisher is eagerly toying with his options, the fact remains that starter
Nick O'Leary
is going to need to shoulder the burden for a thin group behind him.
Two for six:
It's perhaps the silliest debate of camp, but the implications could be significant. When defensive end
Dan Hicks
switched from tight end this spring, he kept his old uniform number. The problem, however, is that cornerback
Nick Waisome
was already wearing the No. 6 jersey. Since then, neither player has been willing to give it up, meaning FSU can't use Hicks and Waisome -- both projected starters -- on the field at the same time. Fisher said he's leaving it up to the players to decide, likely in hopes one would be mature enough to choose playing time over a jersey number, but thus far neither player has caved.
Playing time for rookies:
The freshman receivers figure to be necessities on offense this season, but beyond that, it's tough to tell where the rest of the newcomers fit in. Running back
Ryan Green
, cornerback
Jalen Ramsey
and defensive end
DeMarcus Walker
are among the most impressive freshmen of the fall, but Fisher said he wouldn't be surprised if the great majority of this year's class avoids a redshirt. Aside from Kerr, quarterback
John Franklin
and a couple of the offensive linemen, virtually every member of the Class of 2013 remains in the mix for playing time.
Secondary shake-up:
It's a good problem to have, but Florida State's logjam of talent in the defensive backfield still leaves some question marks as the season approaches. When
Lamarcus Joyner
shifted from safety to corner, the questions about playing time began, and Pruitt has been quiet about potential answers. Joyner, Waisome, Ramsey,
Ronald Darby
and a slew of others are in the mix for regular reps, and Fisher has hinted that the Seminoles' defensive backs will be rotating early and often.
February, 28, 2013
2/28/13
10:59
AM ET
By
ESPN.com staff
| ESPN.com
NoleNation has more coverage of the Florida State Seminoles:
State of the wide receivers

: With experienced playmakers and young, athletic talent, the Florida State receiving corps could be a strength in 2013. That is, if the QB competition doesn't do in this loaded group.
July, 8, 2012
7/08/12
11:48
AM ET
By
ESPN.com staff
| ESPN.com
David Hale writes:

The Seminoles got four commitments in five days this week, including three in the ESPN 300 -- pushing Jimbo Fisher's class to No. 5 in the latest ESPN RecruitingNation rankings.
NoleNation
looks at how the players can contribute down the road at Florida State.