April, 3, 2013
4/03/13
2:00
PM ET

Duke's defensive linemen combined for six sacks, and safety
Jacques Bristow
intercepted a pair of passes to highlight Wednesday morning's 85-snap scrimmage at Wallace Wade Stadium.
Here are some notes, according to the team's practice report:
February, 27, 2013
2/27/13
10:00
AM ET
Last spring, Duke's Brandon Braxton made the move from receiver to safety, where he finished with 38 tackles, including 1.5 for loss, and a pass breakup, in eight games. This spring, Braxton will return to his original position to help the Blue Devils at wide receiver, coach David Cutcliffe said in a telephone interview on Tuesday.

Duke's receiver position was thin following the graduations of Conner Vernon and Desmond Scott, not to mention the absence of Blair Holliday, a player filled with potential whose career was cut short by a serious jet ski accident last summer.

Braxton could be part of the answer.

"He's pretty excited about it," Cutcliffe said. "I felt like it was in his best interest and in our best interest as a program and as a team to do that, and I don't just jump in there and tell him. We had conversations, but he certainly agreed with me. He's a fine young man and a team player. He had to have some shoulder surgery, and all the way around the board, it's going to be better for him as we move forward and our program that he plays receiver as a senior."

It's uncertain if Braxton will be able to fully participate in spring drills because of his shoulder injury, but Duke has three practices prior to spring break, and the staff is hoping to get a clearer picture of its injury list for the fourth practice.

Duke was also looking to get more physical at tight end, and moved former defensive tackle Nick Sink to the position during the bowl game preparations. Issac Blakeney, Erich Schneider and Braxton Deaver are expected to shift among the slot, wideout and tight end positions to make for a more versatile rotation.
August, 22, 2012
8/22/12
3:00
PM ET
Duke held its final scrimmage of the summer on Tuesday night. Here are the highlights, according to the team's
practice report
:
Offensive highlights:
Quarterback
Sean Renfree
completed all 10 of his pass attempts for 235 yards and two touchdowns. Renfree completed a 15-yard touchdown pass to tight end
Issac Blakeney
, and threw a 75-yard touchdown pass to wideout
Conner Vernon
. Renfree also found Blakeney for a 68-yard completion.
Backup quarterback
Anthony Boone
was 4-for-4 for 72 yards with a pair of touchdowns. Rookie
Thomas Sirk
completed 7-of-17 passing for 68 yards while rushing seven times for 41 yards.
Running back
Juwan Thompson
had 72 yards on six carries, and Josh Snead had 47 yards on six carries including a five-yard touchdown. Quarterback
Brandon Connette
added two rushing touchdowns.
March, 30, 2012
3/30/12
9:00
AM ET
Duke's spring season will end at 1 p.m. this Saturday, when the Blue Devils take the field at Wallace Wade Stadium for their spring game. I caught up with coach David Cutcliffe over the phone earlier this week to talk about injuries, expectations and the next step for the program.
What would count as a successful spring for you guys, and how close do you think you are to that with just a few days left?
David Cutcliffe:
We've had an unusual spring. We've had a lot of starters that have missed the entire spring. So it put us in a little different light.
Brian Moore
,
Conner Vernon
,
Braxton Deaver
,
Kenny Anunike
,
Jordan DeWalt-Ondijo
,
Kelby Brown
,
August Campbell
, all guys that were returning starters.
Desmond Scott
on offense. So they've miss the entire spring and it's been difficult in that regard. So what was successful was to go out and kind of think players. Not plays, not systems. And see if we could go from kind of Point A to B with a lot of younger players and some of our more experienced players that are out there just being able to go to another level. So kind of really evaluated our team by evaluating individuals. So to this point I would tell you we've had a very successful spring in that regard. I think we've made more improvement with more players than any spring since we've had since we've been here. Hopefully when we get everybody available that computes to a much better football team, because with our schedule, Matt, it's going to take that.
[+] Enlarge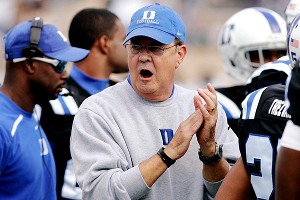 Mark Dolejs/US PRESSWIRE"This is a good team," Duke coach David Cutcliffe said, "now you just got to go win games, and that sounds simple, but that's about how simple it is."
That was going to get to my next point. Injuries aside, you obviously return a lot of starters. How important was it to build depth this spring and how much did you learn about some of those younger guys?
DC:
I think it's been good. Right now we've got a good football team. And what we have learned here, at this point, we've been really, pretty good here. The record hasn't indicated anything. We've played a lot of good football. So there's another level we're hunting, and that's the next step for Duke football. Everybody asks you all the time: When is it going to come through? Well it already kind of has come through. This is a good team, now you just got to go win games, and that sounds simple, but that's about how simple it is.
You've said before publicly that good isn't good enough. What will it take for Duke to make the next step?
DC:
I think that where you get into making critical plays. We need maybe some great playmakers that can do that to that level on a consistent basis, if you think about the teams winning in our league, there's a number of great playmakers. You just take the two teams that played for the championship. They had guys, both of them, had guys that just made great plays at critical times in critical opportunities, and they did it time and time again. We played Virginia Tech. We know at quarterback and at running back and [Jarrett] Boykin at receiver, and there were defensive players that made those critical plays. And you certainly look at Clemson, and they had the most playmakers in the league. And I think we've made great strides there in the recruiting parts of things and for us to go from being just a good team, we've got to have guys make some great plays for us at critical times that win games, and we haven't had enough of that, quite frankly. I think we have more of those guys and we're more equipped -- I don't think it, I
know
we're more equipped than we've ever been. I'm really excited and looking forward to seeing this team play.
Sean Renfree, Conner Vernon -- you have a lot of skill players returning. How high offensively do you set the bar?
DC:
I would expect us to play very high. All of our backs have played. We have three quarterbacks that have played a lot. Not many people have that — certainly a starter in Sean Renfree that's very, very experienced. But [Anthony] Boone and [Brandon] Connette are as well. With Conner Vernon and
Jamison Crowder
and
Blair Holliday
, it allowed us to move
Brandon Braxton
to safety. But all of our receivers have played, and played well. Deaver at tight end, and we get him back. But we've got some young tight ends that are exciting, that have made plays all spring. I think our weapons are far deeper, and I think the beauty of all that is our line is kind of maturing at the same time those other guys are maturing. So I look for us to be much better offensively in production.
What did you take away from the scrimmage this past weekend?
DC:
Again, thinking players, we had on both sides of the ball some huge plays made.
Walt Canty
in the secondary, [Lee] Butler and [Ross] Cockrell, people that have played again.
Jordon Byas
is playing the best football. Our secondary made some big plays. Up front
Jamal Bruce
and
Dezmond Johnson
and
Sydney Sarmiento
, and guys made big plays in the game. And then on offense just about everybody got in on the look. All the quarterbacks. Renfree had a big day, but
David Reeves
and Issac Blakeney, these young tight ends. Then Holliday, Crowder,
Tyree Watkins
-- just the people we had available to us made huge plays. And then our backs. Having
Josh Snead
back healthy, and
Juwan Thompson
, those two really got your attention Saturday. So I just felt good about the number of people that were contributing, and it was pretty well-played on both sides of the ball.
What would a bowl game mean for your players?
DC:
There's no question that's part of the goal. What it would mean for me is not just these players but there's some vindication for the amount of work that's gone in to what we've done here with all the players that we've had in recent times. And certainly this staff, who, they're very close to each other. And this is an exceptional staff. All of the staff and the families, and then certainly the people, the fans of Duke football that have endured a long drought. It's a big deal, and it should be a big deal around here. And I don't think an average team with this schedule can be a bowl team. We can't be average; we've go to be well above average. You've got the schedule, you know what I'm saying is accurate. I'm not making an excuse, I'm just stating a fact: We're not going to be good enough if we're average.
How do you tell your players that? How do you get them to buy into that and know that it will take more than a typical performance from them this season?
DC:
I've told them that. All I had to do was kind of just put the schedule, and just start writing up on the board and tell them that a lot of lesser people than them would crumble under this. You start looking at, we're playing Clemson, Florida State, not to leave anybody out. Miami and Florida State are two of the more talented teams in the country every year. Stanford. North Carolina's been as talented as anybody I know of in the country the last few years. Virginia Tech, Virginia. I could go on. Opening up with an FIU team that's a bowl team the last two years, all kinds of talent on that team. South Florida talent. We've got a lot of people that have played a lot of football. They know what's in front of them. And you've got to push and strive and do what you got to do to get past it. And I think this team is really looking forward to that challenge. Rather than worrying about it, I think they're looking forward to the opportunity that exists with it.
July, 21, 2011
7/21/11
6:27
PM ET
Duke safety Issac Blakeney has been suspended from the university for failure to meet continuing academic eligibility requirements and will miss the 2011 season, the school announced on Thursday.

"Issac is a valuable member of the Duke football family and I look forward to him returning to full eligibility in January of 2012," coach David Cutcliffe said in a prepared statement.

Blakeney did not play as a freshman during the 2010 season.
March, 28, 2011
3/28/11
10:00
AM ET
While some other programs in the ACC are just beginning spring practices this week, Duke wrapped things up on Saturday with the White team's 21-14 come-from-behind win over the Blue team in the Blue Devils' annual spring game.
Anthony Boone
's 32-yard touchdown pass to
Tyree Watkins
with 11:15 remaining in the fourth period clinched the win for the White team. Here are the highlights:
OFFENSE:
Quarterback
Sean Renfree
completed 8 0f 14 passes for 105 yards and one touchdown while Boone was 7-of-15 for 94 yards with one touchdown and one interception.
Desmond Scott
led the White team with 56 rushing yards on 13 carries while
Juwan Thompson
gained 35 yards on nine rushes. For the Blue team, quarterback
Brandon Connette
completed 10 of 16 throws for 102 yards while rushing for 34 yards on eight attempts.
Josh Snead
had 54 yards on six carries. Watkins finished with six receptions for 67 yards while
Brandon Braxton
(21 yards),
Cooper Helfet
(64 yards) and
Conner Vernon
(19 yards) had three catches apiece.
DEFENSE:
Jamal Wallace made a game-high seven tackles while Austin Gamble had six total stops. Issac Blakeney, Walt Canty, Matt Daniels, C.J. France, Tyree Glover and Jonathan Woodruff had five tackles each, with Blakeney also contributing two tackles for loss, one quarterback sack, one caused fumble, one quarterback pressure and one pass breakup. Charlie Hatcher, Jordan DeWalt-Ondijo and Tony Foster each recorded one quarterback sack while Garrett Rider's interception in the fourth quarter was the game's lone turnover.
QUOTABLE:
"We're going to have some fun on offense," coach David Cutcliffe said, according to the team's
spring game release
. "Anthony Boone, you watched there at the end, as a redshirt freshman he is entering the picture. We'll have a little unique package or two just to see where we are headed with it. Sean Renfree is our starter. These are dangerous words, but he's come close to having a great spring. He's really been good all spring."
AWARD WINNERS:
Juwan Thompson was named the spring's Most Improved Offensive Player, Ross Cockrell the Most Improved Defensive Player and
Preston Scott
earned the Blue Devil Heart Award.