March, 7, 2014
Mar 7
9:00
AM ET
Breaking down the spring in the ACC Coastal division:

Duke
Spring practice over
What we learned:
Momentum rolls on. It's hard to believe the Blue Devils are already done with spring ball, but coach David Cutcliffe opted to open practice in February to capitalize on the momentum that was created last season. After the spring game ended Saturday, he praised the way his players handled the practices. There was a great deal of retention and not a lot of re-teaching, so coaches were able to get much more out of their players this spring.
Max McCaffrey emerges. Jamison Crowder had a spectacular 2013 season, but it was essentially him and then everybody else in the receiver group. That may not be the case this season. McCaffrey earned praise from coaches and teammates for the way he improved during the spring. Offensive coordinator Scottie Montgomery said McCaffrey made as many plays as anybody else on the offense this spring.
Stepping up on the line. The Blue Devils lost three starters on their defensive line -- both ends in Kenny Anunike and Justin Foxx, and defensive tackle Sydney Sarmiento. But it appears as if the players behind them are ready to step up and make a seamless transition. Defensive ends Jordan DeWalt-Ondijo and Dezmond Johnson each had two sacks in the spring game. Kyler Brown also made the switch from linebacker to defensive end and had a sack in the spring game as well.

Georgia Tech
Spring start:
March 24
Spring game:
April 18
What to watch:
Justin Thomas takes over. After Vad Lee announced his transfer from Georgia Tech, the quarterback reigns fell to Thomas, who played in 10 games this season. The Jackets had their share of highs and lows under Lee, but what the staff is going to be looking for first and foremost is Thomas' ability to hold on to the football. Georgia Tech had 24 giveaways and ranked No. 12 in the ACC in turnover margin.
Defensive line questions. The Jackets lose three starters on the defensive line, including All-ACC defensive end Jeremiah Attaochu -- who had 22.5 sacks over the last two seasons. Who will step up and fill that type of production? The most experienced backups returning are sophomores Tyler Stargel and Patrick Gamble. Also, Travin Henry will get a look at defensive end after playing wide receiver last season.
Offensive line questions. Georgia Tech also loses three starters on the offensive line -- tackles Ray Beno and Will Jackson and center Jay Finch. The trio combined to start 117 games in their careers, so there is no doubt this is going to be a much less experienced unit in 2014. The good news is All-ACC guard Shaq Mason returns to help anchor the new-look line.

Miami
Spring start:
Started March 1
Spring game:
April 12
What to watch:
Quarterback derby. Stephen Morris is gone, but the Canes do have at least one experienced quarterback on the roster in Ryan Williams, a Memphis transfer who has served as Morris' backup the last two seasons. As a true freshman with the Tigers, Williams started 10 games -- all the way back in 2010. Challenging Williams is redshirt freshman Kevin Olsen, who had a bit of a rocky first year in Miami, along with Gray Crow.
Defensive improvements. Perhaps more than what happens at quarterback, Miami must see improvements out of its defense this season. Embattled defensive coordinator Mark D'Onofrio kept his job but the status quo cannot persist. Every single area of the defense must be upgraded. Ranking No. 13 in the ACC in total defense just can't happen again.
Defensive improvements, Part II. To try and help the secondary, Miami already moved Dallas Crawford over to safety, where the Canes could use the help. But Miami must be stronger on the defensive front. The Canes only had 12 sacks in eight conference games. By comparison, BC led the way with 25 sacks in conference games. This is a big opportunity for guys like Al-Quadin Muhammad, Tyriq McCord and Ufomba Kamalu to really step up.

North Carolina
Spring start:
Started March 5
Spring game:
April 12
What to watch:
The quarterbacks. Marquise Williams took over as the starter when Bryn Renner was gone for the season and ended up helping the Tar Heels make a bowl game after a 1-5 start. But coach Larry Fedora said the competition is open this spring. Look for Mitch Trubisky and Kanler Coker to give Williams a major push.
Defensive line questions. Kareem Martin and Tim Jackson are both gone, leaving big holes in the North Carolina front. Martin ended up notching 21.5 tackles for loss to rank No. 3 in the ACC. So who are the next guys up? At end, Junior Gnonkonde and Jessie Rogers are the top two contenders, while Shawn Underwood, Devonte Brown and Justin Thomason will compete for one of the tackle spots.
Replacing Ebron. Eric Ebron was dynamic at tight end for the Tar Heels last season, leading the team with 62 receptions for 973 yards, while adding three touchdowns. Will the Tar Heels be able to replace that type of production with just one player? Jack Tabb would be next in line among the tight ends, but this is a huge opportunity for the North Carolina receiving group as well. We saw plenty of promise out of young guys like Bug Howard, T.J. Thorpe and Ryan Switzer.

Pitt
Spring start:
March 16
Spring game:
No spring game. Last day of practice April 13
What to watch:
The quarterbacks. Chad Voytik played really well in relief of an injured Tom Savage in the bowl game, but coach Paul Chryst said the competition to win the starting job is open headed into the spring. At this point, Voytik and Trey Anderson are the only scholarship quarterbacks on the roster. So you can bet the biggest goal of all is to keep them both healthy.
Replacing Aaron Donald. One of the biggest surprises in all of college football this past season was the emergence and utter dominance of Donald at defensive tackle. Donald swept every major defensive award after notching 28.5 tackles for loss, 11 sacks, 16 quarterback hurries and four forced fumbles. Darryl Render is the next man up.
Complementary receiver. Devin Street is gone, leaving Tyler Boyd as the only standout receiver on the roster. Not only do the Panthers have to develop a consistent No. 2 receiver, they also have to develop some depth. Watch for Manasseh Garner, a former H-back who moved to receiver late last season when Street got hurt. He is more physical than Boyd, and has some extended playing experience.

Virginia
Spring start:
Started March 1
Spring game:
April 12
What to watch:
The quarterbacks. David Watford is not guaranteed to win his starting job back after last season, when he threw eight touchdown passes to 15 interceptions. Greyson Lambert and Matt Johns are also in the mix and reps with the first team will be split. In fact, Lambert got the first-team reps when the Hoos opened spring ball last weekend.
Andrew Brown. The highly-touted freshman will have every opportunity to win a starting job at defensive tackle, and it all starts in spring ball. The No. 3-ranked player in the ESPN 300 comes in with tons of hype; now can he translate that into on-field success? He, Donte Wilkins and Chris Brathwaite will be competing to start next to David Dean.
Mr. McGee. Jake McGee was the best player the Hoos had among the group of tight ends and receivers a year ago, leading the team with 43 catches for 395 yards. This spring, McGee has now moved over to receiver so the Hoos can take advantage of his athletic ability. Plus, Virginia is lacking playmakers at the position, so we'll see how much this move benefits both McGee and the offense.

Virginia Tech
Spring start:
March 27
Spring game:
April 26
What to watch:
Quarterback. Mark Leal heads into the spring with a leg up in the quarterback competition but make no mistake, there is no set starter. He will get competition from freshmen Andrew Ford and Brenden Motley in the spring, with freshman Chris Durkin and Texas Tech transfer Michael Brewer arriving in summer. This competition will likely drag on into the fall.
Front seven. The Hokies are losing five terrific players up front, including ends James Gayle and J.R. Collins, and linebacker Jack Tyler, who racked up 100 tackles in back-to-back seasons. There is no doubt a major priority this spring is finding their replacements and building depth along the line and at linebacker. Who will step up as the leader of this group with Tyler gone?
Skill players. This has been an ongoing theme over the last two seasons and will continue to be a theme until the Hokies have consistently good players at running back and receiver. Offensive coordinator Scot Loeffler is excited about the return of tight end Ryan Malleck, and his entire tight end group for that matter. A healthy Malleck and improvement from Kalvin Cline means the Hokies could simultaneously improve their run and pass game.
March, 6, 2014
Mar 6
3:00
PM ET
In shorts,
North Carolina
coach Larry Fedora said, every player looks pretty good, so there's not much that can be gleaned from the team's first few days of spring practice.
Still, it's relatively easy to tell the new players from the veterans, and for the Tar Heels, the five early enrollees participating this spring figure to have plenty of eyes on them.
[+] Enlarge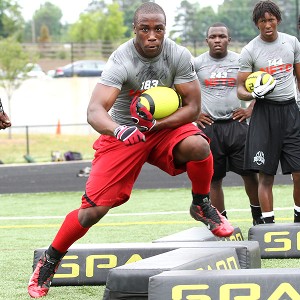 Tom Hauck for ESPNESPN 300 tailback Elijah Hood is one of five early enrollees this spring for the Tar Heels.
"They're a little big-eyed because it's a different tempo of practice," Fedora said after UNC's first practice on Wednesday.
Carolina brought in defensive backs
M.J. Stewart
and
Allen Artis
, tight end
Brandon Fritts
, offensive lineman
Bentley Spain
and tailback
Elijah Hood
this spring. While none have a clear path to a starting job, the youth on UNC's roster combined with the extra time they'll spend in practice this spring could make for some surprises by the time the season kicks off in September.
"I think all five of them could help us, and that's why they've taken advantage of the opportunity, gotten here early and are working very hard," Fedora said.
Fedora said he was pleased with the early work Stewart and Artis got during offseason conditioning drills, and both figure to be in the mix for playing time in the secondary. Spain made a big impression early, and Fedora said there could be a starting job waiting for the freshman by the fall.
"He's having a great offseason, and I wouldn't be surprised if that kid isn't playing for us next year," Fedora said.
But it's Fritts and Hood who are perhaps the most intriguing.
With
Eric Ebron
's early departure for the NFL, North Carolina will be looking for someone to fill the void at tight end. Fedora said senior
Jack Tabb
will get first crack at the job, but divvying up Ebron's 62 receptions and 973 yards from 2013 likely won't be a one-man job.
Then there's the running game, which Fedora pointed to as one of the more disappointing aspects of North Carolina's 2013 campaign. The Tar Heels finished 11th in the ACC in rushing (148.3 yards per game) and
Marquise Williams
, the part-time starting quarterback, was the team's leading rusher.
There's ample reason for optimism on the ground, as UNC returns a deep bench of runners, led by sophomore
T.J. Logan
(533 yards, four TDs in 2013), who missed the early part of last season with an injury.
Romar Morris
and
Khris Francis
will be in the mix, too, but there's no question that Hood could make an instant impact. One of the top recruits in the state, Hood was an ESPN300 player and the No. 9 tailback in the country, and Fedora said he's already added weight and impressed coaches during offseason drills.
"He's a guy that's 225 pounds and has great speed," Fedora said. "He's really having a good offseason with us right now. We're excited to see how he does this spring."
March, 5, 2014
Mar 5
10:30
AM ET
North Carolina was an enigma in 2013, opening the season 1-5 before finishing as one of the nation's hottest teams. The Tar Heels look to keep that momentum going as they open spring practice Wednesday. We talked with head coach Larry Fedora about what's in store for North Carolina as the players return to the practice field for 2014.
You won six of your last seven games, including the bowl. How can that strong finish to 2013 help you as you kick off spring practice this year?
Larry Fedora:
It enables you to go into the offseason with a lot of excitement and a lot of enthusiasm and a lot of young kids are understanding now what it takes to win. It took us a while just to learn. We were so young last year with nine seniors on the team, it took us a while for those young kids that were playing to understand what it truly took to win at this level.
So many young players made a big impact in your turnaround last season. Can you see a difference in them this offseason?
[+] Enlarge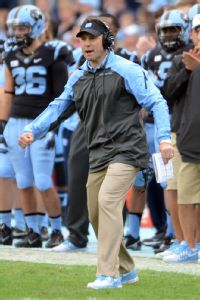 Rob Kinnan/USA TODAY SportsLarry Fedora's North Carolina team ended up the season as one of the nation's hottest teams.
Fedora:
They realize the success they had because of how hard they worked, so you can push even harder at this point in the offseason. Nobody wants to start out 1-5 again. A lot of guys learned some great lessons throughout the season and grew up and it makes us very excited about this upcoming season.
You've said it will be an open competition at quarterback. What more do you want to see from Marquise Williams, and what do you think Kanler Coker and Mitch Trubisky can add to the mix?
Fedora:
Marquise started six games for us, took us to a bowl game and won. He has the advantage because he's been there, been in the fire. But we still want to have to earn everything we get at every position -- not just his. We have returning starters, and he would be one of them. But you want to have competition at each position. We're not there yet, but we're building there. We're building depth, so guys compete. And if they're competing, they'll be that much sharper, play that much better.
You bring in Kanler Coker and Mitch Trubisky and allow them to compete with Marquise. Both are similar to Marquise. All three of them run very well. They all can throw the football. All fit this style of offense well, including Marquise. So we're excited about the competition we're having at that position.
Ryan Switzer made such a big impact on special teams last year. How can you try to get him more involved offensively in 2014?
Fedora:
There were a lot of ways to get the ball in his hands last year; it's just that he was one of those young guys that the light didn't really come on until five or six games into the season. When he settled down and started realizing "I've been doing this for a long time, and it just happens to be my first year in college doing it," then he really exploded.
We don't have to design other ways to get him the ball. Within our offense, we have plenty of ways to get the ball in playmakers' hands. He's proven he's a playmaker and he will get more balls.
The running game struggled at times last year, but you've got a good stable of runners returning. How do you see that dynamic shaking out?
Fedora:
We were really disappointed in our production in the running game last year, so we've really challenged all of those guys at that position. We've got to get much more out of them. Start off with
T.J. Logan
, who was another of those young guys who, as the season went on, he got much better. He had an injury and didn't really play until the sixth game, and so by the end of the year, he was probably where he would've been about midseason. So we're excited what he's bringing back.
Khris Francis
was another true freshman that played at that position that has a lot of talent that we're excited about.
Romar Morris
is back. He probably has the most experience of everybody. Then you bring
Elijah Hood
into the mix.
Eric Ebron was a unique talent. How can you replace that production offensively? Can one player pick up all the slack?
Fedora:
That was a comfort level for our quarterbacks, knowing that you could put the ball up to Ebron and he was probably going to bring it down.
Jack Tabb
will most likely step into that role. We've got
Brandon Fritts
, an incoming freshman, that is here. We have
Eric Albright
there;
Tyler Alberts
is moved into that position. We're going to have some good competition there this spring. We're going to have a tight end on the field. Jack has the opportunity to be just as productive as Ebron was, and this enables other receivers on the field to get more balls also.
The defense really struggled against the run last season, but like the rest of the team, it seemed to improve as the season went along. How much better can the run defense be this year?
Fedora:
We were a young football team, and we've got guys that are going to now have some experience. We're going into our third year of the defense, and we've had stability on that side. Our guys know what's going on; they know what's expected of them. We've got to be much better against the run. When you look at it and break it down, you'll see early on we had some missed tackles that really hurt us, and we gave up some big plays. If we can eliminate those things and get much better in those areas, we're going to be a much better defense.
[+] Enlarge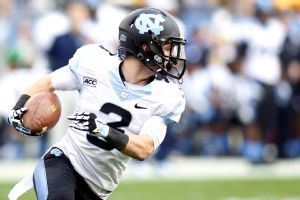 Charles LeClaire/USA TODAY SportsRyan Switzer made five punt returns for touchdowns as a freshman, and North Carolina will look for more ways to get him the ball.
As you've monitored the offseason thus far, are there a few players you're particularly excited to get a closer look at this spring?
Fedora:
You've got
M.J. Stewart
, who is a young kid that's come in.
Allen Artis
is another one on defense. Those guys in the secondary are here.
Desmond Lawrence
and
Brian Walker
got quite a bit of playing time last year.
T.J. Jiles
in the secondary will have to step up.
Sam Smiley
, who missed the whole season with an injury.
Dominique Green
was a true freshman who started at safety for us the entire season. We're going to be so much better in that back end with
Tim Scott
back,
Malik Simmons
. These are all young guys who have played quite a bit.
Linebacker with
Travis Hughes
back with a lot of experience.
Norkeithus Otis
had a great year last year and I expect him to be even better his senior year.
Darius Lipford
. Inside, we're going to count on guys like
Ethan Farmer
and
Shawn Underwood
and
Justin Thomason
that have some big shoes to fill.
We mentioned Switzer's impact as a punt returner, but it's tough to repeat a performance like that now that teams are aware of what a weapon he is. How's he preparing for 2014 on special teams?
Fedora:
There's no doubt. He works hard and he wants to be the best. But he knows now, and I've tried to prevent him -- there's going to be some frustration involved this year until we find out exactly what teams are going to do. The majority of them probably won't kick to him, and that's going to cause some frustration. But we're going to have to find ways to combat that.
January, 22, 2014
Jan 22
9:00
AM ET
The ACC has lost 10 players who have decided to forgo their final seasons of eligibility and enter the NFL draft. It's not a mass exodus, but their departures definitely leave some holes. Florida State is losing some talent, but Clemson arguably has the biggest shoes to fill, as the Tigers are losing their top two receivers from 2013, including All-American
Sammy Watkins
. With spring football around the corner, there will be plenty of competition throughout the league, but based on what we know now, here is the best guess at who the replacements will be for each of the ACC's early entrees:
Leaving: Florida State WR Kelvin Benjamin
[+] Enlarge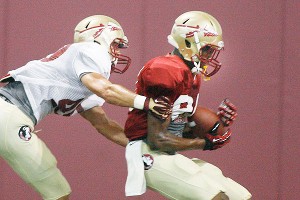 AP Photo/Phil SearsIsaiah Jones (right) caught only two passes as a freshman, but Kelvin Benjamin's departure means he'll have to play a bigger role.
The replacement: Isaiah Jones.
He is 6-foot-4, but he lacks Benjamin's physical strength (he weighs about 35 pounds less).
Christian Green
also could be an answer after playing sparingly the past two seasons. He's 6-foot-2 and known for his speed. He had 26 catches for 450 yards as a freshman in 2011 but has just 16 catches for 190 yards in the two seasons since. As far as a true red zone target and receiver who can win the jump balls, tight end
Nick O'Leary
will likely get the bulk of the throws that went to Benjamin in 2013.
Leaving: North Carolina C Russell Bodine
The replacement: Lucas Crowley.
As a freshman, Crowley made his collegiate debut against rival NC State. He played 11 snaps and graded out at 90 percent. An encouraging sign for UNC fans should be Crowley's performance against Pitt, where he played a respectable game opposite All-American defensive tackle
Aaron Donald
. He played 66 snaps at center in that game and had five knockdowns.
Leaving: Clemson DB Bashaud Breeland
The replacement: Garry Peters.
He was one of Clemson's rising stars at cornerback in 2012, but an injury last season set him back. He still played in 10 games and enters this fall with 54 tackles, 4.5 tackles for loss, one interception, 12 pass breakups, one forced fumble and one fumble recovery in 33 games (five starts) in his career.
Leaving: Clemson WR Martavis Bryant
The replacement: Mike Williams.
The true freshman played in all 13 games and started three, finishing 2013 with 20 catches for 316 yards and three touchdowns. His first career start came against Wake Forest, and Williams had a 14-yard touchdown. As a prep, he was rated the No. 3 player in South Carolina by ESPN.com. Williams has a lot of potential, and the Tigers will need him to reach it quickly.
Leaving: North Carolina TE Eric Ebron
The replacement: Jack Tabb.
He played in 10 games at tight end and on special teams, and he also saw some time at linebacker. He finished with six catches for 116 yards and 10 tackles. UNC also signed two tight ends in the 2014 class, including one,
Brandon Fritts
, who enrolled in January. The other,
Avery Edwards
, is regarded as the top TE in North Carolina.
Leaving: Florida State RB Devonta Freeman
The replacement: Ryan Green.
He played in all 12 games (no starts), and finished with 163 yards and one touchdown on 33 carries. He showed some explosiveness in his limited playing time, as six of his carries went for 10 yards or more. His blocking and ability to take advantage of open holes still need to improve.
Leaving: Florida State DT Timmy Jernigan
The replacement: Nile Lawrence-Stample.
He played in 13 games and started six alongside Jernigan at defensive tackle. He finished the season with 15 tackles, including 1.5 for loss. He also had two quarterback hurries. He made his first career start against Pitt and had a season-high three tackles against both Boston College and Maryland. He had one tackle in the national championship game.
Leaving: Syracuse RB Jerome Smith
The replacement: Prince-Tyson Gulley.
He was granted a fifth season of eligibility and as of now is expected to play this fall. Gulley qualified for a medical hardship waiver because he broke his collarbone in 2011 and played just four games. He was third on the team in rushing in 2013 and finished with 456 yards and four touchdowns on 83 carries. He also had 15 catches and one receiving touchdown.
Leaving: Clemson WR Sammy Watkins
The replacement: Charone Peake.
Watkins was one of a kind, and his record-setting production nearly impossible to duplicate, but Peake is the next man up. He was the Tigers' second-leading receiver before he tore his ACL during a simple non-contact drill in practice on Sept. 10. Prior to the injury, Peake had eight catches for 84 yards and a touchdown, second only to Watkins in both receptions and yards. In 2012, Peake had 25 receptions for 172 yards and two scores.
Leaving: Florida State RB James Wilder Jr.
The replacement: Karlos Williams.
He moved from safety to tailback in Week 2 and finished his first season at the position with 91 carries for 730 yards. His 8.02 yards-per-carry average was sixth in the nation. His 11 rushing touchdowns tied for seventh in the ACC. No running back from an automatic-qualifier conference school scored more routinely than Williams, who scored once every 8.3 carries.
August, 28, 2013
8/28/13
3:00
PM ET
We are just one day away from the start of the season, with a huge opening weekend on tap for the ACC. Three games against SEC opponents have set the stage.
[+] Enlarge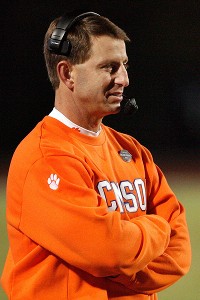 Mark Dolejs/USA TODAY Sports Dabo Swinney's Tigers can make a national statement when they host Georgia on Saturday.
So, naturally the three coaches involved in those games were asked for their take on how important the contests are for the ACC's perception during the coaches' conference call on Wednesday.
Start with North Carolina coach Larry Fedora, whose team opens up Week 1 on Thursday night against No. 6 South Carolina.
"If you want national respect, you've gotta beat ranked opponents," Fedora said. "This is a performance-based sport. If you do it, you start gaining that respect."
Clemson coach Dabo Swinney is in the biggest game of the weekend, as his No. 8 Tigers host No. 5 Georgia with College GameDay on site. Swinney tried to downplay the mega battle between conferences.
"Regardless of what conference they're from, you've got the No. 5 team in the country coming to your stadium, that's all that really matters," Swinney said. "As far as the SEC goes, we've been playing SEC teams every year and been in a lot of battles with that league. Our guys have a good understanding of what it takes to beat a very good team, regardless of what conference they come from. It's more about Clemson-Georgia than anything else."
Virginia Tech coach Frank Beamer, whose team plays No. 1 Alabama on Saturday, brought a big-picture perspective. "You judge that over the long haul, not just one Saturday," Beamer said. "I think it's important that all of us do well.
Here are a few other notes from around the league:
Pitt coach Paul Chryst was asked was his running back rotation would look like against Florida State on Monday, given recent injuries to Isaac Bennett and James Conner. "Don't know exactly," Chryst said. He hopes Bennett and Conner can play, but Rachid Ibrahim and Malcolm Crockett have gotten the bulk of the reps in practice.

Beamer also was asked about his running back situation. He said the team would disclose J.C. Coleman's status when it releases its injury report Thursday. If he can't play, Trey Edmunds and Chris Mangus would be the top two backs. Both are redshirt freshmen. "We went from too many tailbacks to not enough tailbacks, really," Beamer said.

Syracuse coach Scott Shafer and NC State coach Dave Doeren were asked about their quarterback situations headed into their respective openers. Neither plans on disclosing who will start before Saturday. Shafer is choosing between Terrel Hunt and Drew Allen; Doeren will go with either Pete Thomas or Brandon Mitchell. Shafer did say he wants to try and go with one quarterback and stick with him against Penn State on Saturday. "I don't want to be in a yo-yo situation," Shafer said. "Once we get it going we'll see how it plays out." Doeren said he already knows who will start against Louisiana Tech on Saturday, and has told both his quarterbacks to be ready to play.

Virginia coach Mike London also has a plan for freshman Taquan "Smoke" Mizzell. The ESPNU150 player from a year ago is poised to play against BYU. "There's a lot of things he's learned but there's a lot of things he's yet to learn," London said. "We know he's a dynamic player, but we have to make sure we don't try to do give too much to him in order to see those abilities. It's going to be important for us to package some things he can do and then go from there."

Georgia Tech coach Paul Johnson expects quarterback Justin Thomas to practice Wednesday and play Saturday against Elon. Thomas has been slightly banged up and missed a few practices. The plan is to play both Thomas and Vad Lee. "We'll play it by feel," Johnson said. "I have no plans to rotate series or take guys in and out. We'll do whatever we feel gives us a chance to win the game."

Fedora also said he plans on using Jack Tabb at both tight end and linebacker against the Gamecocks. Tabb began training at linebacker after the Tar Heels lost a few players to injury, thinning out depth. "He's got a lot of football savvy, he really understands the game," Fedora said. "Jack is one of those guys, he doesn't need a lot of reps. He can run it once and then he understands what needs to be done. We're fortunate in that aspect."
May, 9, 2013
5/09/13
2:00
PM ET
North Carolina is a team folks are not sleeping on in the Coastal this year, thanks to immediate results in Year 1 under Larry Fedora.
But there certainly are some questions that have to be addressed on offense, with players like Giovani Bernard, Jonathan Cooper and Brennan Williams gone. I had a chance to check in with North Carolina offensive coordinator Blake Anderson to see how his offense has progressed in filling those spots and addressing other key areas. Here is a little of what he had to say.
Where do you feel you guys stand after the spring?
Blake Anderson:
We're a long ways away from where we've got to be. We lost some really good players, and it's not going to be easy but in terms of this spring, one of the things we focused on was we wanted to increase our transition speed -- play faster. The first year of a tempo offense from a pro-style team to a tempo-style team was good but we felt like we can improve and I thought we did that. We focused on being faster between plays, the ability to get the next play off quicker, to communicate. I thought we took a step forward in that.
We simplified things offensively to try to be better technically and better positionally and allow guys to maybe fine-tune their craft. We did a better job as a staff of being more streamlined and narrowing a few things down and that allowed guys to get better at a few things. We have so many new faces on offense, we wanted some young guys to step in and play early so it's a combination of a couple different things.
And really, the rest of it is a work in progress. How many of our tailbacks take over the load that Gio's leaving and then with three offensive linemen getting drafted we have to find who our starting five is and even more importantly who Nos. 6 and 7 are. We've started on that process, but we're not near finished with it.
In terms of playing faster, how many plays did you end up running per game?
BA:
It was somewhere around 74, 74.5 last year, a good bit lower than what we would like it to be.
Where do you want it to be?
BA:
Well, we'd love to average 80 a game. That's always been a ballpark number. Some of that is outside of our control. Some of that is how the opponent plays offensively in terms of the clock they run, what are they doing -- are they trying to milk the clock? Some of it had to do with games we had the lead in and we consciously slowed the game down in the second half. I look at it in a game-by-game basis but I felt like overall our transition tempo can improve and it should and it is. Now I don't know if our average play per game will be a whole lot different or not. But 80 is a good marker for us. It gives us a good average number. If we're around that number we're moving in the right direction.
How does the transition up front impact Bryn Renner?
[+] Enlarge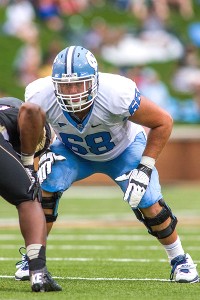 Jeremy Brevard/USA TODAY SportsThe Tar Heels have to replace three starters on the offensive line, but they are set at left tackle with James Hurst.
BA:
I'd be lying if I said he doesn't think about it but I don't want him worried about what's happening up front. I think he has some comfort in knowing he's going to have one of the best left tackles in the country with
James Hurst
on one side, and for a right-handed quarterback that obviously is a good amount of comfort. There's not a guy that's going to outwork Hurst.
Russell Bodine
at center has come a long way. He's become one of the best at that position in the country as well so he has a tremendous amount of confidence in those guys. We're fortunate that
Landon Turner
played as many snaps as he did last year with Brennan Williams being injured. Even though three guys went in the draft, there's three guys coming back that played basically the entire season for us. I don't think Bryn's that concerned or I hope he's not that concerned about those other two spots. We took big steps with
Kiaro Holts
and
Caleb Peterson
this spring at getting them to be functional up there. Are we going to be as talented as we were last year? Probably not. Maybe in the long run we'll be just as good. Initially, there's going to be some growing pains but that's not something Bryn's got a lot of time to be worried about. I think he's aware he has to get the ball out quickly at times, he's aware of where some pressures might come from. His biggest role is communicating well and feeling poised so those guys aren't rattled, so Bodine and Hurst and Landon Turner can bring those other two guys along. It's going to be a team effort. I don't want him to worry. His job is already tough enough as it is.
Coach Larry Fedora mentioned if the season started today, A.J. Blue would get the starting nod at running back over Romar Morris because of his experience. How do you envision the rotation working out?
BA:
It's going to be running back by committee to some degree. Even as good as Gio was and as good a year as he had, it took all those guys to get through the season. So it's going to take them all. They're all a little bit different, and injury at some point is going to keep somebody out for a game or a quarter or a half and we're going to need everybody, all hands on deck. I would say the walk-on
Charles Brunson
that went through the spring or T.J. Logan, the freshman coming in, I would say those guys would end up touching the ball as well. It's just the nature of college football.
How do you think Khris Francis fits into the mix?
BA:
Really surprised at how quickly Khris Francis picked up things. He put the ball on the ground early but got better as the spring went on. For a freshman coming in, it's always an eye-opening experience. Defenses at this level attack the football and try to take the football away. He's got the skill level to be good. I think it's going to be a one-two punch, you may see A.J.-Romar one week and maybe Romar-Khris or maybe Khris and A.J. depending on who's healthy, who's got the hot hand, who's having a great day and how the season is going. I can see a one-two punch with three or four guys.
Quinshad Davis emerged for you at receiver last year but maybe you didn't have the depth you wanted. Where does that group stand now?
BA:
Just the transition from the old style to what we do, that's the position where it takes the longest to get your numbers built the way you want to get them built. You're getting a lot more plays than you've gotten. We're asking more guys to be on the field than they have in the past. So we're still seeing some growing pains. We are thin, we were beat up. We've been unfortunate with a few guys who have ability but haven't been physically able to get out there.
T.J. Thorpe
is one of those guys we have to get on the field. I thought Quinshad had a great freshman year, better than expected. He had a really good spring. I saw him step up, his personality, he became even more competitive on a daily basis whereas in the fall he was playing well, but you didn't see him step up and try to lead in any way. He was just following the group. I thought this spring he stepped up his competitive nature and led some drills, led the group, and that will make him a better player.
And then
Kendrick Singleton
and
Sean Tapley
both played several different positions during the spring. We bounced them around and utilized them different ways, which is going to benefit us in the fall. It's going to make us more versatile. We're trying to find out what role they can play. The way we operate you have to talk about the tight end at the same time. Without
Eric Ebron
this spring, I thought
Jack Tabb
had a very, very good spring. He trimmed down a little bit, got a step faster and became more versatile. Once you throw Ebron back in the mix with Tabb and those guys I mentioned and hopefully we can infuse a couple young guys coming in, I think we're going to be still inexperienced but I think we have a chance to be a step better.
April, 12, 2013
4/12/13
11:00
AM ET
North Carolina quarterback
Bryn Renner
has his sights set on an even better season in 2013. In Part II of our interview, he discusses his new backfield mates, where he wants to improve and where the Tar Heels are finding motivation this offseason.
What have you seen out of A.J. Blue and Romar Morris this spring that gives you the confidence they can replace Giovani Bernard?
BR:
The confidence factor and playing experience. You can't replace that. Just getting in live action, having the feel of what game experience is like, those guys split reps with Gio and also had to start games when he was hurt. You can't replace that. They know where to go, that's the biggest thing that's different. A.J. runs the ball extremely hard, a very physical runner. Romar's an outside speed guy. It's a good 1-2 punch to have. Replacing Gio is going to be tough, but you couldn't ask for two more hungry guys to step into that role.
[+] Enlarge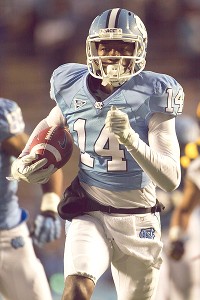 Robert Willett/Raleigh News & Observer/MCT via Getty ImagesQuinshad Davis (14) is expected to be one of Bryn Renner's go-to receivers this season.
What about at receiver; we saw Quinshad Davis step up last year. How does that group look?
BR:
Quinshad has made a ton of progress as far as his work ethic in the weight room, getting bigger and faster. He missed a little bit of training camp and didn't have a chance to get that weight on him. Him coming back and having that playing experience -- hopefully he can continue to have a big year. But I think,
Sean Tapley
hopefully we'll get
T.J. Thorpe
healthy, guys like
Kendrick Singleton
,
Jack Tabb
,
Eric Ebron
-- we have some receivers that can make plays. The only thing they're lacking is making plays on a down to down basis. Once we get into the flow of the season and get more reps in training camp, they'll be able to step right in there and play good football for us.
Everybody expects improvements going into Year 2. Where do you think you can get better?
BR:
As a quarterback, you have to be the leader. That's the one thing I wanted to focus on in the offseason is really taking the offense and dissecting it. Where can I get better? I looked at every interception I threw, and where I could improve. The biggest thing I have to do is manage the game. Coach [Larry] Fedora says it all the time. I think down the stretch I did a good job late in the season, when we reeled off some wins, of just managing the game and not doing too much. The second year of the system you expect to get better and that's what I'm hoping to do.
You guys were able to stay motivated last year despite knowing there was no postseason. Do you sense any extra motivation now that you will once again have a shot at playing for an ACC title and in a bowl game?
BR:
It's motivated us even more. We had a lot of expectations last year to prove people wrong, that it wasn't going to affect us. But now it's at our fingertips, so we're using last year as a learning tool, of just perseverance. Now we can go after a conference title and have a chance to compete for a bowl game, that's what we're looking forward to. Last year, it was tough on us sitting home watching the ACC title game. It put a chip on our shoulder. That's our expectation every year, but it starts with practice and one game at a time. We can't look too far ahead but ultimately our goal is to get back to a bowl game.
One game at a time starts with a big one against South Carolina. Have you guys already started talking about that game?
BR:
I think you can't not talk about it. That's the biggest thing, enjoying the moment. Not many kids get a chance to kick it off against a very good team and a great player in
Jadeveon Clowney
. That's what you look forward to as an athlete. So we're going to use that as motivation and take that into the summer. After spring ball's over, we'll have that motivation to work that much harder. So you can't take that for granted, and you look forward to that happening.
For those who missed it,
here is Part I
.