October, 21, 2014
Oct 21
9:00
AM ET
At the outset of the season,
Robert Smith
joked that he felt a bit like the old man in a room full of rookies in Clemson's secondary, but that was nearly two months ago. The unit has done a lot of growing up since then.
It's partially Smith's influence, of course. That's the purview of the group's elder statesman. The senior safety made a decision during the spring that his final season would be his best, and his work ethic would be the template for success. So he set the standard, and the young pups around him followed his lead.
"I was going to meet like a pro, talk like a pro, watch film like a pro, practice like a pro, do everything possible like a pro," Smith said. "I wanted to set that example to the guys that, if you want to make it to the next level, don't wait until then to mature."
[+] Enlarge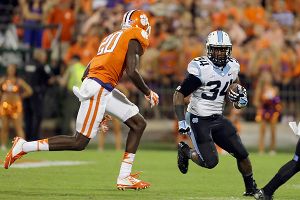 Bob Leverone/Associated PressSophomore safety Jayron Kearse is part of a young Clemson secondary that is improving rapidly.
For the Tigers' defensive backs, it was less a demand than an opportunity. They'd been waiting for their chance to show they belonged.
A year ago, cornerback Mackensie Alexander was one of the top recruits in the nation, but injuries in fall camp left him with a redshirt. Safety
Jayron Kearse
was a bit luckier. He saw action and racked up 55 tackles and four interceptions as a freshman last season but couldn't secure a full-time spot in the starting lineup.
T.J. Green
,
Korrin Wiggins
,
Jadar Johnson
,
Cordrea Tankersley
-- they all got tastes of action but wanted more.
So Smith's philosophy played well and as the 2014 season approached, the young DBs were eager to follow suit. The jobs were there for the taking; they just had to be ready.
"Just going through summer workouts with these guys, we always feel like we could contribute," Kearse said. "We feel like we're a good secondary, working to be great. We've been this way since we got here."
Still, it was hard not to see the Clemson secondary as the weak link on a defense that features stars such as
Vic Beasley
,
Stephone Anthony
and
Grady Jarrett
. The front seven was chock full of proven commodities.
It was no surprise then that the season started a bit slower than Smith and the DBs might've liked. There was a feeling-out process, and that was expected.
"Everybody was getting their feet wet," Smith said. "After a few games, you get in the flow."
The unit got more comfortable working together, but it also took disaster for the entirety of the defense to pull together. That was the fallout of the Florida State game, when Clemson won battle after battle but still came up short.
After the game, the locker room was in mourning. The emotion was overwhelming, but also galvanizing.
"I've never seen so many men in the locker room cry so hard off a loss," Smith said. "We played hard and to the best of our ability and let that one get away. So when you see your teammates hurt and crying, it makes you want to work that much harder, makes you want to do more. So I think our secondary looked at it and said we're going to get better and progress from here."
The progress has been obvious in the weeks since.
In three October games, Clemson's pass defense has allowed opposing QBs to complete just 40.6 percent of their throws, the second-best mark in the country. Their October passer rating allowed is 102.4, the second-best mark in the ACC, trailing only Louisville. While that vaunted defensive front has created havoc at the line of scrimmage, the young DBs are coming into their own in the back end.
"We knew coming into the season we had the potential to be one of the best defenses in the country, and our front line was handling business, but we had a lot of young guys in the secondary and it took some time just to gel and get on the same page," Smith said. "As soon as that happened, you could tell the difference and the cohesiveness has all come together and we're starting to show the kind of defense we can be."
Alexander always had the work ethic, Smith said, he just needed the experience. Kearse was always driven, he just needed to embrace the opportunity. And while no one is ignoring that ferocious defensive front, the kids in secondary are starting to get some attention, too.
"It takes time to understand the level of competitiveness at this stage," Kearse said. "But now, it's rewarding. They're putting a lot on me and Mackenzie's back, and we're taking on the challenge."
This week's opponent, Syracuse, will start a freshman at QB, and that's a frightening proposition against the Tigers. Smith said they won't take anyone lightly, and Kearse compared Orange QB
AJ Long
to the QB the Tigers saw a week ago, Boston College's
Tyler Murphy
, but even that praise doesn't offer much hope for Syracuse. Murphy completed just nine balls, and BC was held to nearly 200 yards below its season average on the ground.
Kearse called the BC game a chance for a lot of the young defenders to grow up. It was proof they could play sound, assignment football against a dangerous opponent.
Now comes the next step, he said. They don't want to take a backseat to the big boys up front, and they don't want to hear that qualifier that, yes, they're pretty good -- for freshmen and sophomores.
"We made it known we wanted to draw some of that attention to us, and we took that challenge," Kearse said. "So far we've been doing it, but we have five more games to prove we're one of the best defenses in the nation."
April, 10, 2014
Apr 10
4:00
PM ET
Clemson's defense has come a long way since that disastrous 2012 Orange Bowl, when West Virginia ran up 70 points against the Tigers in a game that defined the public perception of the unit for the better part of the next two seasons.
Now, as Clemson wraps up its 2014 spring practice,
it's the offense with question marks
and the defense that coach Dabo Swinney thinks could be one of the nation's best.
[+] Enlarge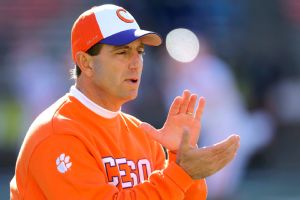 AP Photo/Patrick SemanskyClemson coach Dabo Swinney is confident his defense will be a strength this fall.
"We're going to be really salty on defense," Swinney said. "I don't have any doubt our defense is going to be much better."
The progress started in earnest last season, when Clemson led the nation in tackles for loss. But while the front seven thrived in 2013, the secondary was still a work in progress, particularly at safety, where three freshmen lined the Tigers' two-deep depth chart. The inexperience left Clemson particularly vulnerable on the deep ball, and the results were predictably frustrating. The secondary posted strong numbers in the aggregate, but specific struggles turned games.
"We were top-15 in the country in passing defense," defensive coordinator Brent Venables said. [Note: Clemson was actually No. 16 nationally.] "What does that mean? It means we gave up too many big plays."
Indeed, the overall numbers -- even on deep balls -- look pretty good. Opposing quarterbacks completed just 37.5 percent of their throws of 15 yards or longer in 2013, according to ESPN Stats & Info, with 10 interceptions to go with five TD passes.
But dig into specifics, and that's where some of Clemson's defensive struggles come into focus.
• Against Georgia in the season opener, Clemson allowed three passing plays of 30 yards or longer. The heroics of Tajh Boyd and the offense still managed to overcome UGA's big plays, and Clemson escaped with a win.
• Against Florida State, the Tigers' D allowed a whopping seven passing plays of 20 yards or more -- or one out of every five throws Jameis Winston made in the game. It was a season-defining loss for Clemson.
• For the season, Clemson allowed 16 passing plays of 30 yards or longer, fifth-most in the ACC, in spite of being one of the conference's top defenses overall.
• On third-down plays in 2013, Clemson allowed nine passing plays of 25 yards or longer. Only five AQ-conference teams in the nation allowed more.
But though the big plays in the passing game were a concern last fall, Venables has reason to feel more comfortable in 2014. Like the young defensive linemen who struggled so badly in 2011 and 2012 only to develop into a force last season, the safeties who were burned at times in 2013 are now more seasoned. And when it comes to matchups, Venables likes what he has at the position.
"We needed to improve there, and I believe we will. We're longer, more athletic overall," Venables said, pointing to
Jayron Kearse
(6-4, 205),
Jadar Johnson
(6-2, 195) and converted receiver
T.J. Green
(6-3, 200) as prime examples. "I really believe we'll be really good at safety. It's hard for me to throw many compliments, so I really believe in those guys. [They're] all long, 6-2-plus. They can cover up some ground. They have a physical presence to them."
Add in the physical presence from its four returning starters on the defensive line, it's easy to see why Swinney calls this perhaps the most complete defense he's had at Clemson.
Of course, that doesn't mean Venables' work in the secondary is done. While the safeties struggled at times in 2013, Clemson could rely on corners
Bashaud Breeland
and
Darius Robinson
to keep opposing receivers in check. Both are gone now, along with Will linebacker
Spencer Shuey
, and Venables said those positions will be the key to the defense's success in 2014.
Still, there's plenty to work with at Clemson, and there's a good chance it's the defense that will carry the load for the Tigers this fall, especially early in the season.
"Last year, I felt the front seven would be a strength, but we were going to be a little vulnerable in the back end," Swinney said. "But this year, we're going to be a complete group. … And any time you have a chance to be dominant on defense, you have a chance to win a bunch of games."
March, 21, 2013
3/21/13
12:00
PM ET
These links are brought to you from Miami spring practice ...
ACC SCOREBOARD
Saturday, 12/20
Monday, 12/22
Tuesday, 12/23
Wednesday, 12/24
Friday, 12/26
Saturday, 12/27
Monday, 12/29
Tuesday, 12/30
Wednesday, 12/31
Thursday, 1/1
Friday, 1/2
Saturday, 1/3
Sunday, 1/4
Monday, 1/12
Tweets from https://twitter.com/ESPNCFB/lists/acc