May, 13, 2014
May 13
2:00
PM ET
The
NFL draft
concluded with 42 ACC players selected last weekend, and a slew more ended up signing free-agent deals in the days afterward.
Here's a quick rundown of where the ACC's undrafted free agents landed.

BOSTON COLLEGE
QB
Chase Rettig
,
Green Bay Packers
OLB
Kasim Edebali
,
New Orleans Saints
LB
Steele Divitto
,
New York Jets
OT
Ian White
,
San Diego Chargers
OT
Matt Patchan
,
Tampa Bay Buccaneers
DB Albert Louis-Jean, Chicago Bears

CLEMSON
K
Chandler Catanzaro
,
Arizona Cardinals
G
Tyler Shatley
,
Jacksonville Jaguars
LB
Spencer Shuey
, Jacksonville Jaguars
CB
Darius Robinson
,
Buffalo Bills

DUKE
RB
Juwan Thompson
,
Denver Broncos
DE
Kenny Anunike
, Denver Broncos

FLORIDA STATE
LB
Christian Jones
,
Chicago Bears
RB
James Wilder Jr
.,
Cincinnati Bengals
WR
Kenny Shaw
,
Cleveland Browns
FB
Chad Abram
,
Detroit Lions
DT
Demonte McAllister
,
Seattle Seahawks
DT
Jacobbi McDaniel
, Cleveland Browns

GEORGIA TECH
DT
Euclid Cummings
, Tampa Bay Buccaneers
CB
Lou Young
, Denver Broncos
DE
Emmanuel Dieke
,
New York Giants

LOUISVILLE
DT
Roy Philon
,
Pittsburgh Steelers
S
Hakeem Smith
,
Tennessee Titans
DT
Brandon Dunn
, Chicago Bears
WR
Damian Copeland
, Jacksonville Jaguars

MIAMI
WR
Allen Hurns
, Jacksonville Jaguars
QB
Stephen Morris
, Jacksonville Jaguars
TE
Asante Cleveland
,
San Francisco 49ers
DT
Justin Renfrow
, Arizona Cardinals
FB
Maurice Hagens
,
Atlanta Falcons
S
A.J. Highsmith
, San Francisco 49ers
OG
Jared Wheeler
,
Carolina Panthers
LB
Jimmy Gaines
, Buffalo Bills

NORTH CAROLINA
OT
James Hurst
,
Baltimore Ravens
QB
Bryn Renner
, Denver Broncos

NC STATE
DE
Carlos Gray
, Green Bay Packers
TE
Asa Watson
,
New England Patriots
DL
Deylan Buntyn
, New England Patriots

PITTSBURGH
P
Matt Yoklic
, Atlanta Falcons
SYRACUSE

CB
Keon Lyn
,
Indianapolis Colts
CB
Ri'Shard Anderson
, Tennessee Titans
RB
Jerome Smith
, Atlanta Falcons

VIRGINIA
DE
Jake Snyder
,
Minnesota Vikings
VIRGINIA TECH
DT
Derrick Hopkins
, Baltimore Ravens

LB
Tariq Edwards
,
Miami Dolphins
WR
D.J. Coles
,
Oakland Raiders
G
Andrew Miller
, Tampa Bay Buccaneers
DE
James Gayle
, Tennessee Titans

WAKE FOREST
DT
Nikita Whitlock
, Cincinnati Bengals
LB
Justin Jackson
, Detroit Lions
LB
Zach Thompson
, New York Jets
August, 29, 2013
8/29/13
12:00
PM ET
August, 8, 2013
8/08/13
10:18
AM ET
Today we look at the
Virginia Cavaliers
, who look to rebound after finishing last in the Coastal in 2012.
Virginia Cavaliers
Coach:
Mike London (40-26 overall, 16-21 at Virginia)
2012 record:
4-8 (2-6)
Key losses:
QB Phillip Sims, QB
Michael Rocco
, RB Perry Jones, DT Chris Brathwaite, LB Steve Greer, LB LaRoy Reynolds
Key returnees:
RB
Kevin Parks
, LT
Morgan Moses
, WR
Darius Jennings
, CB
Demetrious Nicholson
, S
Anthony Harris
, DE
Jake Snyder
[+] Enlarge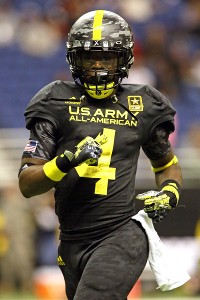 Soobum Im/USA TODAY SportsWith questions at quarterback, the Cavaliers may need Taquan Mizzell to help in the run game quickly.
Newcomer to watch:
RB
Taquan Mizzell
. The talented tailback, nicknamed "Smoke" because of his elusiveness on the field, is perhaps the top recruit London has landed at Virginia. With veteran runner Parks on the roster, Mizzell won't need to carry the load in his first season, but given the serious question marks at quarterback, the Cavaliers figure to run the ball often. Mizzell's speed and athleticism should make for a valuable weapon immediately, and if the offensive line can take a step forward, he could be one of the league's top rookies in 2013.
Biggest games in 2013:
vs. Oregon, Sept. 7; vs. Clemson, Nov. 2; at Miami, Nov. 23; vs. Virginia Tech, Nov. 30
Biggest question mark heading into 2013:
It's London's fourth season at Virginia, and he's facing his fourth quarterback battle. That's an unlikely scenario given the talent on the depth chart at the position just a year ago, but the transfer of Rocco and the dismissal of Sims served to reshuffle the deck once again. Redshirt sophomore
David Watford
looks to be the favorite to grab the starting job. He's more athletic than redshirt freshman
Greyson Lambert
, which could be a necessity given last year's woes on the offensive line, and Watford did gain limited playing time in 2011.
Forecast:
London's tenure at Virginia started well enough, but the Cavaliers have now lost 10 of their past 14 games, and the hot-seat rumors have begun for the coach. Add in the serious questions at quarterback and a tough early slate that includes nonconference games against BYU and Oregon, and things could get ugly fast for Virginia.
Still, there is reason for optimism. Mizzell may be the most talented runner Virginia has had in a decade, and with Parks back after racking up nearly 1,000 yards from scrimmage last season, the running game should be a strength. Meanwhile, the offensive line certainly left ample room for improvement a year ago, but Moses is one of the conference's top blockers and the unit does return four starters.
A massive overhaul of the coaching staff also figures to shake things up in Charlottesville, and none of the new faces will bring as much enthusiasm as new coordinator Jon Tenuta. He has built a reputation for being aggressive, and after finishing 2012 dead last in the ACC in takeaways, that's good news for the Cavaliers. Last year, Virginia defenders managed just four interceptions all season. A strong and experienced secondary should make it easier for Tenuta to use blitz packages liberally, and a solid group of pass-rushers led by Snyder and
Eli Harold
figure to be an improvement on last year.
Of course, the biggest challenge Virginia may face is not simply improving its own production on both sides of the ball, but the daunting schedule. In addition to the grueling nonconference start, Virginia wraps up the year with November showdowns against Clemson, Miami and Virginia Tech. A loss in 2013 would be the 10th straight to its in-state rival.
July, 29, 2013
7/29/13
5:00
PM ET
Virginia coach Mike London made some significant changes to his staff this offseason. He also added one more responsibility to his own plate.

Not only did London move Vincent Brown over from linebackers coach to the defensive line, London became more involved with the line as well. Defensive end
Jake Snyder
said it was great to have his head coach helping out during spring practice, given how much experience London has with the big guys up front.
During his time as an assistant, London spent time as a defensive line coach at William & Mary, Boston College and with the Houston Texans. He also coached the UVa defensive line in two separate stints.
"He's got a lot of knowledge of the game and of the position," Snyder said. "Any time he comes in there and helps out, it's a learning experience for myself and the rest of the D-linemen. We really pay extra attention. For the most part, he's coming up during drills in practice and giving us one little bit of advice and then he gets back to the big picture stuff. But having him out there and having him help out has been great."
Snyder also said it has been a smooth transition learning from Brown as well. Brown, who played linebacker for the Patriots between 1988-95, replaced defensive line coach Jeff Hanson, one of four assistants dismissed at the end of last season.
"He's been very up front with us, we didn't miss a beat," Snyder said. "We love playing for him. We've had a couple meals together, we'll get together and hang out and just talk. He's a great mentor having played in the NFL for so long, he can really relate with a lot of the guys who have those aspirations and tell them what not to do, which is an important thing for a coach."
July, 11, 2013
7/11/13
11:26
AM ET
The ACC on Thursday announced the names of the 28 players who have been chosen to attend the 2013 ACC Football Kickoff, held July 21-22 at the Grandover Resort in Greensboro, N.C.

Here are your ACC reps:

Boston College:
Clemson:
Duke:
Florida State:
Georgia Tech:
Maryland:
Miami: North Carolina:
NC State: Pitt:
Syracuse:
Virginia:
Virginia Tech:
Wake Forest:

April, 11, 2013
4/11/13
10:30
AM ET
When asked for his assessment of the new defensive style Virginia plans to play this season, veteran defensive end
Jake Snyder
had one word:
Different.
As in different good or different bad?

"More aggressive," he said. "We have all just really been working hard this spring trying to learn everything and pick up the new defense. I think it is going to be good for us."
Coach Mike London overhauled his coaching staff after a 4-8 season and brought in Jon Tenuta to run the defense. Tenuta has made a career out of employing aggressive, attacking defenses, and Hoos fans saw that firsthand last week during the team's spring game. The defense was credited with 14 "sacks" -- essentially any time a defender got two hands on the quarterback. Though they were not allowed to tackle the quarterbacks, it was evident that the group was much more active, particularly up front.
That is a huge area the Hoos have spent time working on this spring, because they were below average in sacks a last season with just 17. Snyder is the top returning player in that category, with 2.5. Chris Braithwaite led the team with 3.5, but he is no longer with the Hoos. The inside players, though, look promising.
Brent Urban
returns, and he had 3.5 sacks in the spring game.
The surprise has been tackle
David Dean
, who was selected the team's most improved player on defense this spring.
The other area that has to be improved is takeaways. Last season, UVa had 12 total -- eight fumble recoveries and four interceptions, tied for third worst in the nation. Contrast that with NC State, where Tenuta worked last season. The Wolfpack had 16 interceptions to rank in the Top 20. Of course, they had veterans in their group last season, and the Hoos were very inexperienced in the back end.
Still, Snyder said the Hoos spent plenty of time working on takeaway drills this spring.
"Getting takeaways is always such a big key in any game," he said. "And we didn't do a good enough job of that last season. So we all know we have to do better to be a better defense."
One of the other key question marks about this group this spring is at middle linebacker, where the team loses team leader and leading tackler
Steve Greer
.
Henry Coley
has moved over from the outside to take over the spot, and Snyder says he has done a good job this spring.
"It's always tough to replace a great player like that," Snyder said. "Henry has done a great job doing it. He spends more time out of anybody in the film room and the meeting room, because he has to know what everyone else is doing at all times."
March, 25, 2013
3/25/13
3:30
PM ET
If you're just joining us, this series is categorizing the unranked teams in the ACC as either contenders or pretenders heading into the 2013 season. We're leaving out Florida State and Clemson because they are the only two teams from the ACC expected to be ranked this preseason. Those rankings automatically qualify them as contenders. The Hoos are up next.

Why they're contenders:
Virginia returns a majority of its starters on offense and defense, so the Hoos should be a much more experienced team heading into the season. Though
Perry Jones
is gone from the running backs, a deep and talented group remains with
Kevin Parks
,
Khalek Shepherd
and
Clifton Richardson
having all played significant minutes in games. Then there is the much-anticipated arrival of five-star running back Taquan Mizzell. The receivers should be better, too, with the top five players from a year ago all returning. Yes, there are questions at quarterback, but there is some major talent on this team. A new coordinator in Steve Fairchild should help them put up more than 396 yards of total offense per game. Defensively, the secondary should turn into an area of strength with four returners. The defensive line has an opportunity to build on some of the progress it made toward the end of last season with
Jake Snyder
back at one end and
Eli Harold
set to start on the other side after a promising freshman season.
Why they're pretenders:
OK, so I downplayed the quarterback questions in the first category. The Hoos have to pick one starter and go with him instead of playing musical quarterbacks if they want to try to find any semblance of consistency at this position. Easier said than done for sure.
David Watford
,
Phillip Sims
and
Greyson Lambert
are all competing for the starting job. Quarterback questions aside, this offense is not going to function the way it wants without a solid running game. The offensive line was not an area of strength last year. With Jones and
Oday Aboushi
gone, can the Hoos get back to the production they had on the ground in 2011? Defensively, losing
Steve Greer
in the middle is a huge blow, considering how sure of a tackler he was for this team throughout the course of his career. The pre-spring depth chart has strongside linebacker
Henry Coley
moving back to the middle. At least the Hoos will have an experienced player there. But linebacker is definitely a question mark heading into the season. Depth at defensive tackle also is an issue, particularly after the loss of
Chris Brathwaite
, who is no longer on the team.
Final verdict:
I expect the Hoos to be much improved this year, but they remain a pretender. First, there are too many unknowns at quarterback. Second, the schedule is difficult. And third, there has been an overhaul to the entire coaching staff. How will this impact the offense and defense?
More in this series
November, 5, 2012
11/05/12
10:00
AM ET
Here's a look back at the highlights (and lowlights) from Week 10:
The good:
Virginia's defense. The Hoos looked like a different team in their 33-6 dismantling of NC State in Raleigh. The defense forced five turnovers and had six sacks. It held NC State to 19 yards rushing, less than 200 yards passing and three interceptions. There was some bye-week magic in Charlottesville last week, as UVa entered the game with only one interception and seven sacks all season.
The bad:
Duke's defense. The Blue Devils allowed Clemson 718 total yards, 34 first downs and 70 percent of its third-down opportunities (7-of-10) in the 56-20 loss to the Tigers.
[+] Enlarge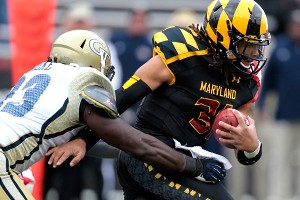 AP Photo/Luis M. AlvarezShawn Petty (31) got the call on Saturday to start at quarterback for Maryland.
The ugly:
Virginia Tech's special teams. This was the anti-Beamerball. The Hokies allowed a blocked punt when
A.J. Hughes
bobbled the snap before the kick, they allowed
Duke Johnson
an 81-yard return, and kicker
Cody Journell
missed a field goal and an extra point attempt in a 30-12 loss to Miami on Thursday night.
The inexplicable:
Duke won the turnover battle 4-0 and lost. Miami was outgained in total yards, was 1-for-12 on third down and had only 3 yards on 12 plays in the third quarter -- and won. Oh, and NC State.
The debut:
Maryland true freshman linebacker
Shawn Petty
made his debut as the Terps' fifth-string quarterback and third different starter this season. He ran for 24 yards on 17 carries and completed 9 of 18 passes for 115 yards. He also fumbled twice and threw an interception in the 33-13 loss to Georgia Tech.
The stat:
Virginia Tech is 25-3 in ACC games played in November, and all three of those losses have come to Miami.
The quote:
"We could've said, 'Screw it,' but we didn't. We hung in there and felt that this was the most important game for us." -- Virginia defensive end
Jake Snyder
, according to the Associated Press.
The record
: Wake Forest receiver
Michael Campanaro
tied an ACC record with 16 receptions for 123 yards and became only the eighth player in school history to catch three touchdown passes in a game in a 28-14 win over Boston College.
The record II:
It was Clemson's sixth game with 500 yards of total offense, a school record for a season. Quarterback
Tajh Boyd
tied the Clemson single-game record for touchdown responsibility in the first half with his five touchdown passes and one rushing touchdown for a total of six.
The truth:
With the loss to Wake Forest, Boston College will not go to a bowl for the second straight season after playing in 12 straight.
May, 8, 2012
5/08/12
7:00
AM ET
2011 overall record:
8-5
2011 conference record:
5-3 (T-2nd, Coastal)
Returning starters:
Offense: 7; defense: 4; kicker/punter: 0

Top returners
WR
Tim Smith
, LT
Oday Aboushi
, RT
Morgan Moses
, RG
Luke Bowanko
, TE
Colter Phillips
, QB
Michael Rocco
, RB
Perry Jones
, DE
Jake Snyder
, OLB
LaRoy Reynolds
, MLB
Steve Greer
, CB
Demetrious Nicholson
Key losses
WR
Kris Burd
, G Austin Pasztor, C
Anthony Mihota
, FB
Max Milien
, DT Matt Conrath, DT
Nick Jenkins
, DE Cam Johnson, OLB Aaron Taliferro, CB Chase Minnifield, SS Rodney McLeod, FS
Corey Mosley
Spring answers
1. Ground game should be fine.
Three starters are back on the offensive line, and Perry Jones,
Kevin Parks
and
Clifton Richardson
will all be lining up in the backfield again following a campaign that saw the trio combine for 1,990 rushing yards and 21 total touchdowns.
2. Rocco steps up.
Michael Rocco beat out three competitors to win the starting quarterback job in 2011. The process has been a whole lot easier this spring, and the junior will look to build off a strong debut season that featured a 60 percent completion rate. Returning starter Tim Smith will likely be Rocco's top target following the departure of Kris Burd.
3. Jake McGee ready to fill tight end role.
A converted quarterback, McGee stood out in the spring game, hauling in a pair of passes for 81 yards. He has said that he wants to be the next Heath Miller. Boosting a unit that combined for just 20 catches last season would be a nice start.
Fall questions
1. What to do with Phillip Sims?
The former Alabama quarterback announced his transfer to Virginia after the spring season. It remains to be seen whether he will even be eligible for the 2012 season. If he is, however, he could make things interesting if Rocco underperforms this fall.
2. Where will the secondary help come from?
Demetrious Nicholson returns at corner after a strong freshman campaign, but the unit loses more than 90 career starts from the other three starters, led by corner Chase Minnifield. Virginia's offense threw for more than 400 yards in the spring game against the re-tooling secondary, which has a long way to go after spring.
3. Can the line get enough pressure to help the secondary?
Cam Johnson and two other starters are gone from last year. The Cavaliers gave up 81 points over their final two games of 2011 and lose seven starters. Junior end Jake Snyder is the only returning starter up front.
April, 16, 2012
4/16/12
3:30
PM ET
Six ACC schools held their spring games this past Saturday, with colleagues Mark Schlabach and Ivan Maisel doubling as coaches in Florida State's scrimmage. Here's a look at three of the other spring games. (Don't worry, UNC and Clemson fans, we'll have you covered later this afternoon.)

WAKE FOREST
Josh Harris
went a long way to showing he is completely healthy this spring, rushing for 40 yards and two scores on six carries to help lead the White team to a 21-10 win over the Black squad. Harris played in just five full games last season because of a hamstring injury, limiting his production to 432 yards for his sophomore season.
"He looked like Josh Harris and that's what I like," coach Jim Grobe said. "He had two or three inside runs, he wasn't trying to bounce everything to the perimeter. I loved his touchdown run down in the red zone, I thought he got north and just powered his way up into the end zone and if we can get him to do that all the time — we know he has a chance to be special, but today it looked like he had a little bit of determination and a little bit of pop and was getting up inside, which I like, I like guys that don't mind running inside."
A.J. Marshall
, transitioning to safety from cornerback, also had a strong spring game, intercepting two passes, taking the second one back 58 yards with less than a minute remaining to seal the deal for the White squad.
"The key to the game today was turnovers," Grobe said. "The offense needs to take better care of [the ball], but if the defense keeps taking it away like that we'll be a pretty good defensive football team."

MIAMI
The final score — the Orange team beat the Green team, 7-6 — says it all about the Hurricanes' spring game Saturday.
Ryan Williams
was 15 of 27 for 169 yards but threw a pair of picks for the Orange team. For the Green side, Gray Crow also threw two picks.
Thomas Finnie
,
Brandon McGee
,
Ray-Ray Armstrong
and
Vaughn Telemaque
were responsible for the interceptions.
Mike James
' five-yard touchdown run with 4:19 left marked was the game's only touchdown. He finished with 57 yards on 15 carries.
Finnie walked away with the team's special teams most improved player award for the spring, with
Rashawn Scott
(most improved - offense),
Shayon Green
(most improved - defense) and
Garrett Kidd
(walk-on) taking home the other spring honors.

VIRGINIA
Mike London was not shy this spring when talking about his team's need for explosive plays. So the Cavaliers coach must have been all smiles when Orange team quarterback
Michael Rocco
connected with
Jake McGee
for a 47-yard score on the fourth play from scrimmage Saturday. The Orange (made up of mostly offensive starters) beat the White (defensive starters), 20-17.
"We are going to continue to make downfield throws and try to get the ball in the hands of as many guys as possible," London said. "There is an emphasis on explosive plays, plays that move the ball beyond 15 yards. We have guys that can run, that were athletes and track runners in high school, and we are going to find ways to get them the ball."
Of the
reported 500 yards totaled in the game
, 410 came through the air.
Virginia also announced its spring award winners and 2012 captains, with
Will Hill
and
Dominique Terrell
taking home hardware for most improved honors.
Demetrious Nicholson
was honored for his classroom, field and community success during his first year. Billy Schautz and
Jake Snyder
shared academic honors, and
Tim Smith
was recognized for his work in the weight room.
Hill will serve as a captain this fall, along with
Perry Jones
,
Oday Aboushi
and
LaRoy Reynolds
. Jones was a captain last season as well.