September, 17, 2014
9/17/14
2:00
PM ET
John Wolford
has more on his plate than most. The 18-year-old true freshman is tasked with leading an ACC team in its first year of a new regime, a team that is replacing its all-time leading pass-catcher, among many other key pieces who graduated this past year.
[+] Enlarge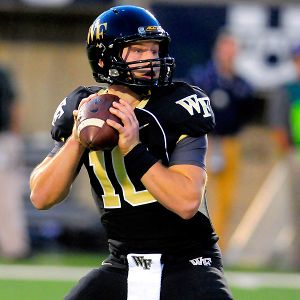 AP Photo/Eli LuceroTrue freshman quarterback John Wolford is carrying the brunt of Wake Forest's load on his shoulders.
Wake Forest head coach Dave Clawson designated Wolford as the starting quarterback 10 practices into fall camp. Clawson has said repeatedly that he will play the guys he feels gives his team the best chance to win, and that unnecessary redshirts are not fair to the upperclassmen who have already given so much to the program.
Through three games, Wolford has experienced more than most. He has won a game. He has lost two. He has completed better than 56 percent of his passes, for 645 yards. He has thrown four touchdowns passes and has been picked off six times. He has done this without any real threat of a ground game to take pressure off him, as the Demon Deacons rank 124th nationally in rushing yards per game (22.67) and yards per rush (0.78). Likewise, Wolford has taken a beating, getting sacked 14 times, more than any other quarterback in the country.
"When we have given him time, he's proven to be very accurate," Clawson said. "I think he's very tough. He has taken quite a bit of hits; it has not impacted his fundamentals a lot. I think he still hangs in the pocket. He still keeps his eyes downfield. He has certainly shown the ability to bide time and make some plays with his feet."
Clawson sees room for improvement, of course. Wake surrendered 21 points off turnovers in this past Saturday's loss at Utah State, as Wolford lost a fumble that was returned for a touchdown, threw a pick-six and had another interception that lead to an Aggies touchdown three plays later.
"We're certainly not explosive enough on offense that we can spot people 21 points," Clawson said.
Complicating matters was the loss of left tackle
Antonio Ford
, a redshirt senior who left Saturday's game with an ankle sprain. He may return against Army, but if he can't, Wake will likely rotate three players at the two tackle spots.
Still, Wolford's demeanor has been encouraging. Clawson liked the way he overcame his errors to lead his team to a 17-point second half this past weekend, and others have been impressed by his maturity.
"I think he's gained a little bit of confidence since he got that first game under his belt," receiver
Jared Crump
said. "Especially being a true freshman, that's a big experience to start as a freshman. But I think each game he's progressing a little bit more, getting a little bit more confident."
Beyond this Saturday against the Black Knights, little seems to be potentially on the horizon in terms of tangible results. But Wolford and Clawson both know what they signed up for, and they know there will be plenty to build on down the line as Wolford and his program begin to find their footing.
"We're putting way too much on him right now," Clawson said. "We're one of the worst teams in the county right now at running the football. Because of that, we're very one-dimensional with a true freshman quarterback, and that is a tough recipe for success. You've got to find ways to run the football and become more balanced and not put so much on our young quarterback."
April, 25, 2014
4/25/14
9:00
AM ET
Wake Forest
wraps up its first spring under new coach Dave Clawson this weekend, and while plenty of questions will remain beyond the spring game, the Deacons are optimistic progress has been made. We caught up with cornerback
Kevin Johnson
to see how the spring has gone for Wake and what fans can expect Saturday.
Q. Coach Clawson has come in with a new scheme, a new culture and a new attitude. How has that gone over with the team this spring?
A.
All that stuff is coming together pretty smoothly. It's been a pretty good transition. The culture is definitely changing a lot. They're expecting a lot out of us, and we're putting in a lot of hard work. They want us to be able to play like champions on and off the field, and I think we're doing a pretty good job of that.
Defensively we're putting in new schemes, and I think it's going great. We're emphasizing flying around to the football. Coaches are doing a great job of teaching us new concepts. We're really using those concepts and really nailing them in so we can play as fast as possible.
[+] Enlarge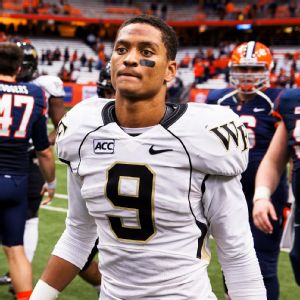 Brett Carlsen/Getty ImagesWake Forest cornerback Kevin Johnson is excited about what new Demon Deacons coach Dave Clawson is bringing to the table.
Q. Particularly for veterans like yourself, major changes like this can be tough to swallow. Has what Coach Clawson and his staff implemented provided a bit of a spark to get guys to buy in though?
A.
Oh definitely. Guys are very excited. When the new coaching staff comes in, you don't really know what to expect, but with these coaches, I think guys are really excited. I see a fire under our teammates, and there's a fire under myself, and most importantly there's a fire under these coaches. They're really hungry for success, and it's rubbing off on us as a football team. Guys are seeing that and have really bought in right now. Guys are really working.
Q. From the start of spring practice until now, where have you seen the biggest improvement?
A.
I would definitely say it's the effort. One thing that we're emphasizing is really flying out there on defense, really taking great angles to the football, getting all 11 guys running to the football. That's how big plays happen, and that's definitely something that stuck out to me early on in the practices. If we're not running to the football, we're doing up-downs. We're really implementing it, and it's paying off.
Q. Your defense lost a lot of talent up front, particularly All-ACC tackle Nikita Whitlock, but you return a good bit of veteran talent in the secondary. Are the DBs feeling like they need to step up and take a bigger role this year?
A.
As a secondary, we want to be the best in the country. That's our goal. At the same time, I have a lot of trust in the front seven. The new guys are stepping in and playing great football -- from linebackers to D-line. I also have a boatload of confidence in the coaching staff to put everyone in great position to make big plays. So I'm extremely confident in our defense. In the secondary, we're trying to push to be the best we can possibly be.
Q. Depth is a big concern all over the roster, but has there been some silver lining in that the guys out there for spring practice have been able to get a lot of reps in the new system?
A.
The more reps you get, the more you're able to pick up from the mistakes you made in previous reps. Guys are getting a lot of good action, really getting to learn what their flaws are, what they can improve on, and what they're good at. That's something that's definitely been going on this spring. Guys are able to really tune up their technique, and I look at that as a good thing.
Q. There's been some huge turnover on offense, especially at the skill positions. From your vantage point in the secondary, has anyone stood out to you on that side of the ball?
A.
I think we're having a great quarterback battle going on. Guys are making some big-time throws out there. From a receiver standpoint, we've got guys like
E.J. Scott
coming in and having a very big spring for us, catching balls, running great routes.
Matt James
-- a big receiver who can be a threat to catch the ball -- he's been having a very good spring as well. Even receivers like
Tyree Harris
,
Jonathan Williams
and
Jared Crump
-- guys are really stepping into big roles and answering that call, competing against us, giving us good looks. And we're competing against them giving them the best we can give them. Iron sharpens iron, so from a competition standpoint, we're trying to give it all we've got, and I think that's definitely paying off.
Q. As you get ready for the spring game this weekend, what can fans expect to see? What might look different to them from years past?
A.
I think the spring game is going to go smoothly, but we're running some new schemes offensively and defensively. It'll be a new look. But hopefully it's implementing that new culture we're trying to get in here, playing like a championship-level football team. I'm hoping that's something that can be our M.O. When teams watch us play, they can see we're trying to play championship-level football, doing all the little things, paying attention to the details. I'm confident that's something that will pay off for us.