August, 16, 2012
8/16/12
2:00
PM ET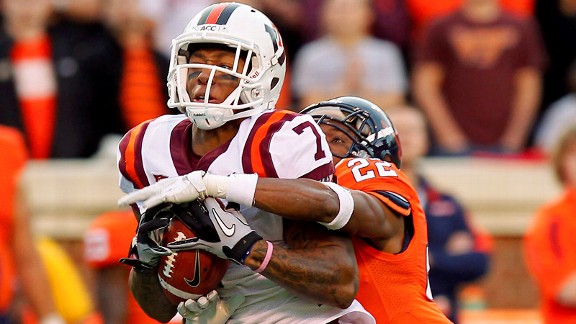 Geoff Burke/Getty ImagesReceiver Marcus Davis says his focus is on consistency in his senior season for the Hokies.
Virginia Tech receivers
Dyrell Roberts
and
Marcus Davis
know what is at stake this season. They know Danny Coale and Jarrett Boykin are gone. They know all eyes will squarely be fixed on them to step up and make their own name.
So you understand why they feel a growing sense of urgency headed into this season. Both are seniors, and understand this is their final shot to make an impact. For Roberts, that urgency has taken on greater meaning after missing parts of the last two seasons with injury.
For Davis, that urgency has taken on greater meaning knowing he has yet to live up to his full potential.
"I'm taking this as an opportunity to show not only fans but the coaches and everybody else that even though we lost those guys, there's still something here," Davis said in a recent phone interview. "There is something special we can do here."
Davis goes into the season as one of the top returning receivers, after setting career highs with 30 receptions for 510 yards and five touchdowns.
D.J. Coles
returns as well, after catching 36 passes for 480 yards and three touchdowns. But he has been slowed by a knee injury and could miss some time this season. That leaves Davis as the No. 1 target for
Logan Thomas
.
There is no question Davis has what it takes to be the go-to guy. He is big, athletic and known for making plays down the field. Last year, he averaged 17 yards per catch, tops on the team and among the best in the nation. But there have been various times throughout his career when he has lacked the motivation to get up for every single game. He has spent his offseason improving his mind-set, to be sure that he will be prepared every time the ball is snapped.
"I focused a lot on just being consistent, how I approach things, how I approach practice, how I approach the weight room," Davis said. "Some games you can't get up for, and so I changed my approach to have my focus on everything so I won't have to worry about getting myself motivated to play a game. I have to leave everything out on the field because I won't get a second chance."
Learning from Coale and Boykin helped him mature. And knowing he is the No. 1 receiver also has forced him to change his mind-set as well.
"I just have to put it together and do it now because I don't have that in the back of my mind -- if I mess up I'm going to come out," Davis said. "I know what I have to do. I think people are going to see that I can make plays not only down the field but also in the short passing game and in my blocking game."
A huge opportunity awaits Roberts as well. Last season, he only played in three games before breaking his arm on a kickoff return against Arkansas State. The year before that, his season ended when he needed surgery on his thigh. Roberts is more than eager to get onto the football field and actually play in a game because of what he had endure the last two years.
"I'm up for the challenge," Roberts said. "I talk to my coaches a lot, they tell me they think I can play a big role and things like that. I think that's every player's dream to have your role increase in the offense. I've been around for a while, I've been in a lot of big games, but it's a dream come true to know your role is going to increase this year. That gives me motivation to push myself to go even harder and get better at the little things. You can never feel you've arrived because there's always something you can get better at."
Given his increased role in the offense, you will probably be hearing more about Roberts. But there is one thing about him you may not know. He has a black dog that is mix a between a bichon frise and a poodle. Her name is Dymond, spelled that way after Roberts' first name, of course. He has had the dog for three years now, and Roberts says around the football team, "She has become a household name."
Now it is time for Roberts and Davis to become household names as well.
July, 15, 2009
7/15/09
5:01
PM ET
By
ESPN.com staff
| ESPN.com
Posted by ESPN.com's Heather Dinich
Tuesday we broke down the quarterbacks in the ACC, so let's figure out who the best targets are in the conference:
1. Miami -- No doubt this is the deepest group in the ACC, and it comes with a wide range of abilities. Seven freshmen were introduced last season, and five of them -- Travis Benjamin, LaRon Byrd, Aldarius Johnson, Thearon Collier and Davon Johnson -- scored touchdowns. Both Tommy Streeter (wrist surgery) and Kendall Thompkins (shoulder surgery) redshirted last year but should be factors this fall. Leonard Hankerson, a junior, is the veteran of the group.
2. Maryland -- The Terps had nine different scholarship wideouts show promise this spring, so replacing Darrius Heyward-Bey should be a smooth transition. Quintin McCree was the star in the spring game, but all of them have had their moments and should excel in the second season under offensive coordinator James Franklin. Torrey Smith and Ronnie Tyler should build upon last year's success, especially with a veteran quarterback throwing to them in Chris Turner.
3. Virginia Tech -- There are plenty of talented options here, but this was a young group a year ago and it's still a young group. The Hokies have something to prove on offense, and this is the year to do it. They started to turn the corner in the last two or three games of 2008 and can build on that momentum. Jarrett Boykin, Xavier Boyce, Danny Coale, Dyrell Roberts, Brandon Dillard ... depth should not be a problem. Boykin earned eight starts as a true freshman and was second with 30 receptions.
4. Boston College -- When the Eagles figure out who their quarterback is, he'll have dependable options to throw to. Rich Gunnell caught a team-high 49 passes and four touchdowns with 551 yards last year. He also returned punts and brought one back 65 yards for a score against Virginia Tech. Justin Jarvis caught 25 passes for 274 yards and three touchdowns last season and will work for the other starting job. Ifeanyi Momah will look to prove that he can be more than just a situational receiver while Clarence Megwa is working to return in the fall after suffering a devastating leg injury against Clemson last season.
5. NC State -- Jarvis Williams and Owen Spencer are ready to elevate their games as redshirt juniors, and now have one season as starters to build upon. Their chemistry with Russell Wilson should be better and they were No. 3 in the ACC in passing offense a year ago. Williams caught 26 passes for 432 yards and four touchdowns in 2008. Spencer could be a big-play threat if he cuts down on the dropped balls.
6. Clemson -- Jacoby Ford and ... Jacoby Ford. He's one of the fastest athletes in the country and will likely be the best solo receiver in the ACC, but he'll draw all of the coverage until one of his teammates becomes a legitimate concern for opposing defenses. It will be up to Xavier Dye, Marquan Jones and Terrence Ashe to help Ford out.
7. Georgia Tech -- This should be one of the more improved units on the Jackets' roster. It was very thin last year (they started a freshman walk-on at Virginia Tech), but should have better depth this season. Demaryius Thomas should be one of the best wideouts in the conference, and he'll have more help this year with the return of sophomores Tyler Melton and Luke Fisher.
8. Florida State -- It's the Noles' lone question mark on offense, but the cupboard isn't completely bare, and Christian Ponder has plenty of confidence in the players who are there. Louis Givens, Jarmon Fortson and Bert Reed. If Taiwan Easterling heals from his Achilles injury and they get their suspended players back, this group could impress.
9. Wake Forest -- The Demon Deacons have to replace D.J. Boldin, but they've got enough players that the depth and speed should actually improve overall. Chris Givens and Terence Davis, both redshirts last year, impressed the staff this spring. They'll team with Devon Brown, Marshall Williams and Jordan Williams.
10. Duke -- Zero seniors. Not a good sign for a team trying to win more than one ACC game. It's not like the cupboard is bare, though. The Blue Devils will be led by sophomores Johnny Williams and Donovan Varner, who had six catches for 116 yards in the spring game. Williams finished second on the team last year with 30 catches for 327 yards. Freshmen Conner Vernon, Corey Gattis and Tyree Watkins could all push for playing time.
11. North Carolina -- The Tar Heels took a huge hit in this department and it's obviously their biggest concern heading into summer camp. It's not like they don't have players ready and willing to start, but there's nothing that can compensate for game experience, which only Greg Little has. The next most experienced receiver is Rashad Mason, who played in the Rutgers game.
12. Virginia -- The Cavaliers lost their top four receivers from last year, and coach Al Groh didn't notice that "go-to guy" yet this past spring. Sophomore Jared Green leads the returnees with 12 catches for 144 yards a year ago. Kris Burd caught seven passes as a redshirt freshman last year, and the expectations are obviously higher now.