March, 18, 2014
Mar 18
10:30
AM ET
Syracuse opens its second spring in the ACC this week, and head coach Scott Shafer thinks there's plenty for the Orange to be excited about. We talked with Shafer about some of the key issues facing Syracuse as it gets back to the practice field.
Winning the final two games of the season the way you did, how much does that momentum and energy carry over into a new year?
A:
Any time you can finish a season with a bowl win, it gives some momentum going into the offseason. I think it affects the offseason program more than anything. The way the kids approach the strength program, conditioning, early morning workouts -- there's just a sense of excitement across the board and anticipation for the next guys in. We lost a lot of good football players that played a lot of football, and now the kids that have waited their turn are competing to see who's going to win the next opportunity. It's right out there for them and they get to jump into a situation where the momentum is coming off a high note.
[+] Enlarge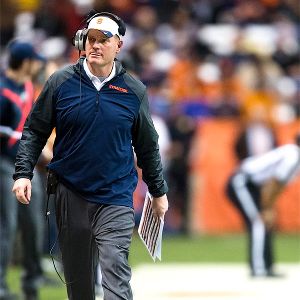 Brett Carlsen/Getty ImagesScott Shafer went 7-6, including a bowl win, in his first season in the ACC.
Terrel Hunt made such big strides down the stretch. With that experience under his belt, what can this spring mean to him?
A:
The thing with Terrel that always is the starting point is his ability to adapt. He's had to adapt in his real-life situation with a lot of tough situations, coming up with his parents passing away, that sort of thing. He's always been an extremely resilient kid. Now adding the confidence level that he's played well toward the end of the season, the kids see him as a leader, which is natural for him. I think his command can continue to really affect the team, not just the offense.
From an Xs and Os and technique point of view, it's important that he continues to grow with Coach [Tim] Lester coaching him every day, and I know he's excited to do that. I think he can have a really good spring that can catapult him into being extremely prepared for a great fall.
Offensive coordinator George McDonald has talked about upping the tempo this year as Hunt gets more comfortable. How much could that help you guys offensively?
A:
I think we finished fourth in the ACC in snaps offensively [at 73.7 per game]. We were right up there. If we can get four or five more a game, I think that would be a good goal, a good objective to try to reach. Being a former defensive guy, the tempo teams always cause you a little extra preparation. At the end of the day, it's still execution between the whistles, but if we can put four or five more plays per game to our offense, it'll help us a bunch.
That and being able to open it up a little bit with some of the wide receivers and kids we got back.
Adrian Flemming
we were excited going into the season and he got injured. He's back and ready to go. I'm excited about the progress some of the kids that haven't played yet for us offensively. Everybody knows
Brisly Estime
had a good season for us, especially the last half. But we've got some guys --
Corey Winfield
is a young guy who's had a great offseason.
Sean Avant
, I'm excited to see what he can do.
Corey Cooper
is another kid. On the outside,
Jarrod West
coming back and leading the way,
Alvin Cornelius
did some good things for us later in the season. And, of course, we're always excited to get the ball in
Ashton Broyld
's hands. So I think there's a sense of excitement for those kids to compete and be alongside with developing Terrel. The passing game scenario, we definitely have to continue to improve upon. And we have to stay strong with running the football.
You lose a big impact player in Jay Bromley. Do you think filling that hole on the defensive line is your biggest question mark this spring?
A:
Yeah, I do. Losing a guy like Jason Bromley, it's always tough to replace a guy who has played that much football.
Eric Crume
has played a ton of football for us, and he had a great offseason. I'm excited to see Eric step up to the plate. Some new names:
Marcus Coleman
hasn't played yet but we're going to put him on the field. We have a kid that we've recruited for a couple years in
Wayne Williams
that started at the midyear. He's a kid we're really excited about and now he's ready to go after he went junior college. And then
Ryan Sloan
will get a bunch of snaps this spring. It'll be definitely difficult to replace Jason, but in the same breath, I know these kids are excited for the opportunity.
Injuries were a big problem in the secondary last year, particularly at corner. But can the added experience that some of the backups got in 2013 be a bonus for you this spring?
[+] Enlarge
AP Photo/David J. PhillipTerrel Hunt has another season in the Orange's offensive system after totaling 17 TDs last season.
A:
That's a great point.
Julian Whigham
was our third corner going into the season, but he was sitting behind two guys that had started for a few years each. When
Keon [Lyn]
went down and Julian started playing more, he and
Brandon Reddish
-- Brandon was the third, Julian was a three-and-a-half type of guy -- but Julian came in and had three interceptions. I'm excited about him. Brandon Reddish is a kid that's played a lot of football and is now a senior.
Wayne Morgan
is a fast guy that we've moved around a little bit because we had depth at corner, but now we're locking him back in at corner. Those guys, it was a little bit of a difficult situation at the time, but you move to the season after the injuries and those kids have played more than we anticipated, and you have more experienced depth, which is key.
Bromley, Jerome Smith, Macky MacPherson -- you lost some important leaders on your team. Who do you see stepping up to fill that void?
A:
Only time can tell. You never want to try to force or anoint leadership. A guy like
Cam Lynch
on defense, he walks into a situation that's natural for him. He's well-versed in football and is an excellent student as well. He carries himself where he's already been a natural leader as an underclassman.
Dyshawn Davis
is an excitable player who loves the game, and he's got some qualities that are different than Cam. His sense of excitability has its own merit. We have a couple quiet leaders in
Micah Robinson
-- it's not always the guy that stands up and says things. It's a guy or a group of guys that establish themselves as guys that show the way, model the way, and other guys get on board. We have a lot of those guys. On the offensive side, Terrel is still an underclassman, but he's a natural leader. Kids follow him. And then
Sean Hickey
decided to come back and we're very happy and excited he's back. He's one of the best silent leaders you could have. He works every day. He's a perfectionist, and when you have guys doing things right consistently, sometimes those are your best leaders.
Syracuse's first ACC season was largely successful, but you're in a division with the defending national champions in Florida State, the Orange Bowl champs at Clemson and a team in Louisville that has won 23 games the past two seasons. Is that something you remind your team about as motivation this time of year, or is it something that can be intimidating?
A:
It's just one of those things that's reality. We don't talk about it much. We talk about controlling the things we can control, and that's where we start off every meeting almost. We talk about what we can do to get better. We understand the bar is high, especially on our side of the division, but that's what we signed up for. As coaches, we wanted to play in those venues with the best teams in the country. As players, you always imagine yourself playing the best. Now we get to live it. That's exciting. I can think about all my biggest victories in my career as a coach and say they wouldn't be the biggest victories if we didn't get a chance to knock down the giant. So we've got a couple giants on our side of the division, and now what we want to do is really focus in on the business at hand -- spring ball, a civil war, offense and defense getting after each other, focus on improving by trying to knock the guy down that's across from me and then pick him up as a teammate. We'll have our goals with winners and losers this spring and understand that you learn a lot when you win, you learn a lot when you lose and really embrace that mentality, and not focus on the other teams right now.
December, 27, 2013
12/27/13
10:15
PM ET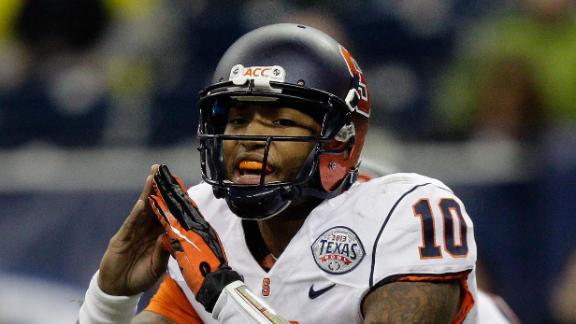 It was a little too much like last season: Minnesota leading late in the Texas Bowl. Plenty of hope. Critical breakdowns. And an eventual loss. The only difference this year was the opponent -- Syracuse.


The Gophers led 17-14 with just more than two minutes remaining in the game, after having clawed back from a 14-3 fourth-quarter deficit. But a 70-yard punt return from
Brisly Estime
set the Orange up for a touchdown and a four-point lead with just more than a minute remaining.
Minnesota wasn't able to respond, and like its previous 20 games under Jerry Kill when the Gophers trailed at halftime, Minnesota lost. Syracuse walked away with the win, 21-17.
It was over when:
Minnesota quarterback
Mitch Leidner's
Hail Mary fell incomplete out of bounds at the 1-yard line. It was just the second game this season that the redshirt freshman had attempted at least 20 passes, and his final two heaves toward the end zone both looked as though they might be good. But on the final play, Syracuse dropped most of its defense deep, ready for the prayer of a pass, and Minnesota just didn't have enough luck left to pull off the win.
Game ball goes to:
Syracuse QB
Terrel Hunt
. The sophomore put together one of his most impressive games this season, accounting for 262 yards (188 passing, 74 rushing) and two of the Orange's three touchdowns. The Minnesota defense just couldn't really find much of an answer to his dual-threat capabilities, and he looked like an even better version of the QB who led Syracuse impressively through November.
Stat of the game: 13 consecutive scoreless quarters or 195 minutes -- the streak of the Gophers being held out of the end zone.
But against Syracuse early in the fourth quarter, Minnesota ended that drought, as Leidner first found
Maxx Williams
for a 20-yard TD and then connected with
Drew Wolitarsky
for a 55-yard score.
Back-and-forth affair:
Syracuse's 7-3 halftime lead seemed solid. But when it took a two-score lead in the third quarter against a Minnesota offense that hadn't shown any signs of life, it seemed as though the game might as well be over. But the Gophers came back kicking only to eventually be kicked once more. It was a game worth watching until the end, because that's when most of the action really was worth watching.
What Syracuse learned:
This offense could really develop in the next few seasons in the ACC. With two more years in this offense, Hunt could become quite the player. His arm and feet looked reliable, and with his athleticism, he seems like he isn't close to his ceiling. On top of that, Syracuse's top three receivers -- Estime,
Ashton Broyld
and
Jarrod West
-- will all return next year.
What Minnesota learned:
The QB competition is (and should be) open at Minnesota.
Philip Nelson
has had the advantage with the more reliable arm, but Leidner stepped in and threw Minnesota's first passing touchdowns in months. Both played against Syracuse, but the offense looked the best with Leidner, and that's what Kill chose to go with when the game was on the line.
Best moment of the game:
Kill returning to the sideline for Minnesota. He came down during halftime and decided to stay for the second half. He hadn't coached from the sideline since September and since he had taken a leave from coaching to focus on his health. But it was nice to see Kill enjoying himself on the sideline again.
To watch the trophy presentation of the Texas Bowl,
click here
.
September, 11, 2013
9/11/13
12:00
PM ET
May, 7, 2013
5/07/13
6:30
AM ET
SYRACUSE ORANGE
2012 record:
8-5
2012 conference record:
5-2 Big East (tied for first)
Returning starters:
Offense: 5; Defense: 6; kicker/punter: 2

Top returners:
C
Macky MacPherson
, TE
Beckett Wales
, RB
Jerome Smith
, NT
Jay Bromley
, LB
Marquis Spruill
, LB
Dyshawn Davis
, CB
Keon Lyn
, CB
Ri'Shard Anderson
, FS
Jeremi Wilkes
, PK
Ross Krautman
, P
Jonathan Fisher
Key losses:
WR
Marcus Sales
, WR
Alec Lemon
, QB Ryan Nassib, LG Zack Chibane, LT Justin Pugh, DE
Markus Pierce-Brewster
, DE
Brandon Sharpe
, DT Deon Goggins, LB Siriki Diabete, SS Shamarko Thomas
2012 statistical leaders (*returners)
Rushing:
Smith* (1,171 yards)
Passing:
Nassib (3,749)
Receiving:
Lemon (1,070)
Tackles:
Thomas (84)
Sacks:
Sharpe (7)
Interceptions:
Lyn* (3)
Spring answers:
1. Deep stable of running backs.
Offensive coordinator George McDonald compared this group to the talent he saw while an assistant at Miami. It's a good mix of experience, with a 1,000-yard rusher in Smith and
Prince-Tyson Gulley
(617 yds), and youth, sophomores
George Morris III
,
Ashton Broyld
and
Devante McFarlane
.
2. Replacing Thomas by committee.
It will take more than one player to compensate for the loss of the first-team All-Big East safety and team's leading tackler. The good news is three starters return to the secondary, and there are plenty of options to see playing time, including juniors
Ritchy Desir
and
Durell Eskridge
at safety.
3. Familiarity on staff eased transition.
Scott Shafer was Syracuse's defensive coordinator for four years before he was promoted to head coach, and he surrounded himself with a staff that had worked together before at previous stops. Their familiarity with each other and their philosophies and personalities transferred to the players as everyone adjusted.
Fall questions:
1. Quarterbacks.
The transfer of former Oklahoma quarterback
Drew Allen
added even more competition to an already-wide open race for the top job. While some think Allen is the Answer, the position is still a question, as
Charley Loeb
,
Terrel Hunt
and
John Kinder
have more experience in the system and went through the spring in it.
2. Replacing receivers.
Cuse lost the Big East's best receiver in Alec Lemon, and veteran Macus Sales also has to be replaced. Senior
Jarrod West
(43 catches) had a good spring and leads a group of candidates including seniors Chris Clark and
Adrian Flemming
, juniors
Keenan Hale
,
Jeremiah Kobena
and Arkansas transfer
Quinta Funderburk
. "Yeah, Jarrod West had a good spring game and had a good spring," Shafer said. "He did a nice job. Then we have a handful of kids that are in a fight. It's a good fight."
3. Depth on the defensive line.
Syracuse has to replace three of its starting front four, but it is also looking for an eight-man rotation up front. Competition for those will continue this summer to see who gets the most reps.
May, 6, 2013
5/06/13
9:00
AM ET
Syracuse offensive coordinator George McDonald is in his first season with the Orange after spending the past two coaching the receivers at Miami. The former receiver at Illinois also carries the title of associate head coach, the most responsibility he has had in his coaching career. With a new coaching staff, a new quarterback and a new conference, there are plenty of questions facing Syracuse this fall, but McDonald likes what he sees after his first spring. I caught up with him recently to get his take on the Orange. Here are the highlights of our conversation:
Everyone wants to know about the quarterbacks, obviously. What was your take on that competition?
George McDonald:
I think the competition is ongoing.
Terrel Hunt
did a very good job of coming in, understanding the system and the ins and outs of what we're trying to get accomplished.
John Kinder
and
Charley Loeb
, they're still in the mix. Terrel kind of came out of the spring with a little gap, but they're all competing, just like with the other freshmen coming in this fall.
Are you allowed to talk about the other quarterback who's coming in?
GM:
I'd rather not.
Ok, I'm not trying to get you in trouble. How did your receivers look this spring?
[+] Enlarge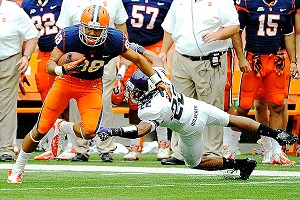 Rich Barnes/USA TODAY SportsOffensive coordinator George McDonald said Syracuse is looking for WR Jarrod West to be a key contributor in 2013.
GM:
They did good. We lost some really good receivers last year, but I think a lot of young talent,
Jeremiah Kobena
is a guy who has a lot of speed.
Jarrod West
is a returning receiver for us who had about 40 catches last year and we're looking to have a good year. And then
Adrian Flemming
, he's a rising senior, had a really good spring. I think they're all hungry, and they all came out trying to compete, trying to show they're ready to keep the wide receiver tradition alive here.
What do you guys look like up front?
GM:
Good. Those guys, we lost some guys, but
Sean Hickey
, he had a really good spring,
Rob Trudo
,
Nick Robinson
and
Ivan Foy
, those guys really did a great job of stepping into new roles, and then
Macky MacPherson
, he's kind of the glue of the whole unit. He played last year and the last couple of years. He really jelled with the unit and got those guys on the same page rather quickly. I told one reporter I talked to, if you didn't know we lost two really good linemen, and you saw a live play, you wouldn't have known the difference because they jelled so well and they worked so well together for the first time.
How much did you change scheme-wise?
GM:
Me and [former offensive coordinator] Coach [Nathaniel] Hackett, we kind of worked together at Stanford, so we kind of have the same vision. The scheme is pretty much the same. Obviously when you come in the terminology is the biggest thing the kids have to get used to. The plays and the concept of the plays and the philosophy of the offense is pretty much the same.
Are you where you hoped you guys would be after spring ball?
GM:
Actually, I think we're a little bit farther ahead than I thought we'd be, and that's based on the foundation in terms of the kids understanding how to come to meetings, and grasp the concepts and actually go out and work and not have bad days. I don't think we had one day where you walk off the field and didn't feel like you got better. I think we're a little bit ahead. Obviously we have to clean some stuff up over the summer and continue to get ready for the fall, but in terms of installation and understanding the base concepts of the offense and what we're trying to get done, from a run and pass standpoint, I'm pretty pleased with where we're at.
That's great. I don't usually hear that. From the outside looking in, you would think the questions at quarterback are a concern. Are you guys confident there?
GM:
Obviously you're always concerned when you have a first-year starter. Whoever the guy is going to be, they haven't been the guy in college football. But Terrel Hunt, he's really done a nice job over the last 15 practices of understanding the system, and obviously we have some guys coming in to add competition to it. But any coach in America who has a first-year quarterback, there's some apprehension and concern, but we have a lot of confidence in the talent we can surround the quarterback with and Coach Lester, we feel like he's a really good quarterbacks coach and he'll get those guys ready to play. I'm on the positive side. Whoever wins the starting quarterback job will be prepared to go out and lead us to success.
What are the main focuses aside from naming a starting quarterback, for this summer?
GM:
I think in the summer we just have to become better students of the game. We have to watch the tape and really evaluate -- from a coaching standpoint and a player standpoint -- just evaluate what we did and what we accomplished in the spring and just keep building on it. The guys doing seven-on-seven on their own, doing routes on their own, the linemen going through their projections and run drills, and just using the summer as a self-guided spring ball II, so when we come back for fall camp, we can pick up at practice 16 as opposed to starting over at practice 1.