May, 14, 2014
5/14/14
2:00
PM ET
The 2013 signing class has already made its mark on the ACC, from
Tyler Boyd
and
Stacy Coley
shining on offense to
Jalen Ramsey
and
Kendall Fuller
starring on defense to
Ryan Switzer
racking up All-America honors on special teams. But for most players, the transition from high school to college takes a little time, and it's not until Year 2 that they truly shine. With that in mind, we're taking a look at the best candidates for second-year stardom in the conference -- the players who didn't quite hit the big time as true freshmen, but are poised for a breakthrough in 2014.

See our previous projections
here
.
Next up: Pitt Panthers
Class recap:
Paul Chryst's first full recruiting class at Pitt was solid, if not spectacular. The Panthers reeled in the nation's No. 41 class, seventh-best in the ACC, as they brought in a pair of four-star, ESPN 300 prospects and 28 commits overall. The highlight of that class was Boyd, the four-star athlete who starred in his first year at receiver, earning freshman All-America honors as he had 85 receptions for 1,174 yards and seven touchdowns, in addition to 108 yards rushing and another TD. He also returned a punt for a touchdown in the Panthers' bowl win. Let's also not forget
James Conner
, the three-star defensive end recruit out of McDowell (Pa.) High, who ended up leading the Panthers with 799 rushing yards and eight touchdowns.
[+] Enlarge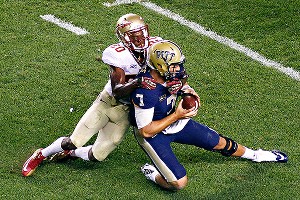 Justin K. Aller/Getty ImagesPitt surrendered 3.31 sacks per game in 2013, a problem that must be addressed.
Second-year star:
OT
Jaryd Jones-Smith
(6-foot-7, 295 pounds)
Recruiting stock:
Jones-Smith was a three-star prospect out of West Philadelphia Catholic High, and ESPN's No. 91 offensive tackle prospect for the Class of 2013. He was Pitt's 13th-best recruit from the 2013 class. Jones-Smith was selected to both the Chesapeake Bowl and the Big 33 Football Classic, a pair of senior all-star games featuring the top prospects from Pennsylvania and other nearby states.
2013 in review:
Jones-Smith redshirted during his first year with the Panthers.
2014 potential:
Jones-Smith completed his first spring at Pitt, and he impressed many around the program as he continued his growth. With redshirt sophomore left tackle
Adam Bisnowaty
limited following his November back injury, Jones-Smith received the majority of the reps in his place and displayed a rare blend of size and athleticism that could give him a shot to earn some playing time when Bisnowaty returns. The question is, where? The Panthers struggled immensely up front last season, allowing 3.31 sacks per game, but they do return four of five starters, with left guard being the lone exception. Chryst said his job is to get the best players on the field, and that Jones-Smith is in the mix.
Also watch for:
If Pitt's offensive line improves, the backfield will benefit. That could mean good things for
Rachid Ibrahim
, a three-star recruit from The Avalon School (Md.) who rushed for 136 yards last season, adding nine catches for 88 yards and a touchdown. The receiving corps is also looking for answers behind Boyd, so three-star South Fayette (Pa.) High receiver
Zach Challingsworth
or three-star Madison (Wis.) Memorial High receiver
Jester Weah
could benefit. Both players redshirted last season.
April, 15, 2014
4/15/14
9:00
AM ET
Pitt
will have its final spring practice today, and I spoke recently with offensive coordinator Joe Rudolph about the progress the Panthers have made. Here are the highlights of our conversation:
We've talked a lot about your quarterback this spring, Chad Voytik, how has the rest of the offense looked?
[+] Enlarge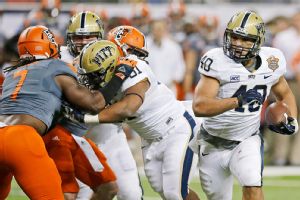 AP Photo/Carlos OsorioCoordinator Joe Rudolph says the Pitt offensive line made significant strides in spring.
Joe Rudolph:
It's coming, truly coming. I think it's a group that loves to work, and they love to work together. I've really enjoyed their approach to the spring, and I love how they've interacted and competed. There's a way you can compete where you're not giving anything up – you are going after it – but you also respect that person across from you, and I think this group does. We have to do a good job coaching, and player-wise they have to do a great job absorbing the details and information that will allow them to play a little bit more aware, with a little bit more seasoning than the number of starts or years in the program represent. I do, I like them. I think it's coming. The group is coming along.
How much better has the pass protection looked?
JR:
I think a lot better. There are some guys who have truly settled in the position.
T.J. Clemmings
stands out the most as really settling into a position and taking ownership of it. I really see a maturing in him, which is nice. He's over there next to
Matt Rotheram
, and that brings some great stability. I see
Artie [Rowell]
getting more confident, not only making the calls and those types of things, but in his technique at center. I think at times you get into it, you do a lot of great things all through practice and the minute you get into a game you get a hair hesitant. When you do that, you're not playing fast. You're not playing at your best. This group is ready to do that and have that little bit more confidence you need to let it go. They're getting there. The left side is young.
Adam Bisnowaty
has been limited, hasn't been able to do a lot of team stuff, we've got
Jaryd Jones-Smith
and
Dorian Johnson
have been battling over there. There are some things that show their heads from an understanding at times, but we also see some things ability-wise where you say, 'Wow.' So we're plugging at it.
I would think you have to be encouraged by the depth and experience that's returning this year at running back:
JR:
Yeah, the kids just work. Last year they worked their tails off. We asked them to jump into it, trust us and play with confidence.
Isaac [Bennett]
was the one guy who had experience, and I thought he did a great job for us, just steadying the whole group and being the bell cow when we needed him to and understanding protections.
James [Conner]
had his moments when he really stepped into the spotlight. His confidence level has increased and we're still hammering him on getting that complete understanding. They've been a blast.
Rachid [Ibrahim]
did some wonderful things for us last year and really saved us in a lot of areas and helped us because we were confident in his knowledge of protections and the run game and for a young guy to really have a grasp of all of it, you don't see that too often. He's doing a really good job this spring again and we've got a nice group coming in, so we're excited.
What's the next step for Tyler Boyd?
JR:
I think Tyler, the fun thing about Tyler is he loves to compete and he loves to be coached. He wants to know how he can get better. When you've got that approach, boy you love it. I'm sure there's a lot of details, whether it's finding the right blocks and the right fits in the run game to being consistent on all of his routes and route adjustments, and recognition of coverages, so I think there's a lot of room for growth, but in that, the ability to keep playing fast and making plays as you have.
March, 26, 2014
3/26/14
4:00
PM ET
Pitt coach Paul Chryst didn't try to sugarcoat it.
The Panthers' offensive line, which ranked No. 118 in the country last year with 3.31 sacks allowed per game, has little choice but to improve quickly if Pitt is going to take another step forward this fall in the Coastal Division race.
"I think we have a chance to" be better, Chryst said, "I really do. I think we can be better and flat-out need to be better. We have to make that come to fruition."
While it remains a work in progress this spring, those within the program are optimistic that four returning starters can give the group a boost and help take some of the pressure off first-year starting quarterback
Chad Voytik
, who is more of a scrambler than his predecessor,
Tom Savage
. Senior guard
Matt Rotheram
is the seasoned veteran with 27 career starts, and the Panthers also welcome back both starting tackles: senior
T.J. Clemmings
and redshirt sophomore
Adam Bisnowaty
. Center
Artie Rowell
started every game last season and earned praise for his performance in the bowl victory over Bowling Green.
[+] Enlarge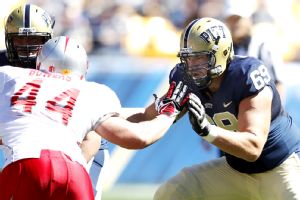 Charles LeClaire/USA TODAY SportsAdam Bisnowaty should help solidify the left side of Pitt's offensive line when he returns from a back injury.
"Every spring we come in, we look at last year's tape and say, 'Here's where we were; here's where we want to go,'" Rotheram told reporters after Tuesday's practice. "You want to build off of every single year. It does give us a chip on our shoulder. We want to be better."
Clemmings started all 13 games at right tackle last year, and it was his first full season on the offensive line after making the move from defensive end. Pitt is also eagerly awaiting the return of Bisnowaty, whose promising debut last year was derailed by a November back injury. He made eight starts as a redshirt freshman, but has still been sidelined this spring and is going through rehabilitation.
"He's making progress and feeling a little more confident about everything," Chryst said. "He's slowly building to that level of work and so far, knock on wood, there have been no setbacks. So it's good, but it's a process."
It's also an opportunity to build some depth.
Jaryd Jones-Smith
, who redshirted last year, has been getting more meaningful reps at left tackle this spring.
"I think like any young tackle, he's doing some good things and he's working," Chryst said. "He certainly has some things he has to keep working on and cleaning up. It's his first spring and it's early, but I like what he's doing. Offensive linemen have to be flexible, and our job is to try and get the best five on the field, and he's certainly in that mix. He's done good work in the weight room, he's staying on top of the installation, and I don't see him getting stuck mentally. He's done a pretty good job with the things he can control."
Pitt offensive line coach Jim Hueber said he has noticed a difference this spring in the maturity on the right side of the line, but the youth is still showing on the left side. That should start to improve with the eventual return of Bisnowaty.
"I need to really work the left-side guys along so we're not spending our time going back to correct things that should be easily done," Hueber said. "The only way we can do that is to see it at practice and make them do it right, but we need to get just a little bit mature and handle everything on that side a little bit easier."
So far, not much has come easily for Pitt's offensive line. Having some experience up front this fall, though, is reason enough for the Panthers to believe it can.