May, 5, 2014
May 5
2:00
PM ET
Russell A. Griffin in Sea Girt, N.J.,
sent this note into the mailbag: Hi, Andrea. In 2012, when FSU lost so many to the NFL draft, sports analysts we're saying that 2013 would be the year FSU would step back a bit and that 2014 would be its year. Clemson was the team to beat in 2013. I realize no one would have thought about how good
Jameis [Winston]
was going to be. The analysts said 2014 would be FSU's year to step up. With all that in mind, well, it's 2014. If last year was the year to step back, imagine what this year should be like. Granted, 2014 is going to be tougher since the schedule is tougher. I know, it is always harder to repeat. I will be at the games against Oklahoma State and later at Louisville. Go Noles.
Griffin brings up a terrific point. Last season was supposed to be a rebuilding year, but Florida State blew the doors off that notion. Are the Seminoles going to go unbeaten again? ACC reporter Andrea Adelson and Florida State reporter Jared Shanker debate the odds.
AA gives Florida State a 25 percent chance of going undefeated.

Florida State is good enough to go undefeated. But being good enough to win all your games
and
actually winning all your games are two different matters entirely (see: Crimson Tide, Alabama). There are a few reasons why I think the Seminoles won't run the table.
First, strength of schedule. Florida State trades in Nevada and Idaho (combined 5-19 last season) for Oklahoma State and Notre Dame (combined 19-7 a year ago). Not to mention trading Atlantic Division teams Maryland (7-6) for Louisville (12-1). Not only are the teams better, but there will be a cumulative effect of playing much tougher competition.
With the exception of the BC game, Florida State never had reason to play its starters for a full game during the regular season last fall. But that is not going to be the case in 2014. More playing time means more wear and tear on the starters, and more wear and tear on the starters means you need to rely on your backups to play many more meaningful minutes.
This leads to my second point. Florida State lacks depth on its offensive and defensive lines, and that could be a problem. The biggest concern should rest with the defensive front, where the Seminoles lost a ton of talent early to the NFL and was therefore low on players in the spring. Depth is vital, most especially late in games, when the big guys up front start to get gassed. What happens against high-tempo teams such as Oklahoma State and Louisville if the depth is lacking and the game is on the line?
Finally, what will Winston do for an encore with the spotlight shining even brighter than last season? Florida State needs a much more mature, much more focused Winston in 2014. He doesn't have a
Kelvin Benjamin
to bail him out in the end zone. He has no 1,000-yard back returning. There are terrific players around him, and Winston has to learn how to trust them all from the outset while the media dissects every move he makes.
We saw what a focused Winston can do under that glare of the end of the BCS national championship game. But we also saw what do-it-all-myself Winston can do under that glare in the first three quarters of that game, too.
I still believe Florida State has as good a shot as any team in America to make the College Football Playoff. I just don't think the Seminoles make it there unscathed.
Jared Shanker gives Florida State a 35 percent chance of going undefeated.
Florida State is looking to become the first team in college football history to go 15-0 and to win the inaugural College Football Playoff. The good news for the Seminoles is, unlike in previous seasons, going undefeated is not required to win the 2014 national championship.
The Noles, as a potentially unanimous preseason No. 1, will have the most leeway when it comes to suffering a loss and still being in the discussion for one of the four playoff seeds. Looking at the 2014 schedule, its roster and trying to account for the multitude of unknowns every season presents, it is hard to see Florida State going through another season undefeated.
As AA pointed out first, the schedule is tougher this fall. While Oklahoma State is rebuilding, coach Mike Gundy has that program in good enough shape that an upset of the defending champions in Week 1 would not be a total shock. The Fighting Irish are on the schedule, and whether it is
Everett Golson
or
Malik Zaire
taking snaps, both look capable of leading an offense and the Irish into a playoff berth. Bobby Petrino is tearing Louisville down and rebuilding it in his own image, but any Thursday night road game presents unique challenges.
Injuries are also the great unknown for every team, and Florida State remained relatively healthy throughout the 2013 season. Winston avoided significant injury last season, and with arguably the country's best starting offensive line in front of him, he again could go the entire season without any major bumps. However, the nature of the position often leaves quarterbacks vulnerable, and there is no telling how FSU would fare if it is without Winston for any amount of time.
Even a healthy Winston could see a decline in production this fall with new faces throughout his receiver corps.
Rashad Greene
returns, but no longer is Benjamin or
Kenny Shaw
around to redirect double teams. The revamped unit showed some flashes during the spring game, but there is reason to worry about whether the receivers will step up in the fall. Several talented freshmen enter the fold this summer, and while freshmen across the country are making earlier impacts than ever before, it is still premature to expect
Ermon Lane
,
Ja'Von Harrison
or
Travis Rudolph
to replicate Benjamin's or Shaw's numbers immediately.
What Florida State does have is as much talent as just about any team in the country. Only Alabama has recruited better the past few years, and the Noles are loaded with talent from top to bottom. However, a decent portion of that talent is inexperienced. Certainly those new faces could exceed their predecessors' production, but it will not happen overnight. Defensively, breaking in coordinator Charles Kelly could add to the early-season learning curve as that side of the ball adjusts to a handful of new starters and is without vocal leaders
Timmy Jernigan
,
Lamarcus Joyner
and
Telvin Smith
.
The odds of going undefeated being at 35 percent are still the highest in the country potentially, but that is not where I would put my money if I was a betting man. I'm much more inclined to believe Florida State enters the playoff as a one-loss team.
April, 29, 2014
Apr 29
9:30
AM ET
Three things we learned in the spring about the Florida State Seminoles:
1. Jalen Ramsey is a star in the making.
Last season, Ramsey was overshadowed on his own defense with the likes of
Timmy Jernigan
,
Lamarcus Joyner
and
Telvin Smith
demanding the headlines, but Ramsey was only a freshman. As a sophomore, several players point to Ramsey as being the defense's leader, and he could be the best player on a defense that could have a half-dozen first-round picks in the next few seasons. He will move around to several positions in the secondary this fall.
2. Florida State's secondary might be the best in the country.
While FSU's talent in the defensive backfield begins with Ramsey it certainly does not end there.
P.J. Williams
was dominant in the spring game against No. 1 receiver
Rashad Greene
and is an elite college corner. Opposite him are Ramsey and
Ronald Darby
, who missed the entire spring. All three could be first-round picks.
Nate Andrew
is a up-and-coming star and also just a sophomore, and
Tyler Hunter
returns after a neck injury in 2013.
3. Sean Maguire is a capable backup for the Noles.
The disclaimer certainly is that it came against the No. 2 defense in the spring game, but Maguire showed the type of tools to be an efficient quarterback should he be called upon this fall. As the unquestioned No. 2 quarterback for the first time in his college career, Maguire said he made his biggest strides to date this spring.
Three questions for the fall:
1. Will the wide receivers step up?
Coach Jimbo Fisher is not leaving spring practice with a great feeling about his receivers. He expressed his frustration in the unit on multiple occasions, and the receivers struggled in the spring game.
Kelvin Benjamin
and
Kenny Shaw
are off to the NFL, and Greene will need some help from the younger receivers. Elite high school talents
Ermon Lane
,
Travis Rudolph
and
Ja'Von Harrison
will enroll in the summer.
2. Can the running backs stay on the field?
It was a similar feeling last spring for Fisher as he did not have any healthy running backs for the Garnet and Gold game in 2013 either.
Karlos Williams
was held for precautionary reasons, but backups
Dalvin Cook
,
Ryan Green
and
Mario Pender
all suffered injuries. Cook and Green are out until fall camp with shoulder injuries, and Pender missed his first two seasons with injury and academic issues.
3. What will the linebacker rotation look like?
It will be very interesting to see how new defensive coordinator Charles Kelly pairs his linebackers with a fairly inexperienced group.
Terrance Smith
is a given as a starter, but who will flank him?
Matthew Thomas
might be too good to keep off the field, which could leave one remaining spot for a very talented unit.
One way-too-early prediction:
The Noles were an offensive juggernaut in 2013, but the offense will sputter some against quality defenses. The issue at receiver is one that will not be settled in the near future, and it could cost Florida State a game.
February, 7, 2014
Feb 7
10:30
AM ET
It was an off-hand comment from Jimbo Fisher on national signing day that first drew the attention of Florida State fans, but
Jameis Winston
added validity to the notion
on Thursday, saying he planned to play two more years in Tallahassee before heading to the NFL.
The plan comes as a surprise to many outsiders, given Winston's status as a likely first round pick in the 2015 draft -- and, perhaps, the first selection overall. But for Winston, it's not entirely unreasonable.
[+] Enlarge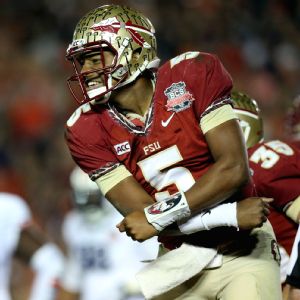 Stephen Dunn/Getty ImagesIf Jameis Winston sticks to his plan to play two more years at FSU, the ramification could be far-reaching.
The Heisman Trophy winner doesn't mind going against conventional wisdom, with his return to the baseball team this spring providing the perfect context. Since his recruitment, Winston has insisted he wants to be a two-sport star, playing both football and baseball professionally before his career is over. That's part of what brought him to Florida State in the first place. After his exceptional 2013 football season, it seemed reasonable he'd shift his focus entirely toward football and avoid the risk of injury on the baseball field. For Winston, however, that was never a consideration.
Winston will take a similar approach toward his decision regarding the NFL draft. Baseball remains a priority for him, and if staying through the 2015 football season allows him to continue to develop on the diamond, it's entirely possible he'll stick around. And for now, that appears to be the plan.
But what would it mean for FSU to have Winston in garnet and gold for an extra year? A few key points to keep in mind:
The depth chart
If Winston planned to leave for the NFL as soon as he's eligible, that would've meant a chance for
Jacob Coker
to start for Florida State in 2015, but clearly that possibility wasn't enough to keep him in Tallahassee. Coker plans to transfer to Alabama at the end of this semester, and given Winston's plans to stick around for two more years, Fisher understood Coker's rationale.
"He wants to graduate and he wants to play. He's got two years left and he's a year behind Jameis. Could he battle again? Yes. But I understand," Fisher said. "I'm very supportive of it. I think the guy is a good player. I think he's going to be a good quarterback and we had a great conversation about it."
Should Winston stay, it also makes FSU's one-quarterback haul on signing day a little easier to tolerate.
Treon Harris
, a longtime FSU commit, flipped to Florida on Wednesday, leaving
J.J. Cosentino
as Florida State's lone QB signing. That might be a concern if Winston departs following the 2014 season, but another year for the Heisman winner allows FSU to pad its QB depth with next year's recruiting class, too.
While
Sean Maguire
likely will be the No. 2 for Florida State in 2014 and 2015, Cosentino also gets an extra year to develop his skills, too, and Fisher said the QB from Western Pennsylvania has ample upside when his time finally arrives.
The recruiting buzz
Winston's plans to stay through 2015 actually might have hurt Florida State's hopes of inking two quarterbacks in this year's signing class, but just the notion that the star QB will be in Tallahassee for two more seasons is certainly a big selling point for other offensive talent.
FSU already inked three top receivers this year in
Ermon Lane
,
Travis Rudolph
and
Ja'Von Harrison
, along with highly touted running back
Dalvin Cook
. The opportunity to spend two years playing with Winston was certainly alluring.
But even the notion that Winston might be back for 2015 provides Fisher with another selling point on the recruiting trail this coming year. If Class of 2015 recruits believe he'll be around for their freshman season, it's one more reason to think FSU is a great landing spot.
"I also think getting them here and getting them to play with him is tremendous, especially when we have a need at that position," Fisher said of his wide receiver recruiting. "Those guys have a chance to make an impact and be able to play with him."
The 2015 season
Winston's return for his redshirt junior campaign would mean a lot to a Florida State offense that figures to endure a massive overhaul in 2015. Of the 10 other projected offensive starters this season, as many as nine figure to be gone in 2015, including the entirety of the offensive line.
That's perhaps a reason for Winston to reconsider his plan moving forward. While his talent and football acumen certainly won't diminish with an extra year in college, the risk of injury is a real concern, and with five new starters on the offensive line in 2015, the potential for an injury diminishing his draft stock becomes all the more likely.
But if Winston does come back in 2015, it allows for some stability for an offense that will be saying goodbye to
Rashad Greene
,
Nick O'Leary
and
Karlos Williams
, among others.
The reality
The problem with all this supposition about Winston's future is that he's still 11 months away from having to commit to any definitive decision, and a lot can happen in that time. While Winston might be completely sincere in his plan to stay through 2015 now, the lure of first round money in the NFL and the risk of spending another year playing two sports in college could certainly change his mind. If he does, FSU is still in good shape with Maguire and Cosentino. If he doesn't, the Seminoles fans get an extra year with a once-in-a-lifetime player.
At this point, there's no reason for Winston to offer any possibility other than his stated commitment to remain at Florida State. But what Winston and Fisher believe today doesn't matter all that much. If his plans haven't changed by January 2015, however, it's an enormous boon for Florida State.
February, 5, 2014
Feb 5
8:51
PM ET
Signing day is known for the crazy. Condense an entire college football season into 12 hours and that offers a glimpse -- albeit minimally -- into the first Wednesday of February.
It began with ESPN 300 defensive lineman
Malik McDowell
(Southfield, Mich./Southfield), arms folded and chest out, announcing his intention to sign with Michigan State. His
intention
to sign. A glare from his parents and whispers in the gym let it be known this saga was not going to end at 10 a.m. in front of a microphone.
Both of McDowell's parents would like to see their son, No. 60 in the ESPN 300, at any school in his top four not nicknamed the Spartans. Florida State is among those finalists, and several predicted the Seminoles would land McDowell considering his parents' distaste for all things Green. So Jimbo Fisher and those inside Doak Campbell are keeping the fax machine plugged in, offering a few more hours' respite from the storage closet for the condemned technology.
Ultimately, McDowell, whether of his own volition or executing his parents' will, did not fax a letter of intent to Michigan State as of 8:00 p.m. ET, and the Noles finished signing day with the No. 3 class sans another elite lineman.
Compared to the McDowell drama, the rest of the morning was tame for the ACC. There were some tense moments, but signing day pretty much went the way most expected.
[+] Enlarge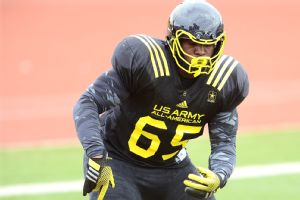 John Albright/Icon SMIGetting ESPN 300 DE Derrick Nnandi on Wednesday helped make national signing day successful for Florida State.
No team had more of an opportunity to close strong than the Noles, and Fisher did a fine job closing. It was unrealistic to expect Florida State to land every recruit on the board, five-star
Lorenzo Carter
(signed with Georgia) and No. 1 receiver
Malachi Dupre
(LSU) among them. However, into the fold for Florida State was ESPN 300 linemen
Derrick Nnadi
(Virginia Beach, Va./Ocean Lakes),
Roderick Johnson
(Florissant, Mo./Hazelwood Central) and
Derrick Kelly
Jr. (Quincy, Fla./East Gadsden), who was poised to sign with Florida but gave his commitment at the 11th hour.
Florida State was involved with a handful of signing day flips, but none that caught the Noles' staff off-guard. No. 7 dual-threat quarterback
Treon Harris
(Miami/Booker T. Washington) switched to Florida and
Dexter Wideman
(Saluda, S.C./Saluda) signed with South Carolina, but the Noles flipped
Ja'Von Harrison
(Lakeland, Fla./Kathleen), No. 117 in the ESPN 300. Harrison was committed to Virginia Tech for 18 months before his signing day change of heart. Harrison, ranked as an athlete, finalized what could be the best receiver class in the country. It was one of the best classes nationally, too.
"We've had large numbers this year, got needs all the way across the board and filled it with great players and everyone position across the board we had somebody in," Jimbo Fisher said at his signing day news conference. "We were excited about that."
Miami's flipping efforts went for naught, but it prevented one of its own from changing allegiances. Local defensive end
Chad Thomas
(Miami/Booker T. Washington), ranked No. 3 among Hurricanes commits, took late official visits to Alabama and Florida State. There was some panic from fans when Thomas' fax did not roll through exactly at 9 a.m., but Canes coach Al Golden said Thomas' mother reassured him the 65th-ranked player in the country would stay near South Beach.
Clemson coach Dabo Swinney would scoff at the claim FSU has the best receiver class. The Noles received the signing day pats on the back for landing No. 2 receiver
Ermon Lane
(Homestead, Fla./Homestead) and Harrison on Wednesday while the Tigers had three four-star receivers already on campus. ESPN 300 receivers
Demarre Kitt
(Tyrone, Ga./Sandy Creek),
Artavis Scott
(Tarpon Springs, Fla./East Lake) and four-star
Kyrin Priester
(Snellville, Ga./Fork Union) enrolled in early January. ESPN 300 receiver
Trevion Thompson
(Durham, N.C./Hillside) signed Wednesday.
"It was a critical need for us ... and we are excited about all four," Swinney said at his signing day news conference.
Mike London had a quiet signing day in his Charlottesville office, but that is all he could have hoped for following a winless ACC campaign. The Virginia coach did most of his 2014 recruiting work before the 2013 season, and he was able to secure the signatures of five-star
Quin Blanding
(Virginia Beach, Va./Bayside) and ESPN 300 recruits
Jeff Farrar
(Upland, Calif./Upland),
Jamil Kamara
(Virginia Beach, Va./Bishop Sullivan) and
Steven Moss
(Fredericksburg, Va./Chancellor High).
"Obviously keeping the class was important when the season didn't turn out the way we wanted it to ... but the in-state kids wanted to play together and build a brand together," London said on the ESPNU signing day telecast.
While the day was quiet for Duke, it was still most the shocking signing day Durham has ever seen. The Blue Devils, coming off a 10-win season and an ACC title game, signed its first ESPN 300 recruit and four four-star recruits overall. Between 2010 and 2013, Duke signed only one four-star prospect -- a kicker.
While the ACC did not touch the SEC in the number of teams toward the top of the class rankings, for the most part the conference as a whole improved, and Florida State went a long way in challenging Alabama to become college football's next dynasty.
February, 4, 2014
Feb 4
10:30
AM ET

It is becoming a bit cliché, but the saying holds true every year on the first Wednesday of February: Expect the unexpected on signing day.

With the direction signing day and recruiting have been going, a prospect simply signing his letter of intent to the college he has been committed to for months qualifies as a mild surprise.

Here are five bold predictions for ACC signing day.


February, 3, 2014
Feb 3
10:30
AM ET
With prospects making commitments earlier than ever, naturally there are second thoughts before signing day. That leads to a number of recruits decommitting and flipping to another school.
Here is a look at five of the biggest flips in the ACC in the 2014 recruiting class.
To continue reading this article you must be an Insider
January, 29, 2014
Jan 29
2:00
PM ET
National signing day is one week away, so this is the time of the year when schools hope to be trending up in the
class rankings
. As the final elite uncommitted prospects wrestle with decisions, another highly-rated recruit picking a particular school could influence others to do the same.

Momentum works both ways, and any bad news could snowball in the final few hours.
To continue reading this article you must be an Insider
January, 22, 2014
Jan 22
2:00
PM ET

NC State coach Dave Doeren told ESPN colleague Jeremy Crabtree that the Wolfpack would finish the 2014 recruiting cycle strong despite a winless ACC campaign. Raise your hand if you believed him.
NC State was one of the few risers in the updated
class rankings
this week. A look at the Wolfpack's rise and other trends across the ACC:
To continue reading this article you must be an Insider
October, 9, 2013
10/09/13
2:00
PM ET
Each Wednesday, ESPN RecruitingNation updates its
national class rankings
. For an in-depth look at the ACC, check out our conference rankings:

1. Florida State, 24 commits:
The Seminoles have the top class in the ACC and the No. 2 class nationally. The class includes 10 ESPN300 prospects, including a trio of linebackers Kain Duab (Jackonsville, Fla./Sandalwood High),
Jacob Pugh
(Tallahassee, Fla./Godby High) and
Delvin Purifoy
(Pensacola, Fla./Pensacola Catholic High). The Semionles could close with a bang with up to 31 or 32 possible in the class. No. 6 Adoree' Jackson (Gardena, Calif./Junipero Serra High), No. 13
Tony Brown
(Beaumont, Texas/Ozen High), No. 22
Damian Prince
(Forestville, Md./Bishop McNamara High), No. 28 and Florida commit
Ermon Lane
(Homestead, Fla./Homestead High) and a number of others make up the wish list.
To continue reading this article you must be an Insider