July, 9, 2014
Jul 9
12:15
PM ET
The way athletes begin working out at such a young age and the advances in sports training and nutrition, football players each year seem to be more physically gifted and impressive than ever before.
Some like to call them physical "freaks," in a positive way. They're uniquely talented and possess an athleticism that is rare among their peers.
This week, Bruce Feldman of FoxSports.com has offered his
list of college football's freaks
, and several ACC players made the cut. While the ACC is on the wrong end of a lot of jokes, the conference has produced a large number of NFL draft picks and regularly is behind only the SEC in picks annually. With the talent bases in ACC recruiting hotbeds Florida, Georgia and throughout the South, conference schools have some of the country's most athletic players in their own backyard.
With the genesis of GPS training, which our David Hale reported on last month, programs such as Florida State are now taking those elite physical athletes and helping them reach the next level. It's no longer about just lifting weights and running sprints; it is a science.
The ACC names to make Feldman's list:
Louisville WR DeVante Parker:
Potentially the No. 1 receiver among 2015 NFL draft boards, Parker stands 6-foot-3 and Feldman lists a wingspan of 80 inches, which means few cornerbacks can compete with him on jump balls. Parker might not be a national name just yet, but under the tutelage of Bobby Petrino, Parker could put up freakish numbers to go along with that athleticism.
Georgia Tech RB Broderick Snoddy:
Snoddy has run the 100-meter dash in 10.28 seconds and is a prep sprint champion. The Yellow Jackets are going to need that speed to translate to the field, and that could happen this fall as Snoddy figures to see more carries and has the potential to break a long run any time he touches the ball with his elite set of wheels. His school
bio
states he is only "likely" the team's fastest player, but it's probably a safe bet to give him that full distinction.
Syracuse OT Sean Hickey:
If you need any explanation as to why I will point you in the direction of Andrea's piece on
Hickey's intense training
.
Florida State CBs Ronald Darby and P.J. Williams:
It's funny because on Twitter recently I was asked about who is better between Darby and Williams. I didn't answer then and I won't answer now, other than to say those two are projected to be among the first two cornerbacks taken in next year's draft. The two lock down receivers, and they locked down the freak distinction at cornerback.
Miami CB Artie Burns:
He is an elite sprinter and is hoping to qualify for the 2016 Olympics. He holds several prep sprinting records. On the football field, Burns was a solid returner and cornerback as a freshman and was a top 10 cornerback coming out of high school.
Here are a few other links to help you through the day:
July, 8, 2014
Jul 8
2:20
PM ET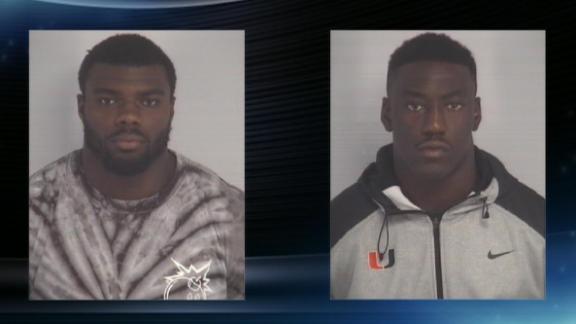 Miami linebackers Alex Figueroa and JaWand Blue were
dismissed from the team
Tuesday following their arrest on sexual battery charges.
Both players are accused of having sex with a "physically helpless" 17-year-old girl. According to the
police report
, both admitted to performing sexual acts on the victim without her consent.
Here are the statements issued from Miami officials:
School president Donna E. Shalala:
"The safety and welfare of our students is fundamental to our mission as a university. We have zero tolerance for sexual assault and gender-based violence. There is no confusion about our responsibility as a university: We will fully and compassionately support the victim of sexual assault. I have spoken to her myself and reassured her of our full support. We have suspended the men involved, and they have been barred from campus. Our athletic director has taken firm action ending their involvement in the football program. We have notified the individuals involved that the university is beginning an investigation immediately, which we expect to conclude quickly and fairly. We will also continue to cooperate with the police in their ongoing criminal investigation."
Athletic director Blake James:
"Earlier today, I permanently dismissed JaWand Blue and Alexander Figueroa from the UM football team. The University has also suspended the students from school and barred them from all campus facilities while the University conducts an internal investigation and continues to cooperate with local law enforcement. Any allegation of a sexual assault is extremely serious, and the University will not tolerate conduct that threatens the sanctity and safety of our students and our campus. We hold all of our students – especially student athletes – to the highest standards of moral conduct. The University is committed to maintaining a safe campus environment for all."
April, 29, 2014
Apr 29
8:00
AM ET
Three things we learned in the spring about the Miami Hurricanes:

1. Dallas Crawford will help on D.
Miami surprised many when it decided to move Crawford from running back to safety. But the switch should end up benefiting both the Canes' D and Crawford in the long-term. Initially recruited to play safety, Crawford made himself at home in the defensive backfield and impressed coaches. He was named most improved player on defense for the spring.
2. Bulked-up Duke Johnson.
While Johnson was held out of contact drills as he rehabbed a broken ankle, he did participate on a limited basis this spring. But bigger than that was the way he transformed his body. Johnson put on 10 pounds and is now up to 205. The hope is that more weight translates into better durability. Miami will need to rely on him more than ever in 2014.
3. Depth at linebacker.
Coach Al Golden said one of the biggest accomplishments his team made this spring was building depth at linebacker. Miami hopes to count on all-ACC performer
Denzel Perryman
(now in the middle), along with
Alex Figueroa
,
Raphael Kirby
,
Thurston Armbrister
,
Jermaine Grace
,
JaWand Blue
and early enrollee freshmen
Juwon Young
and
Darrion Owens
.
Three questions for the fall:
1. Who will cut it at QB?
Miami caught a tough break when projected starting quarterback
Ryan Williams
tore his ACL during a scrimmage and underwent surgery. Though there is some hope Williams could return before the season ends, Miami has to prepare
Kevin Olsen
and
Gray Crow
for the starting job. Olsen, the favorite to win the starting job, did not impress in the spring game. Neither did Crow.
2. Improvement on D?
Coaches insisted this spring that they saw a better, more cohesive defensive unit, one in which leaders emerged in Perryman and
Tracy Howard
, among others. Will the progress coaches saw in the spring translate into more consistent performances during the season? Chief on the list of improvements is a better four-man rush and improving on third downs.
3. Pass rush.
Speaking of pass rush, Miami was pleased with what it saw out of hybrid rush ends
Al-Quadin Muhammad
and
Tyriq McCord
this spring. Their emergence will be a huge key toward improving the Hurricanes' pass rush.
Ufomba Kamalu
and
Jelani Hamilton
also started playing better as the spring went on, so Miami feels better about its depth across the line headed into the fall.
One way-too-early prediction:
Miami will take a step back this year. The Hurricanes go into the season with question marks at quarterback and continued questions on defense. Couple that with a difficult schedule -- featuring perhaps the most difficult crossover games in the ACC against Florida State, Louisville – and it will be tough for the Canes to match their nine-win total from last season.
August, 13, 2012
8/13/12
10:00
AM ET
By
ESPN.com staff
| ESPN.com
Not every school in the ACC gives scrimmage reports, but for those that do, I'll gladly post the highlights. Here's a look back at what happened in the ACC this weekend, according to each school's report:

BOSTON COLLEGE
Offensive highlights:
Quarterback
Chase Rettig
completed 6 of 10 passes for 51 yards and a touchdown -- a 15-yard pass to running back
Rolandan Finch
, who also had eight carries for 37 yards. Freshman
Harrison Jackson
led the receivers with five receptions for 50 yards.
Defensive highlights:
Defensive end
Brian Mihalik
had two tackles for a loss of 10 yards, including a sack. Senior captain
Jim Noel
had the lone interception.
Special-teams highlights:
Kicker
Nate Freese
made all three of his field-goal attempts -- 30, 35 and 25 yards.
Quotable:
"It was a good start, good first series and then it tailed off," coach Frank Spaziani said. "We got soft and had some execution issues, but in general the scrimmage gives us a good idea where we're at right and we'll look to improve for the next one."

CLEMSON
Offensive highlights:
Sophomore receiver
Charone Peake
caught three passes for 64 yards and two touchdowns -- one a six-yarder from
Cole Stoudt
, the other 37 yards from
Morgan Roberts
. (Six quarterbacks got reps.)
Jaron Brown
caught the other touchdown pass of the scrimmage, a 56-yarder from first-team quarterback
Tajh Boyd
.
Sammy Watkins
had two receptions for 35 yards, the first two completions on the first drive of the scrimmage from Boyd. Boyd finished 5-for-10 for 105 yards and a touchdown with one interception. He also had a 32-yard rushing touchdown.
Rod McDowell
was the top rusher with nine attempts for 46 yards. Clemson's running backs tallied 109 yards on 22 carries on the day, nearly a 5.0 average per carry.
Andre Ellington
played sparingly to give the other young backs some experience.
Defensive highlights:
Xavier Brewer
had seven tackles, a sack and a pass breakup.
Kellen Jones
, a transfer from Oklahoma who is not eligible this season, added six tackles, including two for loss, while
Jonathan Meeks
had five tackles.
Tig Willard
had three tackles and one of his two pass deflections led to an interception.
Special-teams highlights:
Spencer Benton
made a 55-yard field goal.
Chandler Catanzaro
made three of his four attempts, from 36, 39 and 41 yards.
Quotable:
"It was a good first scrimmage," said coach Dabo Swinney. "We made some mistakes, but they are correctable. I thought the defense played well. We saw a lot of activity around the ball. Xavier Brewer had a good scrimmage, as did
Lateek Townsend
. He was involved in three sacks and that was big.
"We have made good progress this first week. There is still much to do, but I like the attitude of this team. They come to work. They go about their business."

MIAMI
Offensive highlights:
Mike James
rushed for a team-high 137 yards on 13 carries with three touchdowns, including a 51-yard burst down the sideline.
Duke Johnson
had 49 yards on nine carries and four touchdowns -- three rushing and one receiving. He took a screen pass from
Stephen Morris
37 yards for a score.
Morris and
Ryan Williams
showed good footwork to elude pressure in the pocket and scramble for yards when needed. Morris completed 24 of 36 passes for 193 yards with four touchdowns, with one interception. Williams threw for 121 yards and three scores on 12-of-17 passing.
Johnson led all receivers with 44 yards.
Malcolm Lewis
caught three passes for 42 yards, while
Kendal Thompkins
hauled in a team-best five catches for 22 yards.
Defensive highlights:
A.J. Highsmith
had a team-high nine tackles, while
Tyrone Cornileus
,
Tracy Howard
and
Ramon Buchanan
all recorded seven tackles apiece.
Anthony Chickillo
,
JaWand Blue
and Cornileus each recorded a sack.
Quotable:
"We've been saying it all camp: Mike [James] looks quicker," coach Al Golden said. "He has always been strong but now he looks healthy.
"[Duke Johnson] found [the end zone] a couple of times today. He has a low center of gravity and a knack for diving and finding the end zone."
March, 5, 2012
3/05/12
12:00
PM ET
By
ESPN.com staff
| ESPN.com
Heard there's a tournament this weekend ... who ya got?