November, 27, 2009
11/27/09
12:30
PM ET
Gearing up for the rivalry games.
Injured Duke backup quarterback Sean Renfree might not participate in any of the Blue Devils' spring drills, but coach David Cutcliffe hopes to have his future starter ready to go by the start of the 2010 season. Of course, they'd like to make sure starter Thaddeus Lewis is healthy for Saturday's season finale against Wake Forest. And despite a deep thigh bruise that's been bothering him, Lewis isn't one to quit. And he's got the Duke record books to prove it.
History says that Maryland coach Ralph Friedgen has a tough road ahead. Check out this factoid from today's Washington Times:
From 1990 to 2008, coaches in BCS conferences (and their forerunners) who were in their jobs for at least four years have combined for 40 seasons of at least nine losses. Of those, only 17 returned for another season.
November, 24, 2009
11/24/09
11:30
AM ET
There are some things that won't change this week for NC State's offense -- the players have the same meeting times, the same routine, and the same playbook.
[+] Enlarge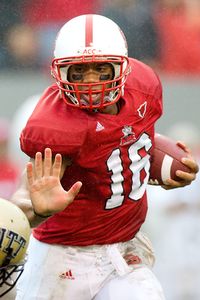 Tim Steadman/Icon SMIRussell Wilson said he will have offensive coordinator and quarterbacks coach Dana Bible in his thoughts.
The one thing that's different, said quarterback
Russell Wilson
, is that there will be "just a little bit more prayer."
Wilson said on Tuesday he plans on saying a prayer "every single moment" for offensive coordinator and quarterbacks coach Dana Bible, who was recently diagnosed with leukemia. Wilson said Bible is a perfectionist who expects Wilson to hit his receivers right in the numbers every time, and on Saturday against UNC, Wilson said he's going to try to do everything "just right."
"I think there are a lot of things that go into this game," Wilson said. "We're not going to a bowl game, it's a rivalry game, coach Bible being sick, that's a lot of motivation right there. At the same time, you have to just play your game, don't try to do too much and let the game come to you and play it the right way, go out there and practice hard. For me personally … it gives you that much more motivation when he's not there."
While it will be an emotional weekend for the Pack sideline, which will also honor 17 seniors, it doesn't change the fact that they'll face one of the nation's top defenses, as UNC leads the ACC in both scoring defense and total defense. NC State coach Tom O'Brien has brought one of his former graduate assistants, Tufts offensive coordinator Jay Civetti, in to help with the offense this week.
"He's a tremendous help and inspiring for our football team," Wilson said. "He'll keep ups on the right path."
The offense hasn't been the unit that's on the wrong path this year.
NC State enters its season finale against its oldest rival having lost six of its past seven games, but the Pack's offense has been one of the ACC's more productive groups, averaging 30.5 points per game and almost 400 yards of total offense. Wilson has accounted for 31 touchdowns this season.
Wilson, who was informed of Bible's illness at a team meeting Monday, hasn't spoken yet to his coach, but has talked to Bible's son, Logan.
"We're just trying to stay positive," Wilson said. "It's definitely sad, but at the same time, it's almost like a positive in a sense because you know he's so strong and he loves to continue to fight no matter what it is, and you truly believe in your heart he'll be OK. Everything happens for a reason."