January, 8, 2015
Jan 8
10:30
AM ET
The Clemson defense goes into the offseason facing questions similar to those directed at the offense one year ago: How will the Tigers replace some of the best, most productive players in school history?
At this time last January, we discussed the departures of Tajh Boyd and Sammy Watkins, two players who helped rewrite the school offensive record books.
Deshaun Watson
,
Mike Williams
and
Artavis Scott
made themselves known in 2014.
[+] Enlarge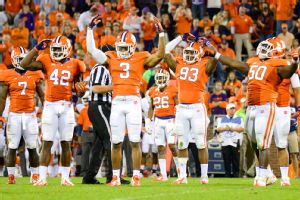 Icon SportswireThe Clemson defense will need to be retooled in 2015, especially up front.
Now, we are discussing the departures of
Vic Beasley
and
Grady Jarrett
, two players who helped add their names to the school's defensive record books. Who will make himself known in 2015?
The task ahead will not be an easy one for defensive coordinator Brent Venables, who needs to replace more than his headliners. Clemson loses seven starters off the No. 1 defense in America, a group that racked up 131 tackles for loss, 45 sacks and held teams to 260.8 yards per game.
That includes the entire defensive line plus several key backups: Beasley, Jarrett,
Corey Crawford
,
DeShawn Williams
,
Josh Watson
and
Tavaris Barnes
. That also includes starters
Stephone Anthony
,
Tony Steward
,
Robert Smith
and
Garry Peters
.
All told, Clemson must replace four of its top five tacklers, its top sack producer, and three of the four players who registered 10 or more tackles for loss.
But Venables prefers to look at the bright side. Most notably: the young players who have taken their fair share of snaps over the last several seasons.
Start with defensive end
Shaq Lawson
, an understudy to Beasley in 2013 and 2014. Lawson has the potential to hit double-digit sacks as he plays a more significant role.
D.J. Reader
and
Carlos Watkins
also saw time on the defensive line. Lawson and Reader had more than 250 snaps each this past season; Watkins 135.
Then there are the returning starters that Venables will want to rely more heavily on, starting with cornerback
Mackensie Alexander
, who played 766 snaps this past season and established himself as a preseason All-ACC candidate.
Safety
Jayron Kearse
(698 snaps) and linebackers
Ben Boulware
(326),
Korrin Wiggins
(521) and
B.J. Goodson
(256) also return. Not to mention a completely healthy
Travis Blanks
, who redshirted this past season after a promising debut campaign in 2013.
"To me, those are all veterans that have played when the game's been on the line and been a big part of that defense being No. 1 in the country," Venables said recently. "We're losing a bunch of good ones. I'm not downplaying that one bit, and to me the biggest thing you have to fill is the leadership and the toughness and the willingness to work, the humility. You're just praying these guys really paid attention because that's the magic."
Indeed, talent only gets players so far. The Clemson defense we saw this past season had talent plus work ethic, which made it one for the ages. Only the 1990 group Clemson had on defense was statistically better.
"We've got talented guys and some guys may not play again when they're done, but the best thing about them is these guys are humble and they love to go to work," Venables said. "A lot of teams have good players, but you still gotta coach and develop them. Coach [Marion] Hobby and Coach [Dan] Brooks and Coach [Mike] Reed have done an incredible job developing those guys and getting them to not be satisfied, and keeping those guys on edge and keeping them hungry and wanting more, that's part of coaching and development as well. As long as those guys are in the room, I know they'll get it done."
November, 14, 2014
11/14/14
4:00
PM ET
It's Friday, so let's dig into the mailbag to see what burning ACC questions you've got for us...
Nick in Fort Lauderdale writes:
Could an undefeated Florida State actually get left out of the playoffs? … I can see Mississippi State staying in the top four with a loss to Alabama. If the committee will jump Oregon over an undefeated FSU, then why not TCU, and that could push FSU out of the top four altogether.
David Hale:
I just don't buy that talk. Credibility is going to be a concern for the committee in Year 1 for obvious reasons, and leaving out a defending national champ without a loss just seems like it would undermine so much of what the playoff was created to accomplish. I agree with you that a loss might doom FSU's season, but until that happens, I think the Seminoles are safe. Besides, TCU's remaining schedule is atrocious, so if the Horned Frogs were going to jump Florida State, it would've had to have happened already.
---
Vinny writes:
FSU has always tried to rotate D-linemen, but it seems they aren't using guys like [Justin]
Justin Shanks
and [Keith]
Keith Bryant
as much. Matchup? Scheme? Injuries? Also, do you think Mario Edwards would be more effective from the tackle spot?
David Hale:
Scheme has a lot to do with this. When Mark Stoops left for Kentucky, the defensive scheme changed a lot, and the Seminoles have worked so much in nickel packages this year, we're seeing a lot fewer snaps for the down linemen. Add the fact that you have two stars in Edwards and
Eddie Goldman
, and the drop-off in talent for those rotations is much more noticeable. With the injuries and inexperience at linebacker, keeping those guys on the field is paramount. Shanks was also banged up early in the year and hasn't quite recovered that playing time, while Bryant perhaps hasn't developed quite as quickly as
Derrick Nnadi
and
Desmond Hollin
. As for Edwards, he's such a mismatch where he is because of his size-speed combination. I think that's the best spot for him.
---
Steve in New Jersey writes:
Can you tell me what is going wrong with my Hokies? Is it the talent? Bad Coaching? Bad playing? Or all the above?
David Hale:
It's a lot of factors — as it almost always is when a program declines steeply — which makes it harder to isolate one thing that needs to change. I think Virginia Tech has a lot more talent this year than the last few, and I'd credit Frank Beamer for giving so much playing time to young players. You've got to take the good with the bad in those scenarios, but in the long run, it will be a big benefit for the Hokies.
Beyond that though, I think there are two big concerns: The first is injuries. Virginia Tech has been devastated by them this year, and the hope should be that the bad luck evens out in 2015. The second is the offensive line, which has been a massive disappointment throughout the last few years. The run-blocking has been really bad, and without a steady run game, the Hokies are going to have a tough time getting back to 10 wins. The recruiting philosophy has shifted a bit and Stacy Searels is a good coach, but that part will take some time.
---
Dave in VT Land writes:
So, it looks like the alphabetical listing of the Coastal Division teams is turning out to be the most accurate prediction! Who'd have thought?
David Hale:
Akron is applying for Coastal Division membership as we speak… (And the Zips already have a win over Pitt!)
---
Jon in Atlanta writes:
I cannot say enough on how surprised I am to see Georgia Tech with seven wins. Early in the season, I would have laughed if 7-8 wins this season was even mentioned. With a really good recruiting class coming in, how good do you see GT getting down the road?
David Hale:
I'm not sure any team in the country has exceeded my expectations as much as Georgia Tech this season. There were just so many areas of concern entering the season, and to Paul Johnson's credit, he's found ways of plugging all of those holes. The D isn't good, and that remains a big concern, but the offensive philosophy makes up for that in a lot of ways, and
Justin Thomas
has really added that missing element to the option. The other big knock on Johnson in recent years has been recruiting, and as you said, even that is starting to change. It's really tough for longtime coaches to turn the tide when a program starts going south (see: Virginia Tech) but Johnson has done a splendid job of it this year.
@DavidHaleESPN what kind of expectations should I have for Clemson and Deshuan Watson in the coming years as a student and fan?

— Christian Mingle (@The_Holc_) November 14, 2014
David Hale:
I'll be surprised if Clemson isn't the overwhelming favorite in the Atlantic to open next season because Watson is back with a very talented young offense around him.
Mike Williams
and
Artavis Scott
have been exceptional this year despite the revolving door at QB, and
Wayne Gallman
is finally beginning to make some progress for the running game. Yes, a lot of talent will be leaving on the defensive side of the ball, but Mackensie Alexander,
Shaq Lawson
and Jayson Kearse will be back to ease the transition. Meanwhile, Florida State figures to see a mass exodus of talent after this season, including the entirety of the offensive line, along with
Jameis Winston
,
Rashad Greene
and likely Mario Edwards Jr. and Eddie Goldman.
The bottom line though is that Watson is a star in the making. He's a perfect fit for Chad Morris' offense, and he'll have a good bit of talent around him, so there is plenty of cause for excitement if you're a Clemson fan. The one big concern though: Can the Tigers keep their two coordinators?
October, 21, 2014
10/21/14
9:00
AM ET
At the outset of the season,
Robert Smith
joked that he felt a bit like the old man in a room full of rookies in Clemson's secondary, but that was nearly two months ago. The unit has done a lot of growing up since then.
It's partially Smith's influence, of course. That's the purview of the group's elder statesman. The senior safety made a decision during the spring that his final season would be his best, and his work ethic would be the template for success. So he set the standard, and the young pups around him followed his lead.
"I was going to meet like a pro, talk like a pro, watch film like a pro, practice like a pro, do everything possible like a pro," Smith said. "I wanted to set that example to the guys that, if you want to make it to the next level, don't wait until then to mature."
[+] Enlarge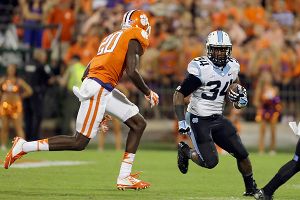 Bob Leverone/Associated PressSophomore safety Jayron Kearse is part of a young Clemson secondary that is improving rapidly.
For the Tigers' defensive backs, it was less a demand than an opportunity. They'd been waiting for their chance to show they belonged.
A year ago, cornerback Mackensie Alexander was one of the top recruits in the nation, but injuries in fall camp left him with a redshirt. Safety
Jayron Kearse
was a bit luckier. He saw action and racked up 55 tackles and four interceptions as a freshman last season but couldn't secure a full-time spot in the starting lineup.
T.J. Green
,
Korrin Wiggins
,
Jadar Johnson
,
Cordrea Tankersley
-- they all got tastes of action but wanted more.
So Smith's philosophy played well and as the 2014 season approached, the young DBs were eager to follow suit. The jobs were there for the taking; they just had to be ready.
"Just going through summer workouts with these guys, we always feel like we could contribute," Kearse said. "We feel like we're a good secondary, working to be great. We've been this way since we got here."
Still, it was hard not to see the Clemson secondary as the weak link on a defense that features stars such as
Vic Beasley
,
Stephone Anthony
and
Grady Jarrett
. The front seven was chock full of proven commodities.
It was no surprise then that the season started a bit slower than Smith and the DBs might've liked. There was a feeling-out process, and that was expected.
"Everybody was getting their feet wet," Smith said. "After a few games, you get in the flow."
The unit got more comfortable working together, but it also took disaster for the entirety of the defense to pull together. That was the fallout of the Florida State game, when Clemson won battle after battle but still came up short.
After the game, the locker room was in mourning. The emotion was overwhelming, but also galvanizing.
"I've never seen so many men in the locker room cry so hard off a loss," Smith said. "We played hard and to the best of our ability and let that one get away. So when you see your teammates hurt and crying, it makes you want to work that much harder, makes you want to do more. So I think our secondary looked at it and said we're going to get better and progress from here."
The progress has been obvious in the weeks since.
In three October games, Clemson's pass defense has allowed opposing QBs to complete just 40.6 percent of their throws, the second-best mark in the country. Their October passer rating allowed is 102.4, the second-best mark in the ACC, trailing only Louisville. While that vaunted defensive front has created havoc at the line of scrimmage, the young DBs are coming into their own in the back end.
"We knew coming into the season we had the potential to be one of the best defenses in the country, and our front line was handling business, but we had a lot of young guys in the secondary and it took some time just to gel and get on the same page," Smith said. "As soon as that happened, you could tell the difference and the cohesiveness has all come together and we're starting to show the kind of defense we can be."
Alexander always had the work ethic, Smith said, he just needed the experience. Kearse was always driven, he just needed to embrace the opportunity. And while no one is ignoring that ferocious defensive front, the kids in secondary are starting to get some attention, too.
"It takes time to understand the level of competitiveness at this stage," Kearse said. "But now, it's rewarding. They're putting a lot on me and Mackenzie's back, and we're taking on the challenge."
This week's opponent, Syracuse, will start a freshman at QB, and that's a frightening proposition against the Tigers. Smith said they won't take anyone lightly, and Kearse compared Orange QB
AJ Long
to the QB the Tigers saw a week ago, Boston College's
Tyler Murphy
, but even that praise doesn't offer much hope for Syracuse. Murphy completed just nine balls, and BC was held to nearly 200 yards below its season average on the ground.
Kearse called the BC game a chance for a lot of the young defenders to grow up. It was proof they could play sound, assignment football against a dangerous opponent.
Now comes the next step, he said. They don't want to take a backseat to the big boys up front, and they don't want to hear that qualifier that, yes, they're pretty good -- for freshmen and sophomores.
"We made it known we wanted to draw some of that attention to us, and we took that challenge," Kearse said. "So far we've been doing it, but we have five more games to prove we're one of the best defenses in the nation."
July, 9, 2014
7/09/14
12:15
PM ET
The way athletes begin working out at such a young age and the advances in sports training and nutrition, football players each year seem to be more physically gifted and impressive than ever before.
Some like to call them physical "freaks," in a positive way. They're uniquely talented and possess an athleticism that is rare among their peers.
This week, Bruce Feldman of FoxSports.com has offered his
list of college football's freaks
, and several ACC players made the cut. While the ACC is on the wrong end of a lot of jokes, the conference has produced a large number of NFL draft picks and regularly is behind only the SEC in picks annually. With the talent bases in ACC recruiting hotbeds Florida, Georgia and throughout the South, conference schools have some of the country's most athletic players in their own backyard.
With the genesis of GPS training, which our David Hale reported on last month, programs such as Florida State are now taking those elite physical athletes and helping them reach the next level. It's no longer about just lifting weights and running sprints; it is a science.
The ACC names to make Feldman's list:
Louisville WR DeVante Parker:
Potentially the No. 1 receiver among 2015 NFL draft boards, Parker stands 6-foot-3 and Feldman lists a wingspan of 80 inches, which means few cornerbacks can compete with him on jump balls. Parker might not be a national name just yet, but under the tutelage of Bobby Petrino, Parker could put up freakish numbers to go along with that athleticism.
Georgia Tech RB Broderick Snoddy:
Snoddy has run the 100-meter dash in 10.28 seconds and is a prep sprint champion. The Yellow Jackets are going to need that speed to translate to the field, and that could happen this fall as Snoddy figures to see more carries and has the potential to break a long run any time he touches the ball with his elite set of wheels. His school
bio
states he is only "likely" the team's fastest player, but it's probably a safe bet to give him that full distinction.
Syracuse OT Sean Hickey:
If you need any explanation as to why I will point you in the direction of Andrea's piece on
Hickey's intense training
.
Florida State CBs Ronald Darby and P.J. Williams:
It's funny because on Twitter recently I was asked about who is better between Darby and Williams. I didn't answer then and I won't answer now, other than to say those two are projected to be among the first two cornerbacks taken in next year's draft. The two lock down receivers, and they locked down the freak distinction at cornerback.
Miami CB Artie Burns:
He is an elite sprinter and is hoping to qualify for the 2016 Olympics. He holds several prep sprinting records. On the football field, Burns was a solid returner and cornerback as a freshman and was a top 10 cornerback coming out of high school.
Here are a few other links to help you through the day:
May, 2, 2014
5/02/14
10:30
AM ET
The 2013 signing class has already made its mark on the ACC, from
Tyler Boyd
and
Stacy Coley
shining on offense to
Jalen Ramsey
and
Kendall Fuller
starring on defense to
Ryan Switzer
racking up All-America honors on special teams. But for most players, the transition from high school to college takes a little time, and it's not until Year 2 that they truly shine. With that in mind, we're taking a look at the best candidates for second-year stardom in the conference — the players who didn't quite hit the big time as true freshmen, but are poised for a breakthrough in 2014.

Next up:
Clemson
Class recap:
The Tigers inked the country's 13th-best class in 2013 and the second-best in the ACC, according to ESPN's rankings, with 15 four- and five-star players. Several standouts, including
Shaq Lawson
,
Jayron Kearse
,
Mike Williams
and
Jordan Leggett
, earned regular playing time as true freshmen last year.
Second-year star:
CB
Mackensie Alexander
Recruiting stock:
Alexander was the No. 2 cornerback and the No. 4 overall prospect in the country coming out of high school and was Clemson's top signee in 2013.
2013 in review:
The expectations were high for Alexander entering the year, but his debut was delayed early on when he suffered a groin injury in fall camp. By the time he was ready to return to action, a redshirt was waiting.
2014 potential:
Much has been made of Clemson's ferocious defensive line, but the secondary should be improved in 2014, too. Still, there are questions at corner with
Bashaud Breeland
off to the NFL and
Garry Peters
suspended for the opener against Georgia. That meant an opportunity for a healthy Alexander to showcase his skills this spring, and coordinator Brent Venables came away impressed. Alexander figures to have the inside track on starting the opener, and he could easily secure the job for good with an impressive fall camp. And with a pass rush that projects as one of the best in the country, the rewards for Clemson's secondary could be rich.
Also watch for:
There's ample depth in Clemson's backfield at the moment, and coaches haven't given much indication of who'll get the lion's share of the carries, but redshirt freshman
Wayne Gallman
has earned raves. Swinney said he nearly lifted Gallman's redshirt last year in a pinch, but he's eager to see what the 6-1, 200-pounder can do in 2014.
April, 10, 2014
4/10/14
4:00
PM ET
Clemson's defense has come a long way since that disastrous 2012 Orange Bowl, when West Virginia ran up 70 points against the Tigers in a game that defined the public perception of the unit for the better part of the next two seasons.
Now, as Clemson wraps up its 2014 spring practice,
it's the offense with question marks
and the defense that coach Dabo Swinney thinks could be one of the nation's best.
[+] Enlarge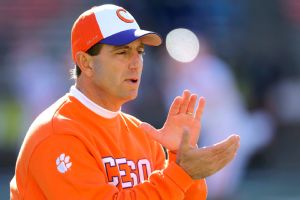 AP Photo/Patrick SemanskyClemson coach Dabo Swinney is confident his defense will be a strength this fall.
"We're going to be really salty on defense," Swinney said. "I don't have any doubt our defense is going to be much better."
The progress started in earnest last season, when Clemson led the nation in tackles for loss. But while the front seven thrived in 2013, the secondary was still a work in progress, particularly at safety, where three freshmen lined the Tigers' two-deep depth chart. The inexperience left Clemson particularly vulnerable on the deep ball, and the results were predictably frustrating. The secondary posted strong numbers in the aggregate, but specific struggles turned games.
"We were top-15 in the country in passing defense," defensive coordinator Brent Venables said. [Note: Clemson was actually No. 16 nationally.] "What does that mean? It means we gave up too many big plays."
Indeed, the overall numbers -- even on deep balls -- look pretty good. Opposing quarterbacks completed just 37.5 percent of their throws of 15 yards or longer in 2013, according to ESPN Stats & Info, with 10 interceptions to go with five TD passes.
But dig into specifics, and that's where some of Clemson's defensive struggles come into focus.
• Against Georgia in the season opener, Clemson allowed three passing plays of 30 yards or longer. The heroics of Tajh Boyd and the offense still managed to overcome UGA's big plays, and Clemson escaped with a win.
• Against Florida State, the Tigers' D allowed a whopping seven passing plays of 20 yards or more -- or one out of every five throws Jameis Winston made in the game. It was a season-defining loss for Clemson.
• For the season, Clemson allowed 16 passing plays of 30 yards or longer, fifth-most in the ACC, in spite of being one of the conference's top defenses overall.
• On third-down plays in 2013, Clemson allowed nine passing plays of 25 yards or longer. Only five AQ-conference teams in the nation allowed more.
But though the big plays in the passing game were a concern last fall, Venables has reason to feel more comfortable in 2014. Like the young defensive linemen who struggled so badly in 2011 and 2012 only to develop into a force last season, the safeties who were burned at times in 2013 are now more seasoned. And when it comes to matchups, Venables likes what he has at the position.
"We needed to improve there, and I believe we will. We're longer, more athletic overall," Venables said, pointing to
Jayron Kearse
(6-4, 205),
Jadar Johnson
(6-2, 195) and converted receiver
T.J. Green
(6-3, 200) as prime examples. "I really believe we'll be really good at safety. It's hard for me to throw many compliments, so I really believe in those guys. [They're] all long, 6-2-plus. They can cover up some ground. They have a physical presence to them."
Add in the physical presence from its four returning starters on the defensive line, it's easy to see why Swinney calls this perhaps the most complete defense he's had at Clemson.
Of course, that doesn't mean Venables' work in the secondary is done. While the safeties struggled at times in 2013, Clemson could rely on corners
Bashaud Breeland
and
Darius Robinson
to keep opposing receivers in check. Both are gone now, along with Will linebacker
Spencer Shuey
, and Venables said those positions will be the key to the defense's success in 2014.
Still, there's plenty to work with at Clemson, and there's a good chance it's the defense that will carry the load for the Tigers this fall, especially early in the season.
"Last year, I felt the front seven would be a strength, but we were going to be a little vulnerable in the back end," Swinney said. "But this year, we're going to be a complete group. … And any time you have a chance to be dominant on defense, you have a chance to win a bunch of games."
March, 17, 2014
3/17/14
12:00
PM ET
My uncle once tried to convince my grandmother our family is actually (a small) part Scottish instead of Irish. She wasn't having it. Happy St. Patrick's Day!
October, 10, 2013
10/10/13
12:00
PM ET
Is tonight future-league member Louisville's toughest test of the season?
August, 22, 2013
8/22/13
10:30
AM ET
Today we check in with Clemson,
the preseason choice
to win the ACC.
Clemson Tigers
Coach:
Dabo Swinney (40-21 overall, 40-21 at Clemson)
2012 record:
11-2 (7-1 ACC)
Key losses:
RB Andre Ellington, C Dalton Freeman, WR DeAndre Hopkins, DE Malliciah Goodman, LB Jonathan Willard
Key returnees:
QB
Tajh Boyd
, WR
Sammy Watkins
, DE
Vic Beasley
, LB
Spencer Shuey
Newcomer to watch:
Ryan Norton
. The sophomore center takes over for Freeman, who started 49 games in his career and is one of the best offensive linemen in school history. Also keep an eye on freshman LB
Ben Boulware
, who has turned heads this fall and will be counted on as a game-changer on special teams.
Biggest games in 2013:
Georgia, Aug. 31; Florida State, Oct. 19; at South Carolina, Nov. 30.
[+] Enlarge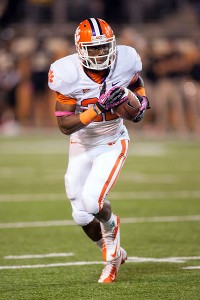 Jeremy Brevard/USA TODAY SportsClemson will be counting on Roderick McDowell to produce as the likely starting running back.
Biggest question mark heading into 2013:
The secondary remains a concern heading into the season, thanks to nagging injuries that have hampered some veterans and curtailed some potential impact freshmen.
Garry Peters
and
Darius Robinson
have missed time, along with freshmen
Mackensie Alexander
,
Jayron Kearse
and
Adrian Baker
. The Tigers were hoping to count on Alexander and Kearse but will now wait and see how quickly they can recover from their respective injuries.
Forecast:
Clemson starts the season ranked No. 8, the highest of any ACC team. The biggest reason why is the return of QB Tajh Boyd and WR Sammy Watkins on one of the most potent offenses in the nation. They are two of the best players in the ACC -- the two best if you ask some. But if Clemson is going to win another ACC championship, it is going to need to find answers at two spots -- running back and on defense.
All-ACC running back Andre Ellington is gone. Clemson is opting to go with a running back by committee approach this season, with
Roderick McDowell
listed as the starter. A senior, McDowell has waited his entire career for this opportunity, and he is ready. But
Zac Brooks
and
D.J. Howard
will also be in the mix and will be counted on heavily. If this trio, along with perhaps one of the incoming freshmen, can replicate Ellington's production, the Tigers should thrive.
As for the defense, everybody is expecting a big jump in Year 2 under coordinator Brent Venables. The front seven should be better, especially with five starters returning. Vic Beasley enters the starting lineup at defensive end after leading the team with eight sacks last year. He says he is ready to be an every-down player, and he has been impressive since the spring. The opener against Georgia provides a huge first test because the Bulldogs bring a powerful run game. The big question, as mentioned above, is the secondary. Young players will be relied upon, without question. The ACC has become a more high-tempo league, so Clemson needs this group to solidify in a hurry.
The ACC schedule plays to Clemson's advantage; the Tigers get Atlantic Division nemesis Florida State at home. They get Georgia Tech at home, too (on a Thursday night). Virginia Tech is off the schedule; Syracuse is on. But first is the big one at home against Georgia. A win would solidify national championship hopes.
April, 20, 2012
4/20/12
5:00
PM ET
Everywhere he goes, Jayron Kearse has the shadow of someone else in front of him.
First it was his uncle, three-time Pro Bowler Jevon Kearse. Then it was his cousin, current NFL cornerback Phillip Buchanon.
Now, the former safety and quarterback is following in the footsteps of Clemson standout receiver
Sammy Watkins
, who went to South Fort Myers (Fla.).
Kearse transferred to South Fort Myers in January, and the 6-foot-3, 190-pounder is expected to play receiver this fall. But the former Auburn and current Miami commit isn't trying to live up to Watkins' standard, and he has had valuable voices in his ear throughout the process.
My cousin told me to base my decision on all aspects of college — the school, the environment and academics, not just football. Hearing it from him helps a lot. He never told me one time about going to The U. He said to pick the school that fits me the best. My uncle was basically the same. Jevon has told me to stay humble through the whole process. I don't want to make it seem like I'm better than anybody else.
To read more on Kearse,
check out Jon Maloney's interview
.