August, 22, 2014
8/22/14
12:00
PM ET
Their friendship, in many ways, was born of frustration.
For two seasons,
Jacoby Brissett
and
Tyler Murphy
worked alongside each other on Florida's practice fields and film room, in the weight room and the meeting rooms, but throughout the entirety of 2011 and 2012 they combined to make just one start. They'd push each other to get better, but more often, they bonded during long conversations about stifled dreams and brighter futures.
[+] Enlarge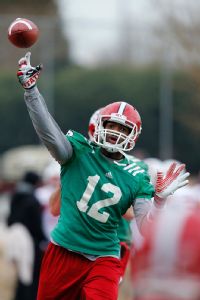 Ethan Hyman/Raleigh News & Observer/MCT/Getty ImagesJacoby Brissett will face high expectations as NC State's starting QB, but the transfer from Florida is happy to take on the challenge given he'll at least be on the field.
"Sitting on the bench isn't fun," Murphy said. "We tried to build a friendship where we keep each other up, keep each other motivated and each and every day find a way to go into the office and get better. Until we both decided we needed to move on."
For years, there was a nebulous finish line, a point when Murphy and Brissett hoped at least one of them might be a starter. Now, there's a date circled on the calendar for both quarterbacks: Oct. 11, 2014. It's the day Brissett, now the starting QB at NC State, and Murphy, now the starter at Boston College, will go head to head on the field.
After it became clear Brissett's career at Florida had plateaued in 2012, he decided it was time to transfer. He sat down with Murphy and mapped out his options. West Virginia seemed a possibility, but the coaching staff there was eager to compare Brissett with former Moutaineers QB
Geno Smith
, and Brissett had already spent too much time living in the shadows of other players.
"I was like, 'I'm not the next Geno,'" Brissett said. "I wanted to be Jacoby, and I felt like [NC State] was a place I could do that."
Brissett already knew NC State coach Dave Doeren from his recruitment, which made the transition a bit easier. Still, Brissett would have to sit out a year because of NCAA transfer rules, which meant one more year watching from the sidelines.
At Florida, a season-ending injury to incumbent
Jeff Driskel
finally gave Murphy his first opportunity to start. He threw the first pass of his four-year career on Sept. 21, 2013 against Tennessee, and he started the next six games for the Gators -- four of them losses. Although Murphy had some solid outings, the losses dogged him. A shoulder injury ended his season in November, and by then it was clear Driskel would be back atop the depth chart when he was healthy.
With one year of eligibility left, Murphy began to think about following Brissett out the door, and, as a New England native, Boston College seemed like an ideal fit.
"He was telling me Boston College was one of the schools he was looking at, and I was like, 'Oh, Boston College is one of the teams we play,'" Brissett said. "So as much as I wanted to tell him to be positive as the season went, I was hoping he'd go to Boston College just so I could play him. But I remember him countless times saying he wanted to stay, he didn't want to transfer."
But what Murphy wanted more than anything was a chance to play, so Brissett offered some advice: Make a decision and don't look back.
"You can't say I'm going to transfer and then say never mind because everybody knows you want to leave," Brissett said. "So just do it and get it over with, know where you want to go. And no matter where you go, if they're taking you right now, you're pretty much going to be the starter. So make sure when you go there, play how you play and you'll be fine. Everything else will take care of itself."
So far, it has.
[+] Enlarge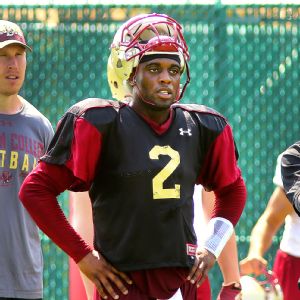 John Tlumacki/The Boston Globe/Getty ImagesQB Tyler Murphy has found a new home at Boston College, and he can't wait for the Eagles' visit to NC State on Oct. 11 so he can face a familiar friend.
Brissett was the best quarterback on NC State's roster last season, and although he was relegated to a redshirt, Doeren had already begun grooming him for a starting role in 2014.
Murphy didn't have the luxury of preparation at Boston College, but the Eagles' depth chart offered few other options, and he was installed as the team's starter almost from Day 1.
The two QBs still talk nearly every day -- no longer trading stories about what it might be like to start, but instead debating the ways they still needed to get better now that they're No. 1 on their respective depth charts.
And yes, there's still some sour feelings about Florida, about the opportunities that never developed there. It's not anger or frustration, but rather a drive to prove something to the coaches who doubted them.
"You want to show them why you transferred and show them you could play at the highest level," Brissett said. "Whatever they said you couldn't do, you go out there and do it. All it takes is the right person, the right situation and the right coach to say, 'You're my guy.' And I'm pretty sure Murph's thinking the same thing. It's not worrying about Florida, it's worrying about ourselves."
And of course there's still that date looming on the calendar, when Brissett and Murphy are finally reunited. They've talked about that a lot, too.
But just like those long days of practice at Florida, the chatter isn't about competition so much as it is about the future, about what they've worked so hard to achieve.
"It will definitely be kind of weird to go up against somebody you've grinded with and stayed after practice and done drills with and watched film with, and give each other tips to get better," Murphy said. "But I think it'll be exciting and I think it'll be a fun game to play and I think it'll be a great atmosphere."
After all, it's the perfect scenario for both QBs. On every snap from scrimmage, either Murphy or Brissett will be on the field, and that's really all they ever wanted.
"As corny as it sounds, it puts a smile on your face to see one of your good friends doing what you know he wants to do," Brissett said. "We had those countless talks when we were playing with each other -- 'Man I wish I was out there playing.' And now I'm going to get to see first hand, see him play."
August, 19, 2014
8/19/14
2:30
PM ET
On Sunday, esteemed ACC writer Andrea Adelson wrote a piece talking about how Florida is
behind instate rivals Florida State and Miami
-- two teams the Gators lost to in 2013.
While I agree that Florida is behind these two at the moment, Andrea and I had a bit of an argument when it comes to the 2014 season. Even though Florida went an embarrassing 4-8 last year, I think that with an improved offense under new coordinator Kurt Roper and what yet again should be a fierce defense, the Gators will have a better record than Miami, which went 9-4 last fall.
Andrea disagrees, saying Florida's offensive questions and schedule will be too much, while the Canes have a more manageable schedule and a more proven offense.
We decided to take our argument to the public and debate both sides for you all to see:
[+] Enlarge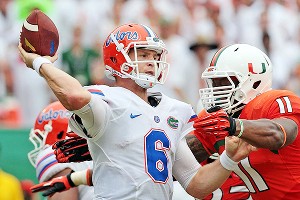 Al Diaz/Miami Herald/Getty ImagesJeff Driskel is back from his 2013 season-ending injury, and he's looking more comfortable in the new Florida offense.
Edward Aschoff:
I have to admit, Andrea, your piece on Sunday about the three power schools in the state of Florida was spot on. I agree with everything you wrote, but then came Monday, when our conversation left us in disagreement. You think Miami, which went 9-4 and beat Florida last year, will finish this season with a better record than Florida. I have to disagree. Last year was a disaster of epic proportions in Gainesville, but the Gators lost 15 players to season-ending injuries, including starters such as
Jeff Driskel
,
Matt Jones
, Dominique Easley and
Chaz Green
. Florida won't have the same injury problems this fall, and expect a lot more from this offense with Roper (you know him pretty well) running the spread. I talked to Driskel and his receivers about the offense and they are way more comfortable with Roper's system, and they've been gassing a pretty good defense with the uptempo. The receivers are incredibly confident in the new system, and it's clear this is the offense Driskel was born to run. Florida does play Alabama and LSU from the Western Division, but LSU, South Carolina, Georgia, Missouri and Florida State are all games the Gators will play in the state of Florida. Call me crazy, but I think that if this offense figures things out and the defense plays to its potential, Florida has a chance to win nine games in the regular season. Miami? How about eight?
AA:
Edward, take the Gator head off and breathe deeply. Nine wins against
that
schedule? I agree Florida will be better, but it is hard to find more than seven wins given the opponents and all the unknowns on offense. And that is not just coming from me. A few months ago, a Gator fan walked up to me at a speaking engagement here at the Orlando Touchdown Club and said, "I will be so happy if we go 7-5!" How expectations have shifted in state. While it is true I have some doubts about Miami, too, I have two words to counter your argument:
Duke Johnson
. Miami has him; Florida does not. Maaaaaybe if the Gators had a dynamic skill player, I'd believe you. But they don't. Miami was 7-0 before Johnson got hurt last year -- including a win over the Gators -- and 2-4 without him. Need I go on?
[+] Enlarge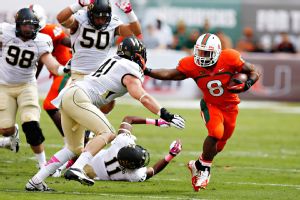 Robert Mayer/USA TODAY SportsFlorida doesn't have a proven skill player on a par with Miami's Duke Johnson.
EA:
Gator head? Real original. Remember two names:
Kelvin Taylor
and
Demarcus Robinson
. Both sophomores have a chance to be special for the Gators. Taylor is leaner, quicker, faster and stronger. The coaches have raved about his improvements since spring practice began, and he should have no problem being the lead back from the start this year. He isn't as explosive as his father -- All-American Florida back Fred Taylor -- but he's shiftier and will be a real weapon in Roper's offense. As for Robinson, he barely did anything last year, but has finally found his focus. He's a big-play threat in this offense, and the coaches trust in him a lot more right now. He has really come into his own during practice this fall. The folks in Gainesville see him as that playmaker at receiver they have desperately needed. Driskel shouldn't have a problem using them. Speaking of quarterbacks, you suiting up to throw the ball for the Canes?
AA:
Miami does have a hole at quarterback, a hole I have pointed out repeatedly (and much to the chagrin of Miami fans). But I don't mean to sound like a broken record here. Talented skill players have this way of making their quarterback look good. Driskel has struggled, in part, because he has had no help. Miami will provide its starter with a plethora of help, from potential 1,000-yard receiver
Stacy Coley
, to deep threat
Phillip Dorsett
to tight end
Clive Walford
. Just to name three. Aside from Johnson, Miami is deep and talented at running back, too, and its offensive line has been solid. I am not going to win any arguments between the Miami D vs the Florida D. Gators have the edge there going away. But a talented (and high-scoring) offense can easily cover up for an average D. Miami has one of the tougher schedules in the ACC with difficult crossover games, just like the Gators. In the Canes' case, it's Florida State and Louisville. They've also got a tough nonconference game at Nebraska. When I look at the schedule, I think Miami has 10 winnable games. Doesn't mean they are going to win all of them, but it means they have a better shot at getting there than Florida.

EA:
I told you to watch out for Robinson and Taylor, but Florida has a few more options at both receiver and running back. I expect veterans
Quinton Dunbar
and even
Andre Debose
to make noise in this offense, but really keep an eye on sophomore
Ahmad Fulwood
. He can stretch the field and is a big boy over the middle. We know about Matt Jones and
Mack Brown
at running back, but freshman
Brandon Powell
could be really special. He missed spring but has been blowing up in fall practice. He can do a little bit of everything out of the backfield. Florida will be more competitive using a lot more space in Roper's offense. As for the schedule, it isn't easy. Florida plays six teams ranked in the AP top 25, including No. 1 Florida State and No. 2 Alabama on the road. But I'll continue to stress that three of those games are at home and Georgia is in Jacksonville, Florida. An improved offense that can actually take some pressure off the defense can get three wins out of that slate.
AA:
Maybe I should tint my glasses rose to match yours. Seriously, though, this debate serves as a reminder that these rivals need to play more often (that is a different debate for a different time). This needs to be settled on the field! The race to chase Florida State is tough to handicap. I don't think Miami is quite back to returning to its past glory, but I do think the Canes have the capability of building on their success from a year ago. Quarterback might look messy now, but coaches have been raving about the maturity and ability true freshman
Brad Kaaya
brings to the table. The defense looks better so far in preseason camp, and
Denzel Perryman
could have an All-American type season. If Miami is solid at quarterback and makes improvements on defense, this team will be better than Florida. Again.
June, 26, 2014
6/26/14
12:00
PM ET
Sports on Earth put together a list of its
10 players under the most pressure
as 2014 gets set to kick off, and the lone ACC representative is Virginia Tech's Trey Edmunds. On the sophomore tailback:
"With [Logan] Thomas' mobility gone, the onus on the running backs is even greater to jumpstart an aimless offense that has coincided with a 15-11 record the last two years."
Indeed, Virginia Tech needs some serious help on offense in virtually every phase, but finding some traction on the ground would be a huge first step.
Last year, Thomas, the quarterback, was responsible for 33 percent of Virginia Tech's carries, 22 percent of its rushing yards (including lost yardage on sacks) and 45 percent of its third- and fourth-down conversions on the ground. The tailbacks, meanwhile, averaged just 3.98 yards per carry, second-worst in the ACC (ahead of only Wake Forest) and well behind the next worst team (NC State). For perspective, conference champ Florida State got a whopping 6.43 yards per carry from its running backs -- nearly 2.5 yards more every time a running back carried the football.
Edmunds, of course, is the face of the group after leading the way for Virginia Tech with 675 yards on the ground before getting hurt against Virginia, but his 4.07 yards-per-carry average ranked 31st among ACC players last year.
It's tough to pin all the pressure on Edmunds, though. Other tailbacks need to step up, too. Virginia Tech needs to find a quarterback capable of keeping defenses honest. Receivers need to be more reliable to keep the Hokies out of unmanageable down-and-distance situations. Coordinator Scot Loeffler needs to be more creative with his scheme. And if anything, the real pressure here falls on Frank Beamer, who is on his second coordinator and has cycled through myriad running backs and still hasn't found a definitive answer to Tech's offensive woes.
Though Edmunds is the lone ACC rep on Sports On Earth's list, it's also worth noting the conference should shine a little extra light on their No. 1 choice, Jeff Driskel. Not only will the Florida quarterback's season be defined by how the Gators' offense performs, but two other quarterbacks who were stuck behind him on the depth chart -- Jacoby Brissett and Tyler Murphy -- now have starting jobs in the ACC and could certainly upstage their former teammate.
More links, starting with a bunch of Jameis Winston news:
October, 29, 2013
10/29/13
11:00
AM ET
No. 3 Florida State is set to meet No. 7 Miami in yet another Top 10 matchup for the ACC. Miami is the final ranked team on the Seminoles' regular-season schedule, leaving us to wonder whether the Hurricanes actually are the Seminoles' toughest remaining opponent on the road to an unbeaten season.
Heather Dinich and Andrea Adelson debate that very question.
Heather says: Miami on Saturday
[+] Enlarge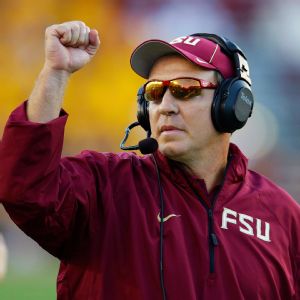 AP Photo/Stephan SavoiaCoach Jimbo Fisher and the Seminoles defeated Miami 33-20 last season.
It's not going to get any more difficult than this.
No. 7 Miami is the biggest obstacle still standing in the way between the Seminoles and an undefeated season.
A road trip to Gainesville you say? Psh. Even the Canes beat the Gators -- and that was when Florida was good.
Everything Miami has -- or, more accurately, hasn't -- done this season is a moot point. The key is that the Canes have done enough to set up a top 10 showdown between two undefeated rivals in front of an ESPN College GameDay crowd. Florida State is going to get Miami's best shot -- and the Seminoles know it. Not that Florida won't be aiming for that same bullseye, but Miami is simply a better team than Florida and has proven it in head-to-head competition.
The Gators have lost back-to-back games against ranked opponents. They're 4-3 and dropped out of the rankings in Week 8 after losing to Missouri, 36-17. They've also lost to Florida State in two of the past three seasons. This is a Florida team that's projected to go to the BBVA Compass Bowl right now -- a freefall from last season's Sugar Bowl appearance. Eight players have suffered season-ending injuries since summer camp, including starting quarterback
Jeff Driskel
, and the team's top defender,
Dominique Easley
. The Gators rank 12th or worse in the SEC in scoring, passing, rushing and total offense.
By comparison: Virginia Tech ranks No. 110 in the country in total offense -- right behind Florida.

Unlike the Gators, Miami can move the ball. The Canes are No. 19 in the country in scoring offense. They've got one of the most productive running backs in the country in
Duke Johnson
. And the defense is averaging 3.14 sacks per game -- a huge improvement from last year, when Miami averaged just 1.08 per game.
If Florida State can get past the Canes on Saturday, the most difficult stretch of the season will be behind the Noles. The ACC -- the entire country for that matter -- has been waiting for this rivalry to be relevant again.
Now it's Florida's turn to wait.
Andrea says: at Florida, Nov. 30
Florida does not appear to be a tough opponent today, not with all the injuries that have taken a preseason Top 10 team and turned it into an also ran.
But this will undoubtedly be the toughest test on the remaining Florida State schedule. First, this game will ultimately define the Florida season, especially if the Gators lose to Georgia this weekend. Should Florida State come into the regular-season finale against Florida unbeaten, then you can be assured the Gators would love nothing more than to wreck any shot Florida State has at winning a national championship. Laughable?
Rewind to 1997, when double-digit underdog Florida beat No. 1 Florida State 32-29, denying the Noles a shot at the title. It is true that 1997 Florida team is better than this 2013 Florida team but, nonetheless, upsets in rivalry games do happen. And they have happened in this series.
Secondly, and most importantly, Florida presents much tougher matchups for the Seminoles. The Gators rely on a power ground game, and the Florida State defense has been built to best defend a different type of offense. Linebacker
Terrance Smith
confirmed that point, saying after the NC State win, "I feel our defense is kind of made for the spread." Against power run teams like Boston College and even Bethune-Cookman at times, the Florida State defense had its share of struggles. The Noles gave up 392 total rush yards in those two games.
There is no doubt Florida will have the best defense Florida State has faced this year, despite the injuries. That includes the all-important secondary, where Florida features future Freshman All-American
Vernon Hargreaves III
. He is tied for the SEC lead in passes defended and tied for second in the league with three interceptions.
Opposite him,
Loucheiz Purifoy
is one of the best cornerbacks in the country. Through the first seven games this year, opposing quarterbacks have completed just 47.5 percent of their passes on this Florida secondary -- good for No. 5 in the nation. Quarterbacks are averaging just 5.5 yards per attempt, which is No. 4 in the nation. Coach Will Muschamp is a defensive guru. Perhaps he can devise a plan to slow down
Jameis Winston
. That is what Florida did last year to
Johnny Manziel
(173 yards passing, one total touchdown).
Third, all the pressure in the world is going to be on Florida State to beat an overmatched rival. Everybody expects Florida to roll over. Florida State has done well handling pressure all season, but what it will face in this game is nothing compared to Death Valley. The finish line will be in site, against a bitter in-state rival that has won seven of the last nine games in the series. Simply put, no matter the record, Florida is not NC State. Nor is it Wake Forest or Syracuse.
Florida will be a tough out. The toughest out on the remaining slate.
November, 24, 2012
11/24/12
10:06
PM ET
TALLAHASSEE, Fla. -- It was only last week that Florida State coach Jimbo Fisher lamented the use of computers to help determine the BCS standings and argued his squad's case as one of the best one-loss teams in the country.
With five turnovers in a wild
37-26 loss
to rival Florida on Saturday, the Seminoles' case against the computers was officially deleted.
It's not that No. 10 Florida State (10-2, 7-1 ACC) shouldn't be ranked -- it absolutely should -- but the Seminoles proved Saturday that the fourth-ranked Gators (11-1, 7-1 SEC) deserve their spot ahead of FSU, and the program is still not consistent enough to be considered a true national title contender. Florida State's mistake-laden four quarters were a microcosm of the Seminoles' entire regular season: an opportunity at something bigger fumbled away.
"There were ample opportunities -- ample opportunities," Fisher said. "We just didn't capitalize on them."
He was talking about the game -- not the season.
[+] Enlarge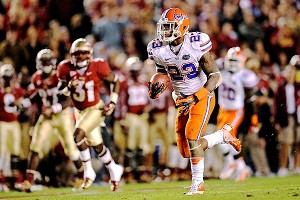 Kevin Liles/US PresswireMike Gillislee's 140 yards (including this 37-yard TD) led Florida's 244-yard assault on the Noles.
Those within Florida State's locker room after the loss emphasized the team's "24-hour rule," reminding each other there is still plenty to play for, as the Atlantic Division champs are heading to Charlotte, N.C., to play Georgia Tech in the Dec. 1 Dr Pepper ACC championship game. The Seminoles still have a chance to win the Discover Orange Bowl. The possibility of a 12-2 season is still within reach. It's going to be hard, though, for some of the players -- and most all of the Noles' fans -- not to wonder what could have been this season had FSU not lost on the road to NC State and found a way to beat its rivals at home. The Noles were so close to finally meeting preseason expectations, yet so far away.
"That's just something that's going to be in the back of your head forever," defensive tackle
Everett Dawkins
said. "But we can't worry about that right now. We just have to keep on moving."
Just like Florida's running game.
The Gators controlled the line of scrimmage and ran the ball with ease, racking up 244 yards on the ground. Florida's success on the ground made quarterback
Jeff Driskel
look better than usual, as it opened up the play-action and allowed him not to have to execute a true drop-back game. By the fourth quarter, the Gators had scored 24 points in a span of less than nine minutes and Florida State's usually staunch defense looked gassed.
"We weren't able to execute," said Noles receiver
Rashad Greene
. "That basically sums it all up on one piece right there."
In what was only its second game of the season against a ranked opponent, Florida State's mistakes were too much to overcome. It wasn't the first time this season turnovers plagued the Noles (two against Miami, two against Virginia Tech), but against better competition, FSU couldn't get away with it.
"We've got to have them better prepared and we have to take care of the ball better," Fisher said. "It was rare -- it wasn't fumbles, it was interceptions. Something we haven't done very much."
It was also an emotional and difficult game for Florida State quarterback
EJ Manuel
, who threw three interceptions and fumbled the ball, leading to a Florida touchdown.
"It was not one of his most stellar performances," Fisher said.
Manuel agreed.
"I've got to get better these next two games," he said. "It was tough. This is hard right now."
While Florida State tries to refocus on the ACC championship game, the Gators left Doak Campbell Stadium believing they should be playing for the national title.
The Seminoles did their part to help the Gators build their résumé.
"We didn't finish," Fisher said, "we didn't finish."
It was only the second time this season that happened to FSU, but that's two times too many for a team playing for more.
November, 24, 2012
11/24/12
7:16
PM ET
TALLAHASSEE, Fla. -- Here's a quick look back at No. 4 Florida's
37-26 victory
over No. 10 Florida State on Saturday in Doak S. Campbell Stadium:


It was over when:
With seven minutes left in the game, Florida quarterback
Jeff Driskel
threw a 14-yard touchdown pass to
Quinton Dunbar
to put the Gators ahead 30-20. In five plays, the Gators went 32 yards to score -- a short field that was set up by
Marcus Roberson
's 50-yard punt return. It was a huge special-teams play that put Florida in position to separate itself and gave the Gators the momentum.
Game ball goes to:
Florida's defense. It lived up to the billing, as the Gators forced five turnovers, and held Florida State to just 112 rushing yards and well under its season average of 42.91 points per game.
Stat of the game:
Florida State turned the ball over five times -- two lost fumbles and three interceptions. Overall, Florida scored 10 points off FSU's turnovers.
EJ Manuel
's fumble in the fourth quarter led to an immediate score for running back
Mike Gillislee
, a 37-yard run that put the Gators up 23-20.
What it means:
Florida still has an outside shot at playing for the national championship and further stated its case for a BCS bowl. It also snapped a two-game losing streak to coach Jimbo Fisher. For Florida State, it was a squandered opportunity to prove it deserves to be higher in the BCS standings and make an argument against the computers. It also was another letdown for the ACC on a national stage.