May, 7, 2013
5/07/13
6:30
AM ET
SYRACUSE ORANGE
2012 record:
8-5
2012 conference record:
5-2 Big East (tied for first)
Returning starters:
Offense: 5; Defense: 6; kicker/punter: 2

Top returners:
C
Macky MacPherson
, TE
Beckett Wales
, RB
Jerome Smith
, NT
Jay Bromley
, LB
Marquis Spruill
, LB
Dyshawn Davis
, CB
Keon Lyn
, CB
Ri'Shard Anderson
, FS
Jeremi Wilkes
, PK
Ross Krautman
, P
Jonathan Fisher
Key losses:
WR
Marcus Sales
, WR
Alec Lemon
, QB Ryan Nassib, LG Zack Chibane, LT Justin Pugh, DE
Markus Pierce-Brewster
, DE
Brandon Sharpe
, DT Deon Goggins, LB Siriki Diabete, SS Shamarko Thomas
2012 statistical leaders (*returners)
Rushing:
Smith* (1,171 yards)
Passing:
Nassib (3,749)
Receiving:
Lemon (1,070)
Tackles:
Thomas (84)
Sacks:
Sharpe (7)
Interceptions:
Lyn* (3)
Spring answers:
1. Deep stable of running backs.
Offensive coordinator George McDonald compared this group to the talent he saw while an assistant at Miami. It's a good mix of experience, with a 1,000-yard rusher in Smith and
Prince-Tyson Gulley
(617 yds), and youth, sophomores
George Morris III
,
Ashton Broyld
and
Devante McFarlane
.
2. Replacing Thomas by committee.
It will take more than one player to compensate for the loss of the first-team All-Big East safety and team's leading tackler. The good news is three starters return to the secondary, and there are plenty of options to see playing time, including juniors
Ritchy Desir
and
Durell Eskridge
at safety.
3. Familiarity on staff eased transition.
Scott Shafer was Syracuse's defensive coordinator for four years before he was promoted to head coach, and he surrounded himself with a staff that had worked together before at previous stops. Their familiarity with each other and their philosophies and personalities transferred to the players as everyone adjusted.
Fall questions:
1. Quarterbacks.
The transfer of former Oklahoma quarterback
Drew Allen
added even more competition to an already-wide open race for the top job. While some think Allen is the Answer, the position is still a question, as
Charley Loeb
,
Terrel Hunt
and
John Kinder
have more experience in the system and went through the spring in it.
2. Replacing receivers.
Cuse lost the Big East's best receiver in Alec Lemon, and veteran Macus Sales also has to be replaced. Senior
Jarrod West
(43 catches) had a good spring and leads a group of candidates including seniors Chris Clark and
Adrian Flemming
, juniors
Keenan Hale
,
Jeremiah Kobena
and Arkansas transfer
Quinta Funderburk
. "Yeah, Jarrod West had a good spring game and had a good spring," Shafer said. "He did a nice job. Then we have a handful of kids that are in a fight. It's a good fight."
3. Depth on the defensive line.
Syracuse has to replace three of its starting front four, but it is also looking for an eight-man rotation up front. Competition for those will continue this summer to see who gets the most reps.
May, 6, 2013
5/06/13
9:00
AM ET
Syracuse offensive coordinator George McDonald is in his first season with the Orange after spending the past two coaching the receivers at Miami. The former receiver at Illinois also carries the title of associate head coach, the most responsibility he has had in his coaching career. With a new coaching staff, a new quarterback and a new conference, there are plenty of questions facing Syracuse this fall, but McDonald likes what he sees after his first spring. I caught up with him recently to get his take on the Orange. Here are the highlights of our conversation:
Everyone wants to know about the quarterbacks, obviously. What was your take on that competition?
George McDonald:
I think the competition is ongoing.
Terrel Hunt
did a very good job of coming in, understanding the system and the ins and outs of what we're trying to get accomplished.
John Kinder
and
Charley Loeb
, they're still in the mix. Terrel kind of came out of the spring with a little gap, but they're all competing, just like with the other freshmen coming in this fall.
Are you allowed to talk about the other quarterback who's coming in?
GM:
I'd rather not.
Ok, I'm not trying to get you in trouble. How did your receivers look this spring?
[+] Enlarge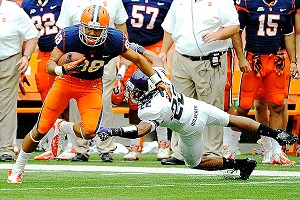 Rich Barnes/USA TODAY SportsOffensive coordinator George McDonald said Syracuse is looking for WR Jarrod West to be a key contributor in 2013.
GM:
They did good. We lost some really good receivers last year, but I think a lot of young talent,
Jeremiah Kobena
is a guy who has a lot of speed.
Jarrod West
is a returning receiver for us who had about 40 catches last year and we're looking to have a good year. And then
Adrian Flemming
, he's a rising senior, had a really good spring. I think they're all hungry, and they all came out trying to compete, trying to show they're ready to keep the wide receiver tradition alive here.
What do you guys look like up front?
GM:
Good. Those guys, we lost some guys, but
Sean Hickey
, he had a really good spring,
Rob Trudo
,
Nick Robinson
and
Ivan Foy
, those guys really did a great job of stepping into new roles, and then
Macky MacPherson
, he's kind of the glue of the whole unit. He played last year and the last couple of years. He really jelled with the unit and got those guys on the same page rather quickly. I told one reporter I talked to, if you didn't know we lost two really good linemen, and you saw a live play, you wouldn't have known the difference because they jelled so well and they worked so well together for the first time.
How much did you change scheme-wise?
GM:
Me and [former offensive coordinator] Coach [Nathaniel] Hackett, we kind of worked together at Stanford, so we kind of have the same vision. The scheme is pretty much the same. Obviously when you come in the terminology is the biggest thing the kids have to get used to. The plays and the concept of the plays and the philosophy of the offense is pretty much the same.
Are you where you hoped you guys would be after spring ball?
GM:
Actually, I think we're a little bit farther ahead than I thought we'd be, and that's based on the foundation in terms of the kids understanding how to come to meetings, and grasp the concepts and actually go out and work and not have bad days. I don't think we had one day where you walk off the field and didn't feel like you got better. I think we're a little bit ahead. Obviously we have to clean some stuff up over the summer and continue to get ready for the fall, but in terms of installation and understanding the base concepts of the offense and what we're trying to get done, from a run and pass standpoint, I'm pretty pleased with where we're at.
That's great. I don't usually hear that. From the outside looking in, you would think the questions at quarterback are a concern. Are you guys confident there?
GM:
Obviously you're always concerned when you have a first-year starter. Whoever the guy is going to be, they haven't been the guy in college football. But Terrel Hunt, he's really done a nice job over the last 15 practices of understanding the system, and obviously we have some guys coming in to add competition to it. But any coach in America who has a first-year quarterback, there's some apprehension and concern, but we have a lot of confidence in the talent we can surround the quarterback with and Coach Lester, we feel like he's a really good quarterbacks coach and he'll get those guys ready to play. I'm on the positive side. Whoever wins the starting quarterback job will be prepared to go out and lead us to success.
What are the main focuses aside from naming a starting quarterback, for this summer?
GM:
I think in the summer we just have to become better students of the game. We have to watch the tape and really evaluate -- from a coaching standpoint and a player standpoint -- just evaluate what we did and what we accomplished in the spring and just keep building on it. The guys doing seven-on-seven on their own, doing routes on their own, the linemen going through their projections and run drills, and just using the summer as a self-guided spring ball II, so when we come back for fall camp, we can pick up at practice 16 as opposed to starting over at practice 1.