December, 6, 2011
12/06/11
6:11
PM ET
By
ESPN.com staff
| ESPN.com
Running backs
Rahsaan Moore
and
Jeremiah Wilson
, as well as defensive back Titus Till, will not return to the football team in 2012, the school announced on Tuesday.
All three redshirt freshmen have been granted releases and indicated they will transfer to another institution at the end of the semester.
"We appreciate the effort of all three of these young men and wish them nothing but the best in their future endeavors," coach Randy Edsall said in a prepared statement.
Just for the record, I don't think I've ever seen anything like this. The total is up to six players now who have been granted their releases since the 2-10 season ended.
November, 18, 2011
11/18/11
10:30
AM ET
By
ESPN.com staff
| ESPN.com
Here are this week's injury reports from the schools that released them:
CLEMSON
Out

DE Joe Gore (knee)
LB Tony Steward (knee)
OT Philip Price (knee)
Questionable

WR
Sammy Watkins
(shoulder)
Probable

CB Darius Robinson (hamstring)
DUKE
Probable
WR
Brandon Braxton
(upper body)
OT Takoby Cofield (upper body)
CB Zach Greene (leg)
WR
Conner Vernon
(leg)
Questionable
LB Kelby Brown (leg)
WR
Jamison Crowder
(leg)
WR
Tyree Watkins
(leg)
Doubtful
DE Justin Foxx (leg)
LB C.J. France (upper body)
LB Kevin Rojas (lower body)
CB Johnny Williams (upper body)
Out
S Lee Butler (leg)
QB
Brandon Connette
(upper body)
DE Jordan DeWalt-Ondijo (leg)
C Brian Moore (upper body)
Out for season
DE Kenny Anunike (leg)
TE
Jack Farrell
(leg)
OT Kyle Hill (shoulder)
FLORIDA STATE
Out
Willie Haulstead
(head)
Henry Orelus (head)
Darious Cummings (hand)
Andrew Datko (shoulder)
Moses McCray (knee)
Out for season
Jacobbi McDaniel (ankle)
Chris Thompson
(back)
GEORGIA TECH
Out
LB Morgan Carter
AB
Orwin Smith
Out for season
S Fred Holton
DL Jimmie Kitchen
S Lance Richardson
MARYLAND
Out for season
WR
Tyrek Cheeseboro
DB Makinton Dorleant
OL Andrew Gonnella
DB Avery Graham
LB Garrett Lederman
QB
Danny O'Brien
DB Matt Robinson
DL Isaiah Ross
TE
Dave Stinebaugh
LB Kenny Tate
Out
LB Alex Twine
Doubtful
OL Bennett Fulper
Probable
OL Max Garcia
RB
Justus Pickett
RB
Jeremiah Wilson
MIAMI
Probable
Marcus Robinson (upper extremity)
Out
Luther Robinson (lower extremity)
Rashawn Scott
(upper extremity)
Jordan Futch (upper extremity)
Lee Chambers (upper extremity)
Davon Johnson (lower extremity)
Surgery/Out for season
Blake Ayles
(upper extremity)
Ramon Buchanan (lower extremity)
Marcus Forston (lower extremity)
Erik Lichter (upper extremity)
Corey White (lower extremity)
NC STATE
Out for season
CB Jarvis Byrd, (knee)
FB
Taylor Gentry
(foot)
LB D.J. Green (foot)
HB
Mustafa Greene
(foot)
LB Sterling Lucas (knee)
DE Jeff Rieskamp (shoulder)
Questionable

DT Markus Kuhn (abdomen)
VIRGINIA
Out
Pablo Alvarez (upper extremity)
David Marrs (lower extremity)
Charlie Richards
(upper extremity)
E.J. Scott
(medical)
Bobby Smith
(lower extremity)
Tyler Smith (lower extremity)
Matt Snyder
(lower extremity)
Michael Terrell
(lower extremity)
Joseph Williams (lower extremity)
Questionable

Kyle McCartin
(upper extremity)
Probable

Rodney McLeod (lower extremity)
Kevin Parks
(lower extremity)
Colter Phillips
(lower extremity)
WAKE FOREST
QUESTIONABLE
RB
Josh Harris
(hamstring)
OUT
DT
John Gallagher
(back)
OUT FOR THE YEAR
OT Dylan Heartsil (back)
CB Dominique Tate (knee)
LB Kyle Jarrett (hip)
WR
Airyn Willis
(shoulder)
August, 24, 2011
8/24/11
5:00
PM ET
By
ESPN.com staff
| ESPN.com
This series is like a CliffsNotes version of what went on at summer camp, a few quick hits to catch you up on the main developments at each ACC school this month as we gear up for game week next week. Next up is Maryland:

The coaching staff liked what it saw from the running backs, and Davin Meggett and D.J. Adams are still the top two on the depth chart, but the Terps are still looking for a third who can play. Jeremiah Wilson, a redshirt freshman who moved to running back from defensive back in the spring, is an option, but true freshmen Justus Pickett and Brandon Ross have been particularly impressive and could see some snaps.
Maryland has plenty of options at receiver, but Kerry Boykins, Kevin Dorsey, Ronnie Tyler and Quintin McCree got the majority of meaningful snaps this month.
Keith Bowers is a true freshman from Florida who could figure into the rotation on the defensive line, but that rotation remains a question. There are several backup positions on defense that are up for grabs, including safety and linebacker.
The staff has settled in on its starting five on the offensive line (Max Garcia, Andrew Gonnella, Bennett Fulper, Josh Carey and R.J. Dill), but the No. 2 positions still remain a question.
A competition still remains at punter with Michael Tart and Nate Renfro, a true freshman who joined the team this month.
Most notable injury:
Defensive tackle Justin Anderson had foot surgery and should be out most of September, likely the first three games.
April, 25, 2011
4/25/11
2:00
PM ET
Maryland quarterback
Danny O'Brien
had his best scrimmage to date on Saturday, coach Randy Edsall said earlier today on his weekly spring teleconference.
With two practices and a spring game remaining this week, Maryland is getting closer to developing its offensive identity under Edsall, and much of that can be attributed to O'Brien's progress under first-year coordinator Gary Crowton. Edsall said Maryland has made significant progress installing the schemes this spring, and the staff has been able to analyze the strengths and weaknesses of the personnel.
[+] Enlarge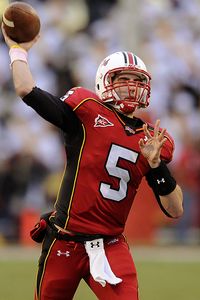 AP Photo/Nick WassDanny O'Brien's efficiency rating of 134.5 last season is the best in the ACC among returning quarterbacks.
So far, O'Brien has been one of the Terps' biggest strengths.
"I just see him getting more comfortable with what we're doing," Edsall said. "I'm very comfortable with Danny from the standpoint that when you're putting something new in, it's not going to come overnight, but what I like to see and those very good players are the guys who get better with each practice, with each week, and you can see that progression taking shape with him. I think that's going to continue."
Edsall said O'Brien and the receivers are "more on the same page" now, and
Kevin Dorsey
,
Ronnie Tyler
and
Kerry Boykins
have been the top three targets. Tyler and Boykins shared time at slot receiver last season and combined for 23 receptions.The competition still remains within the group, though, heading into Saturday's spring game.
The one position that is undisputed is O'Brien's. He had a 7-3 record as a first-year starter in 2010, and despite not starting the first three games, his 22 touchdown passes were third in the country among freshmen and second in school history.
With so many new faces at quarterback throughout the ACC this year, it's been overshadowed that O'Brien's efficiency rating of 134.5 last year is the best in the conference among returning quarterbacks.
While this spring has been a transition for O'Brien in the new offense, he has been watching film on his own and asking the staff countless questions to learn the playbook. He has also acted as a second coach on the field, pointing out corrections to his teammates and leading by example.
"You explain it once to him and he gets it," Edsall said. "... He grasps it, he understands it, and then when he gets into that situation the next time, there is no hesitation. He gets it done."
Odds 'n' ends:
Freshman receiver Nigel King has made some progress with the NCAA clearinghouse and is able to practice while his appeal works its way through the system, Edsall said.

Offensive tackle R.J. Dill is the only player expected to miss Saturday's spring game, but Edsall said tailback Gary Douglas tweaked his hamstring and didn't practice all week. Tailback Jeremiah Wilson "took a shot on the leg" and might not practice tomorrow, Edsall said. Dorsey has a hip/groin strain that might hinder him this week.

Fullback Taylor Watson told Edsall he's going to graduate this summer and won't be on the team.
April, 18, 2011
4/18/11
5:00
PM ET
By
ESPN.com staff
| ESPN.com
Maryland coach Randy Edsall is the king of vague. Connoisseur of coachspeak.
Get used to it. He has said repeatedly that his offense will be "multiple," but his answers are not.
Here are a few tidbits from his teleconference this afternoon:
The only injury to report from Saturday's scrimmage was right tackle R.J. Dill, who had "a little bit of a sprain with the knee but he'll be fine."
Running back Jeremiah Wilson participated in the scrimmage after being sidelined with a hamstring injury and played well.
Former Maryland hoopster turned receiver Cliff Tucker got about 25-30 plays in the scrimmage. "You can see he's been away from it for four years, but I thought he made progress," Edsall said.
Improvement on defense will come with better "eye discipline," as Edsall wants the players to make sure their eyes are where they belong, they're reading the keys and playing gap sound. He said he just needs everyone to do their jobs, not try to make a play.
Edsall said the fullbacks have been inconsistent. "I'm still looking for somebody to step up and take that position over, that's the thing I'm looking for." He said they haven't been as physical as he would like.
Edsall said he hopes Nigel King's NCAA Clearinghouse issues are resolved this week, but he has no timetable.
ACC SCOREBOARD
Friday, 12/26
Saturday, 12/20
Monday, 12/22
Tuesday, 12/23
Wednesday, 12/24
Saturday, 12/27
Monday, 12/29
Tuesday, 12/30
Wednesday, 12/31
Thursday, 1/1
Friday, 1/2
Saturday, 1/3
Sunday, 1/4
Monday, 1/12
Tweets from https://twitter.com/ESPNCFB/lists/acc